World's First Exhibition of Golgo 13
Sakai City Cultural Hall
The exhibition of "The World of Golgo 13" is held in Sakai City Cultural Hall near JR Sakai Station.
Have you ever heard of "GOLGO 13" ? Golgo13 is a gekiga, or a picture-card show, which Saito Takao has been issuing 173 volumes for 45 years.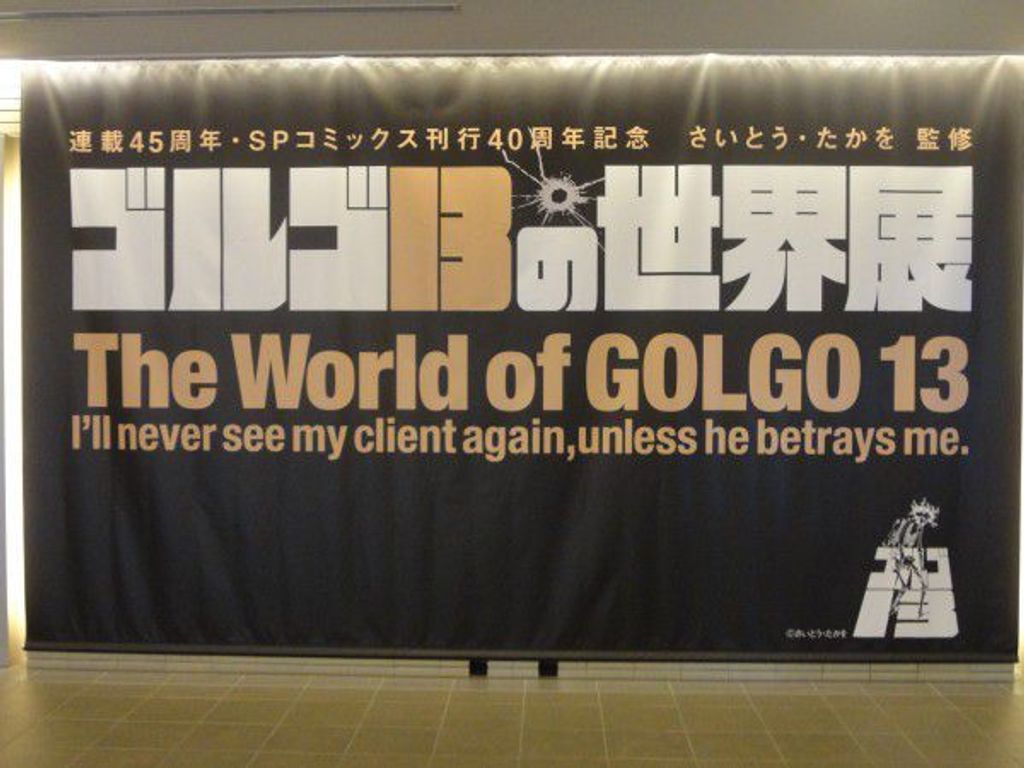 The cumulative total circulation of Golgo 13 exceeds 200 million. This ranked number 2 after "One Piece" with a circulation of about 273 million among cartoons in Japan.
I've been drawn unconsciously to the stories against the background of real international situation and I read them on the journey by Shinkansen, or a bullet train, all the time. The reason why I was attracted is that the story covers a wide variety of genres such as wars, disputes, terrorism, latest technology, history, arts, sports and the like.
Golgo 13 is a super sniper. His famous words go as follows.
1.Never stand behind me without making any noise.
2.A true professional waits for a chance to the very last moment.
3.It is fools that do something without thinking it through first and people proudly telling it are more foolish.
4.I'll never see my client again, unless he betrays me.
I think both the second and third words are applied to the present as well.
By the way the author Saito Takao was born in Sakai city.
Speaking of Sakai, it is famous for the largest keyhole-shaped tumulus in Japan and you can see a panoramic view of Osaka including the tumulus from the observation deck on the 21st floor in Sakai City Hall.
Please refer to Sumiyoshi Grand Shrine and the Largest Tumulus in Japan.