​You're on a boat. The sun reflects on the water like sparkling diamonds. You can see your destination on the horizon: Malta lies ahead of you. Now, there's only one thing to clarify: Do you need a guide or not?
"It could reduce a lot of stress and planning!" your head tells you.
"But doesn't it limit me?" another thought pops up at the same time.
If you're having heated theoretical debates right now, let them rest for a second and read this article. After you have finished, you will have a fresh vision of what your Malta vacation should look like and if you're in need of a Malta tour guide.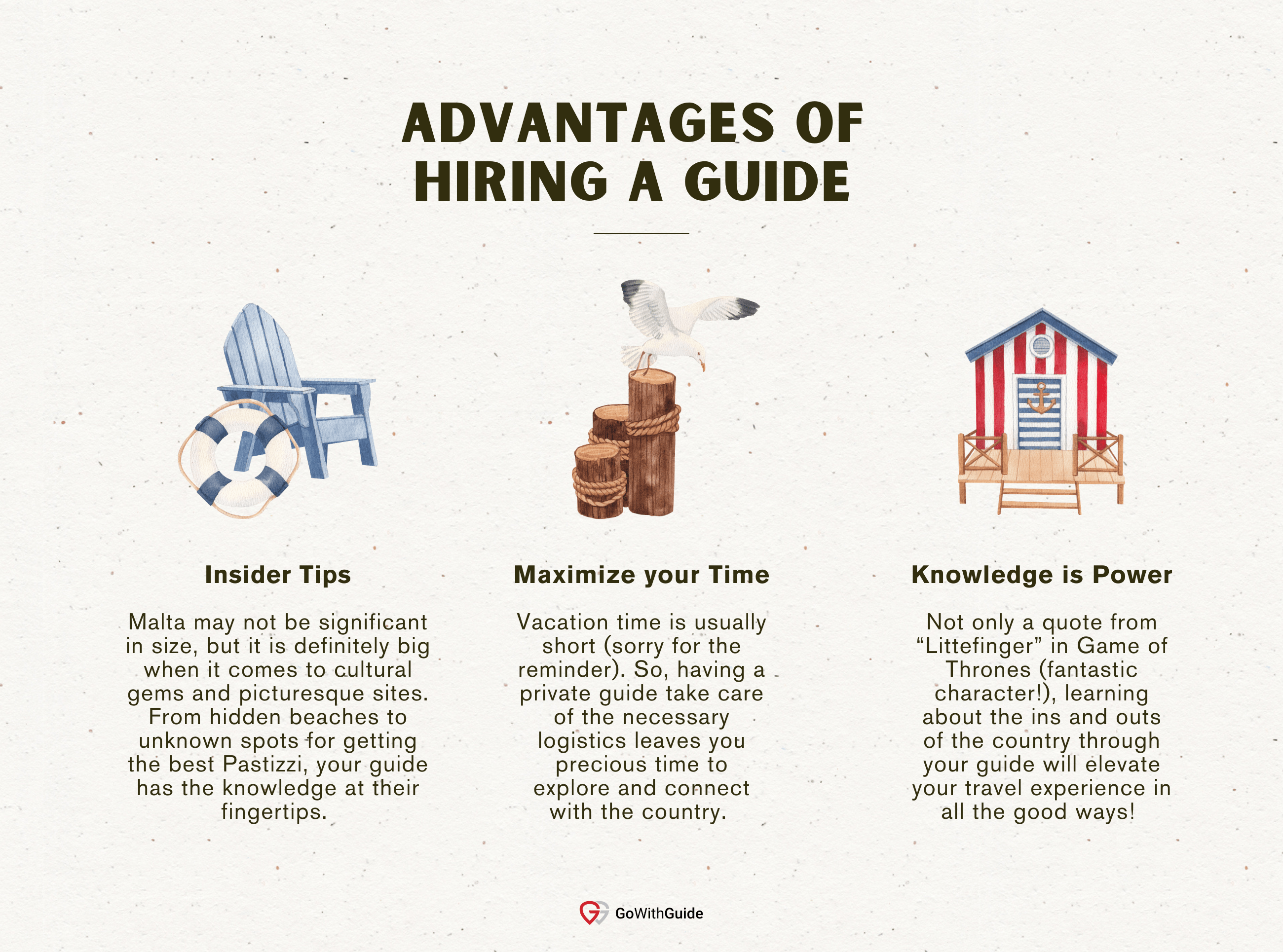 Advantages Of Hiring A Guide
Insider Tips

- Malta may not be significant in

size

, but it is definitely big when it comes to cultural gems and picturesque sites. From hidden beaches to unknown spots for getting the best Pastizzi, your guide has the knowledge at their fingertips.

Maximize your Time - Vacation time is usually short (sorry for the reminder). So, having a private guide take care of the necessary logistics leaves you precious time to explore and connect with the country.
Knowledge is Power - Not only a quote from "Littefinger" in Game of Thrones (fantastic character!), learning about the ins and outs of the country through your guide will elevate your travel experience in all the good ways!
Travel Fact: Why did I mention Game of Thrones, you ask? The islands of Malta were a central filming part of the first season of the fantasy phenomena. If you'd like to learn more about Malta, be sure to check out our article on Malta Tourism Statistics 2023!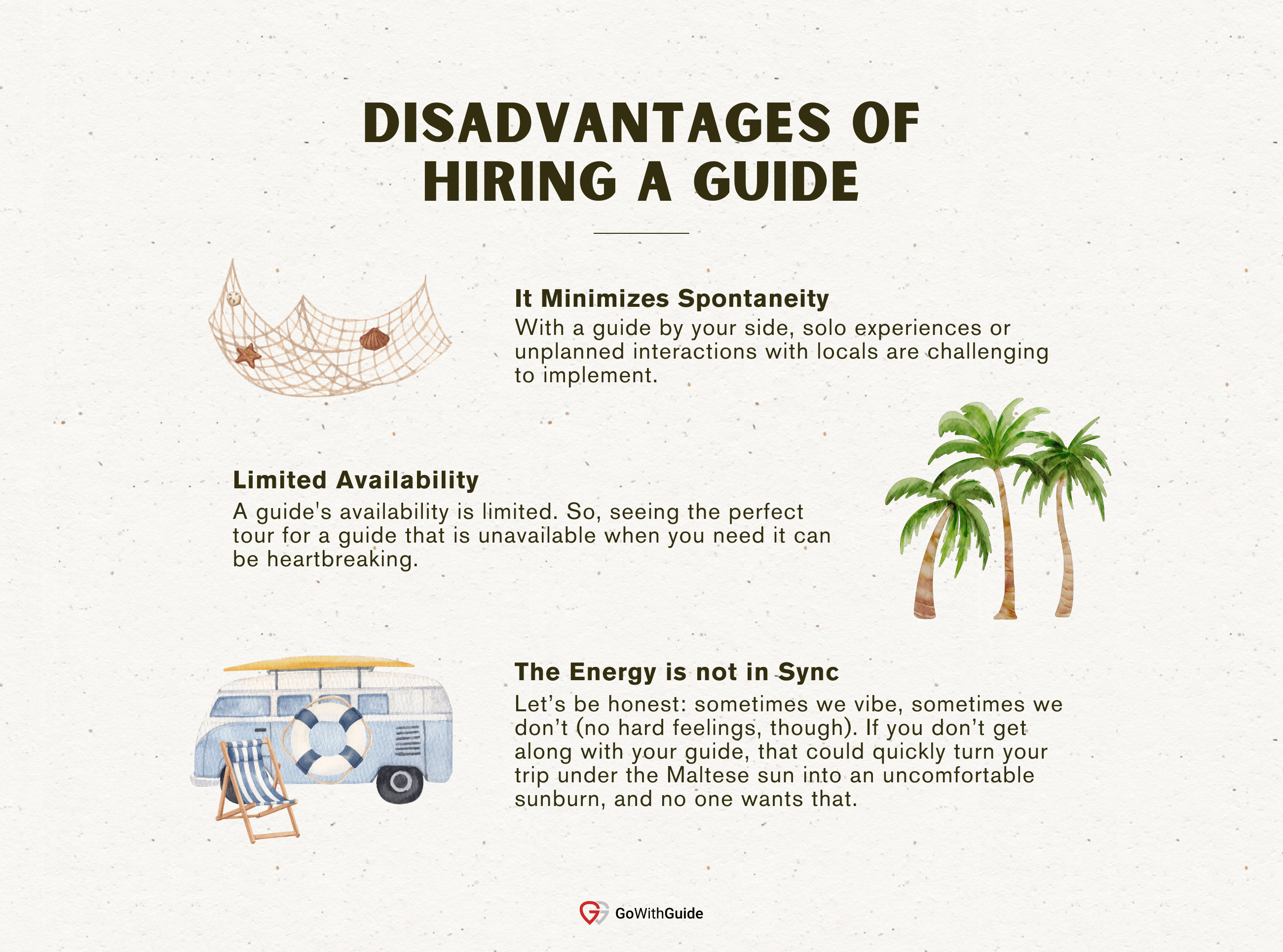 Disadvantages Of Hiring A Guide
It Minimizes Spontaneity

- With a guide by your side, solo experiences or unplanned interactions with locals are challenging to implement.

Limited Availability

- A guide's availability is limited. So, seeing the perfect tour for a guide that is unavailable when you need it can be heartbreaking.

The Energy is not in Sync

- Let's be honest: sometimes we vibe, sometimes we don't (no hard feelings, though). If you don't get along with your guide, that could quickly turn your trip under the Maltese sun into an uncomfortable sunburn, and no one wants that.
Travel Tip: If you hire a guide from GowithGuide, you can quickly check the availability of our Maltese guides beforehand!
Even better: shoot them a message with your travel plan details, when and what you'd like to visit, and what framework you're imagining. You will realize quickly if the tone is right, and whether you will get along well.
So What Is a Private Tour After All?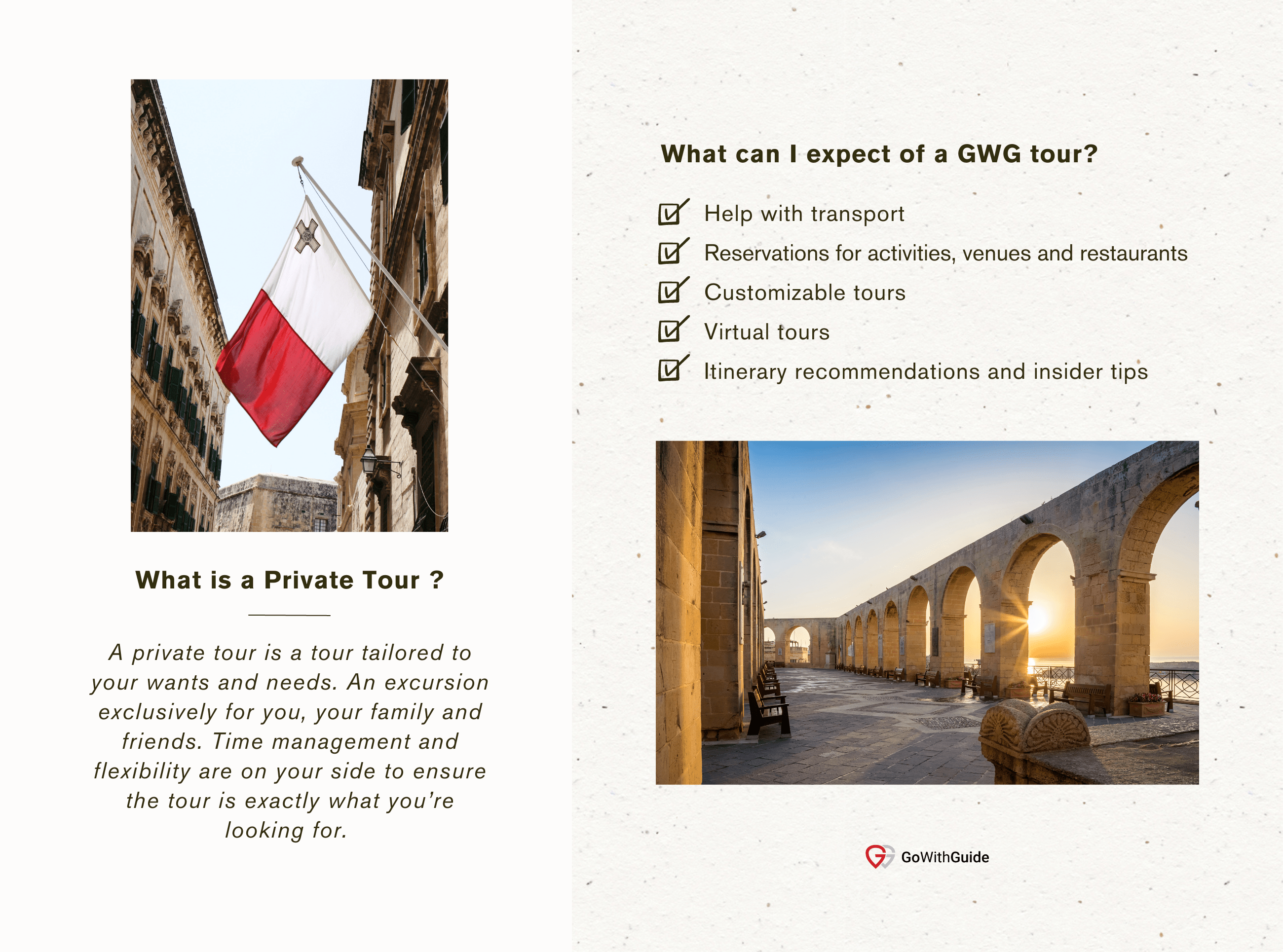 To Keep It Simple: A private tour is a tour tailored to your wants and needs. An excursion exclusively for you, your family and friends. Time management and flexibility are on your side to ensure the tour is exactly what you're looking for.
What Can I Expect Of A GWG Tour?
Here are some of the services GoWithGuide tour guides offer:
Help with transport

Reservations for activities, venues and restaurants

Customizable tours

Virtual tours

Itinerary recommendations and insider tips
Okay, now you know what GWG private tours have to offer. But what does that all mean for you? And how does it differ from a normal guided tour? Let's count the comparisons:

A GoWithGuide tour means...

Making the most of your time

- No stressful planning phases or frustrated last-minute changes. Having a guide that takes care of everything gives you more space for the important things when traveling.

Convenience is on your side

- The Maltese lifestyle means taking time, not stressing, and going with the flow. If that sounds like your dream vacation state, then a private guide will be perfect for you

Picking the Crème de la Crème

- Got enough of the same old sites? With your GWG tour, you pick only the places you want to see, and your guide will throw in some secret gems as you plan.

Access to first-hand Knowledge

- There's no better way of getting to know the country than with someone who lives and breathes the country's air. Have a specific question? Our tour guide will probably have the answer.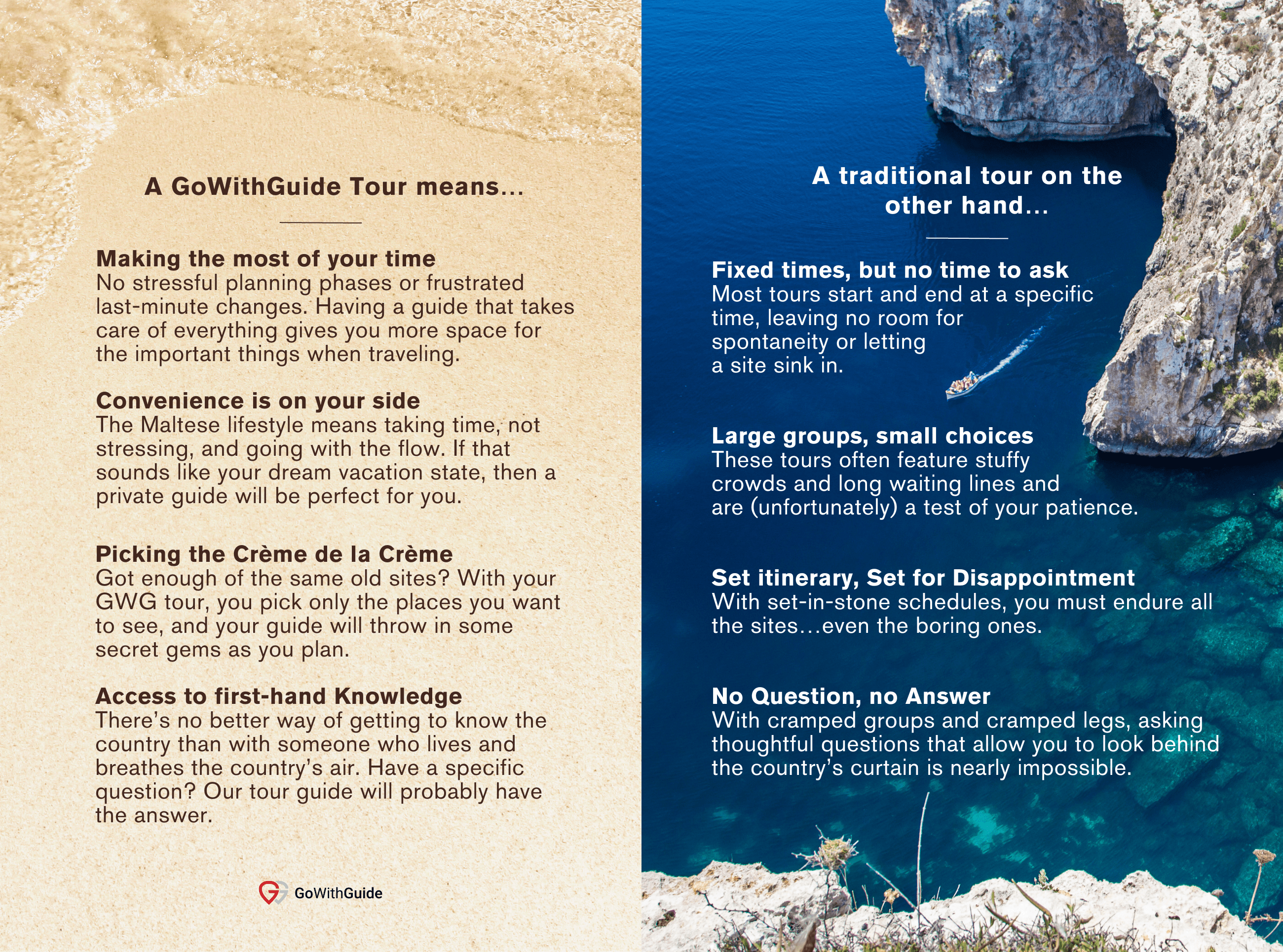 A traditional tour on the other hand…
Fixed times, but no time to ask

- Most tours start and end at a specific time, leaving no room for spontaneity or letting a site sink in.

Large groups, small choices

- These tours often feature stuffy crowds and long waiting lines and are (unfortunately) a test of your patience.

Set itinerary, Set for Disappointment

- With set-in-stone schedules, you must endure all the sites…even the boring ones.

No Question, no Answer

- With cramped groups and cramped legs, asking thoughtful questions that allow you to look behind the country's curtain is nearly impossible.
​
Do's & Don'ts When Hiring A Guide
Already see yourself lying on a hidden beach your guide has recommended? Great! Now, let's swiftly discuss the best way to navigate touring with your guide.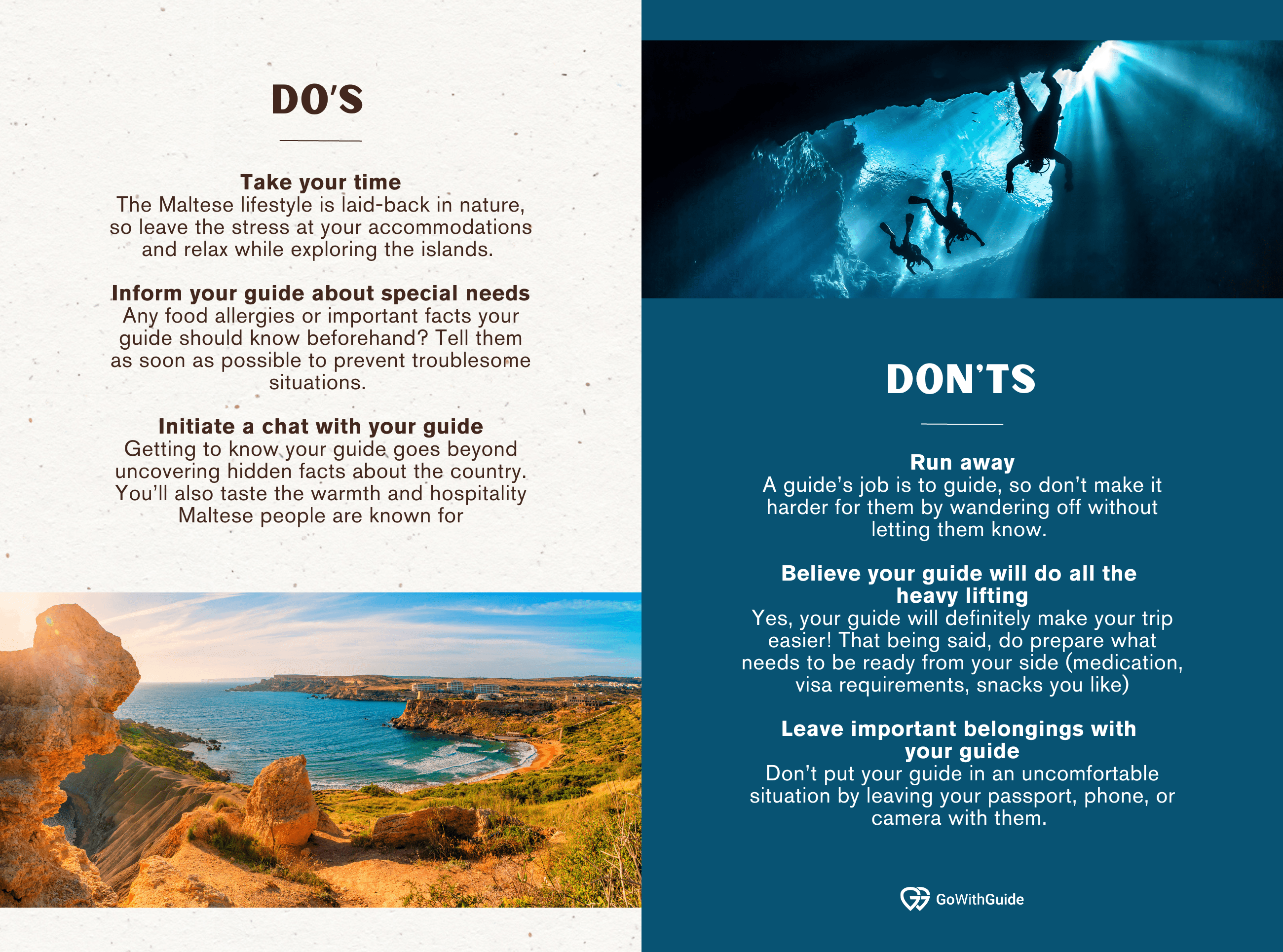 Ready To Explore? Try These Malta Tour Sites!
You've decided to hire a guide, now comes the pleasurable part. Let's not waste any more time and kickstart your journey to Malta with some unforgettable tours available with our Maltese guides.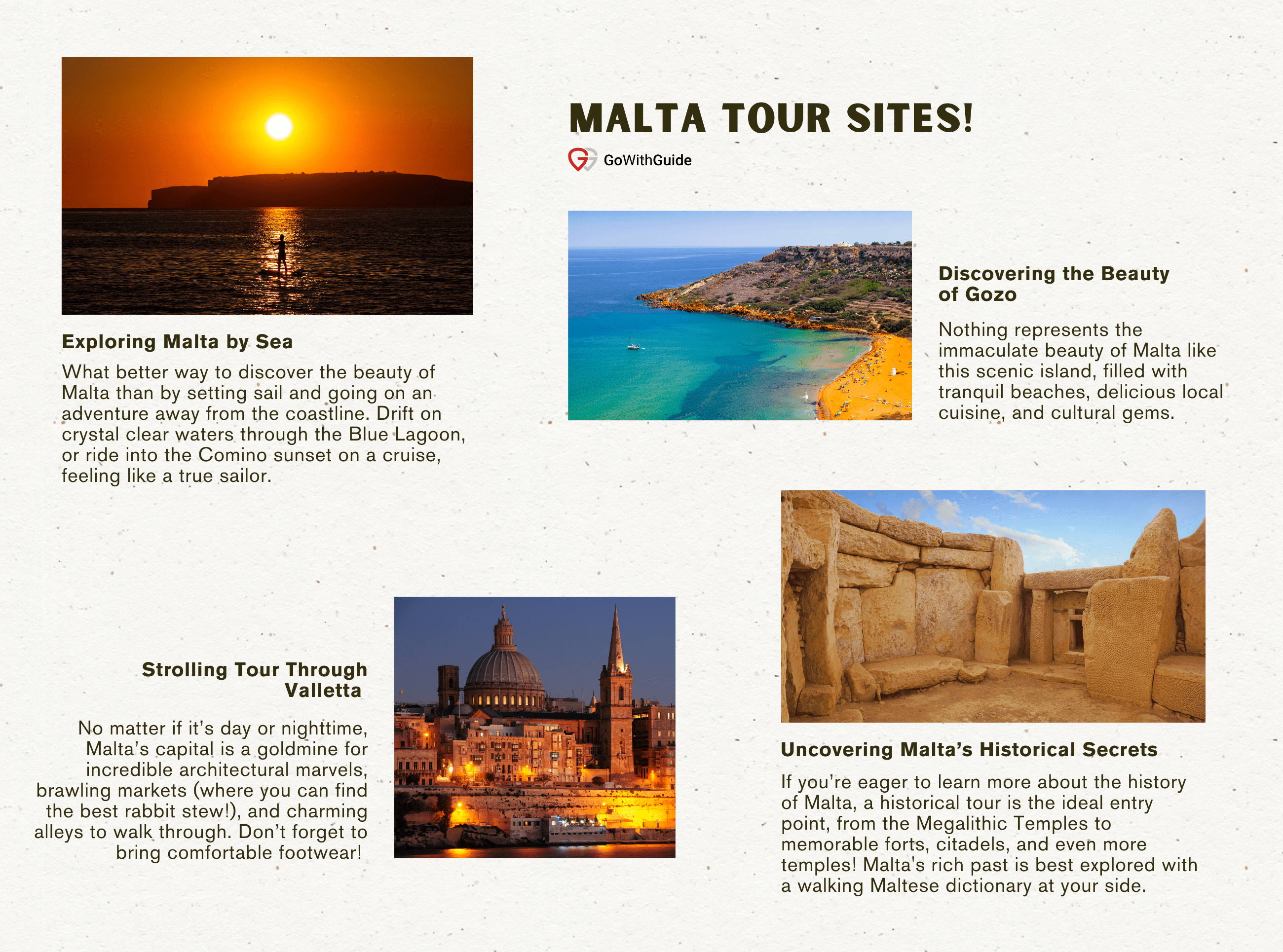 Exploring Malta by Sea: What better way to discover the beauty of Malta than by setting sail and going on an adventure away from the coastline. Drift on crystal clear waters through the Blue Lagoon, or ride into the Comino sunset on a cruise, feeling like a true sailor.
Discovering the Beauty of Gozo: Nothing represents the immaculate beauty of Malta like this scenic island, filled with tranquil beaches, delicious local cuisine, and cultural gems.

Strolling Tour Through Valletta

: No matter if it's day or nighttime, Malta's capital is a goldmine for incredible

architectural

marvels, brawling markets (where you can find the best rabbit stew!), and charming alleys to walk through. Don't forget to bring comfortable footwear!

Uncovering Malta's Historical Secrets

: If you're eager to learn more about the

history of Malta

, a historical tour is the ideal entry point, from the

Megalithic Temples

to memorable forts, citadels, and even more temples! Malta's rich past is best explored with a walking Maltese dictionary at your side.
Conclusion
Hopefully you know exactly what you want for your Malta trip. Now, you only need to send our knowledgeable Malta tour guides a message and start working on your itinerary. See you in Malta!