For some, Bali is a home; for many, it is a dream; and for the lucky few, it is their next vacation getaway. Blessed with crystal clear waters, cloudless days, and colorful food, the island of Bali in Indonesia is a place every nature lover and beach goer should visit at least once in their lifetime.
Do not be fooled by the small size of the island, for between its luscious forests and among its stunning volcanoes, the island of the gods holds many well-kept secrets of its own.
In 2019, Bali was hailed the most visited island in Indonesia, beating Riau Islands and Jakarta by a long shot. This goes to show that traveling beyond the cities will prove eternally rewarding, both in body and soul.
Once settled on one of the beautiful beaches of Bali, you may be thinking about venturing around the island more. Depending on your travel preferences, your itinerary can greatly vary. If you are traveling with children, a day trip will be significantly different than when traveling with an adventure buddy.
Because of this, GoWithGuide curated a list of the most amazing day trips for every type of traveler.
What is a Day Trip?
Before anything else, it is important to know what a day trip can be and what it may comprise of. Think of it this way: it is a journey that can be completed in one day. This means that once you leave your hotel in Bali in the morning, you are sure to get back by the end of the day.
Travel during day trips should not take more than three hours, and can be done through ferry, car, or bus. If you were coming from Tokyo, a trip to Mt. Fuji and Kawaguchi Lake would be the perfect example. For cities like Seoul, a day trip would lead you to the DMZ for some historical expeditions.
Your next step is to figure out what kind of day trip is possible from Bali.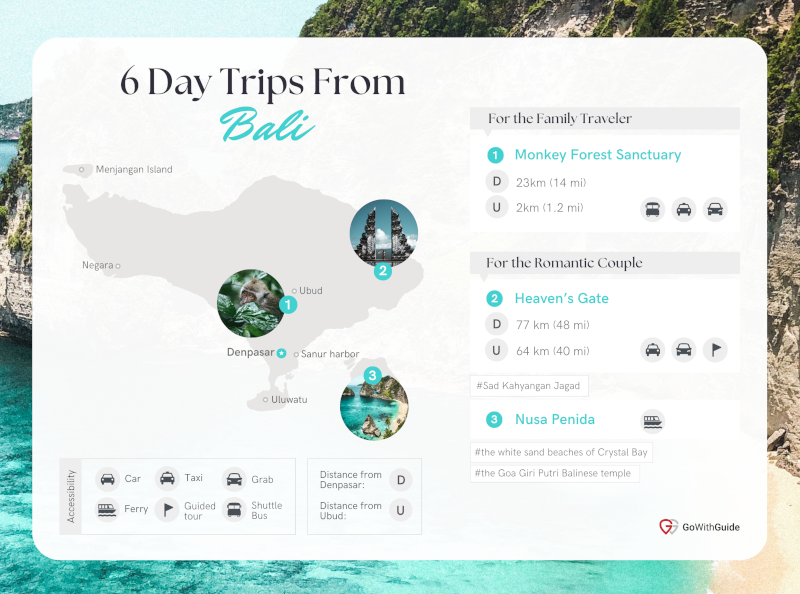 For the Family Traveler
1. Monkey Forest Sanctuary
For families traveling with children, it is important that both the adults and children on the trip have some fun. The Monkey Forest Sanctuary is just the place for this. The area is stunning, sacred, and a thrill for every person in the family. More than 700 monkeys can be seen around the forest, making it a sure winner for the children to go monkey-spotting.
Entrance fees differ for weekdays and weekends. Make sure to check out the main website for more information. For more information about the history of the area, as well as to ensure that you follow local customs and ensure your family's safety, we suggest going on a guided tour to the area.
Distance from Denpasar: 23km (14 mi)
Distance from Ubud: 2km (1.2 mi)
Accessibility:
Shuttle bus- If you are coming from Ubud, then take the free shuttle that runs through the city every quarter of an hour.

Taxi- Taxis are also your easiest and most convenient mode of transportation on the island.

Grab- Like in other countries, services like Uber include

Grab

. This is also a nice way to know just how much your fare is without a chance of being scammed.
For the Romantic Couple
2. Heaven's Gate
This is the place to get your IG-worthy photos taken. Heaven's Gate is a picturesque spot, especially during sunrise, perfect for couple photos and simply enjoying the scenery. Located in Lempuyang Temple and sitting over 1,775 meters above sea level, the temple is one of the grandest attractions on the island.
No entrance fee is required, however donations are highly encouraged. The attraction is within Lempuyang Temple, and is one of the six holiest places of worship on Bali or Sad Kahyangan Jagad. The temple is said to be open 24 hours for worship.
Distance from Denpasar: 77 km (48 mi)
Distance from Ubud: 64 km (40 mi)
Accessibility:
Taxi - Just like anywhere around the island, taxis are the most common way of getting around.

Grab

Guided tour- Because there is no public transportation available on the island, visiting Gate Heaven on a

guided tour

may be your most convenient way to get there.
3. Nusa Penida
If you crave to visit one of the nearby islands of Bali, then find yourself in Sanur Harbor in the wee hours of the morning awaiting a ferry to Nusa Penida. With transforming cliffs, green lagoons, and of course, unforgettable beaches, Nusa Penida is a favorite of the 3 Nusa islands for day trips.
From the white sand beaches of Crystal Bay to the Goa Giri Putri Balinese temple, the island shows off its natural beauty and history in style.
Accessibility: It is a quick 30 minutes away by ferry from Sanur Harbor. Book your ferry tickets in advance to reserve a seat.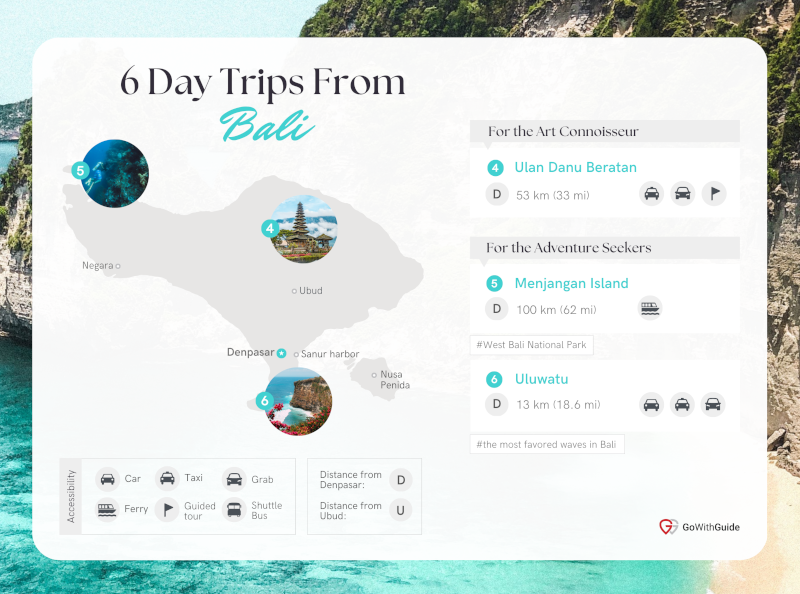 For the Art Connoisseur
4. Ulan Danu Beratan
Not too well-known to the tourist is Ulan Danu Beratan. Built for the goddess Danu, which translates to lake from Balinese, it consists of four buildings. The scenery only adds to the beauty and serenity of the temple, as Bedugul Regency is smitten with gorgeous mountains and a serene lake.
Learn more about the history of the temple, the importance of each building, the significance of the colors used, as well as the chronicles of the lake from a trusted local guide. There is so much history to unpack, it would be a shame to miss.
Distance from Denpasar: 53 km (33 mi)
Accessibility:
For the Adventure Seekers
5. Menjangan Island
Menjangan can be translated to deer, a harbinger of what lays in and around the island. This secluded paradise just northwest of Bali is home to untouched volcanic mountains and coral reefs, a haven for divers and snorkelers alike. Menjangan Island is part of the West Bali National Park, and houses protected land, sea, and wildlife. Because of this, it is important to visit the island with a guide.
Distance from Denpasar: 100 km (62 mi)
Accessibility:
Ferry - You can take a 30 minute ferry from Labuhan Lalang port.
6. Uluwatu
Perched on the southwestern tip of Bali, Uluwatu is a region for the aesthetes and soul searchers. It is home to the most favored waves in Bali, with swells reaching up to 8 feet tall. For the surfer, snowboarder-turned-surfer, and even those who want to try it out for the first time, the beaches in Uluwatu will welcome you with "hang loose" signs on their hands.
Distance from Denpasar: 13 km (18.6 mi)
Accessibility:
Car - There are car rentals from the airport if you would like to drive there yourself, although taxis and Grab cars are also available.

Taxi

Grab
Conclusion
Beautiful and grand, the island of Bali can also be confusing and stressful. If this is indeed one of your worries, then hiring a private tour guide will definitely relieve you of it all. Having a local to guide you through your adventure will only enhance your trip by getting an insider's view of all the attractions and culture you wish to enjoy.
Bali is an amazing beach destination if planned right. Share this information with friends and family, and make sure they too are fully prepared.