Singapore is a city you can enjoy even after the sun goes down and below is a list of 13 things to do in Singapore at night. On most days there is a squall at the end of the afternoon or in the evening. This sudden downpour cools the heat of the day and makes things much more comfortable at night so if you're not a fan of walking under the sweltering sun, nighttime sightseeing can be another option. Or if you don't think you'll have the energy to sightsee all day as well as at night, taking a short nap at your hotel before dinner will be sure to reinvigorate you for another round of sightseeing after dinner. You certainly don't want to miss all Singapore has to offer at night, because the nightlife of this city can be quite enjoyable as well. There are both things that need to be paid for and things that are free, so you don't have to worry about spending too much money.
13 Things to do in Singapore at Night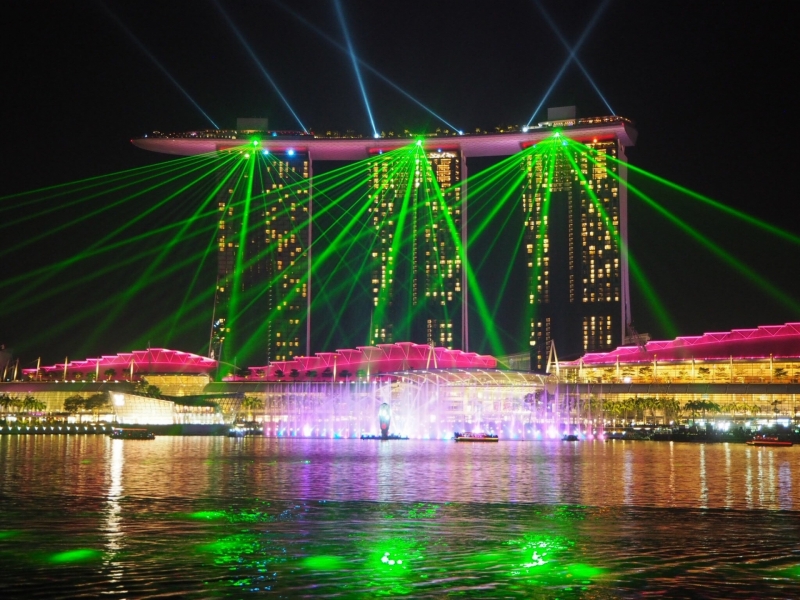 Spectra Show at Marina Bay Sands
The Spectra Show is one of the main illumination events you must see at night, and best of all it's free! It's probably one of the best light shows you'll ever see. The lights are choreographed to the relaxing music, which is an orchestral soundtrack created by a local Singaporean producer. You can see this incredible 15 minute water show from the event space in front of the "Shoppe", which is the shopping mall connected to the Marina Bay Sands hotel. If you want to see the show with the hotel in the background, you'll have to travel to the other side of the bay towards Merlion Park. There will be lots of people trying to see the show, especially on weekends, so make sure to get there about 10 minutes early so that you get a good seat.
Venue: In front of the Marina Bay Sands hotel
Schedule: 8 pm (Sunday thru Thursday) 8 pm, 9 pm, 10 pm (Friday & Saturday)
Night Safari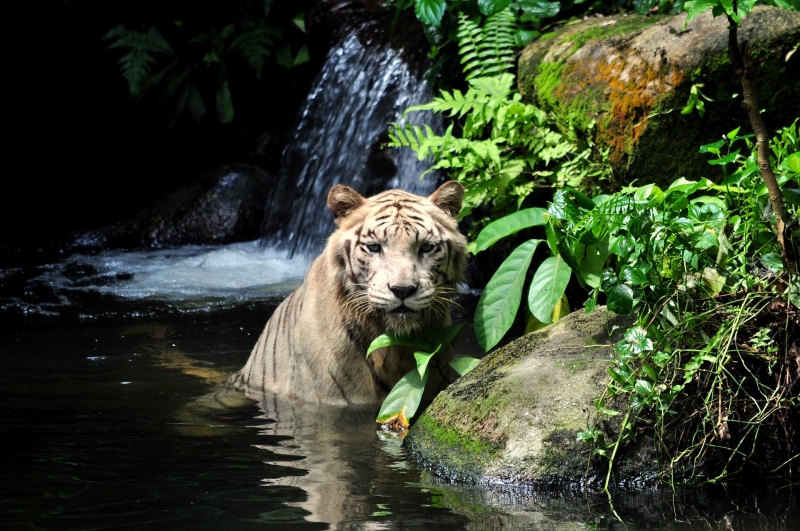 The Night Safari is a popular sightseeing spot and is one of the best things to do in Singapore at night. It's a unique nighttime zoo that shows only nocturnal animals that don't move around too much in a regular daytime zoo. You can ride the tram or walk the trails on foot while seeing the animals in the 7 different geological zones. The animals are not in cages but are separated by natural barriers so you can see the animals in the natural environments and not through iron bars. It's an exciting experience for the kids to be able to see the animals so up close.
Fee: Adult SGD51 / Child SGD
Address: 80 Mandai Lake Road, Singapore
Official site: www.wrs.com.sg/en/night-safari
Singapore Flyer
(REPLACE PICTURE)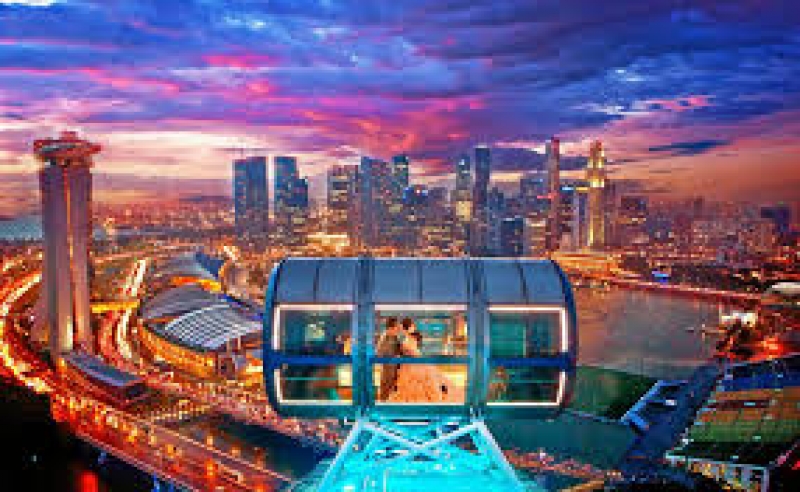 The Singapore Flyer is a huge Ferris wheel on the bay where the famous Marina Bay Sands hotel stands, and is another great thing to do at night in Singapore. It's the largest observation Ferris wheel in Asia. Instead of the conventional Ferris wheel that only seats around 4 people, you can stay standing up in this one and one capsule can accommodate up to 28 people. You get to see a 360 degree panoramic view of the whole of Singapore from the highest point of 165 meters which is about the same height as a 42 story building. The night view of the city is absolutely breathtaking. One rotation takes 30 minutes so you can leisurely enjoy the view. There are special flights at certain times on which you can enjoy a glass of the famous Singapore Sling (a cocktail) or champagne, or even have a 1 hour dinner course while seeing the sights. See the website below for more details.
*Operation is cancelled until further notice. Please see the website for when it will be reopened.
Hours: 8:30 am – 10:15 pm
Ticket booth: 8 am - 10 pm
Fee: S$33 for adults (over age 13), S$21 for children (3-12 yrs old)
Website: https://www.singaporeflyer.com/
OCBC Garden Rhapsody at Gardens by the Bay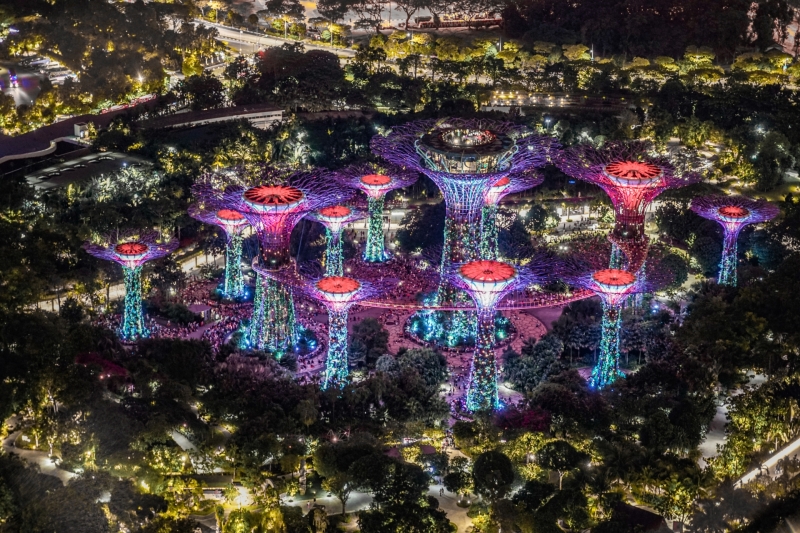 Another iconic sight of Singapore are the gigantic artificial trees in the Gardens by the Bay. The "super trees" are between 25 to 50 meters tall. There is an aerial walkway between the trees, located 22 meters off the ground. There's also an observation deck at the top of the tallest tower which is about as tall as a 16 story building. If you're scared of heights, then seeing the illumination show at night is the perfect thing for you. Sit or stand in the middle of the humongous trees and enjoy the show of music and lights with the Marina Bay Sands hotel in the background. It's quite beautiful and one of the best things to do at night in Singapore for free.
Address: 18 Marina Gardens Drive, Singapore
Official site: http://www.gardensbythebay.com.sg/en.html

Bugis Night Market
(REPLACE PICTURE)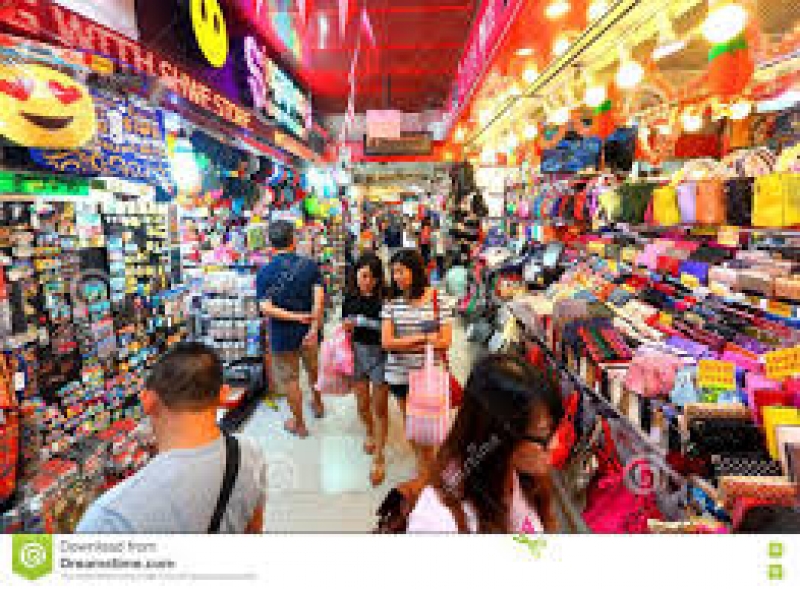 This market is actually open from the daytime, but it is open until late at night, so there's plenty of time to go shopping even after dinner. It's known as the cheapest place to buy souvenirs and other knick knacks. If you feel a bit nervous about walking around and navigating the streets at night, or simply want to see more of the local nightlife and best places to shop, you can always book a tour with a local private guide. They'll tell you where the best places to go shopping are and make sure you get back to your hotel.
Address: 3 New Bugis Street, Singapore 188867, Singapore
Hours: 11am to 10pm
Clarke Quay and Boat Quay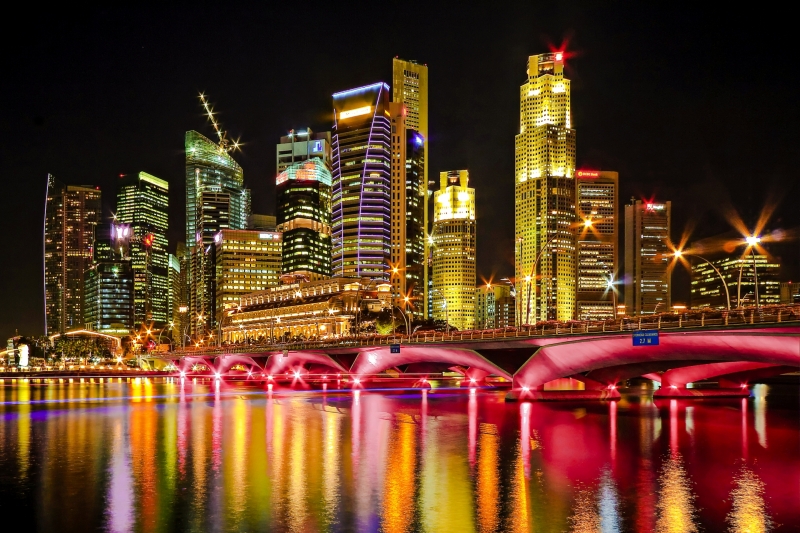 The Singapore river runs through the middle of this area, making it a beautiful riverside view with the neon lights reflecting off the area. It's famous for its nightclubs and bars, so you can enjoy partying far into the night if you want to. Or you can enjoy a glass of beer listening to live music or kicking back at a rooftop bar. This is probably something you can do on your own after you spend the day sightseeing, so a good idea is to spend the day taking a sightseeing tour of Singapore, and having them drop you off in the evening around the Clarke Quay area so that you can have some drinks and dinner. There are lots of types of tours at GoWithGuide and most of them allow you to choose where you start and end your tour, so it doesn't have to be at your hotel or a preordained spot as it would in conventional tours.
Address: 3 River Valley Road
Access by train: NE5 Clarke Quay MRT or DT20 Fort Canning Station
Singapore Sling at Raffles Hotel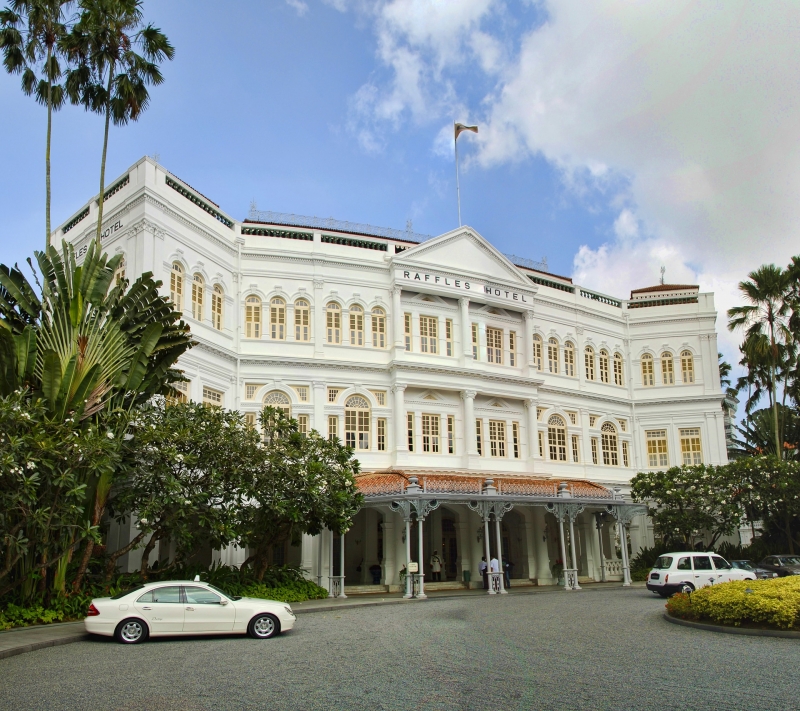 Have you ever heard of the cocktail called Singapore Sling? It's a semi-sweet cocktail that is Gin based with a bit of Cherry Brandy and Benedictine in it along with a dash of lime and pineapple. It was created at the famous luxury hotel, Raffles Hotel, around 1915 by Ngiam Tong Boon. Even if you cannot stay at the Raffles Hotel, you can still visit the Long Bar and chill out while trying the Singapore Sling at the beautifully preserved wooden counter bar.
Address: 1 Beach Road, Singapore
Official site: www.raffles.com/singapore
Cable Car Dinner
If you're visiting Singapore with your significant other, you may want to enjoy a truly special dinner up in the sky. The Singapore Cable Car Sky Network consists of two lines, the Mount Fabre Line which connects Mount Fabre to Sentosa island and the Sentosa line which takes you across the island itself. The 4 course dinner is 2 round trip rides that takes an hour, on the Mount Faber line. The cable car can seat a maximum of 4 people so you can also celebrate a special occasion with family. It's a dinner that you will definitely remember!
Address: Faber Peak Singapore, Level 2, 109 Mount Faber Road
Website: https://www.onefabergroup.com/cable-car-sky-dining
Sentosa Island "Wings of Time"
(REPLACE PICTURE)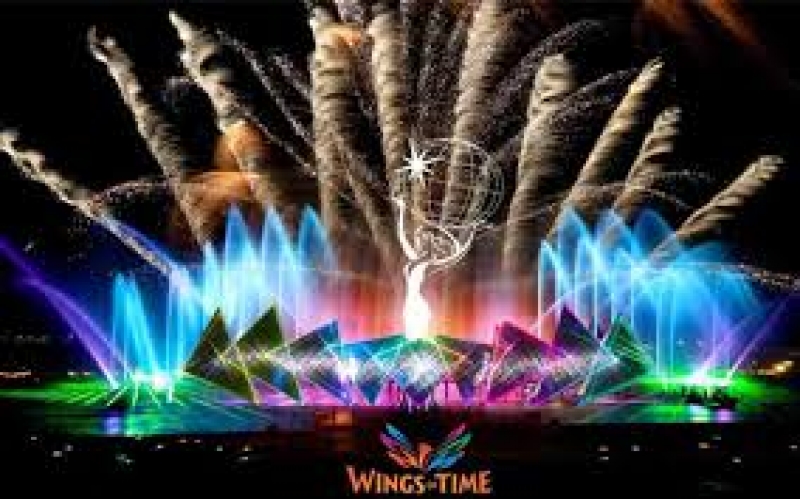 This 20 minute show is held every night from 7:40 pm and 8:40 pm. It's a story about friendship and courage. The show uses fire, laser lights, and water effects with an amazing display of fireworks. It will definitely wow you. It's 23 Singapore dollars for premium seats and 18 dollars for a standard seat. It's a fun night time event for the whole family and one of the best things to see in Singapore at night.
Address: 39 Artillery Avenue, Sentosa
Website: https://www.sentosa.com.sg/en/things-to-do/attractions/wings-of-time/
Bar Hopping in Singapore
(REPLACE PICTURE)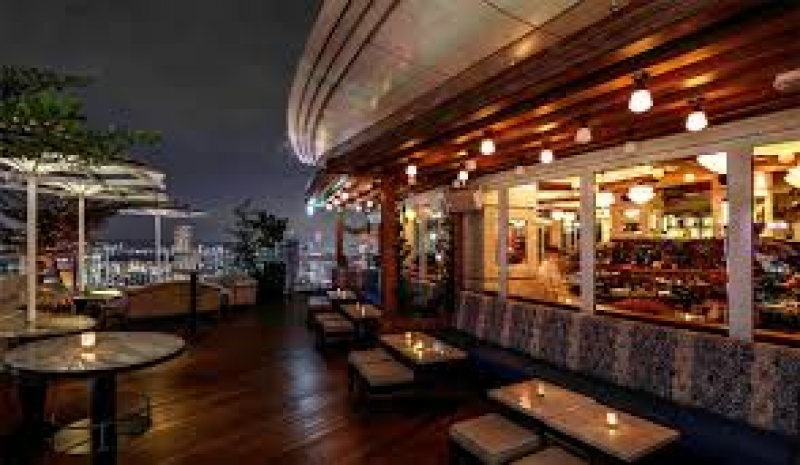 Singapore is blessed with a lot of nice bars and pubs. If you like to drink, bar hopping late night in Singapore is something you'll be sure to enjoy. The rooftop bars with their incredible views are a great place to relax, but beware of any thunderclouds coming your way. You can walk around any part of the city and find a number of cool bars to visit, but if you want to visit the best ones, who better to ask than a local. You can request a bar hopping tour and have them show you around.
River Cruise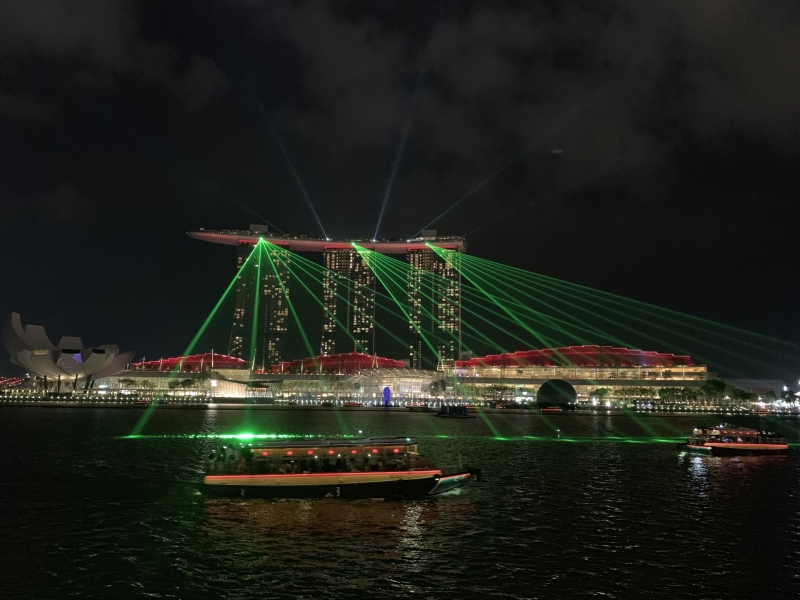 Seeing the landmarks of Singapore from the river is a different way to sightsee compared to the conventional way on foot. It gives you insight on how the River was used to move goods for trade from inland to the sea or vice versa. You can also see the landing site of the Englishman who founded modern Singapore, Sir Stamford Raffles. The Raffles Hotel mentioned above is named after this man. You can also opt to see the Marina Bay Sands Spectra show from the water.
Website: https://rivercruise.com.sg/
Marina Bay Sands Pool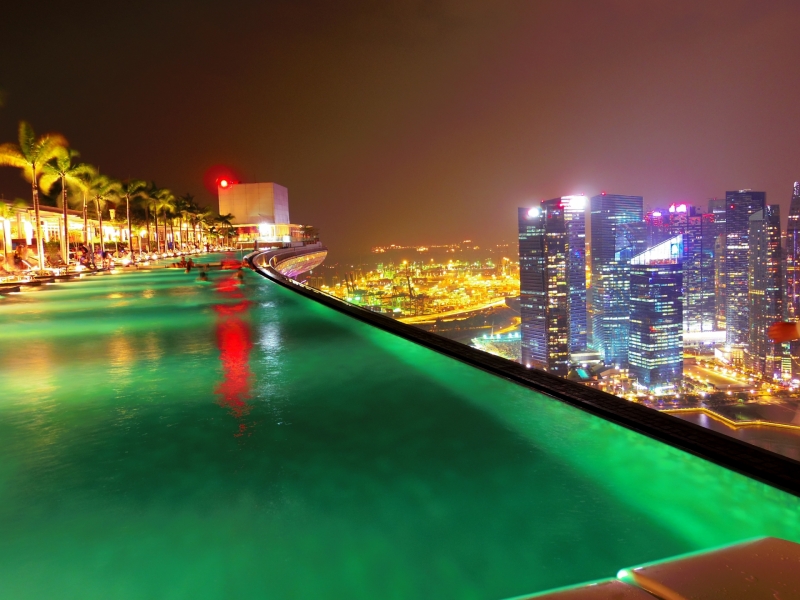 The rooftop pool at the Marina Bay Sands Hotel is probably the most iconic of Singapore's landmarks. The pool is located at the part of the hotel that looks like a boat when the hotel is seen from afar. You can enjoy the night view of the city while relaxing in the water or lying on one of the pool chairs. Unfortunately, you cannot visit this famous pool unless you are staying at the hotel. So, if you're not staying at the Marina Bay Sands, visit the bar located next to it which anyone can use. You can see the pool area from the far side of the bar and the view of the city is great. Across the bay, you'll be able to see a forest of skyscrapers lighting up the night.
Address: 10 Bayfront Avenue, Singapore
Website: http://www.marinabaysands.com/
Mustafa Centre
(REPLACE PICTURE)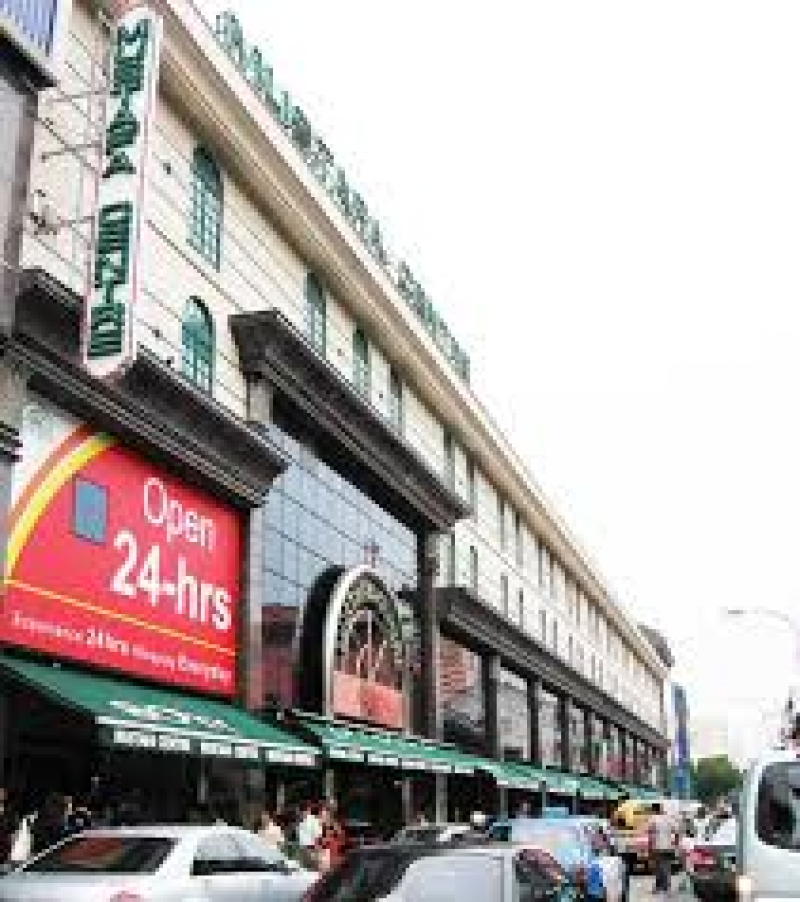 This six story shopping mall, located in Little India, is open 24 hours a day. So if you become bored at night you can go on a nocturnal shopping spree. There are all kinds of stores selling everything from high end electronics to spices and fruit sold in the supermarket. The atmosphere there is a bit chaotic, not like the modern sophisticated atmosphere of the malls in the Orchard area. Little India at night is not the safest area in Singapore, even though Singapore is one of the safest countries in the world, so it's probably a good idea to go there during the day if you have small children.
Address: 145 Syed Alwi Road, Little India, Singapore 207704
O­pen: 24 hours
Website: https://www.mustafa.com.sg/