Osaka Castle is a must see sightseeing spot when visiting the city of Osaka. It's a historic site which has survived countless wars since it was first built, including the air raids of World War II. The Osaka Castle Park is now known to the local people of Osaka as a famous place to see the cherry blossoms in spring.
History of Osaka Castle, Japan
Osaka Castle was first constructed in 1583 by Hideyoshi Toyotomi, on the former site of Honganji Temple. This powerful leader united the Japanese nation from his stronghold, Osaka Castle, after a century of continuous war. After his death, another famous "Shogun" or war commander, Ieyasu Tokugawa, was appointed as the head of the shogunate in Edo or modern Tokyo. In the 1615 Summer War of Osaka, Ieyasu destroyed the castle along with the Toyotomi family, the powerful family of his predecessor.
However, the shogunate rebuilt Osaka Castle and held it until 1868 when the castle fell as the shogunate was overthrown, and imperial rule was restored. The main tower of the castle, destroyed in 1615 by fire and again by lightning during the rule of the Tokugawa shogunate, was rebuilt for the third time in 1931. It was used as a military base during World War II. Though parts of the castle like the turrets were destroyed by air raids, there are still 13 old structures that remain standing since the Edo period. They are now designated as Important Cultural Properties by the national government.


What to see at Osaka Castle
The main tower of the castle is the center of the castle and symbolizes its magnificence. So it was lavishly decorated when originally built in 1585 by Hideyoshi Toyotomi. And he was very proud of its appearance, showing it off to his guests from around the country and missionaries from abroad. The main tower now is the third generation built, but it was built recreating the original appearance from the Edo period. It was recognized as a Registered Tangible Cultural Property by the Japanese government in 1997, so it's definitely something you want to go and see.
Inside Osaka Castle is a museum where you can learn about the history of this magnificent castle. There are dioramas and videos shown on screens which you may find interesting. The 10,000 items in their collection include swords and other weapons from the Warring States era of Japan, along with folding screens depicting fierce battles and letters written by warlords like Hideyoshi Toyotomi. There's also an area where you can try on a helmet and surcoat from that era and have your picture taken for 500 yen.
At the top of the castle, you can enjoy the view from the observation deck. You'll be able to see a panoramic view of Osaka Castle Park and the buildings of the city in the background.
Address: 1-1 Osakajo, Chuo-ku, Osaka City 540-0002
Tel: +81-6-6941-3044
Business hours: 9 am to 5 pm (Last admission 4:30 pm)
* Business hours are extended during certain periods in the spring and summer.
Closed: December 28th - January 1st
Tickets: Adults 600 yen (Free for children age 15 and under, though ID is required)
Website: http://www.osakacastle.net/english/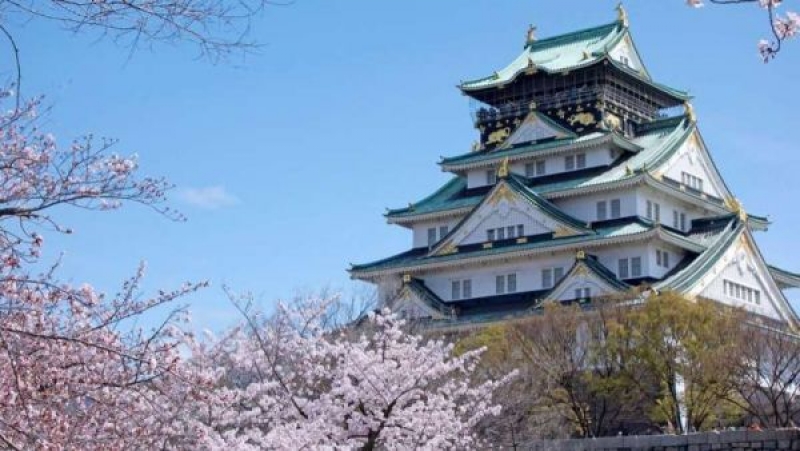 Osaka Castle Illumination at Night
Osaka Castle is illuminated at night, every night from sunset to 11 pm. Seeing the softly illuminated castle loom up in front of you out of the dark creates an eerily regal scene, as if the proud warlord ghosts from the Edo period might still be inside. This illumination becomes even more fantastic in springtime when the cherry blossoms are in bloom. During that time the cherry blossoms in the park below as well as the castle are lit up. It's a photogenic scene that you have to get a shot of.
Osaka Castle Park is also now holding a nighttime event called "Sakuya Lumina". The park is illuminated and decorated with digital art. You'll be able to immerse yourself in a mystical world of sounds and lights combined with the natural environment. The event is held by a company called Moment Factory from Canada and they have received several international awards for their creations. It's a beautiful type of entertainment that both children and adults will enjoy. If you'd like to attend, make sure to reserve tickets in advance through the website as there are only a limited number of tickets sold on the day.
Duration: until December 2021
Business hours: 6 pm to 10 pm (last admission at 8:40 pm)
Tickets
Adults (18 years old and above): 3,200 yen (2,700 yen for advance tickets)
13 to 17 year olds and Seniors over 65 years old: 2,200 yen (1,800 yen for advance tickets)
4 to 12 year olds: 1,200 yen (1,000 yen for advance tickets)
*On the day tickets are sold at the Sakuya Lumina Ticket Center of the JO-TERRACE OSAKA building in Osaka Castle Park.
Tel: +816-6649-0680
Website: https://sakuyalumina.jp/en/
9 Top Osaka Castle Tours by Local Guides
Osaka Castle has a lot to offer. You can have a totally different experience by going there in the daytime or going there at night. And visiting the castle with a local guide who can give you much more insight about the history and local culture will make the visit even more interesting. The local guides know the area intimately, so you're sure to be able to make the most of your time by visiting the castle and several other sightseeing spots you want to see, all in one day. Below are 9 tours I recommend for one day tours of Osaka including the Osaka Castle.
"A perfect original tour of OSAKA made with you" by Masahiro
"One Day Highlights Tour around Osaka" by Yasuo
"Osaka Five Best Spots tour" by Toshi
"One Day Tour of Osaka" by Makoto
"Your most memorable tour in Osaka" by Kazuhiko
"Private Tour Osaka Half Day" by Akira
"Awesome Osaka 1 Day Tour" by Shogo
"Amazing Osaka Tour Packed with Fun" by Kenji
"Osaka Castle, Dotombori, Shin-Sekai" by Hideo
Hotels near Osaka Castle
There are several hotels near Osaka Castle that are within walking distance. And if you include the area just one or two stations away, there are so many hotels you won't know which to pick. There aren't many 4 star hotels or above, but rooms in a 3 star hotel in Japan aren't too bad, just a bit cramped. And you can save on accommodation fees. They're usually on average around 6,000 to 9,000 yen per person for one night. Below are a list of hotels within walking distance from the castle, though some take a bit of a walk. The first is a 4 star hotel and the rest are 3 star hotels.
Hotel New Otani Osaka
a 10 minute walk to Aoya Gate of the castle
Address: 1-4-1 Shiromi, Chuo-ku, Osaka 540-8578
Tel: +81-6-6941-1111
Website: http://www.newotani.co.jp/en/osaka
Hotel Monterey La Seour
a 25 minute walk to Aoya Gate of the castle
Address: 2-2-22 Shiromi, Chuo-ku, Osaka 540-8578
Tel: +81-6-6944-7111
Website (Japanese only): https://www.hotelmonterey.co.jp/lasoeur_osaka/
KKR Hotel Osaka
a 10 minute walk to the Otemon Gate of the castle
Address: 2-24 Babamachi, Chuo-ku, Osaka
Tel: +81-6-6941-1122
Website (Japanese only): https://www.kkr-osaka.com/index.html
Hotel Keihan Tenmabashi
a 10 minute walk to the Otemon Gate of the castle
Address: 1-2-10 Tanimachi,Chuo-ku, Osaka 540-0012
Tel: +81-6-6945-0321
Website: https://tenmabashi.hotelkeihan.co.jp/
Hotel The Lutheran
a 5 minute walk to the Otemon Gate of the castle
Address: 3-1-6 Tanimachi,Chuo-ku, Osaka 540-0012
Tel: +81-6-6942-2281
Website (Japanese only): http://www.hotel-lut.com/
GoWithGuide provides customers with tours and guides. It's like a marketplace of tours from which you can choose the one you like the best. The aforementioned tours are only a small portion of the tours offered.
Osaka is a large city in western Japan, also called the Kansai region. So there are many things to see besides the Osaka Castle. This city has its own unique culture and traditions which are different from what you'll experience in Tokyo. Having a guide to explain the differences and point out the unique characteristics of Osaka can make your trip even more memorable.
The guides all create their own tours so the tours are unique. You can also communicate directly with the guide to ask questions or convey requests, for example the length of a tour, before actually booking a tour. Many of the tours are able to be customized, so the guide will incorporate your requests into the itinerary if you ask them too.
Also, if you don't find what you're looking for on the list of tours, you can request a tour for half a day, a full day or more. Make sure to list what you want to see, where you want to go, what you want to eat and so on. Doing so will allow the guides to create a tour itinerary just for you. All of the guides will be able to see requests like this and the ones that are available during your requested dates, and will contact you. You can compare what the guides suggest and choose the best one.
Most tours are walking tours, created so that you can use the public transportation system while sightseeing. It's a good experience to get used to traveling around the city. It also gives you an idea of the local people's daily lives. However, you also have the option of hiring a private car and driver. Though expensive, it's an option that people with disabilities or elderly people who aren't able to walk for hours on end find to be valuable. Catching a taxi is also another way to get around, but sometimes it's difficult to find available taxis, so having a car just for yourselves is very convenient.
You should also look at the guides' profile videos. You can see what kind of person they are and also the reviews they got from previous customers. This is an important aspect in choosing a tour that you will find satisfactory. Most companies won't let you choose your own guide or let you have a sneak peak at what they look or sound like before the day of the tour. But wouldn't you rather have a companion you chose yourself instead of one that's assigned to you? So carefully choose a guide for your tour and enjoy your time in the exciting city of Osaka.
Recommended Blogs

:

11 Things to do in Dotonbori, Osaka

10 Foods You Must Try in Osaka

6 Amazing Places to Shop in Osaka

Traveling to Kyoto from Osaka: One day trip