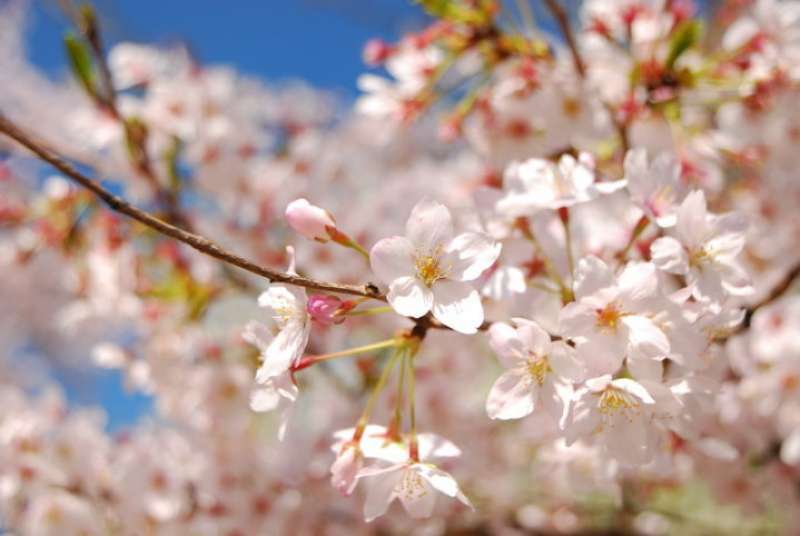 Just seeing cherry blossoms in Japan is a lot of fun, not to mention. Knowing a little bit about them, though, makes you enjoy them even more! An active tour guide answers questions about cherry blossoms frequently asked by international tourists on tour.    
Q1: When can you see cherry blossoms?
A1: You can basically enjoy cherry blossoms from last March to mid April, although it totally depends on the weather, areas, and types of cherry blossom. Cherry blossoms usually last only less than 2 weeks and the blooming season can be even shorter when it is windy or rainy. The limited season is definitely one reason why cherry blossoms are very special.  (Check the cherry blossom forecast!)
Q2: Are there various types of cherry blossom in Japan?
A2: There are as many as 600 types of cherry blossom in Japan when including cultivated ones. The most popular cherry blossom type is one called Somei-yoshino, and about 80 percent of cherry blossom trees in Japan are said to be this type. You can also enjoy several types of cherry blossom at once at some spots. Enjoy the variety of cherry blossoms in Japan!  
Q3: Is the fruit of cherry blossoms different from the cherry fruit?
A3: They are actually different types of cherry. Somei-Yoshino has small cherry-like fruits after blossoming, but we do not eat them though they are not poisonous. However, we tend to enjoy cherry blossom-flavor sweets especially in spring so that you may want to try some of them.  
Q4: Why do Japanese people like cherry blossoms so much?
A4: Japanese people have been appreciating cherry blossoms from ancient times. The reason why we love cherry blossoms is not only that they are simply beautiful and gorgeous. We find it beautiful when cherry blossom petals fall; it minds us of the fact that everything worldly is changing and nothing is permanent, which comes originally from an idea in Buddhism.  
Q5: What those people under cherry blossoms are doing?
A5: We have a custom of enjoying picnic under cherry blossoms. It is called hanami, which means "flower viewing." People enjoy eating and even drinking alcohol while seeing cherry blossoms. Some people are so eager to get the best location that they keep their location by putting a picnic sheet from the day before!  
Q6: Do you have any recommendation of cherry blossom spots?
A6: We have plenty of nice cherry blossom spots all over Japan. Some of them are so famous and popular and attracts many people. Other than this kind of spots, you tend to be able to see cherry blossoms around academic facilities such as elementary schools. Since schools in Japan start in April and end in March, many schools have cherry blossom trees to celebrate this season of meeting and parting. It is also nice to find hidden and unknown cherry blossom spots around your hotel.   

      The cherry blossom is one of the symbols of our country.  I am sure that enjoying cherry blossoms in Japan will be an unforgettable memory on your trip to Japan.
Best Virtual Tours & Experiences in Japan
Looking for an authentic travel experience in Japan but still stuck at home? No problem! Why don't you start by taking a Virtual Tour for a moment's escape from the mundane and chaos with our professional guides in Japan?
Top Experiences:
→
More Japan Virtual Tours & Experiences