Mochitsuki (making rice cakes) , a once popular event before New Year for every household, was held in Shukunegi.
Japanese people offer mochi (rice cake) to the God of the New Year.  So we make mochi during the end of December
We used to make mochi using pestle and mortar.  But nowadays most of the household use mochi cooker for convenience.
So, this is quite a rare occasion for most of us to witness authentic "mochitsuki".
Let the "mochitsuki" begin!
First, just steamed mochi rice is roughly mushed by one person.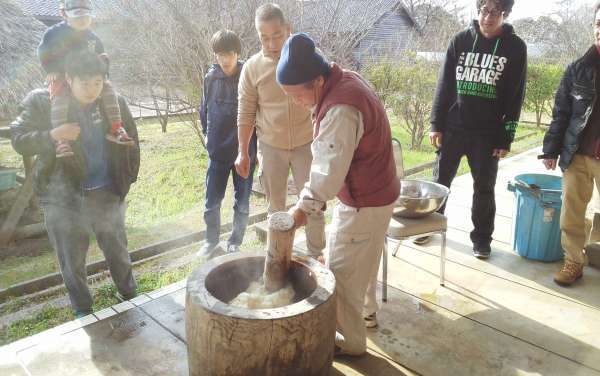 Then, one person pound mochi dough with a  pestle and the other turn it over adding a small amount of hot water 
to make mochi dough softer.
It is important for the pair to rhythmically pound mochi dough while it is still hot.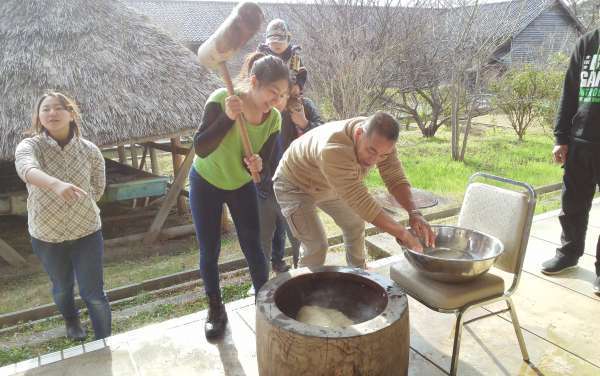 The photo above, even a tourist can join and pound mochi with locals!  People in Shukunegi are really  friendly and nice.
After the mochi dough was pounded smooth and soft enough,  homemakers shape a batch of mochi in small pieces.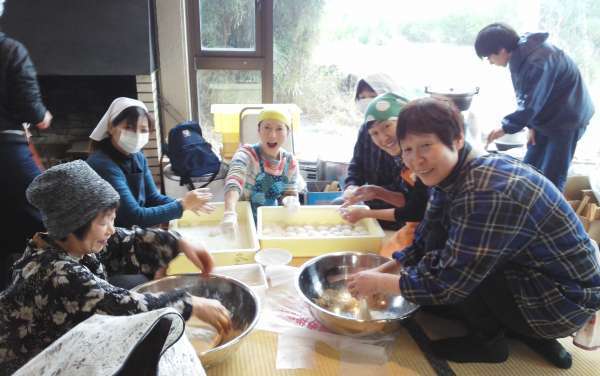 After another batch of mochi rice was steamed and roughly mushed.....
Now, it's our turn!!  Ready, grandpa?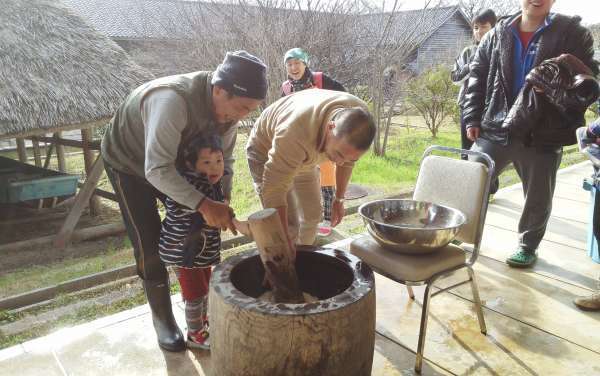 Let the Mochi Party begin!!
Mochi was served in two kinds of dishes.  One is Oshiruko-style, eaten with sweetened red bean paste.  The other is Zoni-style, eaten in vegetable soup.
Shukunegi locals, young and old, enjoyed eating mochi dishes with homemade vegetable pickles, all cooked by local homemakers.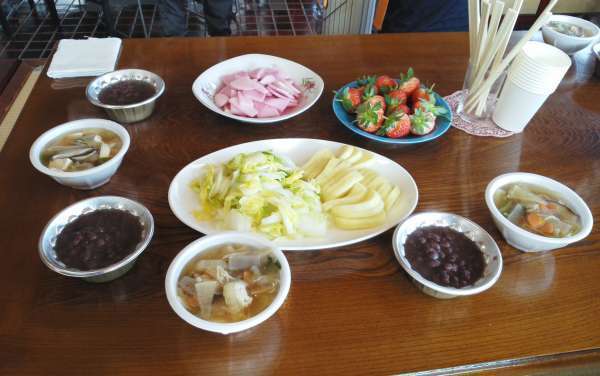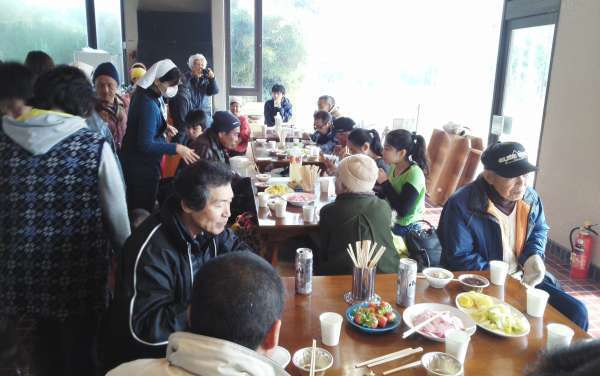 Everybody looked back on the year 2015 while eating delicious mochi and wished for the happiness of the coming year.
Shukunegi is one of my favorite places in Sado and I really wish for the happiness and health of the locals!
I'm still a blog begginer, but it's a lot of fun to tell you more and more about Sado next year.
Happy New Year 2016! 
See you soon!
 from Fujiko
.
Did you like my article?
You can send me a message to get a customized itinerary and quotation for an unforgettable experience. Let's explore Japan Together.
I'll be waiting for you, so please check my profile and get your trip plan now