Antique Market in Tokyo (Setagaya Boroichi) 15-16 Dec. and 15-16 Jan. every year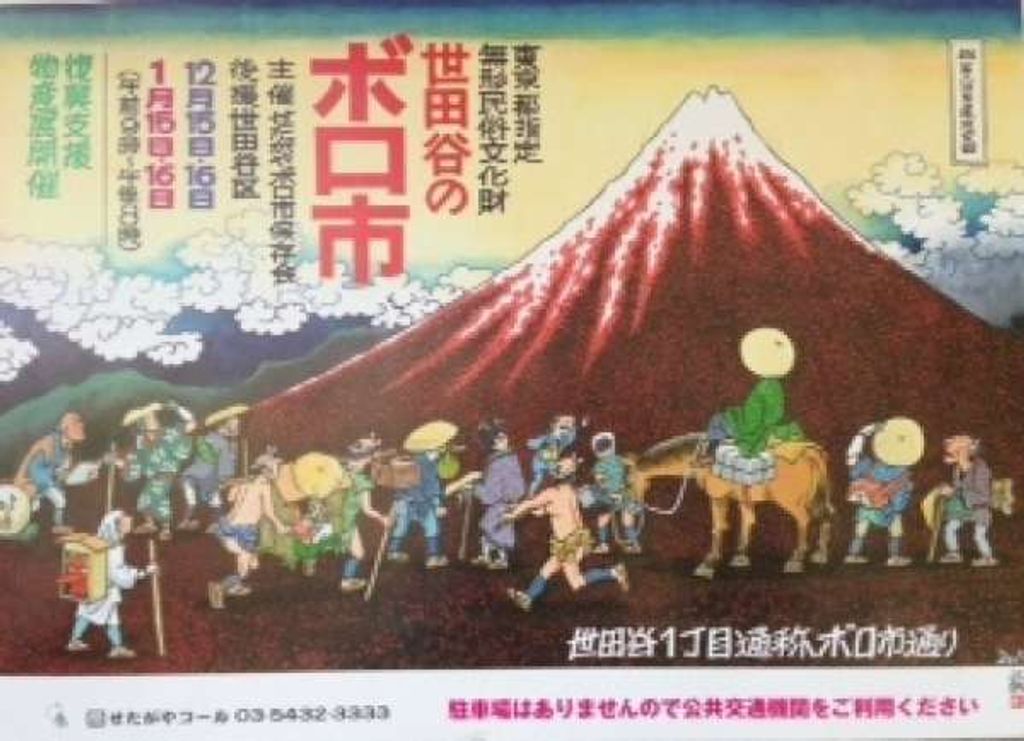 Cold but ecxiting antique market, which sometimes has antique kimono (Japan's traditional silk clothes) less than 2,000 yen.
Setagaya ward located in the western part of Tokyo is residencial and peaceful area, but 4 days a year, this area has very exciting antique market. It is called "Setagaya Boroichi (rags market)", but actually products here are not rags anymore. I like antique markets personally and went many of them in Tokyo, but I love Setagaya Boroichi most because it has so many kimono shops and good food stalls as well as useful new products for our daily lives.
It has more than 350 year's history, and recently number of visitors rose up surprisingly which consecuently leads the expansion of market zone. Now you can find almost everything necessary for Japan's winter here ranging from warm new socks to secondhand mink coat. It also provides new products to prepare for coming year, such as newly carved altar of small Shinto shrine and wooden mortar to make rice paste. Connoisseur gather to shops which deal with swords, tools, iron products which were used during war. I myself search good kimono and objects of tea ceremony. Usually I spend 3-4 hours walking. If you feel cold, hot sweet rice sake lees would heat you. Hungry? No problem. Tens of food stalls are waiting for you.
The market opens four days a year: 15-16 December and 15-16 January from 9AM to 8PM. The nearest station is Sakurashinmachi of Denentoshi line (4th stop from Shibuya) or Kamimachi of Setagaya line (that connects Sangenjaya station of Denentoshi line with Shimotakaido station of Keio line).
Too complicated? Then I can make an tour arranged for you in my First Day in Tokyo tour: https://triplelights.com/japan/tour/tokyo-by-saori-151