In Japan, April is one of the most important months next to January, because the account year of most companies and school year in Japan start on April 1 and the end in March of the following year.
Usually, the timing for blooming of cherry blossoms falls on their starting times in Tokyo.
Scenes of entrance to schools or companies are easily associated with cherry blossoms in our mind. This spring, however, spring blossoms, have bloomed unusually earlier as I mentioned in the last "Café Negishi". So I was afraid to miss the cherry blossom at this time.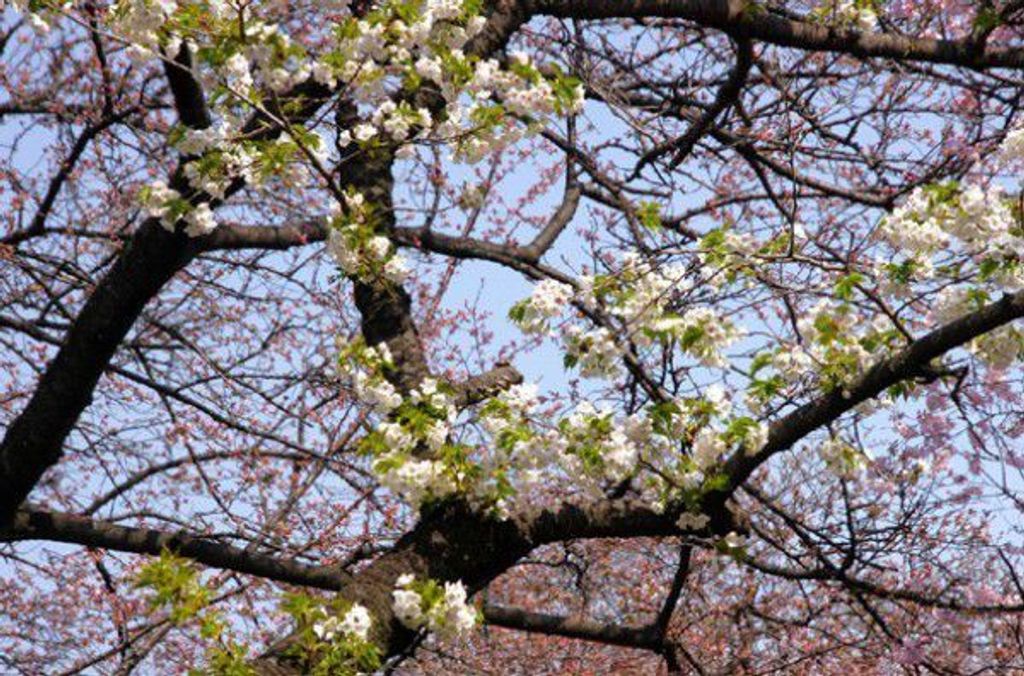 Thanks to the recent fickle weather, cherry flowers were in full bloom in the first week of April as usual in the Tokyo area, and are in full young green leaf in the second week. Such young green leaves also give us a fresh feeling just right for the beginning of schools or companies.
Entrance into schools or companies are considered to be a change of life. I think it is the same in your country.
Entrance ceremonies in schools here are organized as follows;
New students enter the hall.

Names of new students are read aloud.

Address by a principal, including the declaration for admission to a school.

Welcome address by a representative of new students.

Singing a school song
Most of students in primary schools carry on their back a box-style randoseru, corrupted from ransel of Dutch, colored with black for boys and red for girls.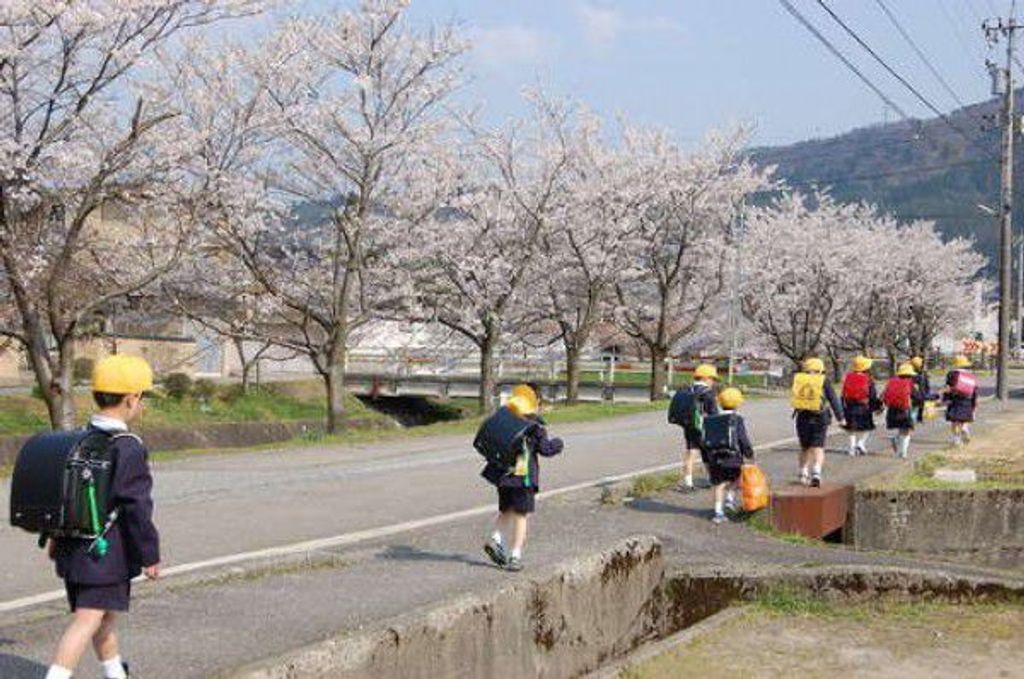 Most of randoseru are attached with charms for safe going to and from schools.
In addition, they wear a yellow cap for the prevention of traffic accidents. Parades of students seen from the distance look like a chain of fluttering yellow butterflies.
Fresh men and women of companies also wear new wardrobes and walk through streets to their companies, having a tense face.
Both of scenes are heartwarming for our eyes.
In the midst of such a fresh atmosphere, not only fresh students or new employees but also seniors like us get stimulated. We set our objectives in the beginning of April. Some of us aim to learn foreign languages still: others to learn composition of haiku, Japanese poem of seventeen syllables in 5-7-5 syllabic form or tanka, Japanese poem of thirteen-one syllables in 5-7-5-7-7. Therefore, a wide variety of schools or correspondence education are very popular in Japan to cater exclusively for our senior people. To our joy, some courses are subsidized for expenses by the government. If you walk through a shopping street in the beginning of April, you may find in a bookstore full of colorful textbooks for a wide variety of subjects on radio or TV programs.
Especially this year, next year or the year after that,……., Japanese- baby boomers who were born from 1947 to 1952 will come of age of 60, their retirement age. Companies in different fields, including education, culture club, traveling and others, are planning to target this age bracket to promote their products, Thus, a wide variety of certification examination-related businesses targeted for those people have also been becoming very popular. Retiring from companies in 2007 or after, they intend to seek a new job opportunity after gaining some official certificates.
Although I am not a baby-boomer, for example, I tried Edo-ken, certificate for knowledge of Edo Era to pass the 3rd class last year, and try to have the 2nd classthis November. This is not a serious examination, just one of mental exercises. This 1st Edo Culture & History Test was held on 3rd of November, Culture Day, 2006 and amazingly taken by over 10,000 people of ages ranging from 9 to 89, including about 5,300 seniors over 50.
Their motives for the test are;
to prevent senility

to know more about their own town

to enjoy being in a studying group for senior people

to get a certificate for common sense for recruit activities

to enjoy visiting each place, and having knowledge of history and culture.
Thus, a wide variety of local test are popping up throughout Japan.
For my case, I had also another one, Kanagawa prefecture examination on 23rd of March, Day of Spring Equinox. Although I graded my own performance at 75 out of 100 to get a passing score, I really felt how poorly I've known about my hometown where I have lived more than 60 years. I really felt it that "One must go abroad to hear of home". Most of seniors should have a similar thought and we will make preparations for the same class or higher-class examination as one of their pleasures and mental exercises. Do you have such examinations in your country?
Due to the prolonged recession, most popular recreation is walking with instructors who provide historical information and background of famous literatures. We walk not only for exercises but also for cultural enrichment. You may be amazed how diligent we are after 60 in Japan?
Lifelong education'(shougai-kyouiku) came into use in Japan after 1970s.
Its objective was not to reform the school system to gurantee Shogai-kyouiku;.
It became institutionalized with objective of offering places where housewives and the elderly could acquire education to fulfill their individual lives. With the advent of the aging society and the increase in free time from reduction in working hours, this institution has taken on renewed interest.
For me, I will give lectures of tourism English & hospitality for international visitors at a vocational college for a year from this April. This opportunity makes me feel a fresh man and also allow me to enjoy studying together with young people, reminding me that "A young man gets old too quickly to learn a lesson."