You, who read this section, must have already known the "teamLab", which is a museum of experience type. You explore each exhibition spaces, in which artistic animations are projected on walls and floors. You immerse yourself in artistic artificial worlds. It attracts many foreign tourists. Although I had been interested strongly, I hesitated to visit, because an admission is expensive. Recently I visited at last, and found very attractive.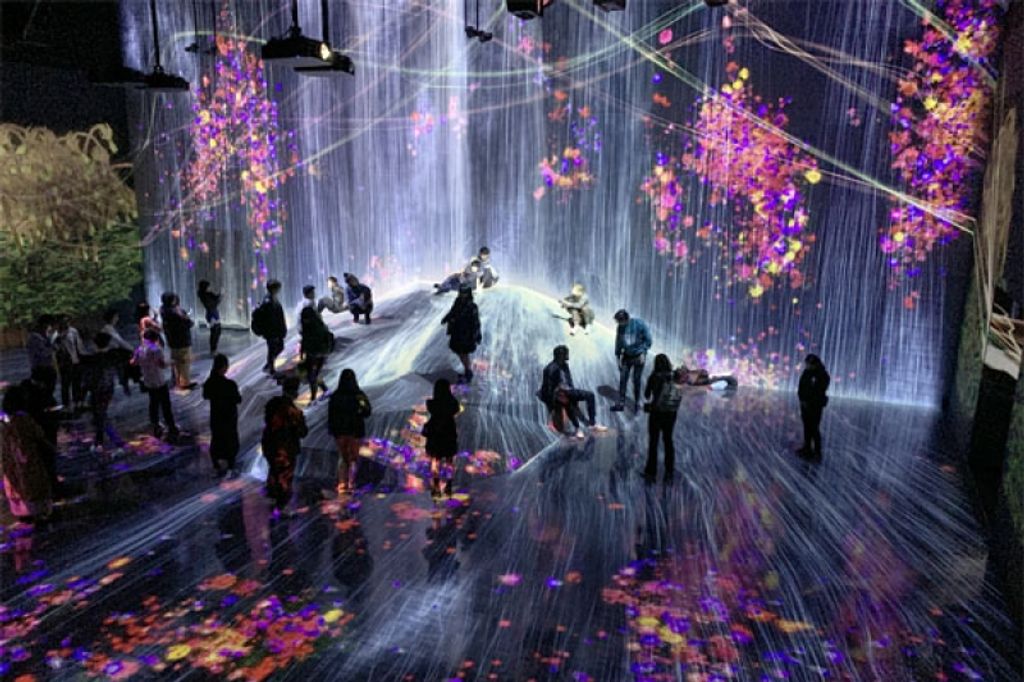 "Universe of Water Particles on a Rock where People Gather" in teamLab Borderless
Every graphic images of animations are stunningly beautiful and unique. The place is divided into many area by partitions. Each has different world. In some cases, the floors or the wall is mirror. You feel as if you are float in the air or the room spreads infinitely.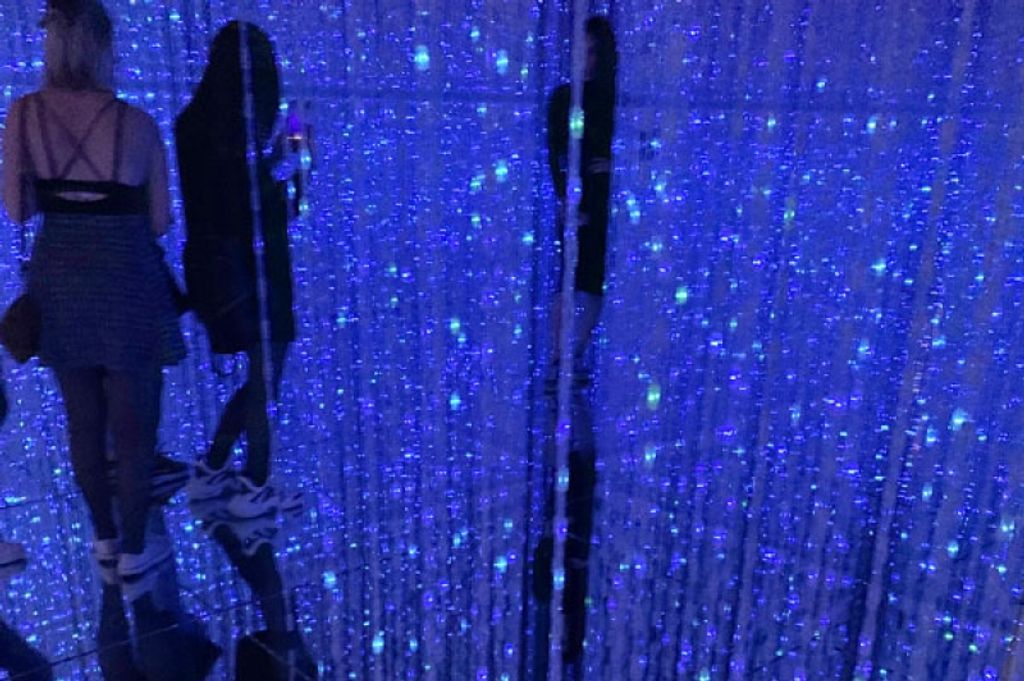 "Wander through the Crystal World" in teamLab Borderless
You stroll each room one by one. Since the animation changes continuously, the room has different scenery, when you return later. It is a quite wonderful experience.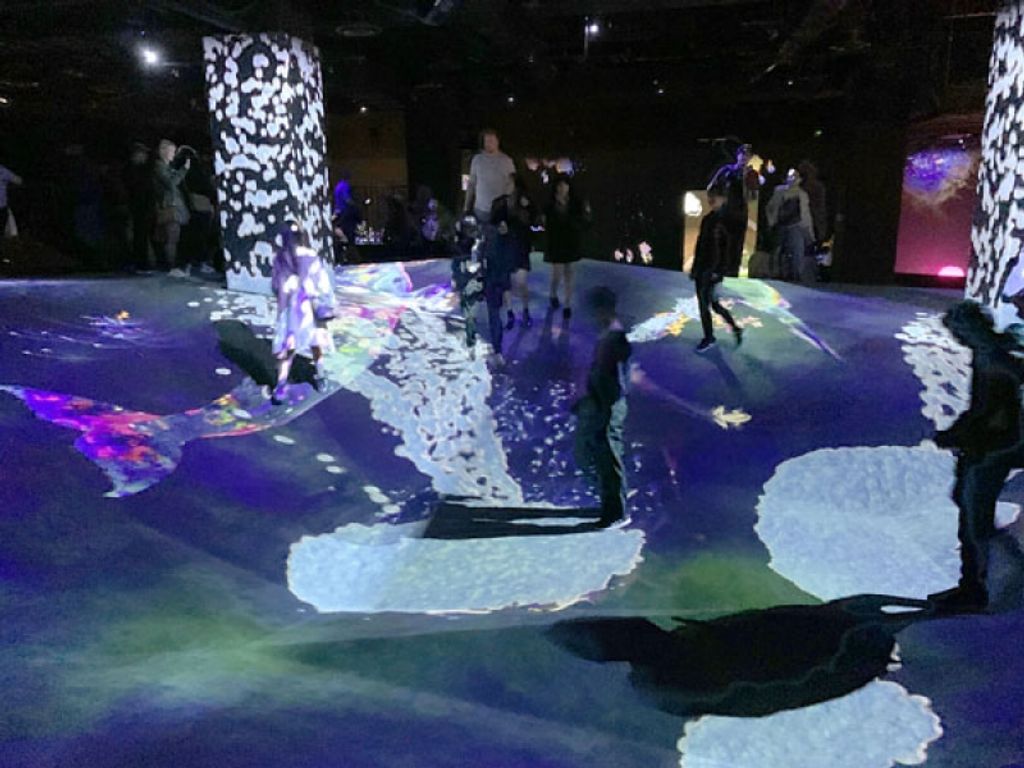 " Graffiti Nature - High Mountains and Deep Valleys" in teamLab Borderless
My nature can't help considering a source of such strong impression. So I spent another one hour to search it. At first, I observed the layout of each partition, although the museum claims "no map". Then I observed motif of images, and found many Japanese traditional elements. You can find similar waves in Ukiyoe(wood print) by Hokusai, figures in Indian ink paintings of medieval Buddhism art, animals in Fusuma(traditional sliding door) paintings, flowers in Japanese Kimono design or Makie(decoration art of wooden box). These elements are drawn beautifully to achieve sophisticated artworks of cutting edge.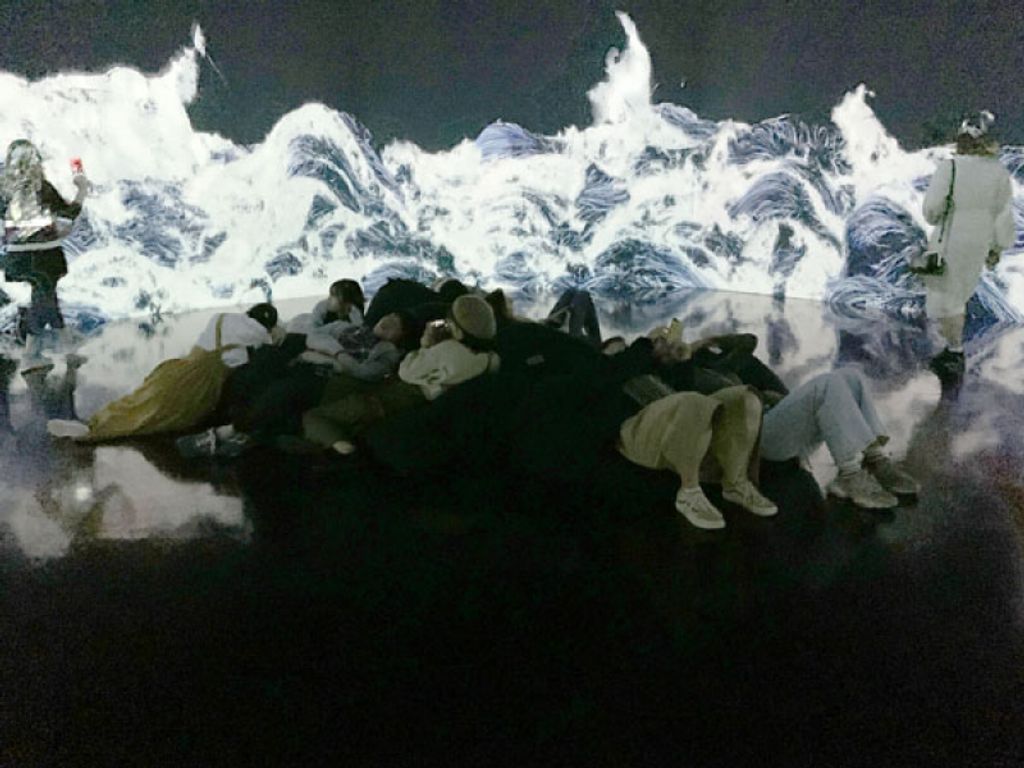 " Black Waves - Continuous" in teamLab Borderless
Another element of this museum is a stroll. It is an essence in Japanese garden. In Edo period(17-19th C.), many feudal lord fascinated to construct gardens. The gardens are composed of natural objects such as a pond, paths, trees, rocks and terrain. They walked to enjoy a virtual tour in the garden. The garden is designed to show pedestrians various sceneries one after another by walking. For example, you will find a new view, after passing through trees, which shielded the view before. Altitude of small mountain or direction of the path also changes the view for pedestrians. Theme of Koishikawa-Korakuen garden is a travel from Tokyo to Kyoto. Several views which resemble actual spots on the way are constructed in the garden. In addition, gardens change by themselves in lapse of season, as new green, blooming and falling leaves.
I think these two elements are characteristic foundation of teamLab art. Of course, there must be more elements I do not seize yet.
1. Traditional Japanese Motifs
2. Changing Sceneries
They are combined to sophisticated visual art and animated installation. Projection mapping technology is also indispensable. Numerous projectors are used optimized for this use. "Borderless" is multiple also in production, such as motif, artistic contents, installation and technology.
The museum seems to recommend that you will visit without any preparation and stroll without a map. You may be struck by its unique motifs. It may enhance your emotion. It is one way to enjoy the museum. But if you hope to visit with some preparation, I will recommend to visit two sites in advance. One is Tokyo National Museum in Ueno. At the museum, you will find basic motifs of projected images in Japanese traditional pictures and crafts.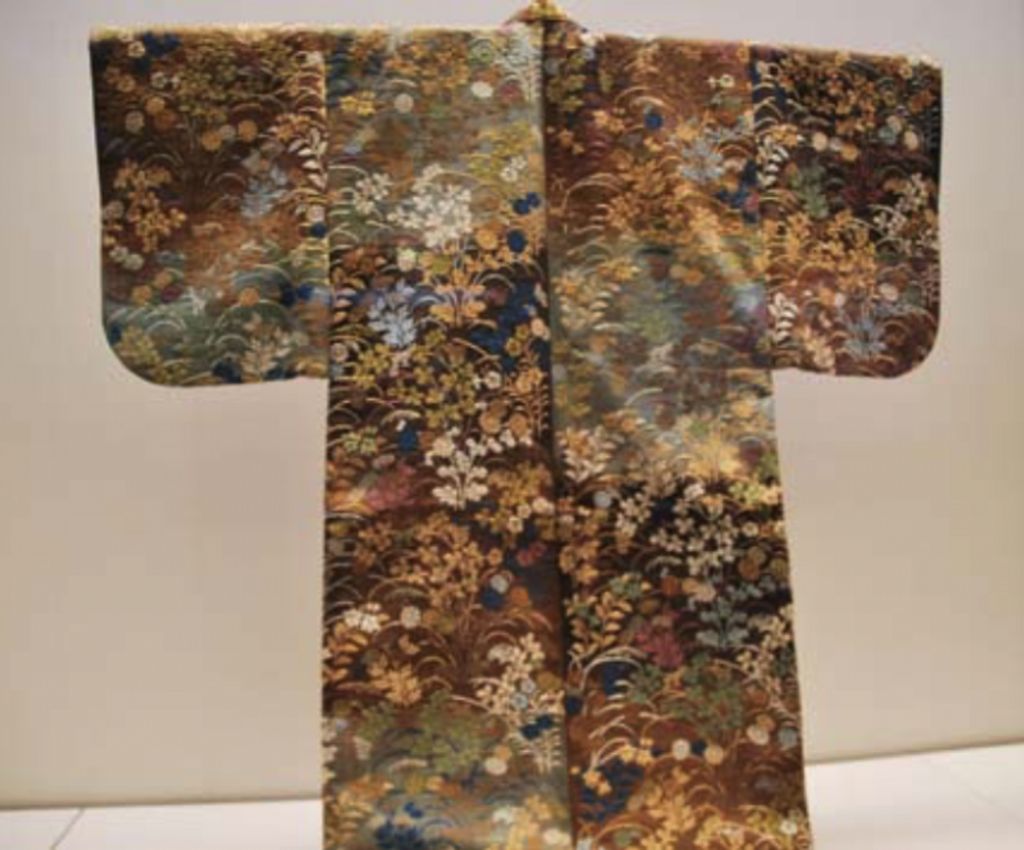 Kimono in Tokyo National Museum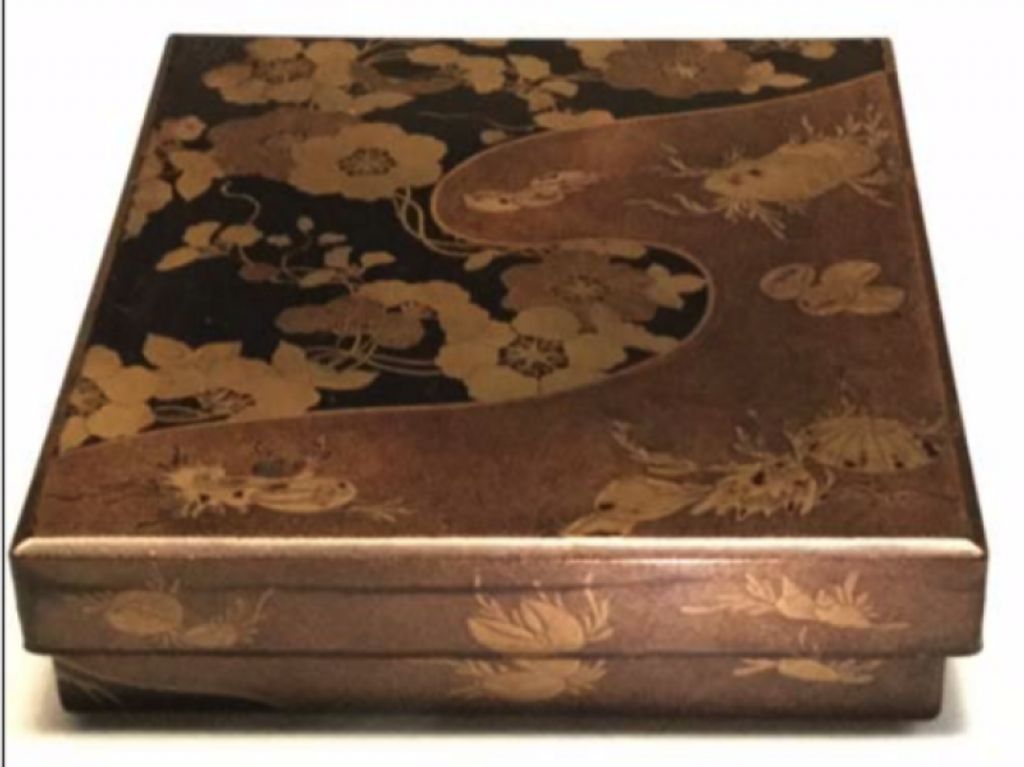 Makie-Art in Tokyo National Museum
Another one is Japanese garden, Shiba-Rikyu-Teien, in Hamamatsucho. You will find changes of sceneries by view points. This garden has characteristic several small mountains, which offer various viewpoints. Since the ground is small compared with other famous Japanese gardens, you are not tired before visiting teamLab. Then you take Yurikamome line from Takeshiba station to Aomi. The museum is just 3 minutes walk.
If you need a guide, please inquire.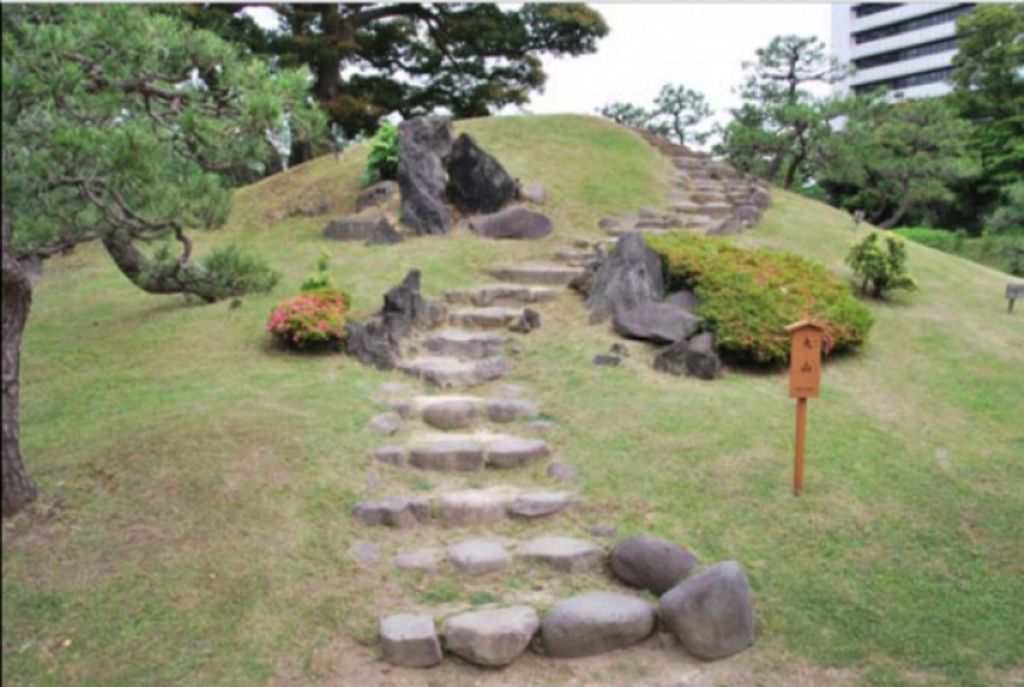 One of small mountains in Shiba-Rikyu-Teien