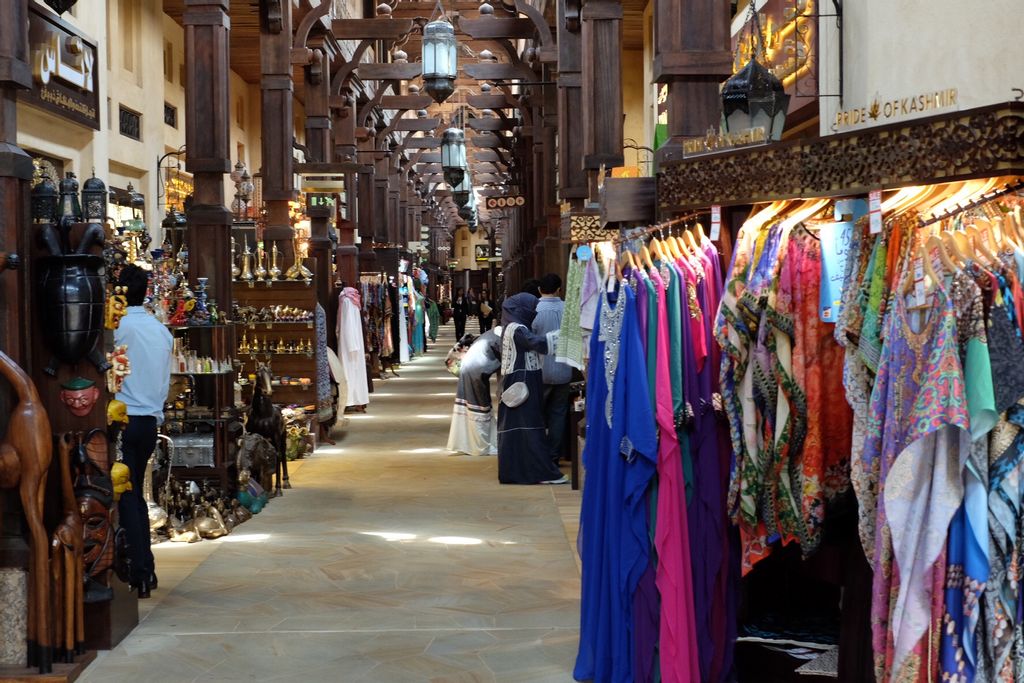 Dubai Shopping festival 2020-21 to be held from Sat, Dec 26, 2020 – Sun, Jan 24, 2021. Dubai as a destination is heaven for shopaholics, joy for family and a children's fancy land. DSF is a month-long shopping extravaganza, a perfect combination of activities and festivities. DSF brings the much-needed vibe to the winter holiday mood in Dubai. DSF is the largest shopping festival in the middle east, and it is not just about shopping in huge malls. This Arab city has some of the exotic shopping destinations that are influenced by the Arabian Heritage and culture. The streets will become livelier with temporary street markets that are open for the winter season only. DSF is one of the celebrated shopping festival and people from all around the world flock to Dubai to get the benefit of huge discounts famous and luxurious brands. More than 700 brands and 3,500 outlets will take part in the stunning Dubai Shopping Festival. You may get the discounts and offers up to 75 per cent off on many brands across the city. The shopping malls and stores will remain open from 10.00 am to 12.00 am during the DSF period.
Top things to buy during Dubai Shopping Festival 2020-21
Dubai is home to some of the largest and unique shopping malls, all your favourite brands are scattered across all over the city's top shopping centres. Below are some of the things you can buy at reasonable prices.
Apparels
If you love designer clothes and high-end brands, then DSF is the best time to get hold of your favourite jeans or jackets you always dreamed of owning. If you are into luxury designer brands, then head to the Fashion Avenue in Dubai Mall. You can find your favourite brands from the glamorous Versace to the exclusive Gucci. Jack & Jones, BOGGI, Christian Louboutin, Verri, Rodeo Drive, Armani, Billionaire, Bebe, Burberry, Prada. All these popular brands offer unbelievable discounts and offer during the DSF 2020-21. Not just Dubai, all other shopping malls like Mall of the Emirates, Dubai Festival City Mall, Mercato Mall, Ibn Battuta Mall all houses your favourite brands.
Gold Jewelry
Dubai is known as the city of Gold, and the city's gold souks and other gold markets offer pure quality gold at a cheap rate. From contemporary designs to modern, the stores in Dubai is known for its innovative and creative designs.
Electronic Gadget.
Dubai is one of the modern cities in the world, all the new gadgets and accessories are available in Dubai at very reasonable prices. Buy from the favourite brands like Apple, Sony, Bose, Vertu, Cross Gold, Acer, Fujitsu, Vivo, Oppo, MI, and more at best prices from city's various exclusive outlets and markets like Sharf DG, Jumbo and more.
Exotic Spices
Dubai has always been a trade hub for good quality spices from India, Iran and other parts of the world. Places like Dubai Spices Market offers the best quality exotic spices at a very reasonable price. Buy exotic spices and exotic dry fruits like saffron or black cardamom from Dubai.
Perfumes
The land of perfumes, from the high brands like Bvlgari, De Beers, Chanel, Burberry, Armani to world-famous Arabian Oud's. Every shopping malls and markets have exclusive and huge perfume stores that selling branded perfumes to Arabian Perfume oils. DSF is the best place and time to buy your favourite fragrances at a lesser price!
Watches
Dream of owning Patek Philippe Omega, Tag Heuer, Cartier, Rado, ICW, Michael Kors, Burberry watches? You may buy them all at a very affordable rate with DSF special discounts and offers.
Footwears, Leather bags and Jackets
Oliver Cabell to Koio, NIKE to Addidas, Gucci to Armani, buy your favourite brands for the exclusive outlets or stores having huge collections and DSF discounts. You can find some of the best leather products from the popular Burberry, Prada, Louis Vuitton, Condotti, Aigner.
Best Shopping Destinations in Dubai
Dubai is a heaven for shoppers, from largest shopping malls to classic Arabian markets, Dubai has it all. Below are some of the most popular shopping destination in Dubai.
The Dubai Mall
The largest shopping mall in the world has something for every visitor. Dubai Mall is a destination for the complete family. Under one roof you have family attractions like Dubai Aquarium, Dubai Ice Rink, Kidzania and much more. There are more than 1200 stores selling your favourite brands like Topshop and Zara. The fashion avenue houses all the favourite luxury brands like Gucci, Prada. The foodies will find their favourite cuisines from more than 120 eateries.
The Mall of the Emirates
Mall of the emirates home to the Largest Indoor Ski Resort, Ski Dubai. Tech-focused Apple Boutique, and department stores like Harvey Nichols, Marks & Spencer, and Debenhams. Your kids will love to play around Magic planet. Find the best fashion brands under one roof and the multi-level shopping mall currently houses more than 630 retail stores.
Dubai Festival City Mall
Located on the banks of Dubai Creek, the festival mall houses more than 400 stores that include fuge IKEA furniture store. Enjoy shopping or a time out in near Dubai canal, and you may admire the laser and fountain show in the evening.
Mercato Mall
Mercato Mall recreates the good old feel of a Renaissance-era Italian village. You can spend the whole day exploring the brand-new collections by international brands like Gap, Mango, Laura Ashley and Jack Wills. Located on Jumeirah beach road, enjoy a sunny day with shopping and beach.
Ibn Battuta Mall
The six courts of Ibn Battuta mall are Inspired by the famous Arab Explorer Ibn Batuta's travel to Andalusia, Tunisia, Egypt, Persia, India and China. A unique design and it highlights Elaborate tiling, a gigantic golden elephant and high ceilings that resembles the blue sky. The mall houses fashion, lifestyle and sporting brands.
Dubai Marina Mall
With the glittering marina in its background, Dubai Marina Mall offers a casual family shopping experience. It houses an international brand that is famous for providing affordable high-street fashion and beauty services. Enjoy dining while admiring the stunning Dubai Marina with your family and friends.
City Centre Midriff
There are many city-centre shopping malls in Dubai, City Centre Midriff is the biggest of all. The shopping centre houses more than 430 retails stores and eateries. Experience the free of fall of a skydive with the indoor skydive hot spot iFLY. Or If you love bowling there is a 12-lane bowling alley and the Little Explorers for the little ones makes it ideal for families that like to enjoy playtime together.
Nakheel Mall
The latest addition to Dubai's shopping mall is the luxurious Nakheel mall located on the man-made Palm Jumeirah. 350 retail stores scattered across five levels and take in the panoramic views from the rooftop dining plaza. Enjoy a 4D movie at VOX Cinemas.
The young ones will love the playroom featuring a LEGO city.
WAFI Mall
Head to WAFI mall to experience the ideal Arabian Shopping Experience. You can find some of the best quality Middle easter attires. The unique design with Egyptian scripts and carved figures at every turn will blow your mind away.
Burj Man Centre
One of the oldest shopping malls in the city still attracts thousands of shoppers every day. Enjoy shopping at 100's retail stores or enjoy your favourite movie a state-of-the-art cinema. This shopping mall houses high street favourites such as H&M, Zara and more.
There are many shopping malls are in the city like Ghurair Centre, Deira City Centre, Outlets mall, The City Walk, Souq Madinat Jumeirah, The beach and more. Countless shopping centres in Dubai will satisfy your shopping desires.
Why should you visit Dubai during the Dubai Shopping Festival?
DSF is the best way to enjoy Dubai's hottest attractions and huge shopping destinations. Live concerts, shopping malls offering huge discounts, Attractions offering best prices. The City will get more alive during DSF and you get to enjoy the best of Dubai during this period.
You get to enjoy shopping at some of the biggest shopping centres offering amazing discounts (sometimes 70%-90%).
The DSF also allows you to win prizes like luxury cars, money, gold jewellery, and more through Raffle draws that take place every week.
The month-long festival will have concerts, entertainment shows, live events to make your stay in Dubai more memorable one.
Even if you don't like shopping, you will love the entertainment, the colourful streets, the unique dining and the attractions.
Fireworks: Enjoy the fireworks that take place every Thursday and Friday night at Al Seef, La Mer and The Beach.
Enjoy your vacation in Dubai during DSF that offers a variety of events and activities for everyone in your family. Includes concerts and free-to-attend family-oriented activities in malls and offers by leading brands. Contact us for best Dubai Shopping Festival Vacation Packages (DSF) and Book your favourite packages at best rates and plan your trip with our destination experts.