Enjoy Flowers in Kamakura during a rain season!!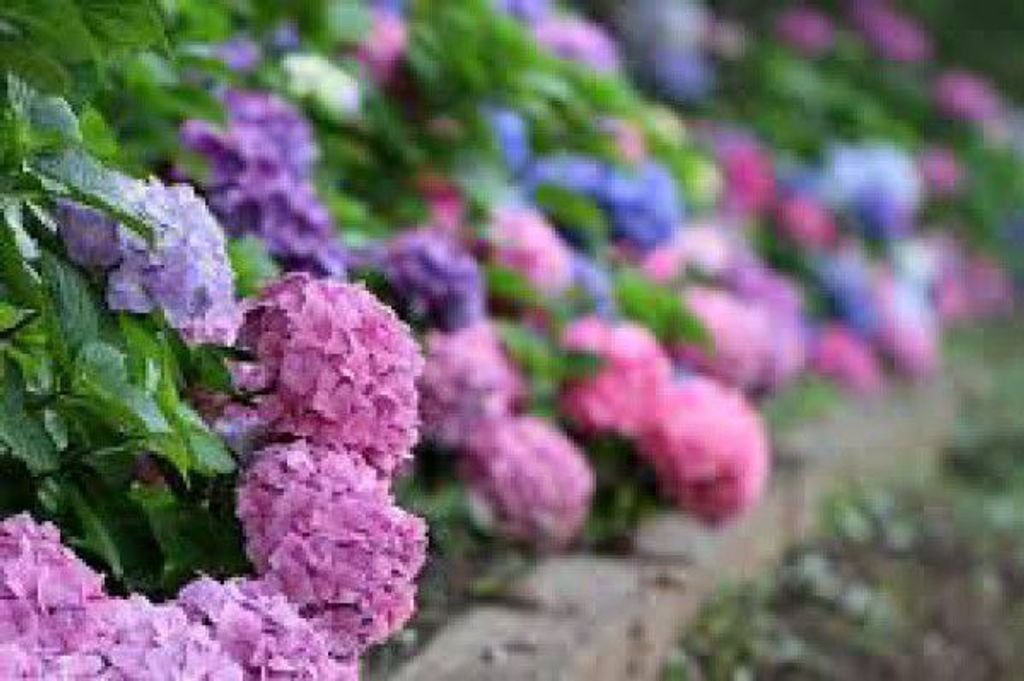 On June 2, the start of the rainy season has been officially declared by the Meteorological Agency in the Kanto region including Tokyo Metropolis and six prefectures of Kanagawa, Saitama, Gunma, Tochigi, Ibaragi, and Chiba. It also says that it is 20 days earlier than the last year and six days earlier than the average year.
Although the word gives a depressed mood, in writing a social letter this month, we begin with the word of "rainy season" as a greeting referring to season weather.
As the rainy season was previously stated in Cafe Negishi Back Number (June), I would like to draw your attention to seasonal flowers to be seen in Kamakura in the rainy season in this article.
Kamakura for the rainy season
Referring to a literary calendar of flowers of Kamakura for the rainy season, I've found many names of flowers including shakunage (rosebay), ki-shoubu (yellowflag) , hana-shoubu (Japanese iris), dokudami , iwatabako , taisanboku (evergreen magnolia), yama-yuri (golden-rayed lily), kin-shibai , biyo-yana gi, nemu-no-ki (silk tree), natsu-tsubaki (summer camellia), yabu-kanzou (tawny day lily), hotaru-bukuro , and nouzenkazura (trumpet creeper), hangeshou, kikyou (balloon flower), and sarusuberi (Indian lilac) and ajisai (hydrangea). Do you have similar ones in your country?
Among a wide variety of these seasonal flowers, I've picked up only two; ajisai in Hase Temple which is all out in June and hasu or lotus in Hachiman Shrine which may be at best in July respectively.
In spite of the rainy season, Kamakura enjoys the second busy tourist month in a year because of deep-rooted popularity of ajisai wet in the rain. Among rather large hydrangea, you can also find pretty little reddish-purple flowers of iwa-tabako or alpine gesneriads which dot on rock surfaces. Both of them may calm your heart even in gloomy weather.
Hase Buddhism Temple
Hase temple has the lower part of precincts spreading over the foot of Mt. Kannon, and has the upper part cut and enlarged in the mid-slope. In the lower precinct behind the main gate, it has two ponds which offer you opportunity to enjoy a style of Japanese garden with a path around ponds. All parts of the precinct are always beautifully colored with seasonal flowers, which always gives an atmosphere of the Pure Land of Amida Buddha.
In the upper part, there is the temple dedicated to eleven-faced Kannon as the main sanctuary of the temple as well as the observatory platform giving a sweeping view over the whole bay and townscape of Kamakura, if weather permits. Along the strolling path, there grow about 2,500 heads of Japanese hydrangea of over 40 species. To say nothing of hydrangea, a wide variety of flowers bloom in full glory season by season, but still I am very sure that the most beautiful flowers are hydrangea of blue, red, purple and white.
cultural history of hydrangea or ajisai
Herein, I will brief you on cultural history of hydrangea or ajisai.
The name of aji-sai is derived from that azu , or gather in English and sai or indigo blue: actually they grow in profusion. Ajisai is native to Japan, therefore, the name of Ajisai appeared already in two tanka , (a short Japanese poem of 31 syllables, arranged in lines of five, seven, five, seven and seven syllables) composed for Collection of Ten Thousand Leaves, the oldest anthology of poems in Japan (compiled in 759). Especially in the latter half of 16 th century, Ajisai was planted for viewing and appeared in Japanese art in the Edo period (17 th -19 th century). It became of interest as a garden flower in the various parts of Japan.
Dr. Philipp Franz Balthasar von Siebold, German doctor & naturalist came to Japan as a doctor and stayed in Nagasaki, Kyushu from 1823 to 1828. He established Narutaki-juku, clinic & Western science school to get involved in medical treatment and education, contributing to the development of the western medicine of Japan. He was purged in 1829 for Siebold Accident (He tried to bring out national banned things such as Japanese maps and garments bearing Tokugawa's family crest). Again back here, he was adviser for foreign affairs. Then after his second return to his country, he wrote " Japan", "The Flora of Japan" and "The Zoography of Japan." through which he introduced Japanese plants to European countries. In his book, 17 kinds of ajisa were referred and classified. Out of these, gaku-ajisai , yama-ajisai and ezo-ajisai were improved to be current-style Hydrangea or westernized ajisai
In due course, the new technology was invented to create different colors of hydrangea including pink, red, blue by changing quality of soils. Additional improvement was done to shorten the height in 20 th century as potted plant and then these ajisai were imported back into Japan.
Western ajisai features larger pedals, handball-like fashion and a wide variety of colors. However, Japanese original ones such as yama- ajisai has rather small leaves, small in size and quiet colors, creating modest atmospheres. I think a graceful, simple and quiet atmosphere of Japanese original ones may match Japanese mind as a flower of tea ceremony. In the language of flowers, I've learned that ajisai has several meaning including unfeeling, heartlessness and patient love. What image do you have for ajisai?
Tsurugaoka Hachiman Shinto Shrine
When you pass through the 3 rd Torii, an archway to Tsurugaoka Hachiman Shrine, you can find Genpei Ponds at right and left, and stone-built arched bridge. The large Genji -pond on the right side of the bridge, where white-colored (family color of Genji who unified the whole country) lotus bloom, has three( "san" pronounced in Japanese) islets, symbolizing the birth("san" in Japanese) while Heike ponds on the small left side where red-colored (family color of Heike who was defeated by Genji) lotus bloom has four( "shi" in Japanese) islets, suggesting the death( "shi" in Japanese). Now, In early summer, white and red lotus bloom in disorder as they are competing for their beauties. Interestingly, the combination of white & red is considered as the festive color for any celebration.
These ponds called Gen-pei pond (Gen stands for Genji while Pei for Heike) were made by the order of Masako , wife of Minamoto-no-yoritomo , the founder of the Japanese feudal government, to pray for the victory of her family.
The lotus flowers bloom beautifully even in muddy ponds, free of dirt. Therefore, in Buddhism concept, the lotus is likened to the human world, that is, spiritual enlightenment out of earthly passions and it is considered to be an important flower among Buddhists and can been always seen with Buddhism images as pedestals or decorations. The subtle combination of red color of the external petals and inner ones vaguely tinged with pink should give you a feeling of a paradise.
songs associated with rain
Finally, here are songs associated with rain.
My office (Japan Guide Association) is located in Yurakuchou , next to Tokyo station. On a rainy day, it reminds me of a well-known popular song which I sing to myself the song of "Let's meet at Yurakucho." literally means;
♪I'm waiting for you, it's drizzling you're getting wet in the rain,
I wonder a - h! a - h! at a tea room by a building sweet rain's singing
sweet blues your & my catch word, "Let's meet at Yurakucho" ♪♪♪
Here is another song for children" rainfall"
♪rain, rain, falls, falls
Mother with janome meets me to my joy
Pi-chi-pi-chi cha-pu-cha-pu ran-ran ra - n ♪♪♪
(Janome is an umbrella with a bull's eye design) 
What song will come up in your mind on a rainy day? Besides the above two songs, I've come up with oldies including "Just walking in the rain" or "Raindrops keep falling' on my head".
To enjoy a wide variety of flowers in Kamakura, I strongly recommend you to join TripleLights Tours "Kamakura Walking Tour", including these two places as tour highlights.