Hakone is a popular hotspring town located near Mt. Fuji. Hakone has a lot to offer on a day or two days trip from Tokyo. This article introduces a sample two days tour.
■ Itinerary (day one)
9:00 am Start from Tokyo
Shinkansen, bullet train, is the fastest way to go from Tokyo to Odawara which is an entrance town of Hakone. It takes only half an hour.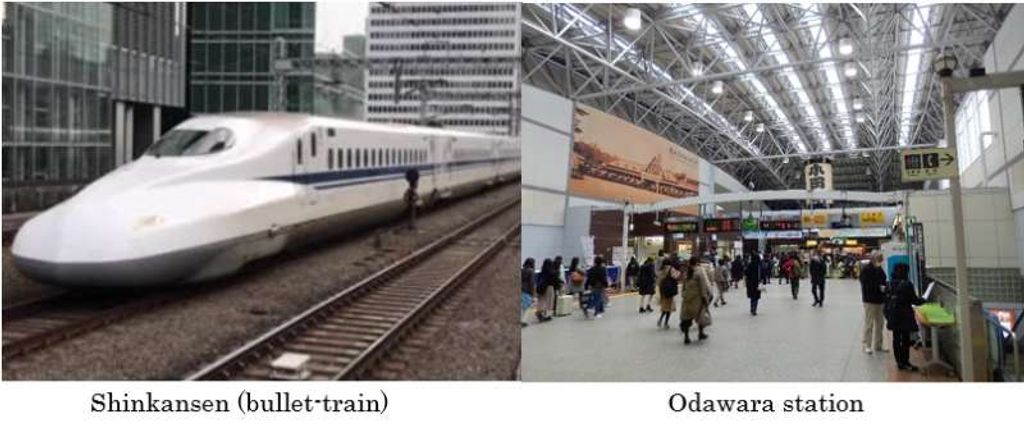 9:30 Odawara
It takes 20 min. from Odawara to Hakone-yumoto by mountain train and it takes 40 min. to go up from Hakone-yumoto to "Hakone-machi-ko", a port of the lake Ashi by bus.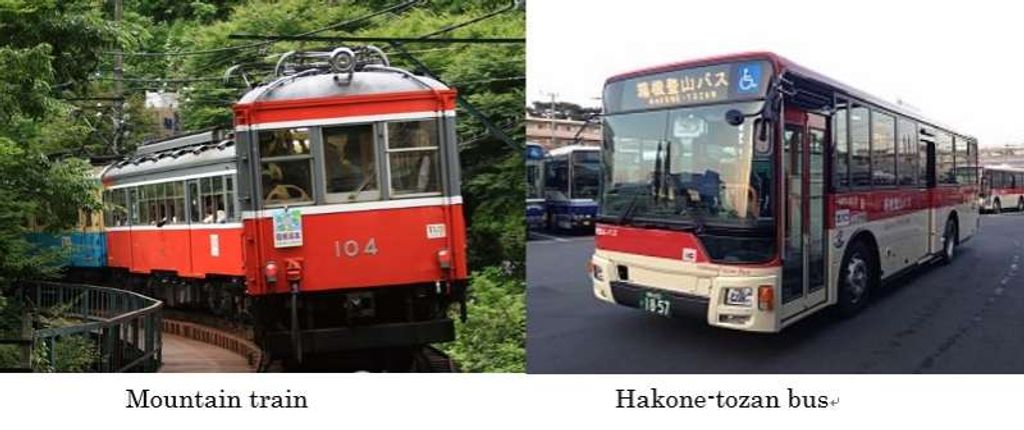 11:15 Hakone checkpoint
Hakone was one of 53 stations of the Old Tokaido Highway set up between Edo, present Tokyo, and Kyoto during the Edo period (1603-1867). The checkpoint was set up by the lake Ashi, and guardsmen especially paid attention to women going out of Edo. These women were the wives of feudal lords taken as hostages by the shogun to control the lords. After visiting the remain of the checkpoint (admission: 400 yen), it is time to have lunch.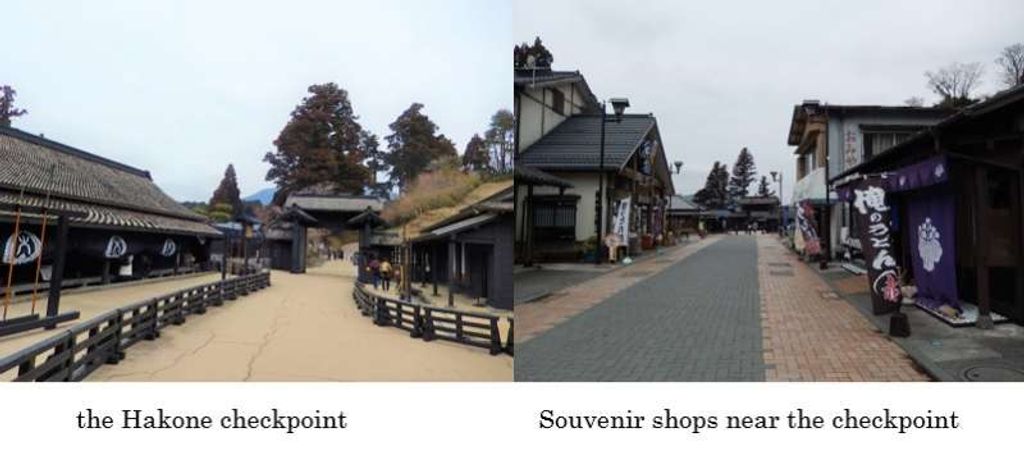 12:30 Lake Ashi
The pirate ship ride on the lake Ashi is so good. You can see beautiful mountains from the lake. If it is fine, Mt. Fuji appears behind the mountains. It is a crater lake that lies along the southwest wall of the caldera of Mount Hakone, a complex volcano that last erupted at Owakudani about 3,000 years ago.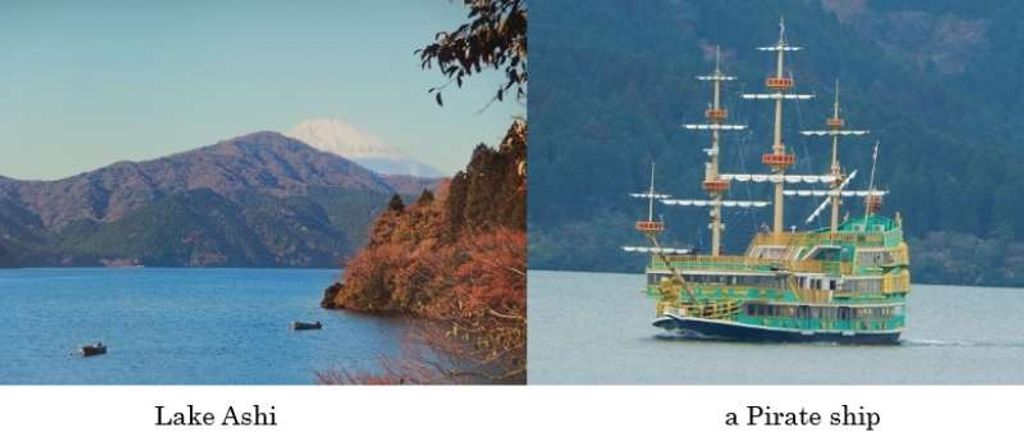 13:30 Owakudani (Great boiling valley)
It is a volcanic hot spot full of sulfurous springs. There are shops selling black boiled eggs that are boiled in the spring. It is said that if you eat one egg, you will live 7 years longer.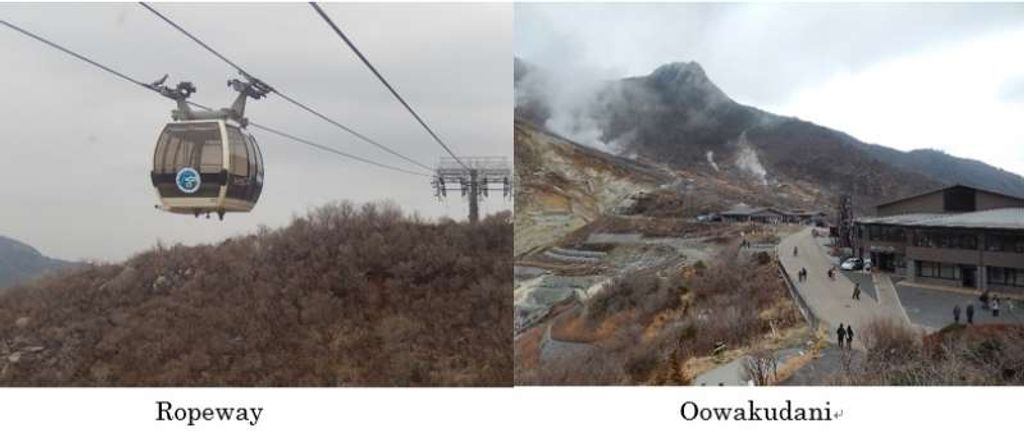 16:00 Arrive at your hotel
Most hotels offer not only in-house baths but also open-air baths. Seeing quiet and beautiful scenery from an open-air bath is very refreshing. See how to enjoy onsen (hot spring).
At almost hotels and ryokan (traditional inn), they offer Kaiseki ryori or traditional Japanese cuisuine. It is one of traveller's pleasure. See Kaiseki ryori.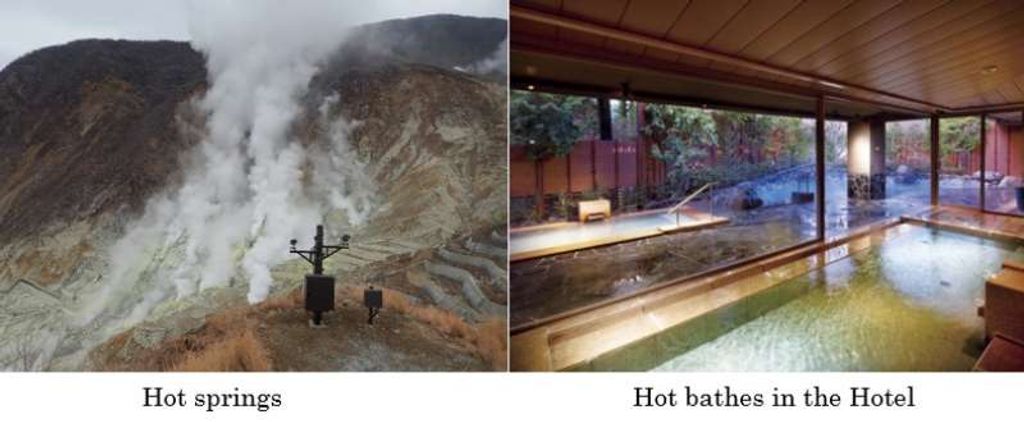 ■ Itinerary (day two)
The following routes are taken when it is fine, but if the weather is not good, we may visit other spots such as the open-air museum and the Hakone glass museum.
10:00 Hotel check out
go to the Hakone-en park by bus
10:30 Hakone-en park
The Ropeway runs from the park to the summit of Mt. Komagatake. The single car aerial tram holds 101 people, and the 2.3 kilometer ride (1.4 miles) takes 7 minutes. If it is fine, you can see panoramic views including Mt. Fuji and the seven Izu Islands. After comming down, we will have lunch at a restaurant by the lake Ashi.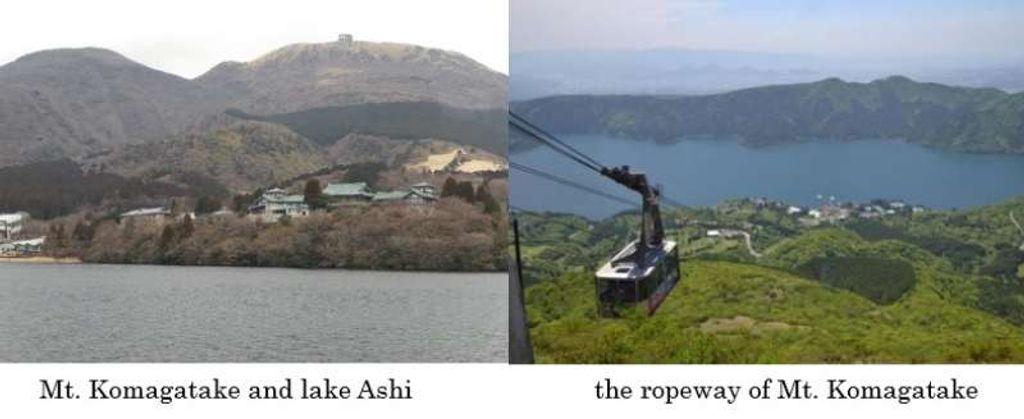 13:00 Togendai
There are the pier of pirate ships and restaurants.

go to Sounzan by ropeway (30 min.)
Sounzan: go to Gora bya cable car (10 min.)
Gora: go to Hakone-yumoto by mountain train (40 min.)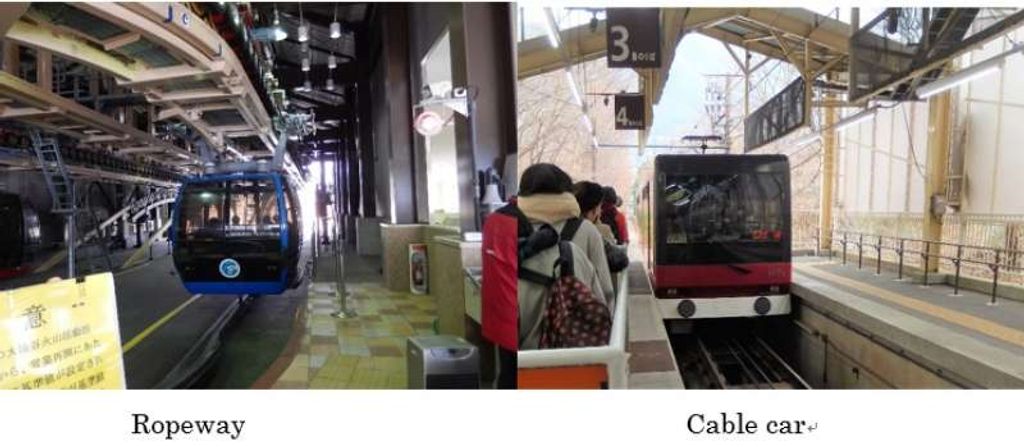 14:45 Hakone-yumoto
see souvenir shops along the street and have coffee
go to Odawara by train (10 min.)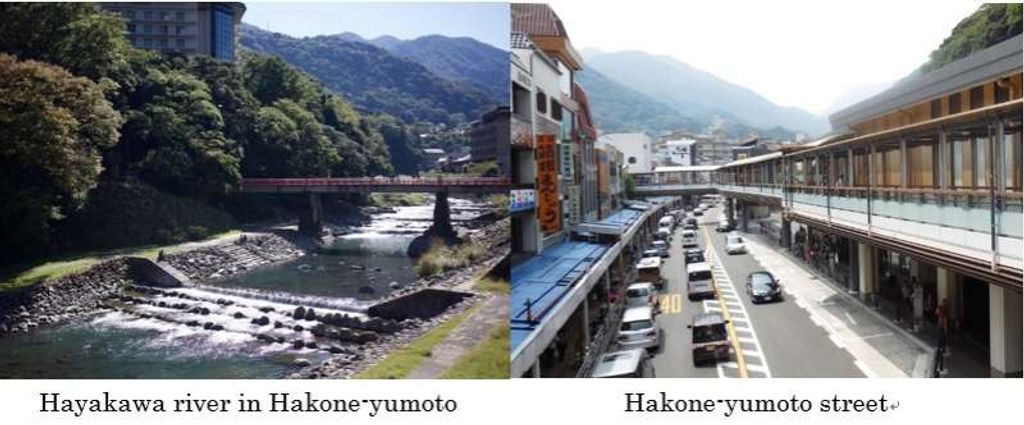 16:00 Odawara
16:12 leave Odawara for Tokyo by Shinkansen (35 min.)
16:47 Tokyo station
■ Travel tips
(1) Hakone free pass
The Hakone free pass from Odawara (now: 4000 yen, from Apr. 1 ,2019: 4600 yen) is reasonable. Using this pass, you can use the following popular transportations within two days:
1) Hakone mountain train
2) Hakone tozan cable car
3) Rope-way
4) Pirate ship on the Lake Ashi
5) Hakone-tozan bus
(2) Carry service at Hakone-yumoto station
They transport your luggage from Hakone-yumoto station to your accommodation and back again. It costs from 800 yen per luggage. Hakone-yumoto is an entrance place of Hakone area.
(3) The Best tour route
A popular Hakone sightseeing route is the following A)>B)>….>F).
Many travelers take this route, so transportations are crowded. I recommend the reverse route: F)>E)>>A)
A) Odawara>(Hakone mountain train, 60 min.)> Gora
B) Gora>(cable-car, 10)> So-unzan
C) So-unzan>(rope-way, 8) >Owakudani>(rope-way,16)>Togendai
D) Togendai>(Pirate boat ride on lake Ashi, 40)> Moto-Hakone-port
E) Moto-Hakone >(bus, 35)>Hakone-yumoto
F) Hakone-yumoto>(Hakone mountain train, 15)> Odawara
■■■
I hope this information helps you.