It's annoying, isn't it? The sound of your brain fighting with itself. To hire a tour guide or not? That is the question, and you're not sure of the answer. Give your brain a break and let us help out.
A guide isn't everybody's cup of tea, or since you're going to Bangkok, a cup of chai yen. Known locally as the City of Angels (just like Los Angeles), Bangkok is Thailand's culturally rich capital attracting over 25 million tourists annually. There's so much to take in, from lavish palaces to mind-blowing street food. So should you get a tour guide in Bangkok? It depends. Let's weigh the good and the bad on a scale to see what suits your travel style the best.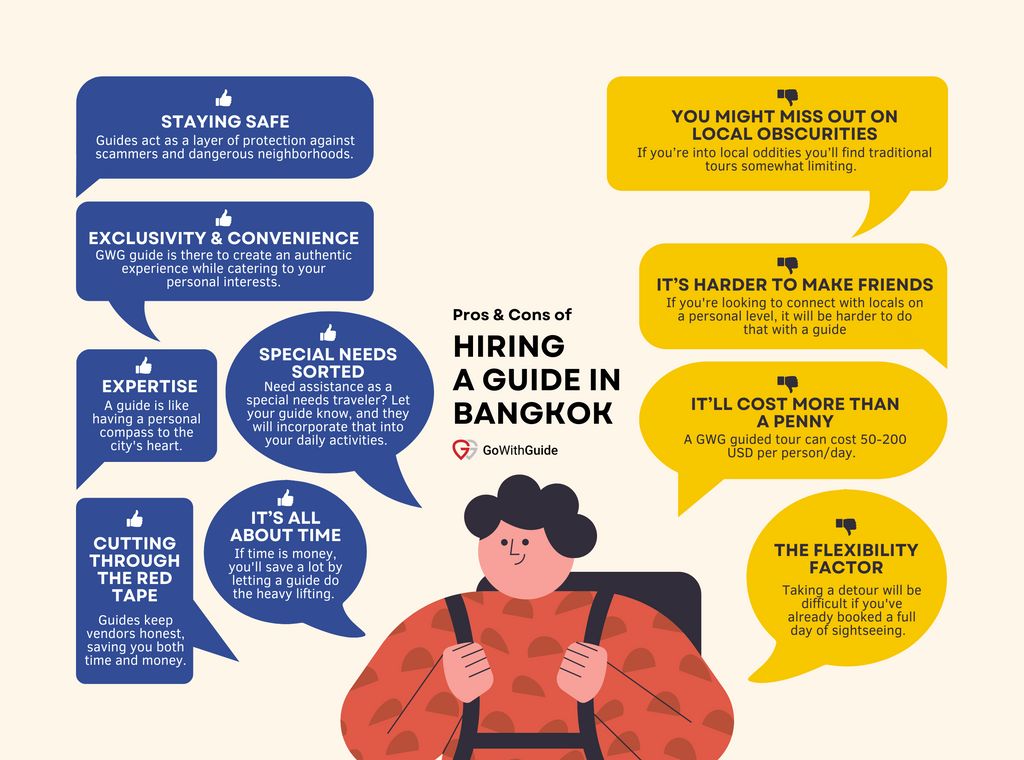 The Good
Why is it best to hire a local guide?
1. Staying Safe - Bangkok is a tourist-friendly city, and crime rates have decreased in recent years, but even in the land of smiles, your safety is a top priority. Guides act as a layer of protection against scammers, vendors selling faulty items, and dangerous streets/neighborhoods. They'll advise you on where to go and where to avoid, saving you trouble and stress. Guides are also aware of the city's changing political climate and can advise on the protocol that will help you avoid direct conflict.
2. It's All About Time - If time is money, you'll save a lot by letting a guide do the heavy lifting. You won't have to waste time;
Booking tickets for major attractions.

Booking and navigating transportation within and around the city.

Looking for a bilingual local who can translate for you. This comes in handy when shopping in street markets.

Racing to fit everything into your itinerary.

Searching for contacts for particular venues, restaurants, and events.
3. Cutting Through The Red Tape - You'll encounter this in most developing cities. Foreigners are seen as opportunities to make money, so if you're without a guide, you'll often end up overpaying for a service most locals enjoy at lower rates. Guides keep vendors honest, saving you both time and money.
4. Exclusivity & Convenience - There's something nice about knowing you can adjust your schedule to fit you and your travel circle. So no extra people if you don't want that. A GWG guide is there to create an authentic experience while catering to your personal interests. You've even got a photographer in case the need to strike a pose hits you!
5. Expertise - Insider knowledge is valuable in a complex city like Bangkok. The language, hidden gems, little-known customs, and social norms take time to learn. A guide is like having a personal compass to the city's heart.
6. Special Needs Sorted - Have a specific diet that you follow? Need assistance as a special needs traveler? Let your guide know, and they will incorporate that into your daily activities.


The Not So Good
What are the risks of hiring a tour guide?
1. It'll Cost More Than A Penny - If you're traveling on a budget, the convenience of a guide might cause a dent in your budget. How much is a tour guide in Bangkok? Prices can vary depending on the tour length and the number of people and activities involved. A GWG guided tour can cost 50-200 USD per person/day. Group rates can differ.
2. The Flexibility Factor - Though our tours are fully customizable, some travelers might find the idea of a planned itinerary restricting. Taking a detour will be difficult and expensive if you've already booked a full day of sightseeing.
3. You Might Miss Out on Local Obscurities- Bangkok is famous for its local oddities, some of which aren't included in popular tours. Things like the Airplane graveyard or the Forensic Museum aren't exactly what most visitors jump to see, but if you're into stuff like that, you'll find traditional tours somewhat limiting.
4. It's Harder To Make Friends- if you're looking to connect with locals on a personal level, it will be harder to do that with a guide, who acts as a buffer between you and everyday Thai people. Since they organize transport, food, and travel logistics, you might have limited interaction with others who aren't part of your traveling circle.
So what do you think? Is it worth getting a tour guide in Bangkok? Yes, if you ask us. But if you still can't decide, these quick charts can help.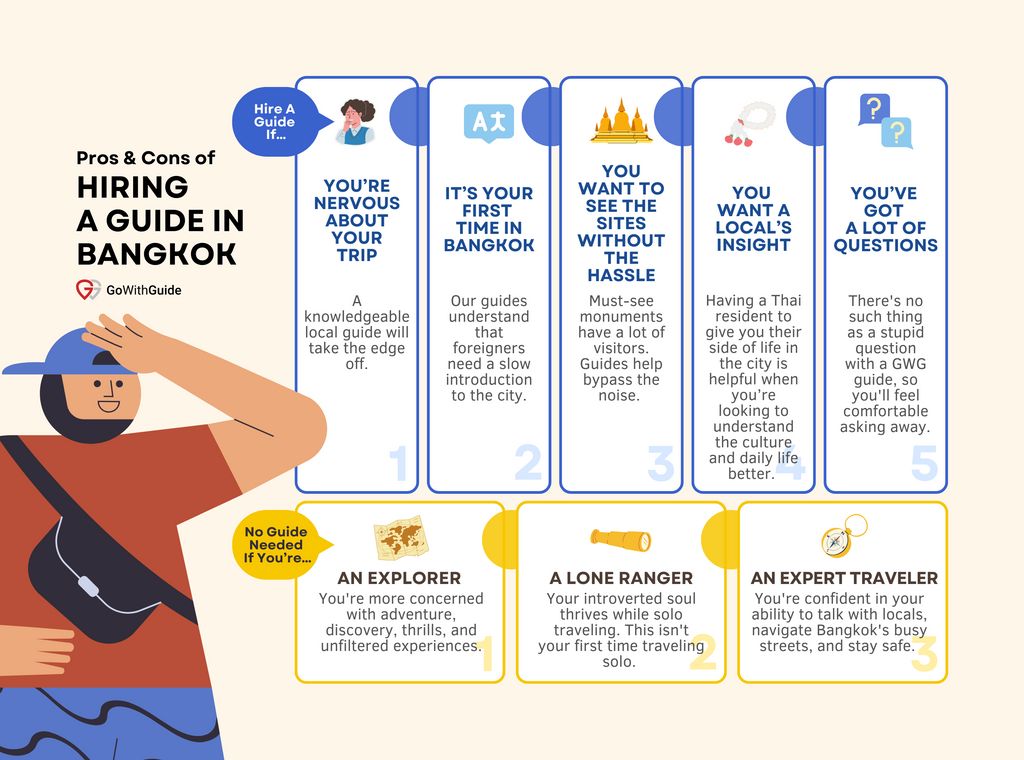 Hire A Guide If…
When should tourists hire a private guide in Bangkok? If…
You're nervous about your trip

. A knowledgeable local guide will take the edge off. This will make interaction with locals easier. You'll also learn about social customs and avoid embarrassing interactions.

It's your first time in Bangkok

. Though beautiful, Bangkok can be intimidating for first-timers, especially if you don't speak the language. Our guides understand that foreigners need a slow introduction to the city.

You want to see the sites without the hassle

. Must-see monuments like the Grand Palace, Wat Arun, and Floating Market have a lot of visitors, and it's easy to get caught up in ticket lines and tourism traffic. Guides help bypass the noise.

You want a local's perspective

. Having a Thai resident to give you their side of life in the city is helpful when you're looking to understand the culture and daily life better.

You've got a lot of questions. Curious about the city? You'll need someone to explain the facts and fascinating stories behind everything. There's no such thing as a stupid question with a GWG guide, so you'll feel comfortable asking away.


No Guide Needed If You're…
An Explorer

- You're more concerned with adventure, discovery, thrills, and unfiltered experiences, whether they're bad or good than you are with overall safety, convenience, and daily guidance. You might consider a guide an unnecessary shield between you and the authentic Bangkok escapade you're searching for.

A Lone Ranger

- Your introverted soul thrives while solo traveling. This isn't your first time traveling solo. You're at your best when booking, planning, and experiencing journeys yourself. A guide would only distract you and make you feel like you can't express yourself or your interests.

An Expert Traveler

- This is not your first rodeo. You've been around the world and traveled to both developed and developing nations extensively. You're confident in your ability to talk with locals, navigate Bangkok's busy streets, and stay safe.
Still not sure if a guide is for you? Don't freak out. You can see if the shoe fits by booking one of our shorter Bangkok tours. They're a low commitment, and you'll walk away knowing whether you're ready for another guided experience. Some popular packages include;
Bangkok Street Food Tour

- A 3 Hour exploration of Thai street food with sweet and savory treats from the north, south, and everywhere in between.

Bangkok River Boat Cruise

- Enjoy a 2-hour cruise along the Chao-Phraya River. This morning tour is a great way to start your day, and you'll be back in the city in time for lunch.

Tuk-Tuk Food Tour

- Utilizing the beloved Tuk-Tuk, this tour takes on Bangkok's nightlife through the lens of local street food. Eat dinner and chat with locals to discover what makes Bangkok's street food legendary.

Relax and Unwind...
You can see it, can't you? It's a warm, breezy 23°C (75°F) day. You've had an iced chai yen with breakfast in your hotel room. You head to the lobby. No frantic Google searches for nearby sites. No head scratching and "what now" looming over your head. You know where you're going. Because your guide is waiting outside. It's time to explore Bangkok.
Make that dream come true. Talk to our Bangkok private tour guides and create a fully customizable tour that transforms your Bangkok bucket list into a real-life adventure.
Image Credits
Wat Arun Temple, Bangkok
Bangkok Street Market Tour
Bangkok Street Food
Temple Musicians, Bangkok
Bangkok Floating Market
The Grand Palace, Bangkok
Thai Vendors, Bangkok
Bangkok Nightscape
Sources
Thailand Connect
Development and importance of tourism for Thailand
Bangkok Forensic Museum - Siriraj Medical Museum in Bangkok Riverside – Go Guides
Crime Information for Tourists in Thailand
Thailand Travel Advice & Safety | Smartraveller
https://manvsclock.com/unusual-things-to-do-in-bangkok/
Bangkok Forensic Museum - Siriraj Medical Museum in Bangkok Riverside – Go Guides
Thailand wants Bangkok to be called 'Krung Thep Maha Nakhon' - Nikkei Asia