The list of things to do in Bangkok is as long as the city's official name, Krung Thep Maha Nakhon, which is the longest city name in the world. With over 22 million annual visitors, the city can get a little crowded, which is great until it isn't.
You can get lost in The Big Mango, but once you've had your fill, it's time to travel beyond the outskirts. That's right, it's time for a day trip! Every street corner or building is worth a second glance, but these destinations reveal the many faces of this lively nation.
Sites Around The City & How To Get There
So where can you go from Bangkok? Beyond the city lies Kanchanaburi, Hua Hin, Pattaya, Khao Yai, and Ayutthaya. Each destination is only a few hours from your Bangkok base, so you'll see the Land of A Thousand Smiles with just enough time to duck back to your hotel at the end of the day.
So we've got the destinations, but how do we get there? Which day trips from Bangkok can you do by train? The easiest is Kanchanaburi, followed by Hua Hin and Ayutthaya, though traveling by train will increase the transit time. What about a day trip by car? Pattaya and Khao Yai are only accessible via private car, taxi, or bus, but private cars allow access to all locations in this article.
Sidenote: Day Trip v.s Day Tour
Before we get to the fun stuff, we've got to know what we're diving into. So what makes a day trip different from a day tour? Day tours take place within your original destination. In Bangkok, you'll tour nearby temples, markets, and food vendors. With a day trip, you venture outside your base location to a region close enough to gain a different tour experience. If a day trip catches your eye, don't hesitate to book the experience with one of our local Thailand private tour guides.
So as the Thai say, pai kan ter! Let's go!
Day Trip Destinations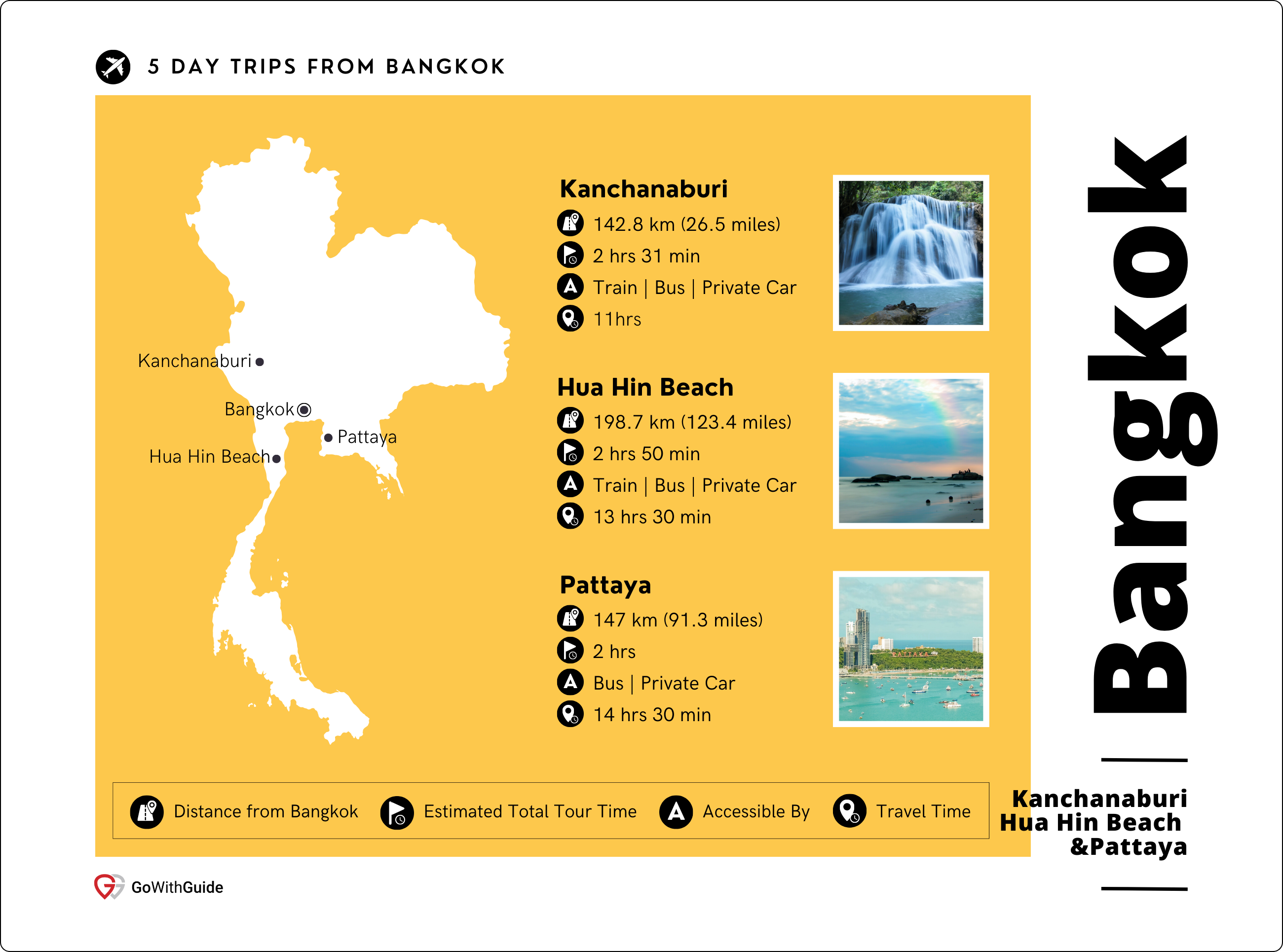 1. Kanchanaburi
Distance from Bangkok: 142.8 km (26.5 miles)
Travel Time: 2 hrs 31 min
Accessible By: Train, Bus, Private Car
Estimated Total Tour Time: 11 hrs
The Khwae Noi and Khwae Yai rivers combine to highlight the enchanting capital city of Kanchanaburi. Home to cascading waterfalls, sky-blue pools, and emerald forests, it's the best place to unwind after a long day in bustling Bangkok. Once you set your eyes on the Sai Yok Noi & Sai Yok Yai Waterfalls, you won't want to leave.
If you're looking for a laid-back journey, traveling by train is the way. The slow churning rails are the perfect background sound for the province's lush landscape. The famous Death Railway transports you back to World War II when Thailand's most infamous rail system took countless lives to complete. Train tickets are affordable, with foreigners paying a fixed cost of 100TBH (3 USD) for regular seating. In 2 ½ hours, you'll be in a scenic blend of clean air, rushing rivers, and green forests.
Explore Kanchanaburi Full Day Trip

: Spend the day exploring all sides of Kanchanaburi, from the locally beloved Maeklong umbrella market, where you'll test your culinary limit, to the calming Tiger Cave temple with its picturesque mountain views.

Fun At The Floating Market

: If you're a foodie looking for a unique experience, this tour takes you on an in-depth discovery of Thailand's most unique floating market, Damnoen Saduak.
Falling for the waterfall town? Check out some of our popular Kanchanaburi day trips and discover the haunting and heroic history behind the province.
2. Hua Hin Beach
Distance from Bangkok: 198.7 km (123.4 miles)
Travel Time: 2 hrs 50 min
Accessible By: Train, Bus & Private Car
Estimated Total Tour Time: 13 hrs 30 min
You can't visit a tropical haven like Thailand without hitting a few beaches, and even though Bangkok is a busy metropolis, a beach is never too far. So what is the closest beach to Bangkok? Hua Hin and Pattaya are a great start. Hua Hin is beloved among travelers and locals for its soft sandy shore and blue, foamy waters.
Beyond the 4 km stretch of white sand, you'll see the unique rock formations that gave this beach its name (Hua Hin means headstone). Looking to try something new? Talk to your local Thai guide about beach activities such as jet skiing, horseback riding, and sailing.
Like Kanchanaburi, you can travel by train, taking 3-4 hours to reach your destination. There's so much to explore in the Hua Hin District, but this tour is the perfect place to start.
Discover Hua Hin Day Trip

: Leave Bangkok and head to the beach. This day trip gives you relaxation and excitement as you go from busy markets to historic structures like the Venezia, and tranquil nature spots like Kaeng Krachan National Park.
3. Pattaya
Distance from Bangkok: 147 km (91.3 miles)
Travel Time: 2 hrs
Accessible By: Bus, Private Car
Estimated Total Tour Time: 14 hrs 30 min
Southeast of Bangkok lies Pattaya, a beach city known during the Vietnam War for its controversial reputation. Today its nightlife, social events, and pristine beaches draw in thousands of locals and tourists yearly. With its high-end shopping malls and modern hangout joints, it's a perfect blend of the past and present.
Beyond the modern thrills, Pattaya is home to places like the Elephant Jungle Sanctuary, where you can ethically experience the joy of the nation's gentle giants. For added tranquility, save time for the breathtaking Nong Nooch Gardens, where intricate landscaping meets earthly stone structures to create a new Eden.
If you know a bit about Thailand's landscape, you might ask, is a day trip to Pattaya possible? Yes! GWG guides can organize a time-saving trip to the city. If you want to travel with speed, a private car is a way to go. Buses are available, but the journey would take 2 hours. Private cars can get you there in 1 hour and 30 min. If you've got extra time, try a little island hopping.
Pattaya Travel P.S:

What is the easiest island to get to from Bangkok? That would be Koh Si Chang. This small island isn't too crowded, and it would only take 2 hrs from Bangkok, but if you're already in Pattaya, it's a 36-minute drive.
Now that you know how to get there, let's figure out your Pattaya adventure!
Discover Pattaya Day Trip

: It's all about Pattaya on this 14-hour exploration of the Gulf city. Take on the Tiger Park and watch the nation's dominant cats before you release some adrenaline on an ATV adventure. Top it off with elephants, floating markets, magnificent food, and a thrilling ladyboy stage show.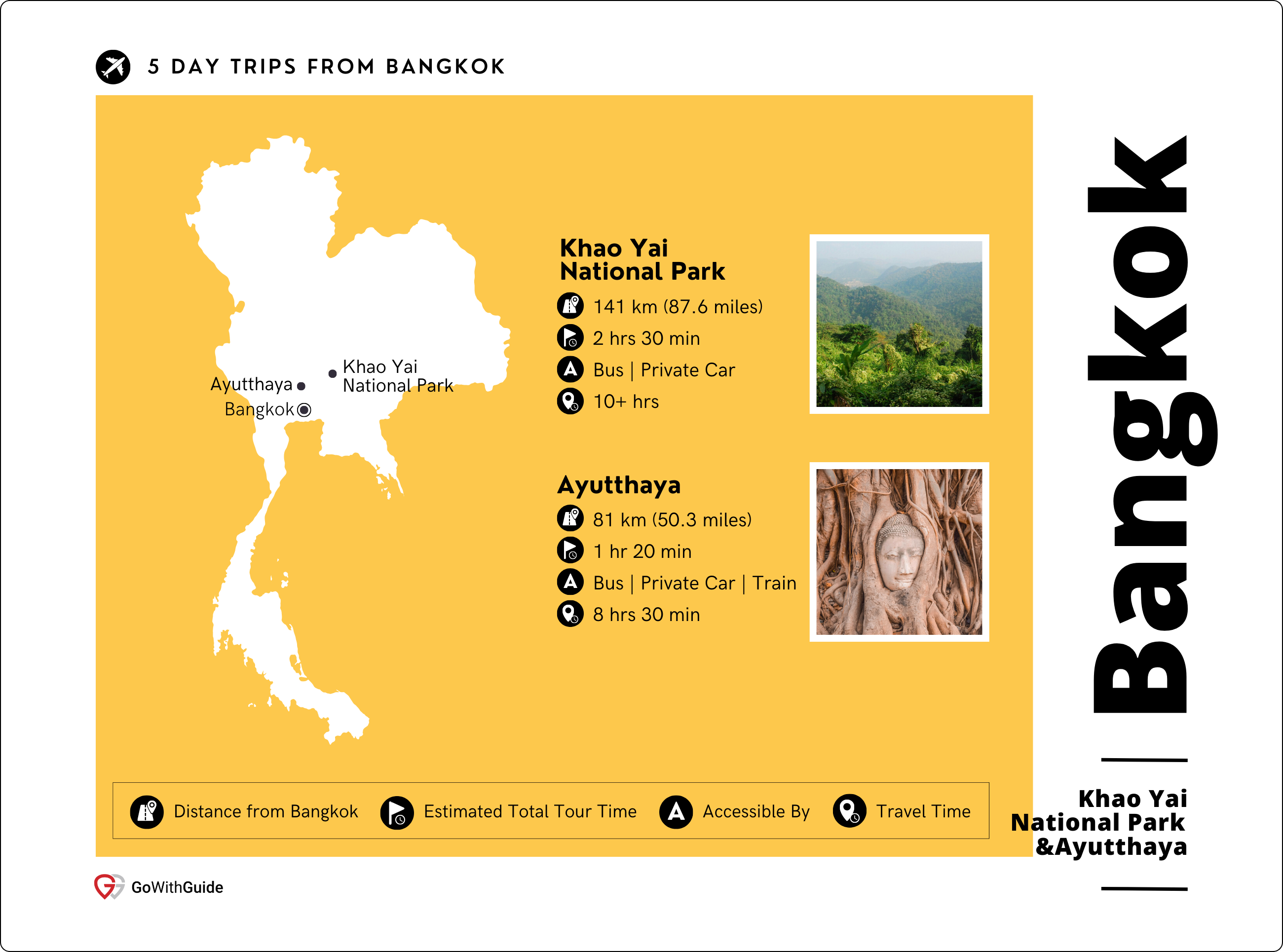 4. Khao Yai National Park
Distance from Bangkok: 141 km (87.6 miles)
Travel Time: 2 hrs 30 min
Accessible By: Bus, Private Car
Estimated Total Tour Time: 10+ hrs
As the perfect blend of nature and a monument to the nation's dedication to preservation, Khao Yai National Park is a must. The vast park features grasslands at one end and rainforests at the other. It's the perfect place for wildlife enthusiasts to take their shot at spotting Thailand's creatures, including civets, jackals, and the Asian black bear.
Beyond the scene-stealing nature, Khao Yai is known for its unique take on wine culture, and there's no better place to explore that than the PB Winery, the only one of its kind in this region. Since GWG tours are customizable, you're not limited to a pre-planned itinerary, so feel free to add whatever fits your fancy, whether it's a nature tour or a day of wine and cheese.
5. Ayutthaya
Distance from Bangkok: 81 km (50.3 miles)
Travel Time: 1 hr 20 min
Accessible By: Bus, Private Car, Train
Estimated Total Tour Time: 8 hrs 30 min
Chiang Mai might be known as the city of temples, but Ayutthaya is the original haven. This UNESCO Historic City was the Siamese Kingdom's second capital, and several landmarks have stood the test of time, preserving its 1350 BCE founding. The city's unique position encircled by three rivers kept the Kingdom connected to the sea while protecting landmarks like Wat Chaiwatthanaram, Wat Mahathat, and Wat Phra Sri Sanphet from seasonal flooding.
After indulging in history's footprints, head to Elephant Stay, a conservator and rehabilitation center where you can interact with and care for Thailand's precious elephants. Who knows? You might fall in love with these beauties and stay a few nights!
Ayutthaya Travel P.S

: Can you take a day trip from Bangkok to Ayutthaya? Absolutely, yes! The ancient city is only 1.5 hours away from Bangkok. If you take the train, your transit time could vary from 1-2 hours.
Kick off your Ayutthaya adventure with a full-day trip to the legendary city;
Tour the Ancient City of Ayutthaya

: Beautiful Buddhist temples and stunning royal palaces await. Soak in the sights and sounds of Thailand's former capital and global powerhouse. The icing on the cake? A riverside lunch and a tour of the Wat Yai Chai Mongkol temple.

So little time, so much to see! So what would you rather do? Spend days deciding where to go? Deal with red tape and complicated customs? Call ticket stations and private drivers? There's a better way to use your time. Get in touch with a Thai local private guide and get your adventure started the right way. It's that easy.