So you've finally made it to Germany. A nice, cold brewed beer is in your left hand and your bucket list in your right. You take a huge sip (it tastes delicious) and start to think about how to cross off as many destinations as you can…but quickly fall into despair.
A guide could be your way out of your dilemma. But could it also limit you in your traveling experience? Convenience and comfort or complete independence? A Germany tour guide, or no guide?
If you're asking yourself these questions right now, look no further! We, as travel doctors, are here to give you the proper diagnosis: by the end of this page, your guide-or-no-guide headache will be cured!
Pros of Hiring A Guide:
So what are the benefits of getting a guide in Germany?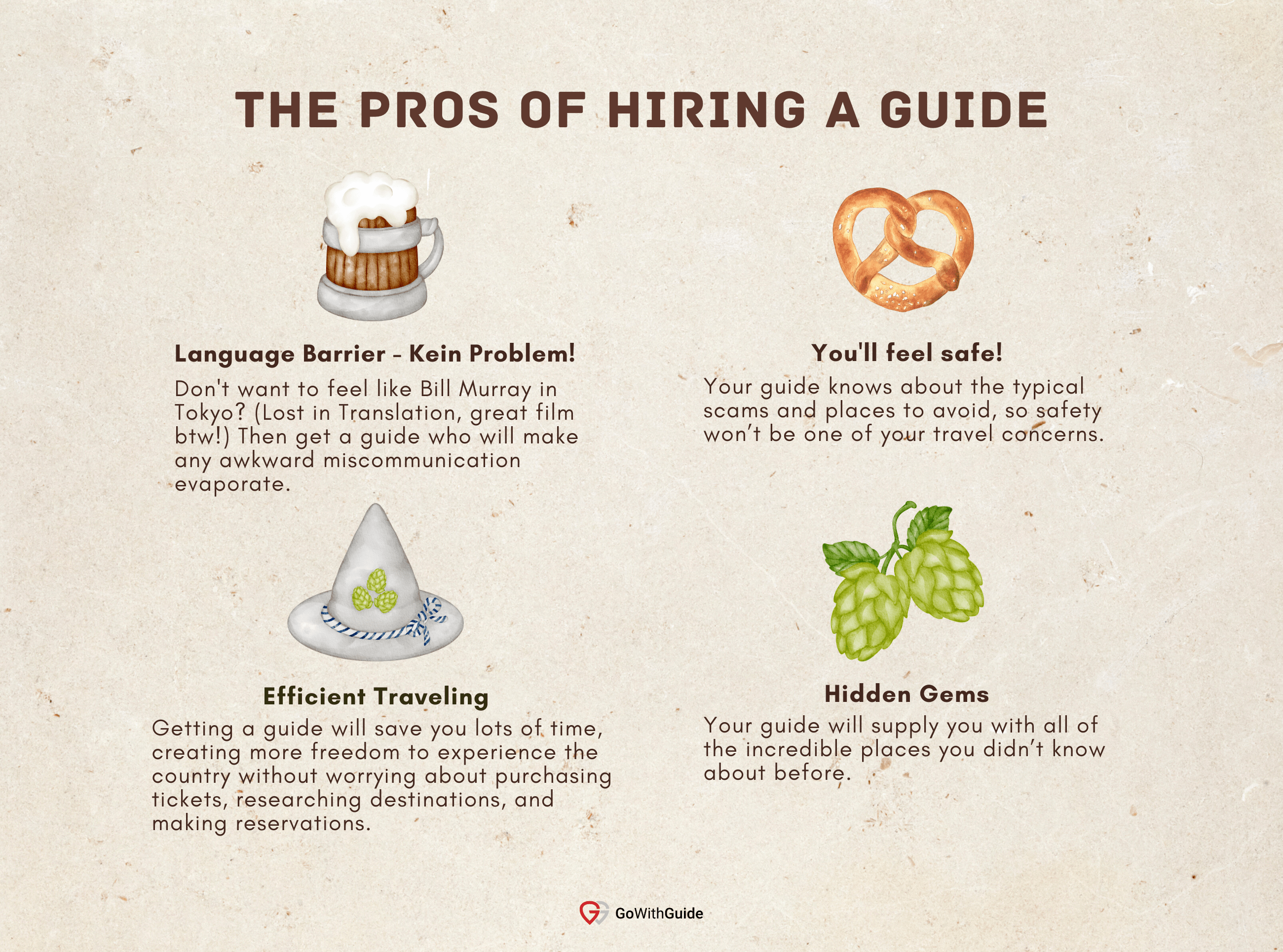 Language Barrier

- Kein Problem! - Despite having major, diverse cities like Berlin and Frankfurt, English speaking still

needs to improve for many

cities. Don't want to feel like Bill Murray in Tokyo? (Lost in Translation, great film btw!) Then get a guide who will make any awkward miscommunication evaporate.

You'll feel safe!

- Although Germany is considered a safe country, crime has been on the

rise again

since 2021. Your guide knows about the typical scams and places to avoid, so safety won't be one of your travel concerns.

Efficient Traveling- If there's one thing we Germans are known for, it's our efficiency (and cars, beers, and the autobahn, of course). Getting a guide will save you lots of time, creating more freedom to experience the country without worrying about purchasing tickets, researching destinations, and making reservations.

Hidden Gems

: As a German local, I can guarantee that there is an abundance of unique spots to seek out in this country. Way more than those advertised on popular tourist sites. What is the best way to get to the good stuff? Hiring a local guide who knows the city

"wie seine Westentasche"

("to know something like the back of your hand"). They will supply you with all of the incredible places you didn't know about before.
Cons Of Hiring A Guide:
Not everybody is a guide kind of person. If you can relate to these points, a guide may not be the best choice for you.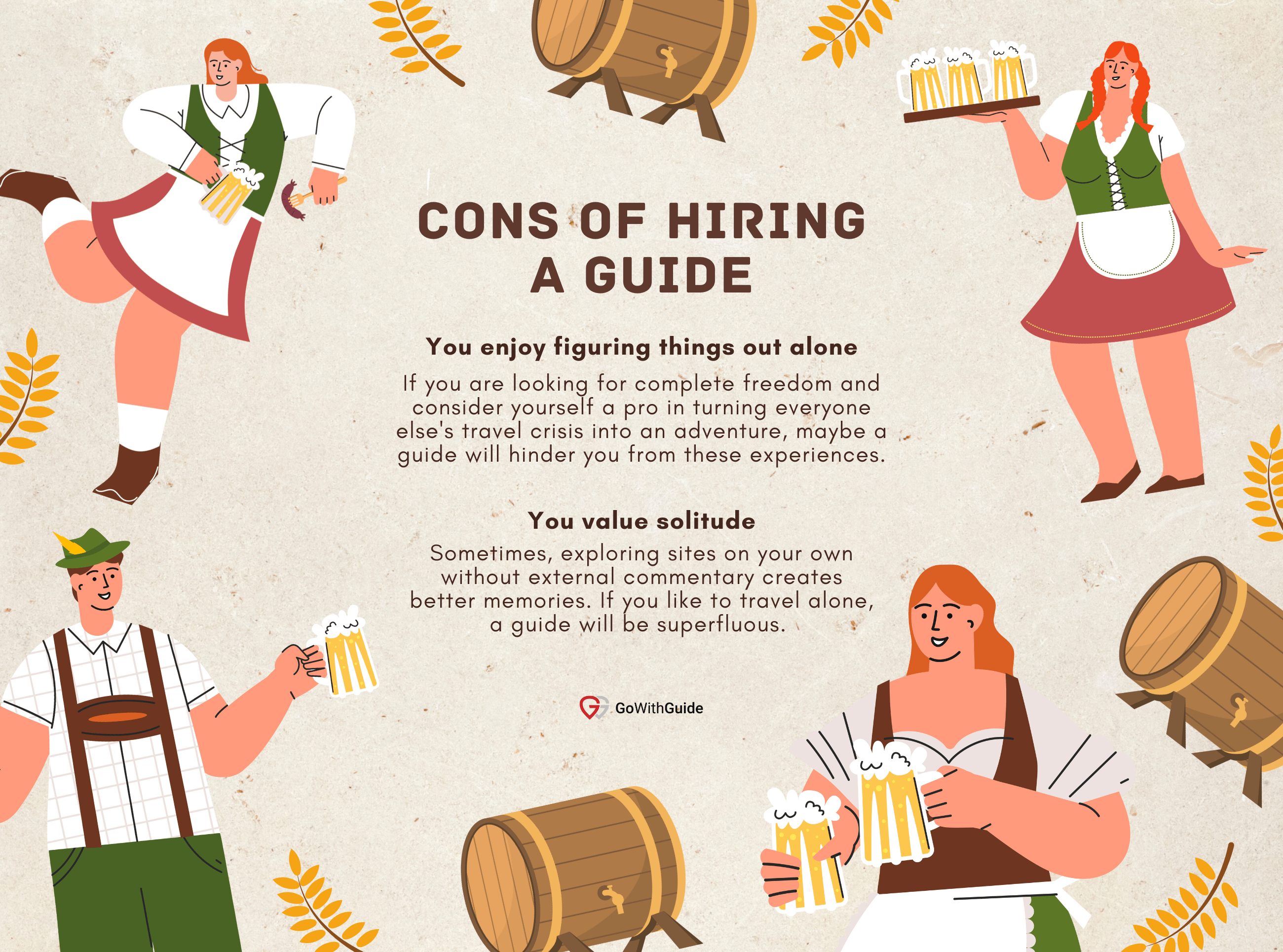 You enjoy figuring things out alone- If you are looking for complete freedom and consider yourself a pro in turning everyone else's travel crisis into an adventure, maybe a guide will hinder you from these experiences.
You value solitude- Sometimes, exploring sites on your own without external commentary creates better memories. If you like to travel alone, a guide will be superfluous.
Travel Q & A #1: What is included in the GoWithGuide Tour Guide Package?
So what do you sign up for when hiring a GWG guide? And how does it differ from conventional tours? Well, we break down the second question in a bit, but here's an overview of what to be excited about when booking with GoWithGuide. Auf die Plätze, fertig, los! (On your marks, get set, go!):
transport arrangement

in advance reservation for activities and venues

customizable tours that fit your needs

highlight tours

general travel assistance and recommendations
To know what's included or excluded in any given tour, scroll to the bottom the the specific guide's tour page.
Travel tip: If you want to know more about our tours, head to the official FAQ page or simply contact us.
You know the good, you know the bad. But what to make of it? Let's find out if going with a guide is the right choice for you.
You're A Go With Guide Person If...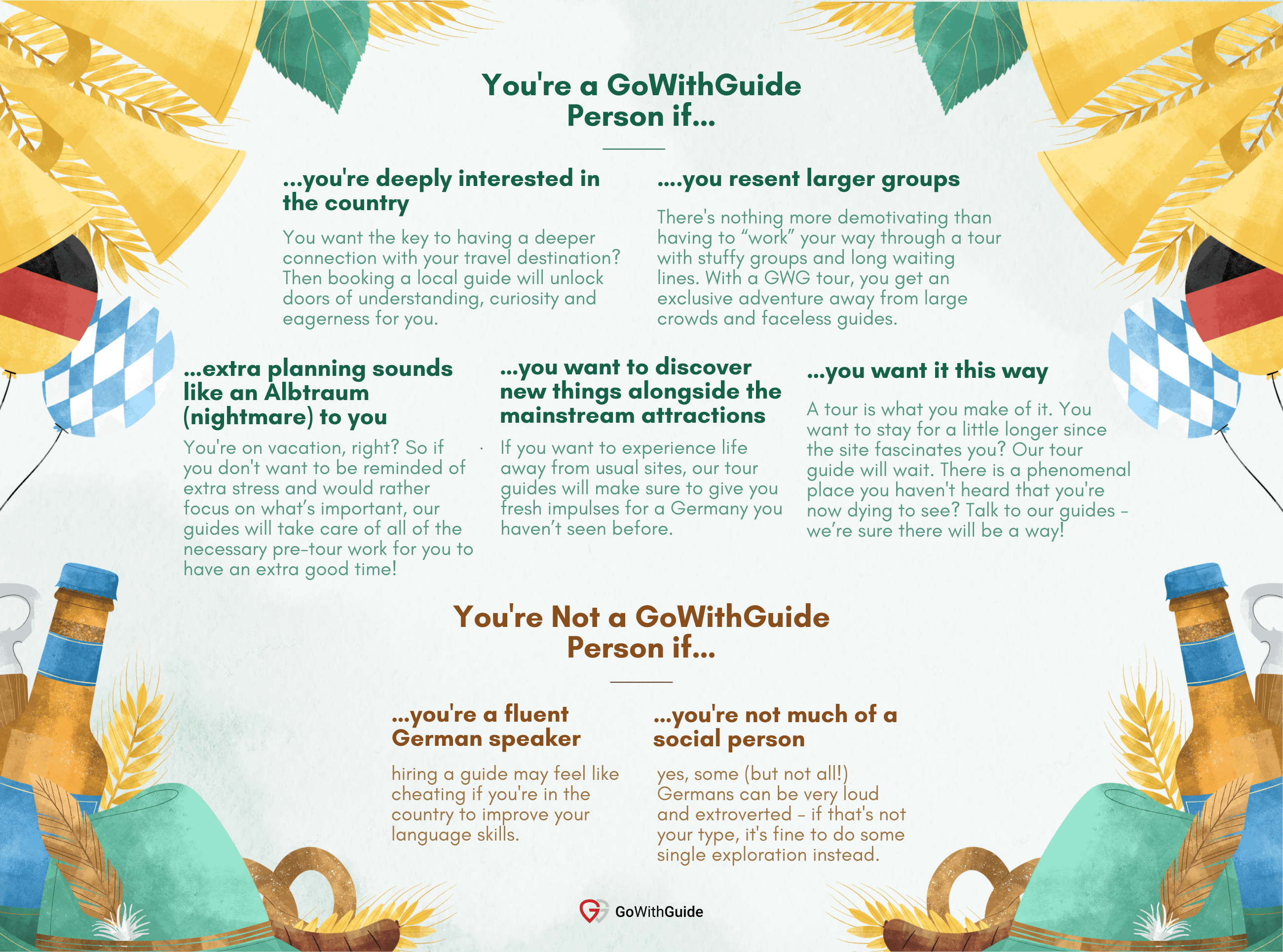 ...you're deeply interested in the country

- You want the key to having a deeper connection with your travel destination? Then booking a local guide will unlock doors of understanding, curiosity and eagerness for you.

….you resent larger groups- There's nothing more demotivating than having to "work" your way through a tour with stuffy groups and long waiting lines. With a GWG tour, you get an exclusive adventure away from large crowds and faceless guides.
…extra planning sounds like an Albtraum (nightmare) to you- You're on vacation, right? So if you don't want to be reminded of extra stress and would rather focus on what's important, our guides will take care of all of the necessary pre-tour work for you to have an extra good time!
…you want to discover new things alongside the mainstream attractions- If you want to experience life away from the usual sites, our tour guides will make sure to give you fresh impulses for a Germany you haven't seen before.

…you want it this way

- A tour is what you make of it. You want to stay for a little longer since the site fascinates you? Our tour guide will wait. There is a phenomenal place you haven't heard that you're now dying to see? Talk to our guides - we're sure there will be a way!


You're Not A Go With Guide Person If...
…you're a fluent German speaker

- hiring a guide may feel like cheating if you're in the country to improve your language skills.

…you're not much of a social person

- yes, some (but not all!) Germans can be very loud and extroverted - if that's not your type, it's fine to do some single exploration instead.


How To Hire A GWG Guide In 3 Easy Steps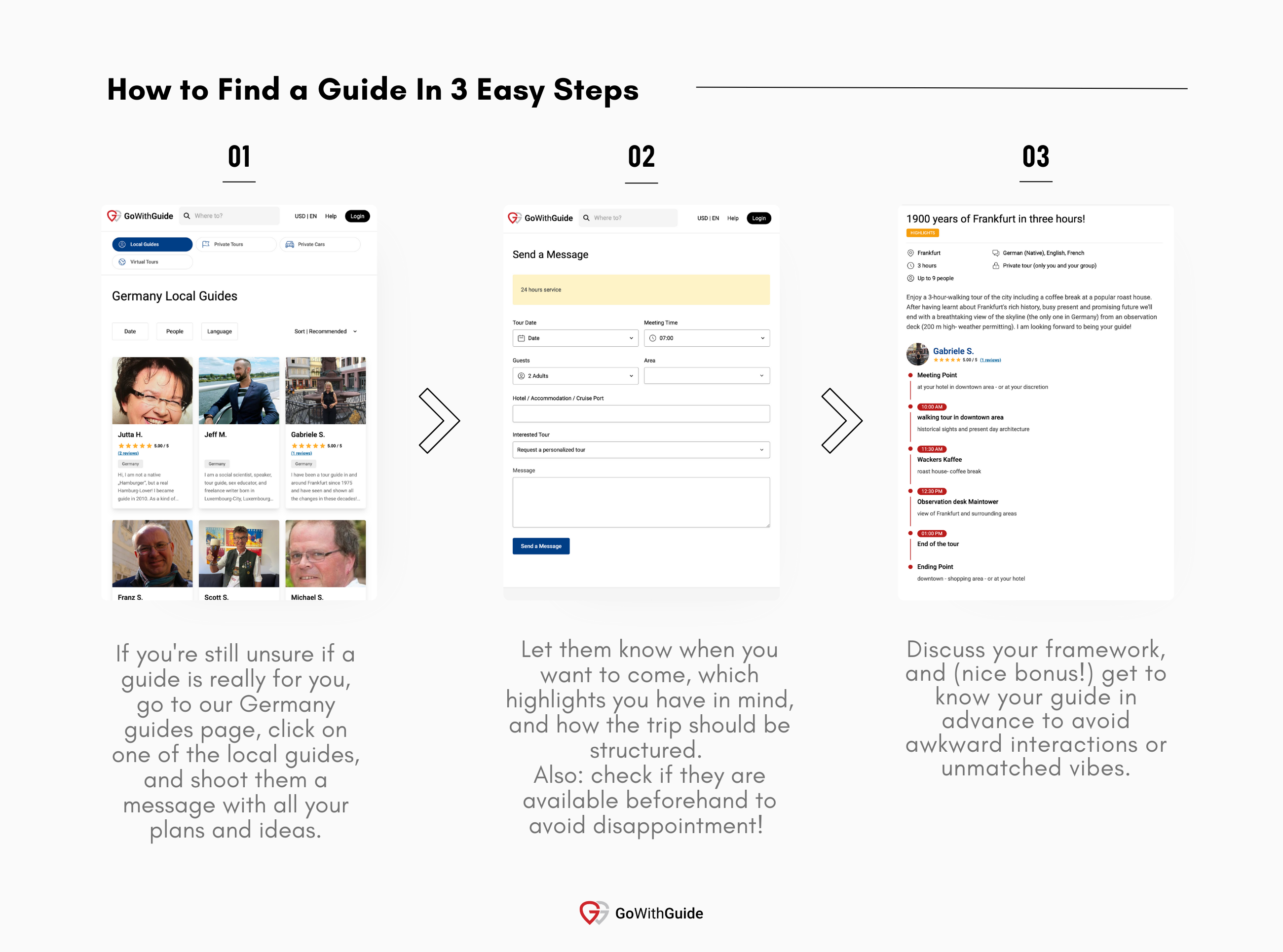 Step 1.

If you're still unsure if a guide is really for you, go to our Germany guides page, click on one of the

local guides

, and shoot them a message with all of your plans and ideas.

Step 2

.

Let them know when you want to come, which highlights you have in mind, and how the trip should be structured. Also: check if they are available beforehand to avoid disappointment!

Step 3.

Discuss your framework, and (nice bonus!) get to know your guide in advance to avoid awkward interactions or unmatched vibes.
Travel Q&A #2: When is the best time to visit Germany?
Each of Germany's four seasons has a distinctive charm that always makes the country attractive, depending on what you want out of your journey. For more information about the weather and seasons/festivals in Germany, check out our Germany Tourism Statistics article!
Do's & Don'ts When Hiring A Guide
So a guide seems like a good idea, but you don't know how things will work around them? Here are some things to consider: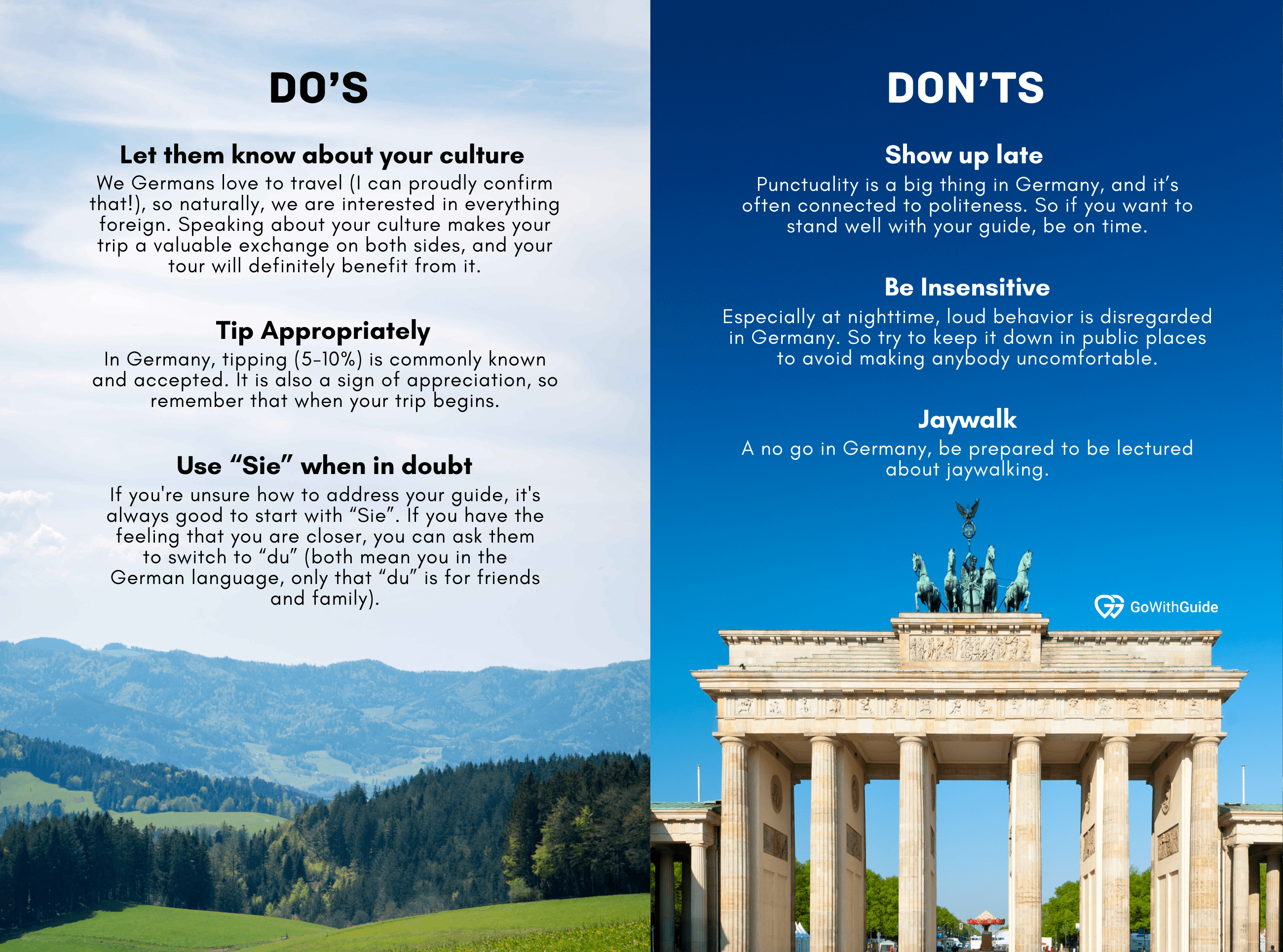 ​

Travel Q&A #3: How is the transportation system in Germany?
Due to our extensive system of networks, traveling in Germany is pretty convenient. However, you may have to plan for some delays here and there. Wanna learn more? Check out our article about Germany Tourism Statistics!
Okay, I'm Ready For Some Tours Now!
The dice have fallen. You have decided to get yourself a tour guide. But which tours should you actually hop on? Here are some inspirations: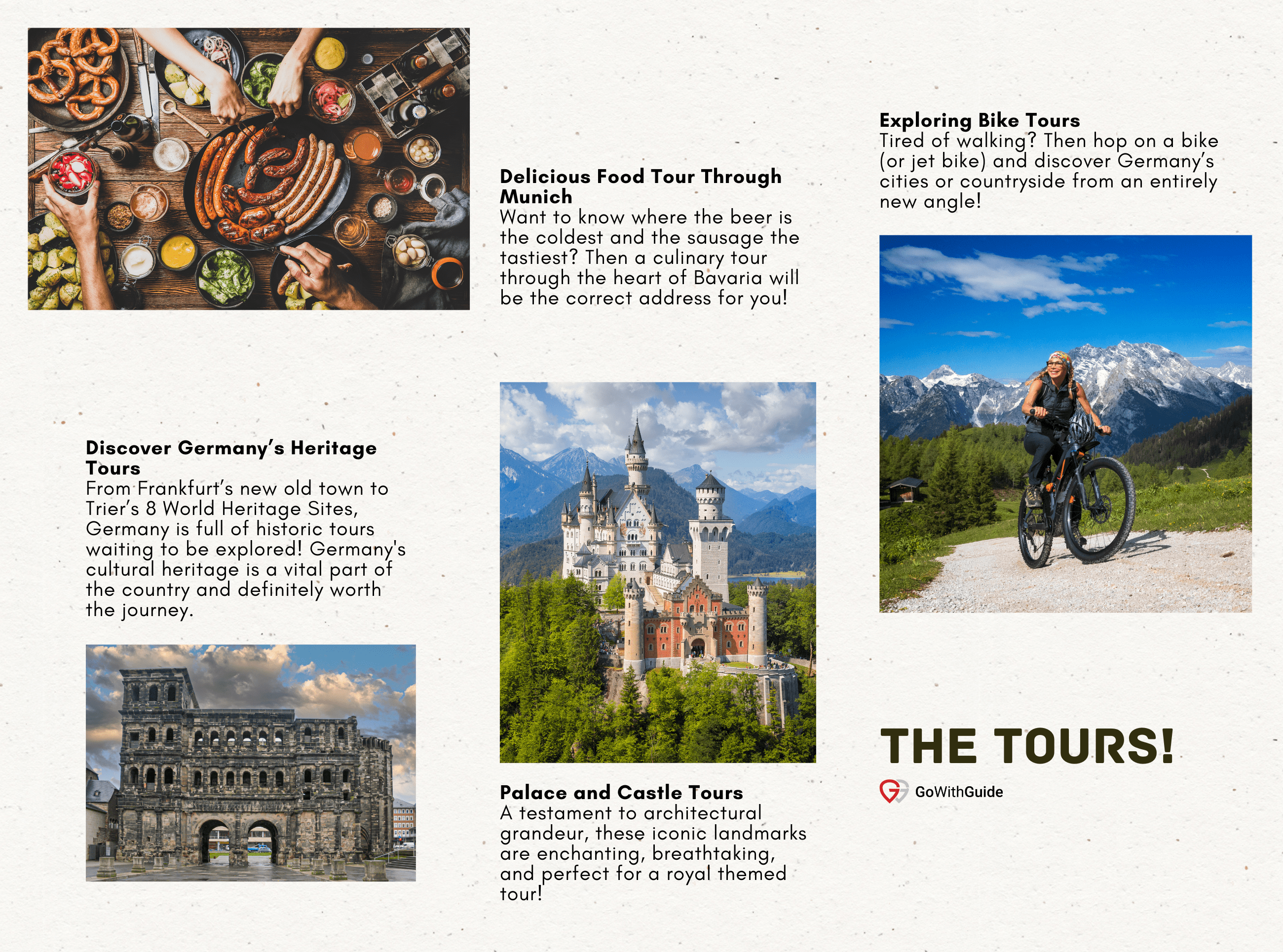 Delicious Food Tour Through Munich- Want to know where the beer is the coldest and the sausage the tastiest? Then a culinary tour through the heart of Bavaria will be the correct address for you!

Discover Germany's Heritage Tours

- From Frankfurt's

new old town

to

Trier's 8 World Heritage Sites

, Germany is full of historic tours waiting to be explored! Germany's cultural heritage is a vital part of the country and definitely worth the journey.

Palace and Castle Tours- A testament to architectural grandeur, these iconic landmarks are enchanting, breathtaking, and perfect for a royal themed tour!
Exploring Bike Tours- Tired of walking? Then hop on a bike (or jet bike) and discover Germany's cities or countryside from an entirely new angle!
​Conclusion
A guided tour through Germany will make your trip through this magnificent country a note-worthy one, ich versprech's (I promise)! So head over to our Germany tour guides and start planning your dream itinerary.