■ From Tokyo station to Shinjuku station
It is the fastest way to go by JR Chuo-line train from Tokyo to Shinjuku station. It takes about 15 min.
Tokyo station >(Chuo-line) > Shinjuku
When you arrive in Tokyo station by Shinkansen, after going out from the Shinkansen central transfer gate or the Shinkansen south transfer gate, you should walk in the direction of Marunouchi. There are escalators going up to Platform 1 and 2. Using the escalator, you should go upstairs (Platform 1 and 2).

You take a Chuo-line train with orange stripe to go to Shinjuku from Platform 1 or 2. Tokyo station is the start point of the Chuo-line train bounding for Shinjuku, Ochanomizu, Tachikawa etc. Almost Chuo-line trains stop at Shinjuku.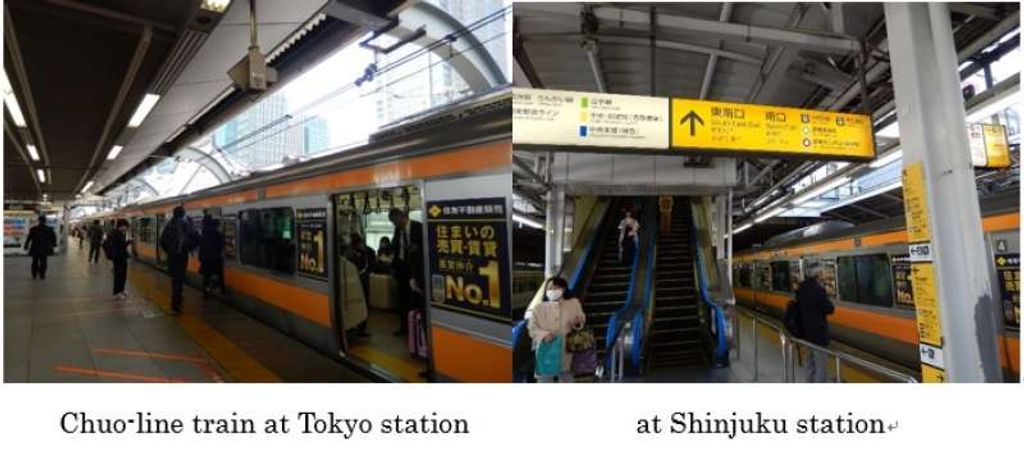 The train departs every few minutes. The train stops at the following stations.
Tokyo>Kanda>Ochanomizu>Yotsuya>Shinjuku
■ From Shinjuku station to your hotel
You should go out from the west exit of Shinjuku station.
The shuttle bus of the Hyatt Regency hotel starts every 20 minutes between 8:10am to 9:50pm from the West Exit of Shinjuku Station in front of Odakyu Halc department store (bus stop No.35).
It takes about 5 minutes to the hotel from Shinjuku station.
■ No additional fare
You don't need to buy a ticket to go from Tokyo to Shinjuku, if you have a Shinkansen ticket from Osaka or Kyoto to Tokyo. The ticket usually covers local train fares within Tokyo 23 wards.
■■■
I hope this information helps you.