You might have heard about Iceland's iconic Golden Circle route, and wondered is worth visiting? What are the must-see sights to see and what else you need to know?
The Golden Circle is a must-see for anyone visiting Iceland. The route takes you through beautiful landscapes and amazing natural wonders, such as the famous geysers and powerful waterfalls, finally ending the day with relaxing hot springs. Whether you are considering driving yourself or hiring a private tour guide, I got you covered!
In this post, I'm going to share useful information about Iceland's Golden Circle, recommended itinerary for your best Golden Circle Tours in Iceland and why you should hire a private tour guide for your trip to Iceland. So, let's begin!
What is the Golden Circle in Iceland?
The famous Golden Circle is a route to visit three of Southern Iceland's major landmarks Þingvellir National Park, Geysir geothermal area and Gullfoss waterfall.
Þingvellir National Park is one of the most important sights of Icelandic heritage. Geysir geothermal area has the earliest documented geyser in European literature, and Gullfoss waterfall is one of the most famous waterfalls in Iceland. It is a great day trip route for those who stay in Iceland for a short time.
You may be wondering, where did the route get its name from? The name Golden Circle comes from Gullfoss Waterfall, which means Golden Falls in Icelandic. The circle, on the other hand, comes from the circular shape of the route.
How long does it take to drive the Golden Circle?
The golden circle can be done as a half-day, full-day, or 2-day trip, depending on how much time you have. The entire route takes about 4 hours to drive, but this does not include time for sightseeing. I would recommend doing it either for a full day or a 2-day trip so you have more time to explore the sights. Another option is to hire a local private tour guide who offers ready-made tours to take you around the Golden Circle and other destinations in Iceland.
When to visit Iceland's Golden Circle?
You can do the Golden Circle tour at any season. Most of the sights are open all year round, which makes it an easy route to take any time of the year. The tour is easiest to do either by driving by yourself or hiring a private tour guide who can take you around. The local guides know which time of the day is best to visit the sights, avoiding the biggest crowds. Also, if you do not have of lot experience while driving icy roads, I would recommend hiring a guide to take you on tour.
What to wear when visiting the Golden Circle?
You should pack clothes that are appropriate for the weather. The Golden Circle route takes you to landmarks where you can get wet, so it is important to wear warm, waterproof and durable clothes. The terrain can also get challenging, therefore wear good shoes, preferably hiking shoes. No one wants to travel all day with wet feet!
Golden Circle 1-Day Itinerary with a Golden Circle Map
Start your day from the capital of Iceland - Reykjavik. The tour takes you to the most famous sights on the route, Þingvellir National Park, Haukadalur Geothermal Field and Gullfoss Waterfall. You will also have a chance to visit other sights such as the Kerið Crater Lake and Reykjadalur valley.
Stop 1: Þingvellir National Park
Stop 2: Haukadalur Geothermal Field
Stop 3: Gullfoss Waterfall
Stop 4: Kerið Crater Lake
Stop 5: Reykjadalur valley
Stop 1: Þingvellir (Thingvellir) National Park
The first stop of the day is Þingvellir National Park. It is Iceland's first national park and a UNESCO World Heritage Site. Þingvellir has a long and rich history as the birthplace of present-day Icelandic culture and heritage. The park was once the meeting place of Iceland's first parliament, Althing, from 930 to 1798. These meetings were held once a year to assembly laws and settle disputes. Today you can still see the remains of the Althing itself, which include fragments of around 50 booths built from stone and turf.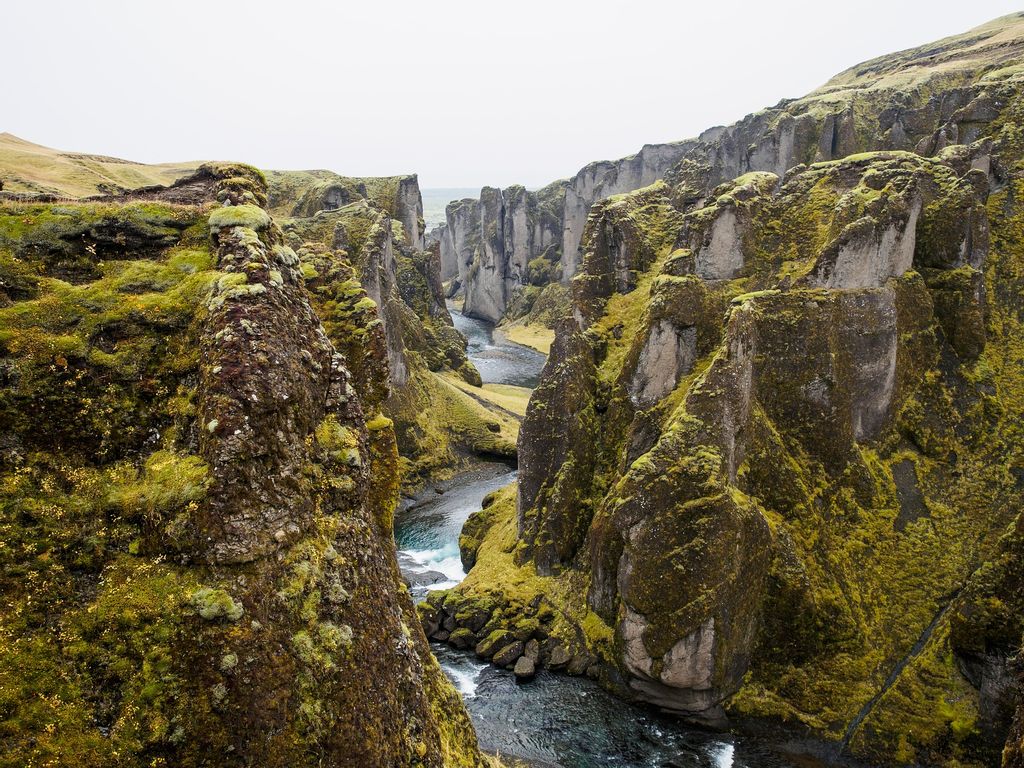 Þingvellir is also a site of geological significance. The park is located over the two continental plates of Eurasia and Nort America. Since the plates are slowly separating from each other, it has created a visible rift valley in the area. Iceland is the only country in the world where you can see the Mid Atlantic Ridge above sea level. Þingvallavatn Iceland's largest natural lake and gorgeous Oxararfoss are also located in the area. The entrance to the park is free, but you do need to pay for the parking and bathrooms.
Stop 2: Haukadalur Geothermal Field
One of the best-known sights in Iceland are the geysers. Haukadalur Geothermal Field is the best place to see this natural phenomenon. Its most famous geysers are Storukkur and Geysir and the area also consists of more than 40 smaller hot springs, fumaroles and mud pots. Geysir is the earliest documented geyser in European literature and is estimated to be around 10 000 years old. Unfortunately, it has been very inactive and wakes up only when earthquakes happen. Storukkur instead is very active and it usually bursts every 5 to 10 minutes. The entrance to the field is free.
Stop 3: Gullfoss Waterfall
After visiting the Haukadalur Geothermal Field, head to the famous Gullfoss Waterfall. Gullfoss, the golden falls, is the last of the three most famous stops in the Golden Circle. It is one of the most beautiful waterfalls in Iceland, with its total height of 32 meters (105 feet). On a sunny day, you can see rainbows arising from the sprays, making it a must-visit sights to see. No matter which season you visit, Gullfoss takes your breath away with its power and beauty! The entrance to the waterfall is free.
Stop 4: Kerið Crater Lake
Kerið is a fairly young volcanic caldera compared to other ones found in Iceland. It is approximately only 3000 years old, which is why it has red coloured slopes instead of volcanic black. If you visit the crater during the summer months, you can see its beautiful colours. Green moss covers the red slopes, and the aquamarine-coloured water of the lake brings a stark contrast to the view. You can walk around the edge of the crater or go down to the lake. This landmark does have a small fee that you need to pay to enter.
Stop 5: Reykjadalur Valley
The last place to visit is Reykjadalur - Steam Valley. The area is filled with hot springs, mud pools and a hot river in which you can take a dip. To get to these warm relaxing baths, you do need to hike a bit. Fortunately, it is not too long a hike and the path is well marked. Beware that the area does not have any toilets, showers, changing areas (only wooden modesty panels) or a place to store your stuff. The area is best to visit during summer or when there is no snow. The path can be more difficult to take if there is a lot of snow. The entrance to the park is free.
What benefits do you get by hiring a private tour guide?
By hiring a private tour guide through GoWithGuide, you can be sure that your vacation is fully enjoyable!
Are you visiting Iceland during colder months and concerned about the icy and snowy roads? By hiring a local private tour guide you do not have to worry. All of our guides are local and used to this kind of challenges. As our guides are locals they are passionate about offering you the best of the best their country can offer and giving you once-in-a-lifetime experiences.
They know when is the best time to visit sights to avoid the big crowds and they can also help you with cultural differences and language barriers. Other benefits of hiring a private tour guide are that they can tell you about the history, significance and cultural meanings of every sight to help you experience Iceland as authentically as possible.
Remember to check our tours around Iceland, where our guides take you around Iceland's most famous sights.
Or if you want to have a customised private tour, then click down below:
I hope this article provided you with enough information for your trip to Golden Circle in Iceland. Below you can find more recommendations of the tours offered by our local guides.
Recommended Private Tours
Golden Circle route from Reykjavik
South Coast of Iceland to village Vik
Information about COVID-19 measures in Iceland
The current European entry ban is affecting some people from travelling to the European Union or Schengen area.
The whole nationwide recommendations:
Keep a 2-metre distance to other people
Wear a mask in public places or when 2-metre distance cannot be kept between individuals who are not part of the family
Children born 2005 or later are not obligated to wear a mask
People who have already been infected by COVID-19 or have completed their isolation are exempted from wearing a mask
People who do not have the understanding or maturity to use a face mask properly or who are unable to use it for other reasons, such as health reasons, are exempt from using the mask
Public gatherings and places have restrictions on how many people can be inside at the same time, please click here for the latest information
If the prevention measures are not followed, fines may be given to those who violate them
Other useful websites for COVID-19 information in Iceland:
Official Information of COVID-19 in Iceland
Current restrictions in Iceland