In 2009, the Port of Yokohama is 150 years old!!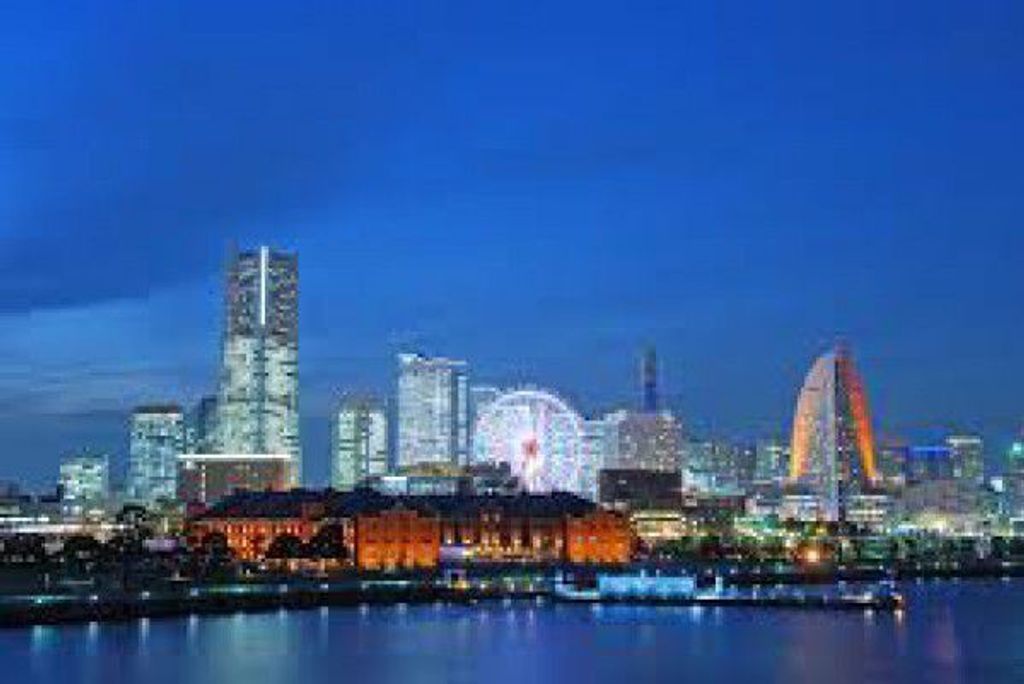 Here is the city song of Yokohama. It was introduced in July 1st, 1909 when the 50 th anniversary ceremony of the opening of Yokohama Port was celebrated.
♪♪The Land of the Rising Sun is an island country
the morning sun is gleaming on the ocean
seeing that Islands rise above the ocean
welcome any ships from any countries
For that reason, no ports excel the Yokohama port despite many ports in Japan.
When we think of many years ago,
Yokohama was humble place where only smokes flew from rush-thatched huts
Now, look it, where so many ships are anchoring
Ever-prospering reign of Emperor, decorated with treasures into the port.♪♪♪
I am not quite sure whether my translation delivers the meaning properly or not. When I was a primary school pupil, I would sing this song without understanding both the city and school song at various ceremonies or events because they were written in an old literary style, but still I can sing both of them from memory. Of course, I am old enough to appreciate their meanings now.
The name of Yokohama
The name of Yokohama consists of two Chinese characters; "yoko" or horizontal and "hama" or beach.
Seeing from the city song and city name, Yokohama used to be a lonely farming and fishing village. Thanks to the opening of the port to foreign trade in 1859, Yokohama, where a lot of foreign visitors with their cultures and advanced techniques gathered together, has developed into an international city. Apparently, Yokohama has achieved a remarkable and smooth development. However, she went through two major damages, the Great Kanto Earthquake of 1923 & large-scale air raids in 1945, which completely collapsed the whole city. Each time, she has completely recovered from a huge heap of rubbles to be the second largest city in Japan, with the population of 3,58 millions now.
Next year, 2009, the City of Yokohama will welcome 150 the anniversary of the opening of the Port and at the same time 120 th of the municipal organization.
To celebrate these anniversaries, Yokohama City is planning to organize various memorial projects to appreciate the presence of the ports and our predecessors' achievements. The projects include the port-opening-ceremony to be held on June 2 nd , 2009 and a series of the core events for about 150 days from May to September, 2009.
Officially looking back on the past, at the 50 th anniversary of the opening of the port celebrated in 1909, the above-mentioned city song and popular city emblem were officially announced and the Yokohama Municipal Port Opening Memorial Hall (which survived the earthquake in 1923 and registered as national important property in 1989) was opened. At the 100 th anniversary in 1958, the Marine Tower (106m high, the world's highest light house by the Guinness Book of World Records & a symbol of the Yokohama port) and Yokohama Culture Center were built. In addition, Hikawa-maru, (the luxurious passenger liner cross the Pacific Ocean before& after the Second World War and hospital ship during the war) has been moored to Yamashita Park as a memory of good old voyage.
Personally, over sixty years have passed since my family settled down in the city of Yokohama after evacuation to the countryside from the Tokyo major air-raids, with four time movements in the city and with 5 time movement during the eleven-year-stay of Hong Kong and Sydney. By coincidence, each of three cities has a beautiful port, which especially has fostered my attachment for an atmosphere of a port town. As one of the citizens, I enjoyed 100 th celebration and am looking forward to the 150 th celebrations in 2009 very much because of the last chance for me to celebrate the turning point of this celebration.
"Hama-kko" are nicknamed
By the way, we often call local people by their traditional nicknames. Some of them are derived from the traditional name of feudality before Meiji Restoration (a series of political and social revolutions for the starting point of the centralized and capitalistic state from the collapse of Tokugawa military government in 1868), suggesting the mentality of each local people.
"Edo-kko", for example, is nicknamed to people whose three generations have been born and grew up in Edo or Tokyo. They are said to have a high-spirited air, a frank, open personality, clear-cut expression and open-handed character, but to be imprudent and belligerent. Among them, "Beranme" or sharp, trill and voluble manner of talking was used especially by craftsmen in the downtown of Edo.
"Hama-kko" are nicknamed to people who spent just only three days in Yokohama, hinting people in Yokohama always welcome any person open-mindedly.
They have also an unique tone of voice "Hama-ben" spoken among local fishermen and farmers. For my case, I was born in Tokyo, but stayed a few months only, so not entitled to be called "Edo-kko", but truly "Hama-kko".
There are more examples of nicknames for people in other prefectures;
Naniwa-kko are to people born in Osaka prefecture
Iyo-kko to people in Ehime
Satsuma-kko to people in Kagoshima
Dosan-ko to people in Hokkaido.
Hai-kara
After the opening of the trade to foreign countries through several ports including Yokohama, Japanese government took the positive policy to introduce the Western cultures. Among these ports, Yokohama played an extremely important role of the gateway to Japan for foreign cultures and customs, welcoming many Europeans and Americans. Some of them settled down in Yokohama and their life was intruded into Japanese life, which made Yokohama ahead of any other places in Japan,with an image associated with hai-kara. Hai-kara comes from the fact that diet members who returned from a trip to Europe used to wear high collar, corrupted to hai-kara, suggesting gentlemen stylishly dressed or acted after European fashion.
I would like to introduce you some of them which appeared in Yokohama as the first one for Japanese;
Beer
Beer was initially made for foreigners in the settlement and gradually became popular among the local Japanese people. Spring Valley Brewery was founded by Copland, American, who found good quality- hard spring water in Amanuma, Yokohama. It went bankrupt in 1885 and was taken over by the current Kirin-Beer, the top brewery in Japan. In those days, the quality of water locally supplied to foreign vessels was known as the "Golden Water" and the port was called "Golden Port" among sailors, because the water was mellow, rich and fully-flavored, and such water stored for many days in ships did not go bad even after their crossing the equator.
Dairy newspaper
"Yokohama Mainichi Newspaper" printed in Japanese appeared in1870, featuring lead-made types and machine-made paper. Before this appearance, various newspapers including Japan Herald were published in European languages by foreigners. In 1864, Kaigai-shinbun, featuring translations from foreign papers, was published by Hamada Hikozo, who became naturalized in America after rescued from his wrecked ship in the Pacific.
French bread
French bread was baked by Utsumi Heikichi who learned a recipe for making bread from a Frenchman in 1860. English bread was baked in 1865 by Robert Clerk, Englishman.
Gas lamp
Gas lamp was lit along the Basha-michi, or horse-drawn-carriage street, in 1872 and electric lamp was lit in 1890. The Basha-michi is also known as the first modern trees-lining-street.
Ice cream
Ice cream appeared on the Basha-mich in May 5, 1869, but was unsellable due to its high price and unfamiliarity. It became very popular the next year at a near-by summer festival and spread throughout Japan. So ice creams are distributed free of charge on May 5 every year as "Day of Ice Cream".
Ice making machine
Ice making machine was manufactured by a Dutchman in 1879. Before its appearance, lumps of natural ice were housed in ice rooms as valuables.
Iron-made bridge
Iron-made bridge, Yoshida-bashi, connecting Isezaki-cho and Basha-michi, was built. It had no pier, which surprised people very much.
Japanese-English dictionary
Japanese-English dictionary was published by Tokugawa Shogunate Foreign Book Study Section in 1862. In 1867, English-Japanese dictionary was published by James Curtis Hepburn, doctor and missionary, came to Yokohama with his wife in 1859. He gave young Japanese people English lessons, studied Japanese and then compiled Japanese-English dictionary, using the Hepburn system of Romaji; the method of writing Japanese in Roman letters and the first horizontal typesetting in Japan.
Lady's Lawn Tennis & Croquet Club
Lady's Lawn Tennis & Croquet Club, pioneer of Japanese tennis, was established in 1878 in the Yamate Park, Japan's first western-style park, where the first Himalayan cedars were planted.
Locomotive
Locomotive was a miniature type one among many gifts presented to Japan in 1854 by Commodore Matthew C. Perry, an American navy man, Commander-in-Chief of the East India Fleet of 4 warships. He forced Japan to open trades to the USA in 1853. In 1854, he returned to Yokohama to conclude the treaty with Japan. In 1872, the actual locomotive ran between Yokohama and Tokyo.
Modern iron mill
Modern iron mill was built in 1864 by Tokugawa Government to produce engines for ships, canons and tools for construction of other mills.
Modern Horse racing
Modern Horse racint was held in 1861 at the riding ground ownedby Shogunate in Aioi-cho and then converted into the first western-style race course in 1866. The land which was used to be the site of the race course consists of Negishi Forest Park and Horserace Memorial Park today.
Photo studio
Photo studio , in1862, was founded by Shimoka Renjou who obtained cameras and developing solutions from his friend and succeeded in developing after hard working. In those days, it was feared as magic of Christianity by people.
Ponchi-e
Ponchi-e is a comic picture containing a satire on contemporary politics or a hidden meaning. It was said to originate from Punch, the comic magazine published in England or model after The Japan Punch published by Charles Wirgman, Englishman, in 1862. He was influential on Japanese publishing world and good teacher for Japanese in the field of oil and water color paintings.
Rickshaw
Rickshaw was a two-wheeler invented by Japanese in 1869, carrying a passenger in the seat by holding shafts in both hands and pulling by human power. It had been popular vehicles until 1950s.
Shared horse-drawn carriage
Shared horse-drawn carriage was run in 1869 from Yokohama to Tokyo.
Soap
Soap was begun to be made by Tsutsumi Isoemon in 1873. He saw it in an iron mill under construction for the first time. Seeing his washing away his oily hands with rice bran, a French engineer lent a piece of soap to him. He was surprised to find it very useful, and successfully made soap after many failures in 1873.
Western-stypke lighthouse
Western-style lighthouse was built at Kan-non zaki on November 1,868. The current one is the third generation, because it was rebuilt two times after earthquakes in 1922 and 1923 respectively.
Western vegetables
Western vegetables were firstly introduced into Yokohama and cultivated on a trial in 1865 by order of local government, including strawberries, cabbage, peanuts, peas, onions, celery, cauliflower, asparagus, potatoes and pumpkins. "Hama-kko" is proud of a pioneer of many new things from the West and still has maintained the innovative spirits and a modern atmosphere while "Edo-kko" is proud of the birthplace of Japanese conservative spirits and traditional cultures including manners and customs.
Finally, a bill on the wall of a station of Yokohama municipal subway expresses;
In 2009, the Port of Yokohama is 150 years old!!
The new Yokohama will move by "the spirit of all citizens".
With dreams and hopes, let's set sail to the future.