The week from the end of April to beginning of May used be called "Golden week" for many years from early 1950s, partly because the week had several national holidays in a week and people could enjoy the longest holidays in a year except the New Year's Holidays, and partly because cinema business released topical or serious movies in the 1 st week of May, carrying words "Golden week". Now, this special week has been called "Big-scale consecutive holidays" at some time or other. This indicates that Japanese enjoy more leisurely holidays today than before due to the improved working conditions, and that the theater cinema has become less popular.
Big scale consecutive holidays of this year had, unfortunately, a poor combination of weekends and national holidays, so it was a big disappointment especially for the pleasure-related industries including travel agents.
I wonder how the big consecutive holidays are combined the next year, but I will stop to think of it now, because we have a saying; If you say the next year, a devil will laugh.
Now, I will brief you on what these four national holidays are. 
It is celebrated on April 29, and used to be celebrated as the birthday of the Emperor Showa. On this day, we reflect on the Showa period(1926 - 1989) in which Japan passed through the turbulent times and achieved reconstruction, and think of the future of the nation.
Constitution Memorial Day
On May 3, it celebrates the enforcement of the Constitution of Japan which was enforced on May 3, 1947. The constitution consists of the preamble, 10 chapters and 103 sections, stipulating the sovereignty of the people, the Emperor as the symbol of the State and the permanent pacifism.
It is celebrated on May 4, having the spirit that people nurture a rich spirit through getting friendly with nature and feeling thankful for the benefit.
On May 5, we celebrate Children's Day to stress the importance of children's personality. On this day, some hang sweet sedges under the eaves of the entrance of their houses. Some put them into a bathtub to enjoy a fragrance of the leaves and eat a rice-dumpling wrapped in bamboo leaves or a cake of pounded rice wrapped in an oak leaf, to clear away bad air. And also some display a miniature helmet, armor and a doll warrior in their living room. You may see carp streamers flown out of doors if you travel in Japan in early May.
Generally speaking, we have many sunny weather days, also known as "Satsuki-bare or May fine weather". It is very sunny, dry and cool just before the wet rainy season. To express this excellentseason among four seasons, here is a famoushaiku poet (a Japanese poem in seventeen syllables having a 5-7-5 syllabic form and traditionally containinga single referenceto the season) by Yamaguchi Sodo, a haiku poet in the middle of the Edo Period (1603 -1867).

me-ni- a-o-ba or green leaves for eyes ya-ma- ho-to-to-gi-suor cuckoosin a mountain ha-tsu-ga-tsu-o, or (the taste of) early bonito.
This haiku gives a wonder to me, a layman of haiku. My understanding is that Haikuis composed on the pattern of 5-7- 5 syllables with inclusion of a single seasonal word as mentioned before. However this haikuincludes three season words. Did the splendid season force him to compose this work, even neglecting the fixed rule of haiku?
By the way, I would like to brief you on three season words to appreciate his poetic description of early summer herein.
"Aoba" or green leaves of trees and plant. In May, trees grow thick and plants become dense after the stage of young leaves. "Hototogisu"or little cuckoos breed in East Asia, then move to South-East Asia in winter and finally come flying into Japan in May.
"Katsuo"or bonitos school and migrate through the ocean. They come to Japanese waters from the southern ocean at the outset of gentle summer breeze. They are caught and called hatsu-gatsuo, or the first bonito of the season.
Now, I would like to go into details of bonito. They float up north on the Japan Current and appear around Iejima / MiyakoIslands of Okinawa Prefectureand reach off the coast of Sanriku Districtincluding Aomori, Iwate and Miyagi Prefectures,in July or August. Fishing boats are operating to follow them. Makurazakiin Kagoshima Prefecture, Kochiin Kochi Prefecture and Katsuurain Chiba prefectureare well-known fishery basements of Bonito.
Some fishermen go out into the sea at night to fish coastal bonito with a pole and a line with a bait of fresh sardine. You can imagine how stirring it is. It is called ippon-zurior a pole-and-line fishing.
In Japan, bonito have been believed to be an object that will bring good luck. There is a story behind this belief; when Hojo Ujiyasu,one of war lords after the Warring States period (1467-1568) watched the bonito fishing off the coast of Odawara, Kanagawa Prefecturein summer, a bonito flew into his boat. He was delighted to see it and shouted " katsuo !! -". Katsuois bonito in Japanese and it has the same pronunciation as one of katsu-oor winning-boy. Since then, sharing its good occasion, he treated his retainers with bonito as side dish for sake, or rice wine before going into battle. Thus, samuraifamilies began to value bonito highly as a good luck charm, so they offered bonito with red-white rice cakes in front of a helmet and armor for the New Year.
Popularity of Bonito in Edo Period
Fresh bonito was much sought after among people in the Edo period (1603-1867). So there had been a pun, "Let's eat the hatsu-gatsuo even pawning my wife". This might be based on - the Chinese doctrine of Five , that if we eat the first of the season such as an eggplants and cucumber, you have a long life with additional 75 days. In those days, bonito was unloaded at shores of Kamakura, about 50km away from Edo or Tokyo, and was carried to Edo by an express palanquin a whole day and night to offer fresh bonito to people in Edo through Tsukiji fish market . So you can understand how expensive hatsu-gatsuo was and how much it was sough after in those days.
Several enjoyment ways of Bonito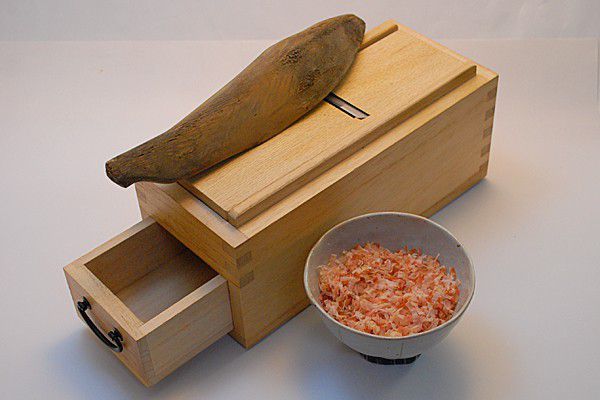 Katsuo-bushi or dried bonito Bonito is cut into 4 pieces, and each of them is steamed, smoked and dried for weeks. Then grow mold on it for weeks or months. It still takes many days to produce high-quality dried bonito even today. In home, dried bonito flakes will serve as fish flour or stock source. To sprinkle the flakes over hot steamed rice with soy sauce is simple, and it is very tasty. It reminds me or senior people of the difficulty of obtaining food after the war. Dried bonito contains "umami" or taste ingredients including inosine and histidine which feature quick solution and are rich in Vitamin B and D. Makers of dried bonito emphasize the selling point; food highly nutritious food and base for build-up of muscles, blood and bones because it also contains phosphor, calcium and minerals. Here is another word play for Katsuo-bushito enforce the selling point. It has same pronunciation as katsu-o-bushior literally win-male-warrior. So dried bonito has been considered as a representative gift for any family celebrations including gifts for an engagement, guest at a ceremony, the birth of a baby and recovery from illness.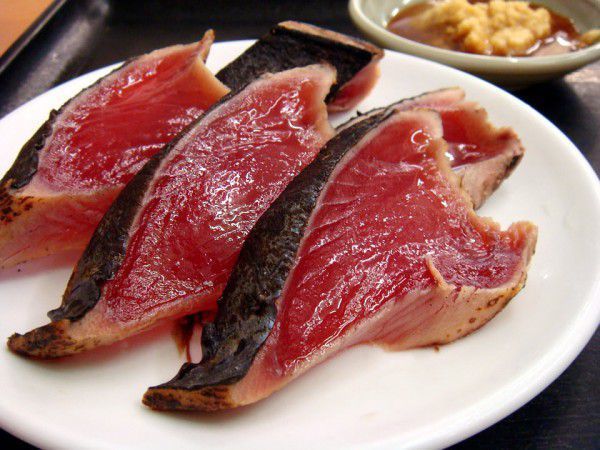 Katsuo-no-tataki is the most popular form of sashimi of bonito in summer. It is raw bonito lightly seasoned with vinegar, so katso-no-tataki is not dipped in soy sauce like other sashimi. First, fillet bonito and then grill lightly the outer surface, leaving the inner flesh raw, and usually mix it in slices with onion or other condiments such as ninniku (garlic) , shoga (ginger) ,grated daikon (Japanese radish) , and finely-chopped negi (spring onions), and sprinkle all of them over it with a combination of su (rice vinegar) and soy sauce with a little dashi . Then pound it with hands or back of a fish knife so that such seasonings are mixed well. It is a local cuisine of Kouchi prefecture.
Shutou, also known as shiokara is salted and fermented internal parts of the bonito for a side dish well-matched with sake. Be careful not to drink too much sake, because Shutou literally means stealing sake in Japanese, hinting more and more increased appetite for sake.
May is a good month to offer you not only a beautiful sight but also good appetite.
Did you like my article?
You can send me a message to get a customized itinerary and quotation for an unforgettable experience. Let's explore Japan Together.
I'll be waiting for you, so please check my profile and get your trip plan now