If you have spare time more than three hours at Narita airport, you can visit Japanese old temple called Narita-san, Shinshoji and traditional shopping streets and enjoy cherry blossom without going to the downtown Tokyo.
From Narita Airport to Narita historical town, it takes 15 mins by train. From Narita town station, you can enjoy walking to Narita-san Shinshoji temple for 15 mins going through the front slope approach where preserved historical townscape in Edo period.
Behind the main hall of Narita-san Shinsho-ji temple, there is a beautiful Japanese garden. In early April, they can enjoy beautiful cherry blossom. It is the strolling landscape garden that features paths around ponds. It is very refreshing to walk along the paths in the picturesque gardens.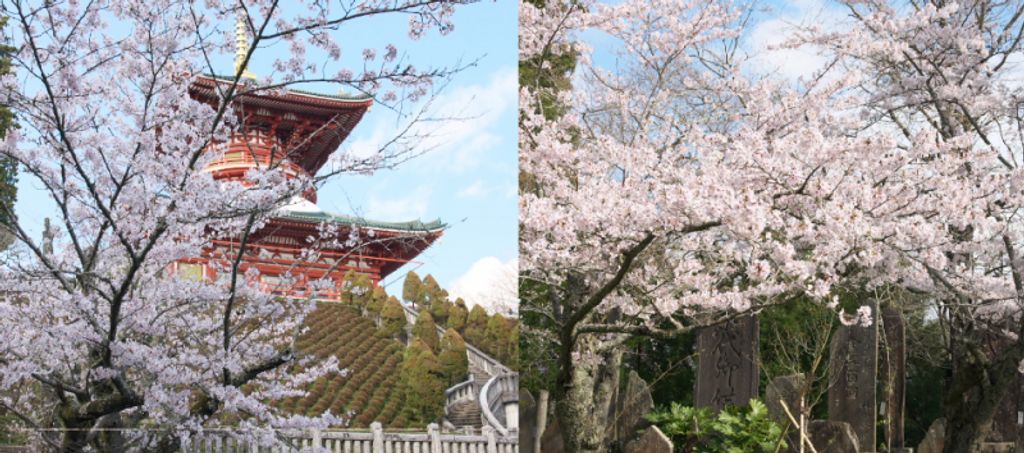 Among four seasons, spring is renowned for cherry blossom. The flowers live only for two weeks if the weather's good. Japanese people find the beauty in their short life. There are many poetries which praise cherry blossom's beautiful short life from olden days. For example: [Hisakata-no hikari nodokeki harunohini shizu kokoronaku hanazo chiruran] (by Kii no Tomonori) [In the warmth of the sun on a tranquil spring day, how is it that the blossoms scatter in a rushed way?] While flower viewing (HANAMI), I hope you can feel the same aesthetic charm which ancient people felt.
Hanami (花見, "flower viewing") is the Japanese traditional custom of enjoying the transient beauty of flowers; flowers ("hana") are in this case almost always referring to those of the cherry ("sakura"). From the end of March to early May, cherry trees bloom all over Japan. The blossom forecast (桜前線 sakura-zensen) "cherry blossom front" is announced each year by the weather bureau, and is watched carefully by those planning hanami as the blossoms only last a week or two. In modern-day Japan, hanami mostly consists of having an outdoor party beneath the sakura during daytime or at night.
If you plan to visit Narita, Japan, it would be a great pleasure to guide you. I will explain about our culture further. My tour website is https://triplelights.com/profile/3624