● Breakfast for a senior couple, ha, ha, ha, for ourselves.
I would like to show you a casual home breakfast for our senior couple one day. All dishes made by myself. In my home, I make three meals for our couple every day. I also make a lunch box for my wife, because she is still a very active salesperson at a clothing store for senior ladies with a certificated color coordinator license.
The main dish is a boiled Udon(cold) with a topping of dry seaweed. It is a popular dish in summer here in Tokyo.
We ate it to dip the hot soup which contained small mushrooms, long onion, fried thin tofu, and grated ginger. It is basically soy sauce taste.
Below center is a stewed dish of konjac(jelly-like food made from the starch of konjac potato, devil's tongue), hijiki(dark edible seaweed) and carrot. These are seasoned by soy sauce, sweet sake, sake for cooking and sugar.
Two brown balls are Umeboshi(salted plum)which is said to be very good for our health. Umeboshi is believed to have antibacterial effects and various medicinal effects. In my experience of tour guide, there are few tourists from overseas who ate Umeboshi because of very sour, and Natto because of stringy and stinky.
The upper right dish is for cut apples.
Chopsticks: Every Japanese including children has her or his own chopsticks. After using them we wash them and use them again and again. We also use chopstick rest. It is not a polite way to put chopsticks on dish, bowl or other tableware.
Please feel free to ask me anything regarding the article.
Masato, a certificated National Tour Guide, TripleLights.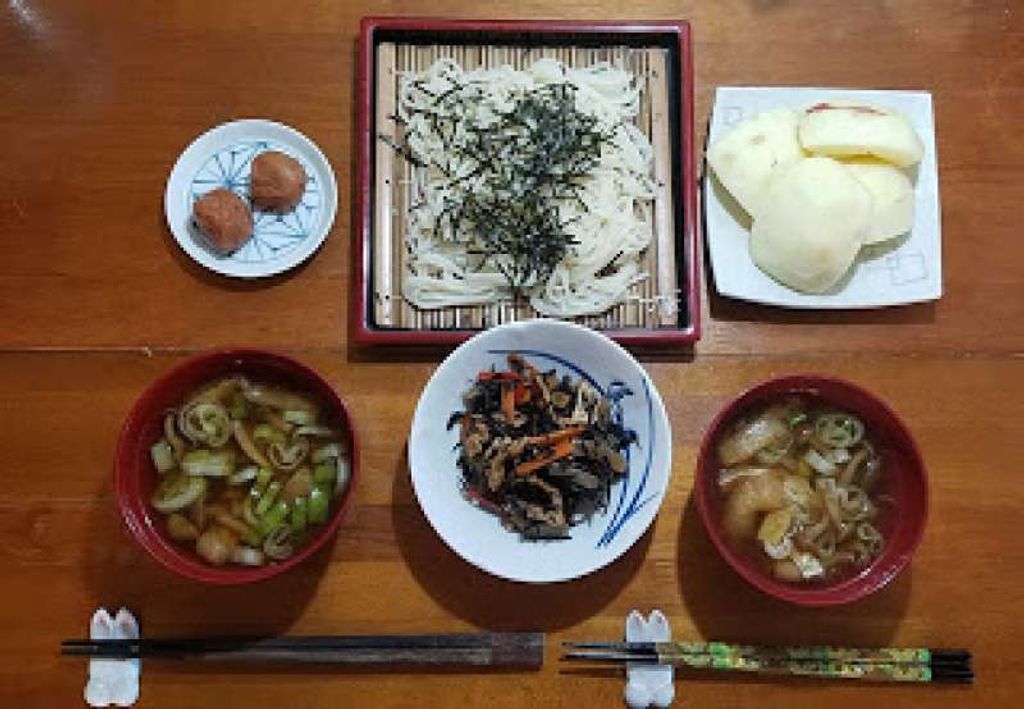 We took a Japanese style breakfast this morning, but it varies daily, in the most morning we take Western style one.