A hero who cleans up Japan with a broom and a dustpan

At first glance, no one may think that this is serious person who tries to make Japan by far cleanest country in the world. Nor did I, actually. It was the end of September with clear sky, and the temperture rose up to nearly 30 deg/C. (90 deg/F.) in Nihonbashi, Tokyo. Mangetsu Man (Full Moon Man) was sweeping sidewalk of Nihonbashi bridge silently, and there are some commoners-looking people doing the same around him. Mangetsu Man is tall, therefore quite outstanding and very polite and cooperative to tourists who want to take pictures with him. But he is not one of "Yuru-Chara" (http://www.japantravelinfo.com/popculture/yuru.php?y=1) created by Japan's administrative organs which can be seen at any touristic spots in Japan these days.
According to Mangetsu Man's official site and blog (http://mangetsu-man.com/) -sorry but in Japanese only, he seems to be much more spontaneous and his aim is not to attract tourists to a certain place, but to clean Japan praying for peacefull society and happiness of everyone. Since his official birthday of 10 Oct. 2013, he has been showing up in many places (mostly historical or touristic places, such as Imperial Palace, temples and festival venues) in Japan, but main base of his activity remains in Nihonbashi that is also historical place in Tokyo. Surprisingly, his activity attracted not only tourists, but also people who voluntarily began to work together with brooms and dustpans in hands.
By the way, Autumn's full moon has been regarded as a precious seasonal charm in Japan's long history. There are numerous poems whose motif is the moon which implicitly represents Autumn. We have old tradition to admire full moon of September and October (converted from August and September of old lunar calender). During Edo period (17th-19th centuries), Sumida river in Tokyo used to be one of the popular spots to admire the moon and people floated boats on the river and spent merry time under the moonlight.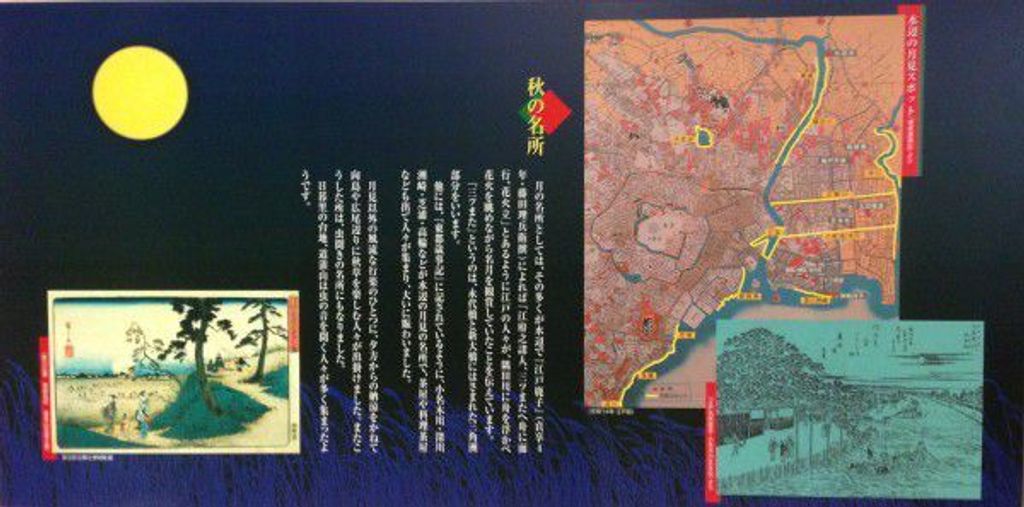 Sorry for bad photo, but it shows how and where people in Edo period admired the moon.
In 2014, full moon is expected to be seen on 8th September and 9th October, if it doesn't rain.
I hope we can enjoy beautiful moon on Mangetsu Man's 1st anniversary which is 10th October, 2014, although we do not know where and when exactly he would appear.
For those interested in Sumida River Cruise (but only day time), please take a look at "First Day in Tokyo" tour:
https://triplelights.com/japan/tokyo/tour/151/first-day-in-tokyo-one-day-tour.