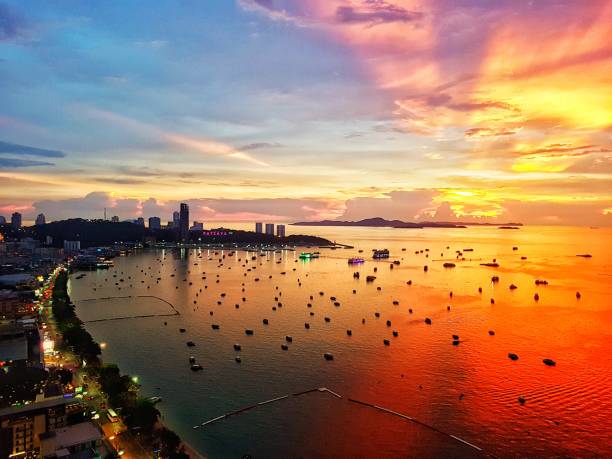 The Sanctuary of Truth is perhaps the most iconic structure in Pattaya. Intricately carved entirely from teak wood, the awe-inspiring 105-metre-tall hall on the headland to the north of Wongamat Beach is a one-of-a-kind structure in the whole world. Neither temple nor palace, despite looking like a hybrid of both, it was commissioned by a local business tycoon to act as a place of appreciation for philosophy, art, culture and faith, without being tied to a single religion.

Pattaya Floating Market Covering an area of 100,000sqm, the Four Regions Floating Market is separated into four sections – each representing and selling items from the four major parts of Thailand (north, northeast, central and south). Expect to find many eateries, fruit stalls, souvenir shops and some art galleries. There is also a cultural show every afternoon. The 350 million baht market has over 114 shops and water vendors selling authentic Thai food, desserts and specialties from all over the kingdom. For a floating market experience, hire a man-powered boat to get around and discover the richness of the surrounding Thai architecture and riverside life. Typically, the boat is big enough for four people and can be hired for a small fee for around 30 minutes

Buddha Mountain (Khao Chi Chan) Khao Chi Chan is a famous place as it features a giant sculptural image of Lord Buddha erected on the giant cliff. It was built 1995 as initiative from then Supreme Patriarch who felt it's such a waste to let these marble mountains were destroyed so he ordered to create the giant Buddha image on the cliff that was cut half already. It was also built to honor His Majesty King Bhumibol on the occasion of his Golden Jubilee

Jomtien Beach, on road signs and road maps also often written Chom Tian, is a town on the east coast of the Gulf of Thailand about 165 km south-east of Bangkok in Chonburi Province. It is about 3 km south of Pattaya and is home to high-rise condominiums, beach side hotels, beaches, and restaurants.

Big Budda Temple Get set to be amazed by one of the largest Buddha images in the world on your trip to Pattaya. Also known as Wat Phra Yai, Big Buddha Temple has a 300 feet high image of Lord Buddha and is the most prominent landmark of Pattaya. The huge image was established in 1977 and is often referred to as Luang Phor Yhai or Big Buddha by the locals. The hilltop location of the image also sets it apart from many other attractions in the city. A long stairway leads to the mighty Buddha image and various smaller images surround the huge masterpiece on the hill. Wat Phra Yai is located on Khao Phra Tamnak Hill, which is a popular vantage point in Pattaya offering beautiful city and bay views. If you are driving up to the hill, you will see the Big Buddha image from a far off distance as well.
Pattaya City Sign - Viewpoint Khao Pattaya Viewpoint is a small hilltop that offers spectacular panoramic views of Pattaya city. The sacred Wat Kho Phra Bat temple is also located on the hill and is one of the major attractions here. A photographer's delight, Khao Pattaya Viewpoint is also the perfect spot to enjoy magnificent views of Pattaya Bay.

We are at this time building packages to include all these attractions and much much more all coming to our page very soon.