Wondering what to see and do near the Tokyo 2020 Olympic Venues? To help you have a great trip to Japan during the Olympic Games, we've gathered all the must-visit places near the Olympic Venues for you.
Everyone is very excited about the upcoming Tokyo Olympic Games in 2020. All 55 Olympic and Paralympic sport contests will be conducted in 42 venues around Tokyo. Interestingly, the venue is divided into 2 main zones, which are the Heritage zone and Tokyo Bay zone. As there are many sports competitions held in different venues, we picked the most recommended tourist attractions near the main venues so that you will not miss these amazing places that you can only see in Japan. Check them out now and if you're interested in exploring more of Tokyo then visit Triplelights and connect with a local guide!
The Tokyo 2020 Olympic Stadium Venue
The most significant Olympic venue in the Tokyo 2020 Games is certainly the "Olympic Stadium" or "New National Stadium" located in Shinjuku, Tokyo. After the previous National Stadium was used for the Tokyo 1964 Olympic Games, which started to be rebuilt in 2015, now the New National Stadium is ready for holding the most amazing global event of the Tokyo Olympic Games in 2020. It will be used for the opening and closing ceremonies, including football and athletics events. If you are looking for interesting places to visit near this Olympic venue, I've gathered all the recommended tourist attractions here.
Shinjuku Gyoen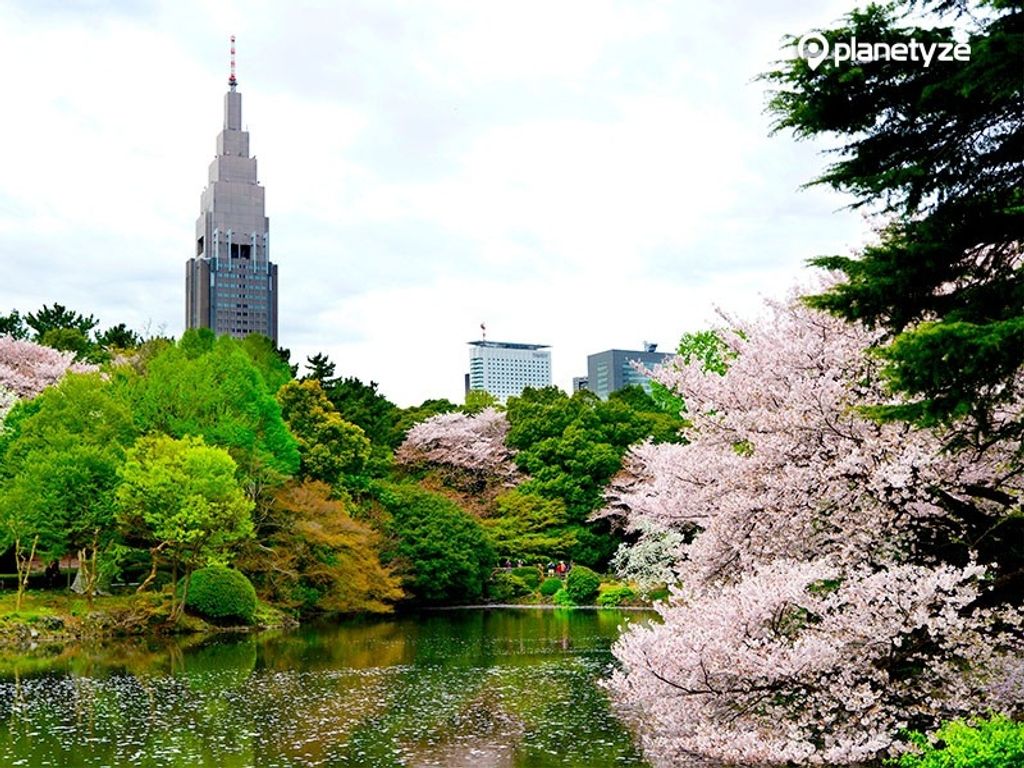 As one of the famous national parks in Japan, Shinjuku Gyoen is always a wonderful destination for those who are looking for a relaxing and natural place in Tokyo. Located near the JR Shinjuku station, it is home to many different types of trees and beautiful flowers, such as cherry blossoms, Camellia, and Hydrangea. During March and April, a large number of locals and foreigners come here to experience the breathtaking view of over 1,000 cherry blossom trees, blooming at the same time. Moreover, in July, you will be able to see the lovely Roses and Hydrangea and enjoy the different types of Camellia in late October. Thus, no matter what months you are visiting the garden, you will always be able to observe the beauty of nature here. The garden also features amazing structures, such as the Japanese-styled bridge and Taiwan Pavilion.
To enter the Shinjuku Gyoen, an adult ticket is 500 yen and students and seniors are 250 yen. Additionally, the garden will always open at 9 AM but the closing time is different depending on the season. Therefore, before visiting, please check the visiting information or simply ask our local tour guides.
Address: 11 Naitomachi, Shinjuku City, Tokyo 160-0014
Business Hours: 9:00 AM - 4:30 PM on Tuesday - Sunday
Note: the closing hour is different in each season, please refer to the official website
Website: https://www.env.go.jp/garden/shinjukugyoen/english/index.html
Meiji Jingu Shrine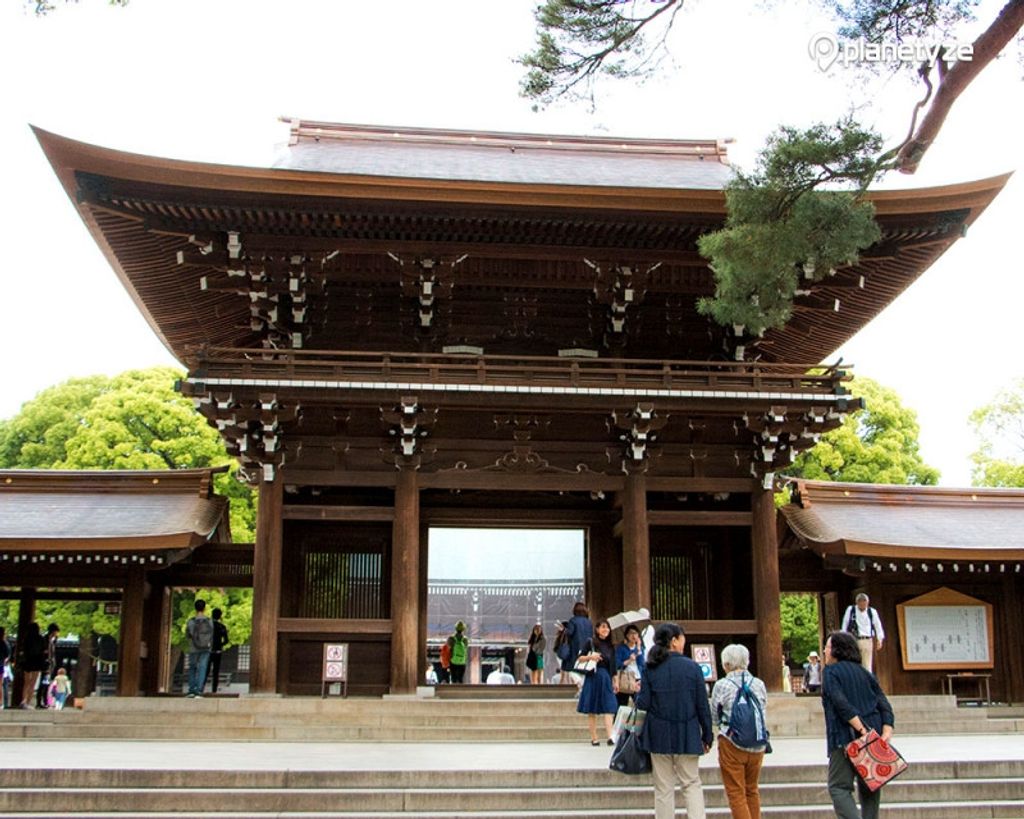 You won't probably believe once you step in the area of the Meiji Jingu Shrine, you can feel a very peaceful and calm atmosphere, contrasting the bustling city of Tokyo. Located near Harajuku Station, the shrine was founded in 1920 dedicated to Emperor Meiji and Empress Shoken. It is interesting that the surrounding area of the shrine was covered with the dense forest, which comprises about 120,000 trees over 365 species. These trees were actually donated by the Japanese citizens from around Japan when the shrine was built, showing the spirit of the nation. Visiting here will make your trip to Japan even more complete, as you will enjoy strolling over the relaxing and beautiful path leading to the main building inside. At the main building, you will be amazed by the unique and huge architecture and there are lots of activities you can try, such as making wishes and buying Japanese charms. Moreover, if you are lucky enough, you will be able to witness a traditional Japanese wedding as well. Thus, coming to Japan for the Olympic games can be more interesting if you visit the Meiji Jingu Shrine as you can learn more about the local culture and traditions.
Address: 1-1 Yoyogikamizonocho, Shibuya City, Tokyo 151-8557
Business Hours: 5:00 AM - 6:00 PM
Website: http://www.meijijingu.or.jp/english/index.html
Takeshita Street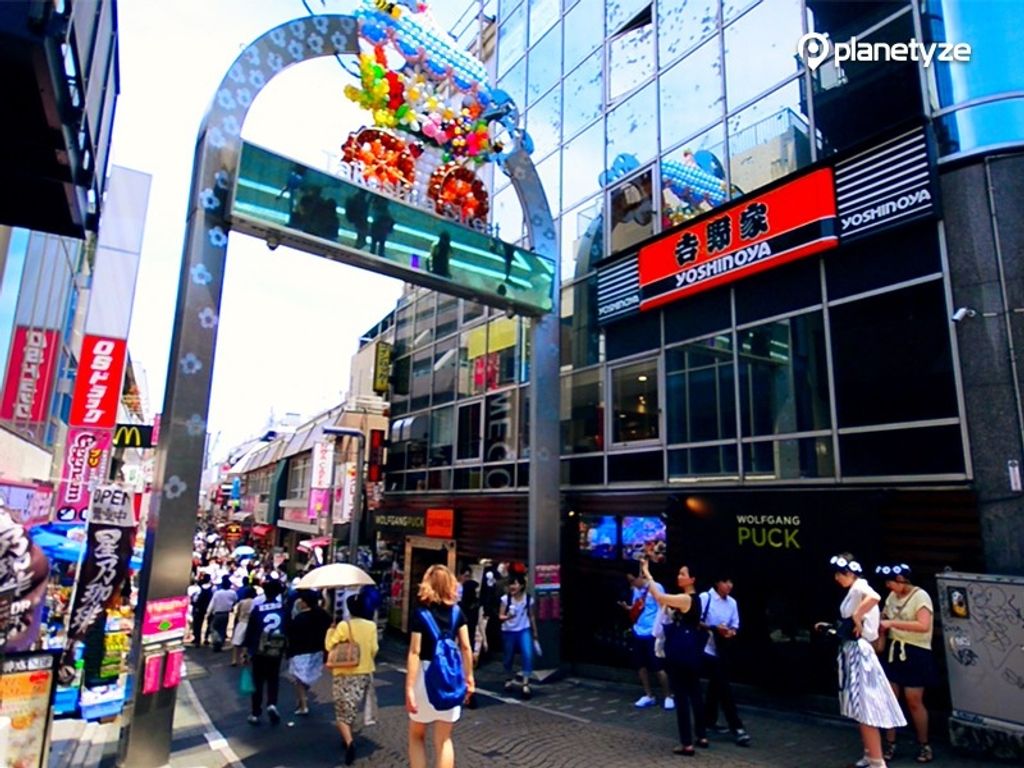 If you are looking for an interesting and unique place to see near the Olympic Venue, visiting "Takeshita Street" will not disappoint you. Located in front of JR Harajuku station, you will witness the famous and unique Japanese street fashion of the Japanese youth while walking through the busy and crowded Takeshita street. It is easy to see a group of Japanese girls wearing vibrant and cute lolita clothes. Moreover, not only does it feature lots of clothes shops, souvenir stores, and accessories shops, but also you can try the huge colorful cotton candy at the Totti Candy Factory and Japanese crepe. If you are ready to experience the unique sights and culture in this amazing street, check out our Harajuku private tours!
Address: 1 Chome-17 Jingumae, Shibuya City, Tokyo 150-0001
Business Hours: 24 hours
Website: https://www.takeshita-street.com/
Odaiba Marine Park Venue
Let's check out another amazing Olympic venue in the Tokyo Bay Zone, Odaiba Marine Park. Located not far from Tokyo Teleport Station, Odaiba Marine Park will be holding Marathon Swimming and Triathlon for both the Tokyo 2020 Olympic and Paralympic games. The park is normally a popular tourist attraction, as there are many spectacular things to see, such as Rainbow Bridge and the Statue of Liberty.
Odaiba Beach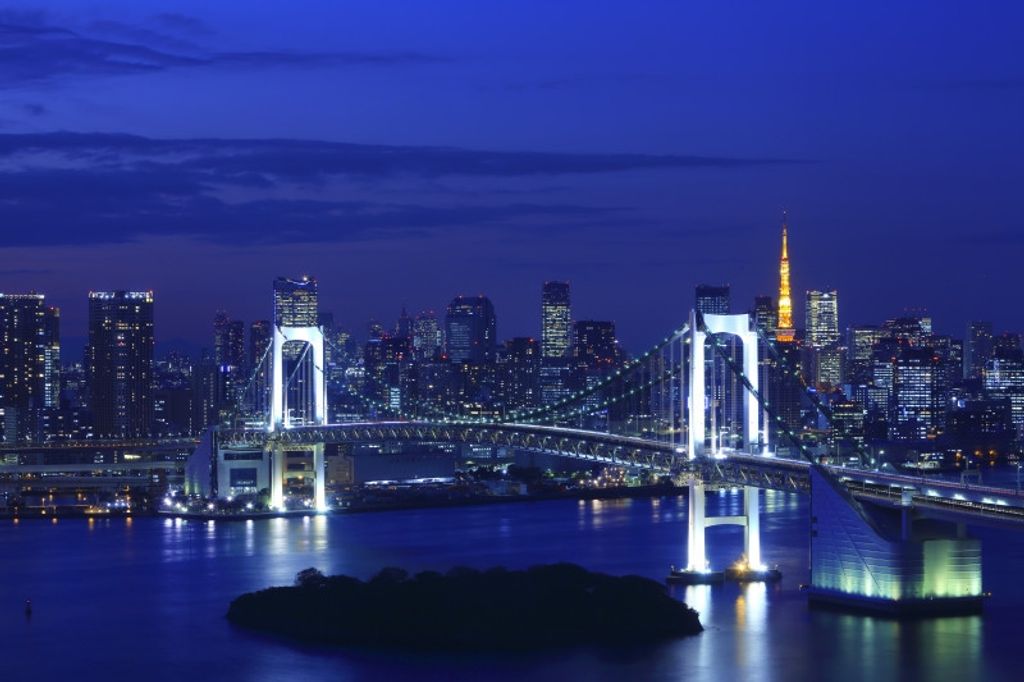 One of the must-visit places near the Olympic Venue of Odaiba Marine Park is Odaiba beach. Located at Tokyo Bay, Odaiba beach is an artificial beach, where lots of aquatic activities are held, such as sailing and surfing. Unfortunately, swimming is prohibited due to the quality of the water. However, that does not stop people from coming to the Odaiba beach because there are lots of amazing things to see here. From its location, you can witness the great panoramic view of the sunset and the stunning view of the vibrant Rainbow Bridge contrasting with the city behind at night.
Additionally, along the way to the beach, you can stop to visit DiverCity Tokyo Plaza, where many tourists take pictures with the giant Gunman statue in front of the shopping mall. While crossing the West Park Bridge, you will be able to see the impressive futuristic construction of the Fuji Television Building and the amazing Statue of Liberty at the Odaiba Marine Park. Thus, no visit to Odaiba is complete without experiencing these amazing things!
Address: 1 Chome-4 Daiba, Minato City, Tokyo 135-0091
Business Hours: 24 hours
Website: http://www.tptc.co.jp/park/01_02/point#beach
TeamLab Borderless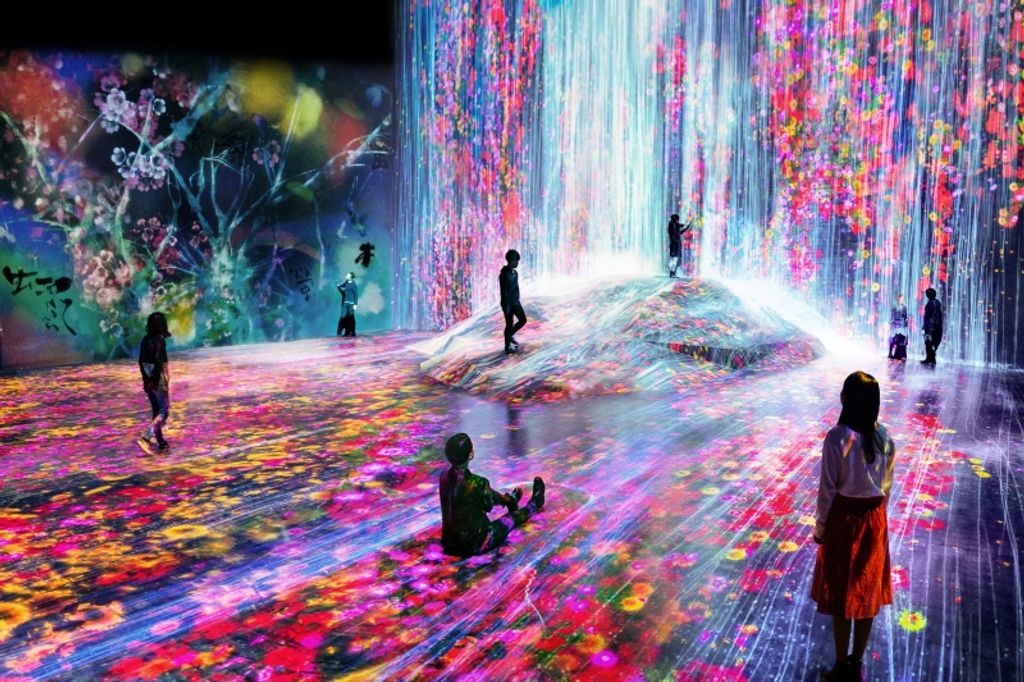 teamLab
Exhibition view of MORI Building DIGITAL ART MUSEUM: teamLab Borderless, 2018, Odaiba, Tokyo
© teamLab
Have you ever seen the great fusion of art and technology before? Visiting "teamLab Borderless" will totally change how you normally define art museums. Located near the Olympic venue of Odaiba Marine Park, teamLab Borderless is one of the greatest digital art museums in the world, represented by Pace Gallery. Here, you can experience a collection of the art moving around and interacting with your action. As its name suggests, the museum is actually borderless, since there is no map or direction telling you where to go. Once you step inside the museum, you need to use your own instinct to discover and explore this amazing museum.
With the futuristic and colorful artwork, you and your friends will definitely enjoy taking pictures together. The museum is divided into 5 different zones, which are Borderless World, Athletics Forest, Future Park, Forest of Lamps, and EN Tea House, and each of them has unique and amazing exhibitions. For example, in the Athletics Forest zone, you and your friends will have fun catching the digital artwork moving on the ground. Moreover, for those who come with kids, you should visit the Future Park, as you and your kids can create a wonderful sketch together and later it will be scanned into the digital form moving on the museum's wall. If you don't want to miss these fun activities, don't forget to put the teamLab Borderless on your list! It is very worth visiting as a place near the Olympic venue.
Address: 〒135-0064 Tokyo, Koto City, Aomi, 1 Chome−3−8, Odaiba
Business Hours: 10:00 AM - 7:00 PM on Weekdays and 10:00 AM - 9:00 PM on Weekends
Note: the operating day sand business hours tend to change due to special occasions, please check the official website
Website: https://borderless.teamlab.art/
Kasumigaseki Country Club Venue
Situated a little further from the bustling city of Tokyo, Saitama Prefecture is holding one of the famous Olympic programs, Golf course. The Tokyo 2020 Olympic Golf Course will be held at the Kasumigaseki Country Club venue, where President Donald Trump and Prime Minister Shinzo Abe created golf diplomacy in 2017. To help you figure out where to go in Saitama, check out the recommended places below or check our Saitama tour!
Kawagoe City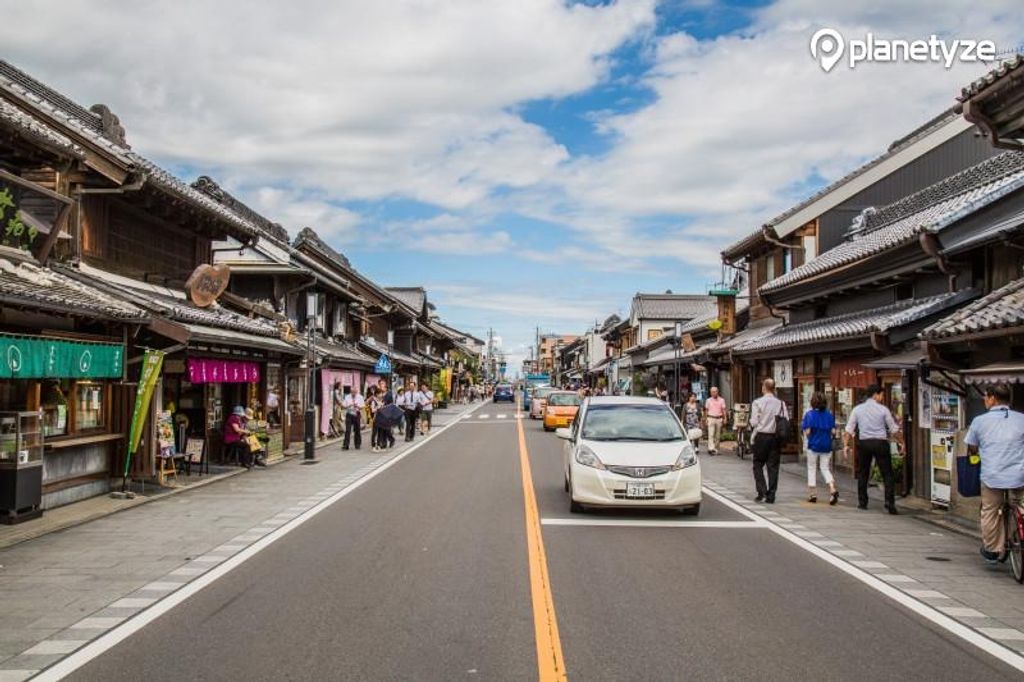 A small hidden city of Kawagoe, also known as Little Edo, is one of the interesting places near the Olympic venues you should not miss. As it used to be a castle town during the Edo period, Kawagoe city still remains the good old vibes of ancient Japan in the 17th century. You probably don't believe that in this small city, there are lots of magnificent tourist attractions, such as Kurazukuri Street and Hikawa Shrine.
Kurazukuri Street is a prominent warehouse district during the Edo period. Along this 400-meters long road, you will absolutely enjoy strolling around and observing the unique architectures of the warehouses and merchant houses constructed by clay and tiles. Now, most of the warehouses became restaurants selling lots of traditional Japanese food and sweet and lovely souvenir shops. One of the highlights here is to take pictures with the "Bell Tower", a very famous symbol of Kawagoe city. The Bell Tower is still used to tell the time as it has been doing in the past. Make sure you come to visit it at 6:00 AM, 12:00 PM, 3:00 PM, and 6:00 PM.
On top of that, you can visit Hikawa Shrine, which is famous for love, Kawagoe Castle Honmaru Goten, and Kita-in Temple. With all of these amazing places and cultural legacy, Kawagoe is really worth visiting during the Tokyo 2020 Olympics. To help you have a perfect time in Kawagoe, take a look at One-day Kawagoe tour or One-day trip to Saitama now!
Address: Nakacho, Kawagoe, Saitama 350-0065
Business Hours: -
Website: https://www.koedo.or.jp/foreign/english/
Things to See During the Tokyo 2020 Olympic Games
To sum up, coming to Japan to watch your favorite sports competition in the Tokyo 2020 Olympic Games will definitely be one of the most memorable moments in your life. While staying in Japan, you will have lots of chances to explore the cosmopolitan city of Tokyo and the suburbs. As 42 venues will hold many different types of sports competitions, I would recommend you check the Olympic Venues before planning your trip and booking the hotel or simply request our local tour guides to create a trip for you. I hope that this blog will perfectly answer what to see near the Olympic Venues and you will definitely have the greatest time in Japan by visiting these amazing recommended places! Have a nice trip to Japan!
TripleLights is a private tour service company, giving you a chance to personalize your trip to Japan according to your preferences! If you are visiting Japan for the upcoming Tokyo 2020 Olympic Games, don't miss checking out our Tokyo page. Moreover, our local tour guides are looking to help you during your stay in Japan and you can take a look at our private tours and decide where to visit. We also provide transfer services and private car tours, which can facilitate your traveling in Japan. Finally, you can save your time by requesting a tour from our professional guides.
Recommended Blogs:
Things To Do in Tokyo During The 2020 Olympics
Shinjuku Gyoen Park: Tokyo Top Park You Must Visit
13 Top Tokyo Tourist Attractions by Local Guides
7 days in Tokyo - What to do, where to go, itinerary ideas and more
Top Japanese Culture: 5 Traditions You Must Try in Japan