Currently I have two small-group tours starting from Shimizu Port, referred to as "Private Tour from Shimizu Port #1" and "#2", on the TripleLights website. As the number of cruise ships visiting Shimizu has been increasing, it seems to me the number of inquiries coming my way is also gradually increasing. And here I would like to give you a brief introduction to the places covered by these tours and show you exactly where each stop is located in relation to Shimizu Port. Please see the rough map below.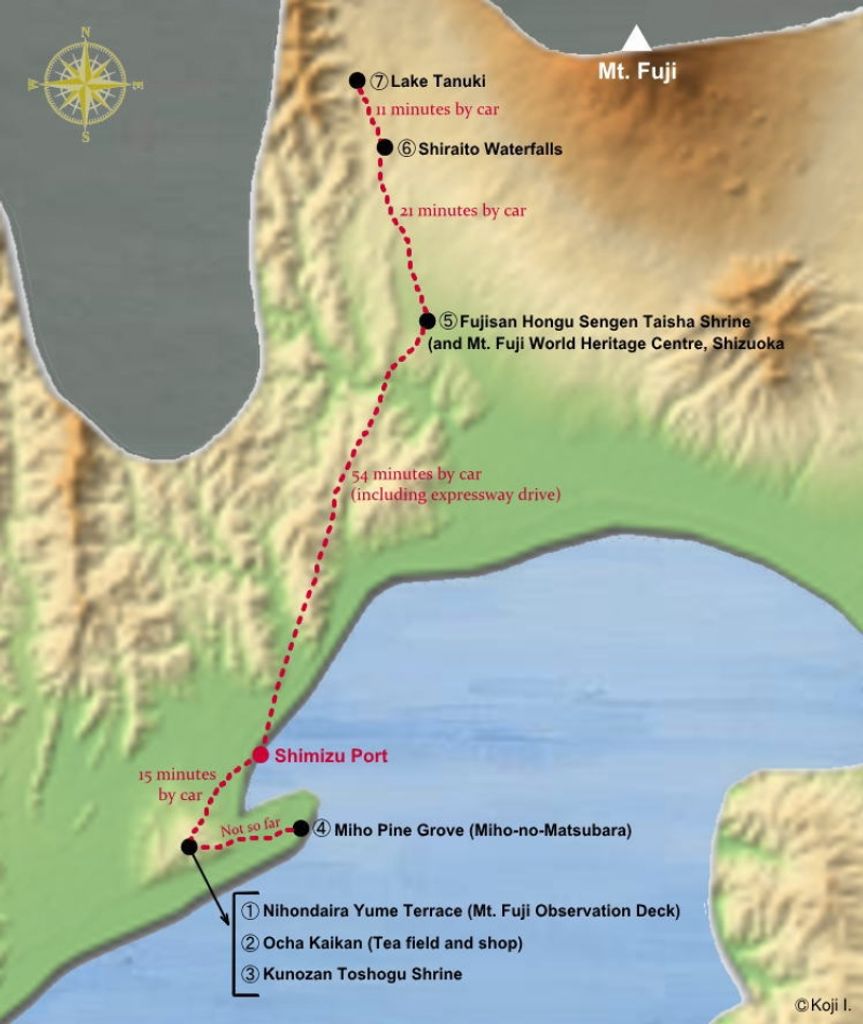 My "Tour #1" includes stops ①, ②, ③ and ④, as indicated on the map. ① is about 8.5 km (5.3 miles) to the southwest of Shimizu Port, and it will take 14 to 15 minutes by car to reach there. It should take about four hours to visit this area.
Meanwhile, ⑤, ⑥ and ⑦ comprise my "Tour #2." As you can see, this area is relatively far from Shimizu Port. For example, ⑤ is located about 40 km (25 miles) to the northeast of Shimizu Port and it will take about 54 minutes by car to reach there (including a drive on the expressway). To visit and enjoy this area, at least 5 hours will be needed, and in case there is heavy traffic, I think we should allow for some extra time.
Next I will tell you the general characteristics of each stop covered by these two tours.
Area of Tour #1 (Southwest Tour)
① and ② are both located at the top of the Nihondaira Hill at a height of about 300 meters (980 feet) above sea level. ① is a new facility completed in November 2018. The view of Mt. Fuji seen from its observation deck is wonderful. And a variety of green tea items are sold at ②, where you can sample a cup of locally produced green tea.

③ was designated as a National Treasure in 2010. This shrine is not at the top of the Nihondaira Hill, but it is located in the adjacent mountain. So, to reach there, we need to use the cable car. It's a 5 minute ride. (However, the issue is the shrine has some stone steps in its precinct.) I think it will take at least 50 to 80 minutes to take everything in at ③. After that, we will drive about 15 to 20 minutes to reach ④. And when we return to Shimizu Port, probably 4 hours will have passed already.

If you want to spend one more hour near Shimizu Port, I recommend you go to either S-Pulse Dream Plaza or Ryugeji Temple. The former is a big shopping and entertainment complex located a 8-minute walk from Shimizu Port; and the latter is a small but charming Buddhist temple. (For more details, please refer to my another write-up: Places to visit near Shimizu Port)
Area of Tour #2 (Northeast Tour)
⑤ and ⑥ are the representative sigtseeing spots at the southwestern foot of Mt. Fuji, both being listed as UNESCO World Heritage sites as the "component parts" of Mt. Fuji. Maybe a 40- to 50-minute stay at each would be ideal to appreciate these places.

On the other hand, we need to think carefully if we visit ⑦. If the weather is fine, this lake is beautiful, with Mt. Fuji seen prominently over it. But when it is rainy or cloudy (Mt. Fuji is barely visible), this lake turns into just another lake known for camping, fishing and bird watching, and that is why I made it "optional" in my "Tour #2." In the case of rain, I recommend a visit to Mt. Fuji World Heritage Centre, Shizuoka instead of Lake Tanuki, because this newly-made museum is a place where you could "enjoy" Mt. Fuji even when the actual weather is bad.

Other than the spots I mentioned above, this area (the southwest foot of Mt. Fuji) has several "alternative spots" to visit. For green tea lovers, there are a couple of green tea farms in Fujinomiya city, and for Sake lovers, a couple of sake breweries welcome international visitors (but please note that, since these facilities are family-run businesses or rather small-scale companies whose main focus is producing sake or tea, not hosting tourists, the booking is subject to change at the last moment). And there are a couple of "Animal Lands" near ⑥ where you can interact with animals like sheep, cows and rabbits among others.

Is it possible to visit both areas in one tour?
Sometimes people want to visit ⑤ and ⑥ and ③, for example, in one tour. And while it's not impossible, it's usually difficult and impractical, considering the limited time cruise ship passengers have. For example, if we stay at ⑤ for only 20 minutes and ⑥ for only 20 minutes, then maybe we can have a chance to see ③ for 15 minutes. But this style of travel is exhausting and we have to drive a very long distance with little time for sightseeing, so I do not necessarily recommend this to my clients (unless they are "land travellers" who have plenty of time in Shimizu from dawn till the evening).

And it also depends on how much time you are allowed to spend in and around Shimizu. If your ship docks at the port at 8:00 a.m. and leaves at 7:00 p.m., it may be possible for you to do an 8-hour tour (from 9:00 a.m. to 5:00 p.m.). But if your ship docks at 8:00 a.m. and leaves at 3:00 p.m., your tour will probably start at 8:30 a.m. or 9:00 a.m. and end at 1:00 p.m. or 2:00 p.m., but dropping you off at 2;00 p.m. is a little risky because you will already be pressed for time. So in this case, we have around 5 hours at most.
Consequently, I recommend to the cruise ship passangers visiting Shimizu Port that they head for either the southwest or northeast, but not for both. Either way, I will do my best as your tour guide and I look forward to seeing you at the port.
~Koji Ikuma
P.S. Please note that Mt. Fuji can't be seen well when it is rainy, cloudy, or misty. The deity of Mt. Fuji is a bashful female, and all we can do is just follow whither she leads.
Check out the tours I told you about here:
Private Tour from Shimizu Port #1
Private Tour from Shimizu Port #2
(*画像、文章の無断転載、無断使用は処罰の対象になります。)