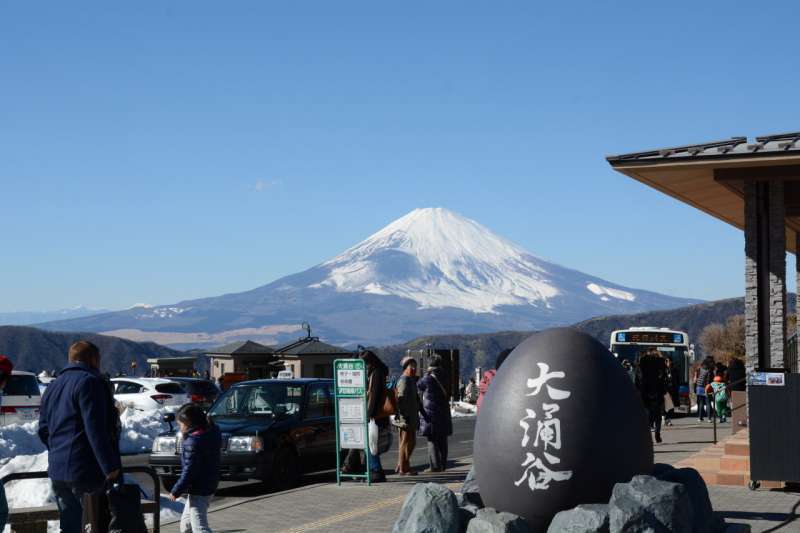 Hakone has attracted international tourists since 150 years ago.
Although recommendation is an overnight trip, we can enjoy Hakone even a day trip. Hakone is a good place to see Mt. Fuji, historical assets, beautiful nature, dynamic volcano scenes, to take hot spring bath, to enjoy kinds of transportation systems and to visit a lot of art museums.
Today I went to Hakone to show you kinds of transportations and beautiful Mt. Fuji.
Odakyu Romance-car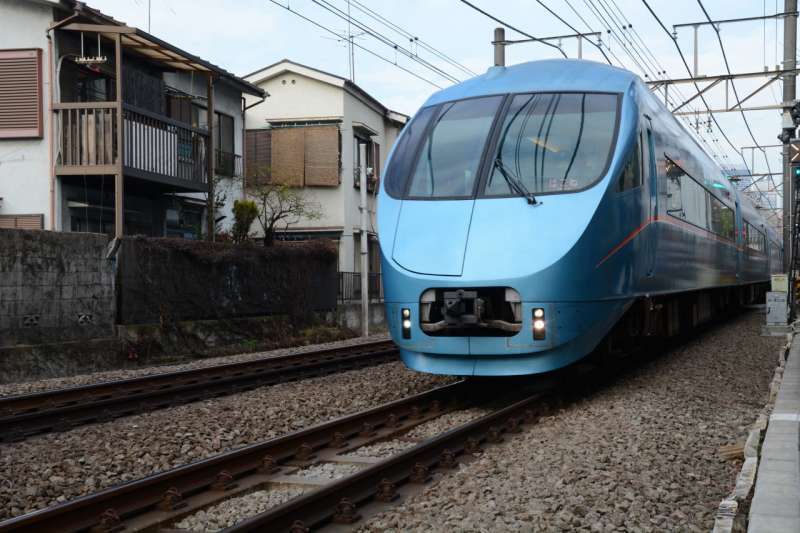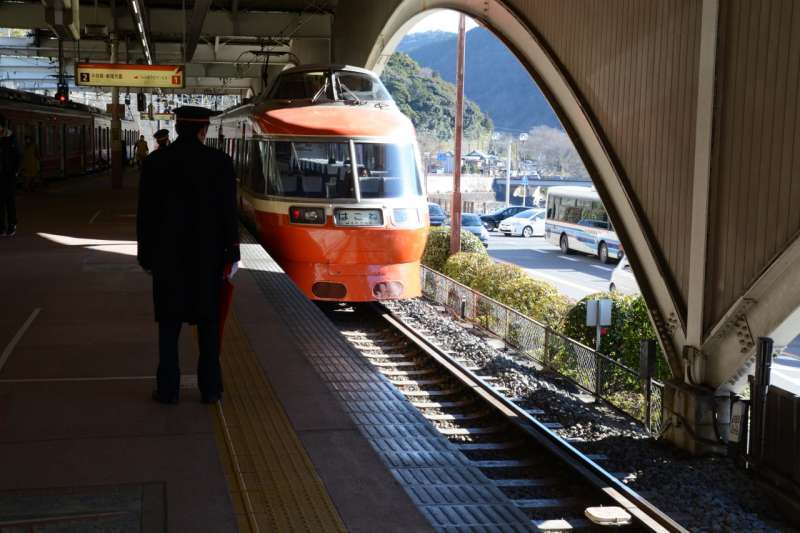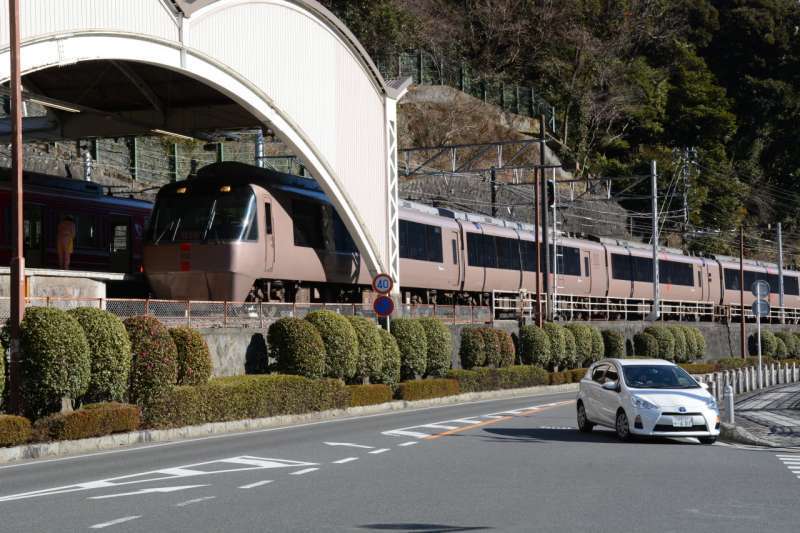 This is an express train-car which is operated a private railway company Odakyu. There are some ways to get to Hakone, this train, Shinkansen Bullet Train or Highway bus. The total transportation fee is 7,500 yen the case taking Romance-car or 10,500 yen taking Bullet Train. If you take Shinkansen, you need to transfer to Odakyu line at Odawara Station.
Odakyu line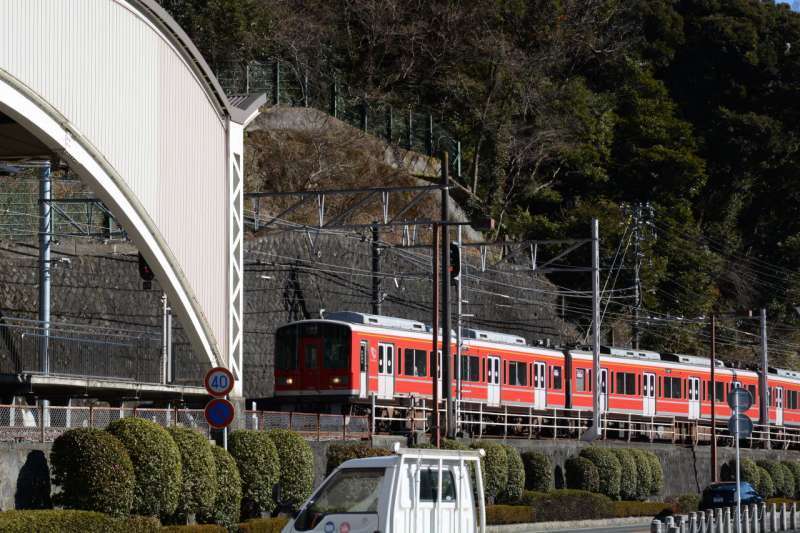 Hakoneyumoto Station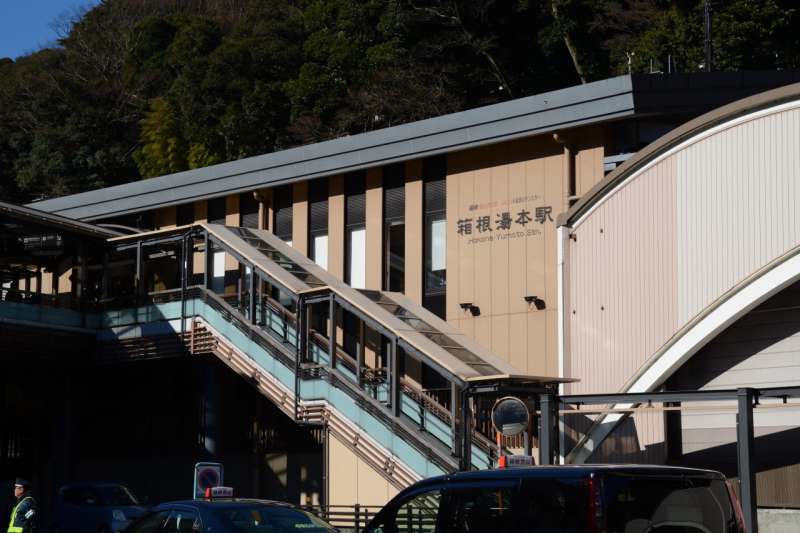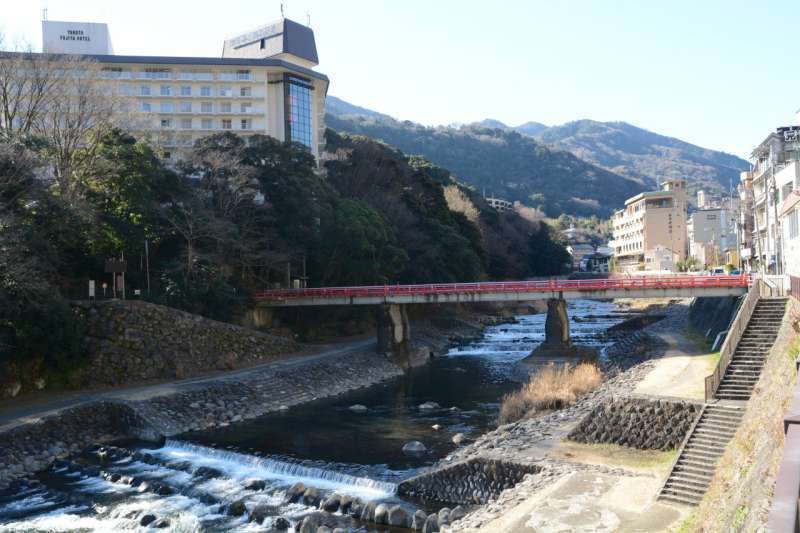 Hakoneyumoto is one of the major gate town to Hakone area. There are many Japanese style inns at a hot spring around the station.
The shuttle bus for Moto-hakone-ko via Kyu-kaido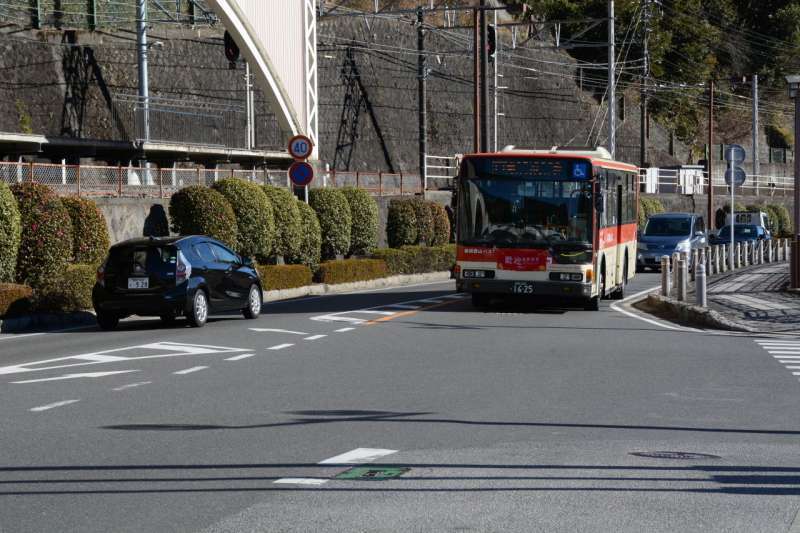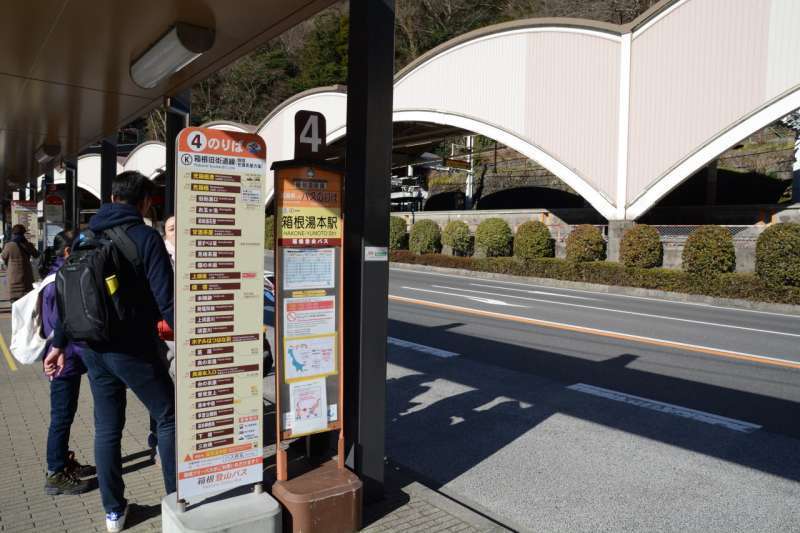 I changed to a shuttle bus at Hakoneyumoto Station. There are a few bus routes to get to Moto-hakone-ko. This time I have to choose the route 'via Kyu-kaido' due to get off the bus at Kyukaido Ishidatami bus stop.
Walking Stone Pavement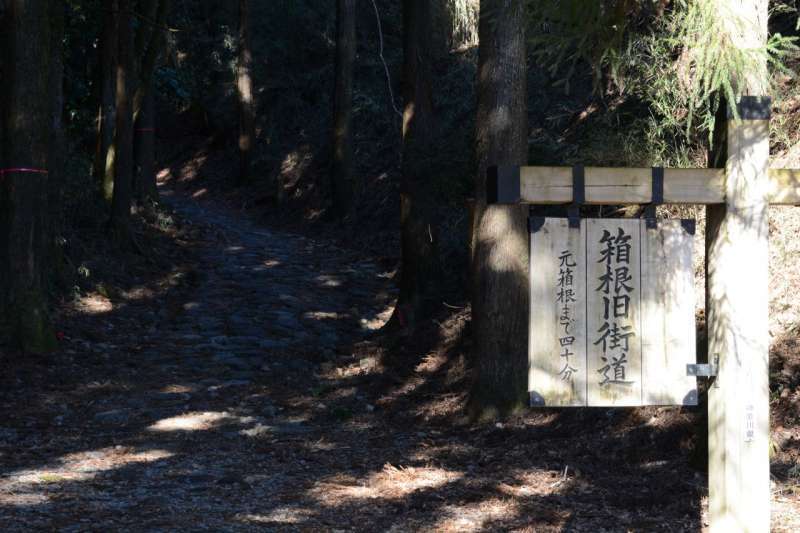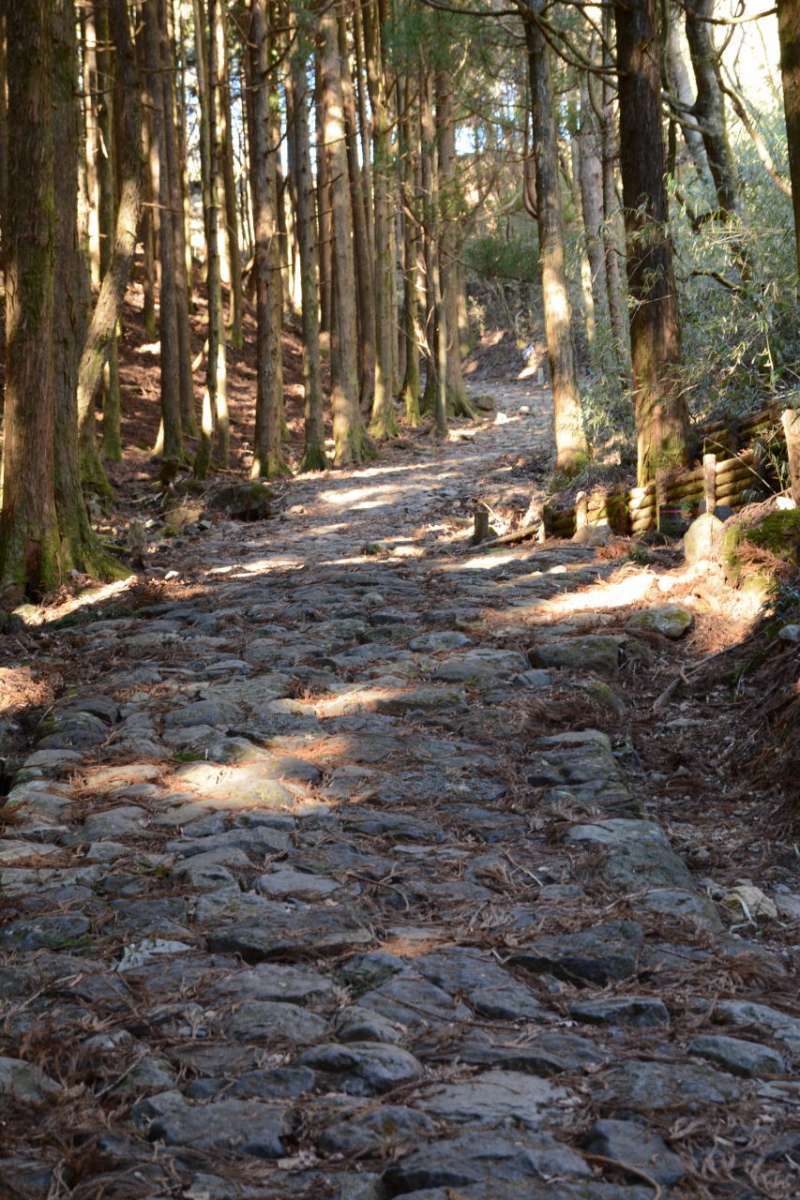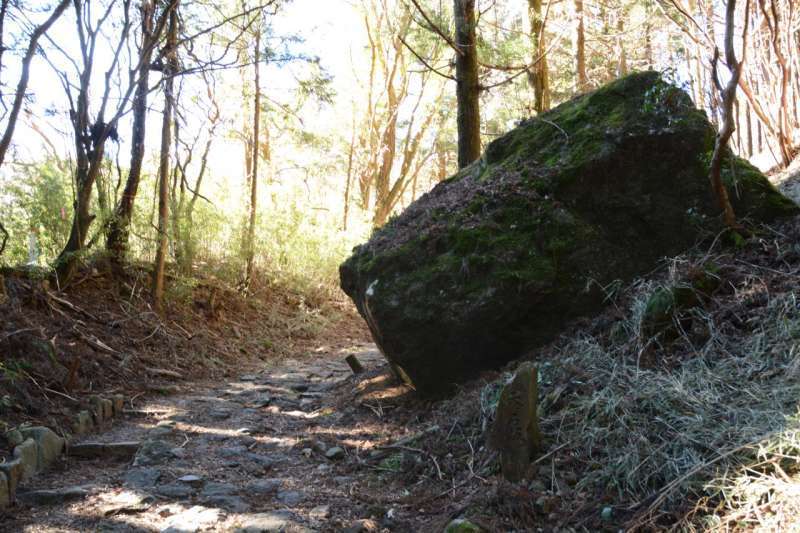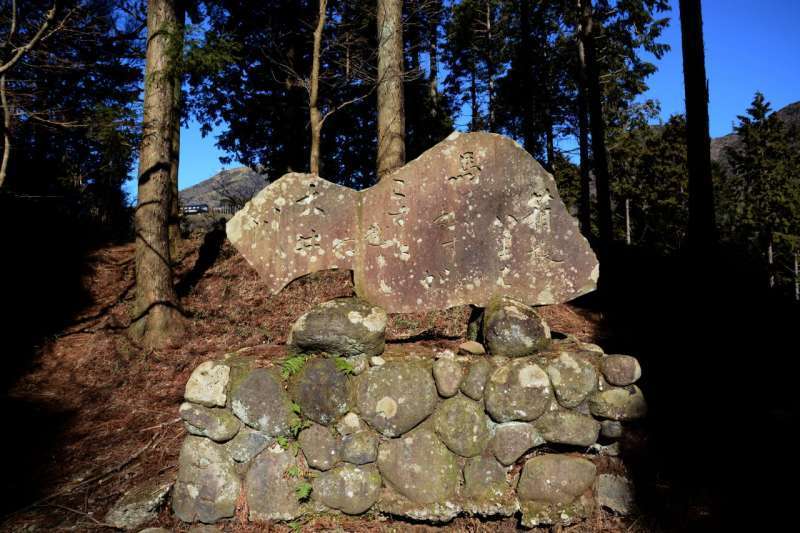 Kyukaido Ishidatami literary means 'an ancient highway with stone pavement.' This was the most important highway in the Edo era. The stone monument says that. "We can go through the tough mountainous 20 miles highway by riding horses. But we can't cross Oigawa River when it rose." In the Edo period many rivers didn't have bridges because of military strategy. It was about 40 minutes walk.
Walking the avenue of cedars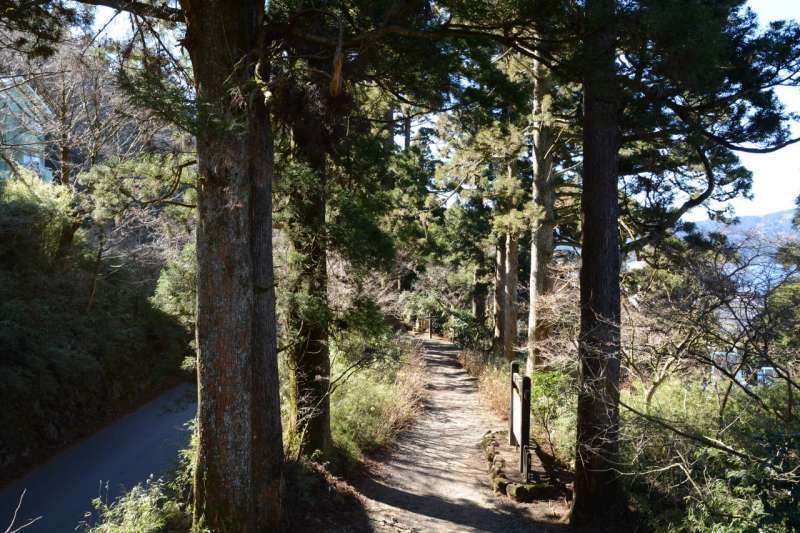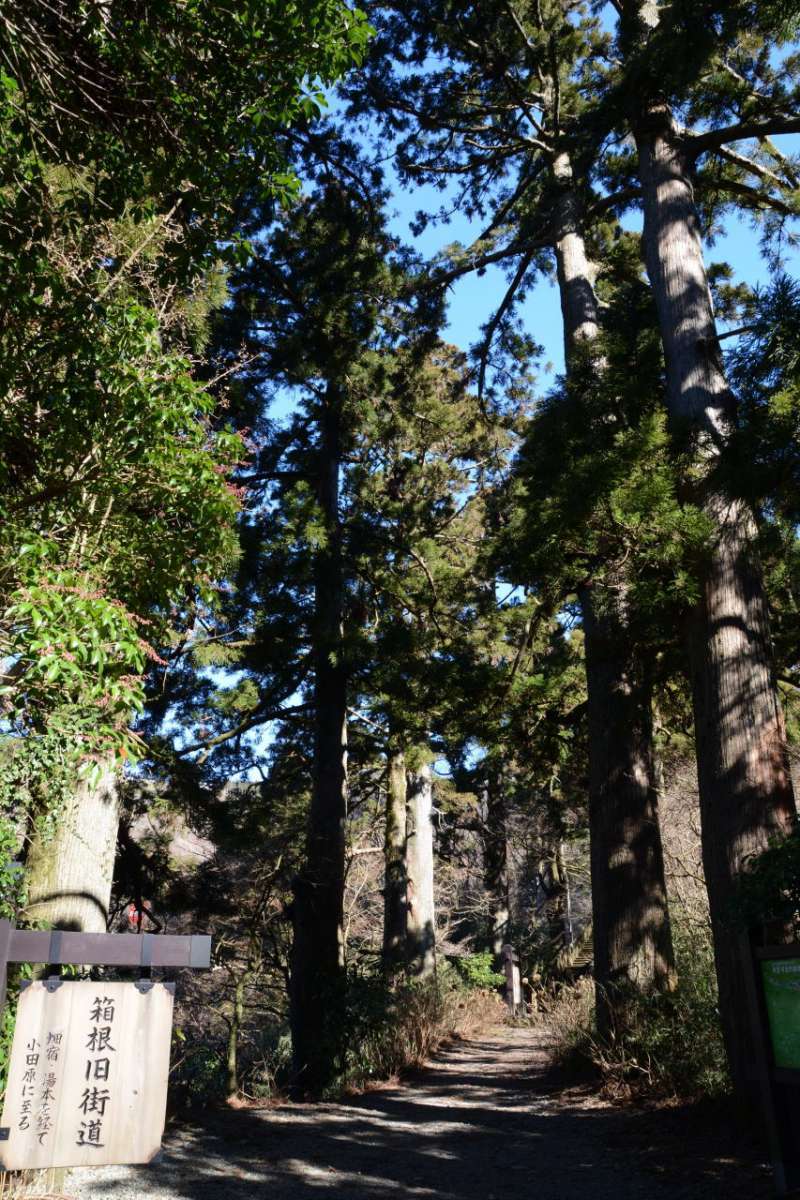 The avenue of cedars was also ancient highway in the Edo era.
Hakone-jinja Shrine's Torii Gate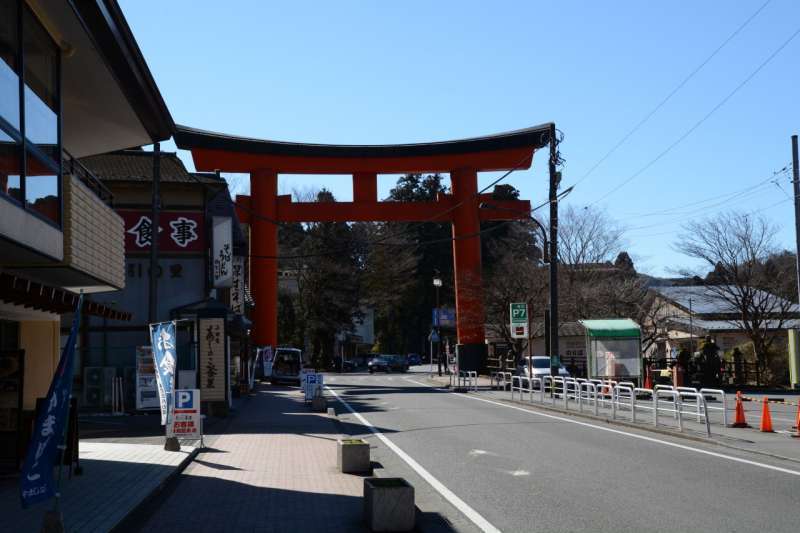 Narukawa art museum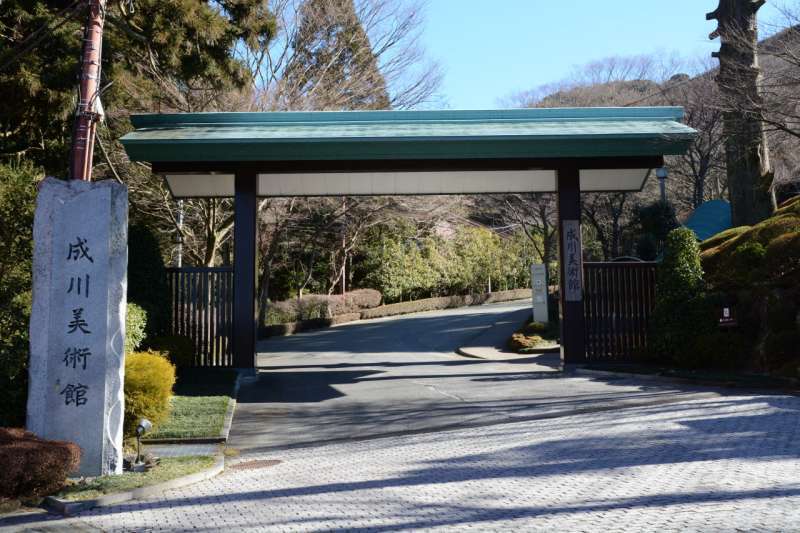 This museum is famous for Japanese paintings.
View from Moto-hakone-ko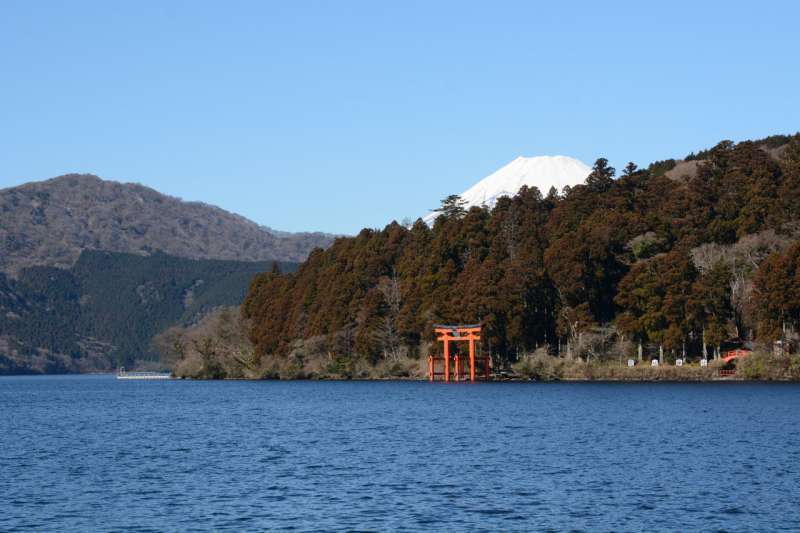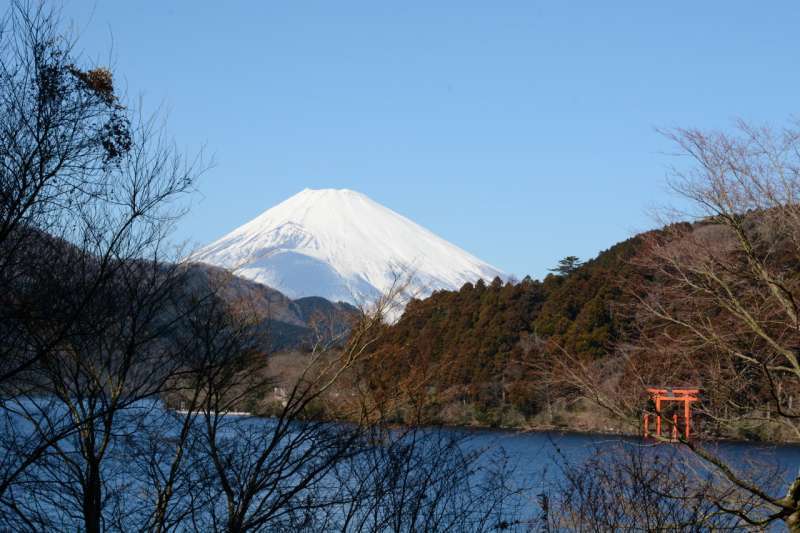 The red Torii Gate is also Hakone-jinja Shrine's.
The Hakone Sekisho Checkpoint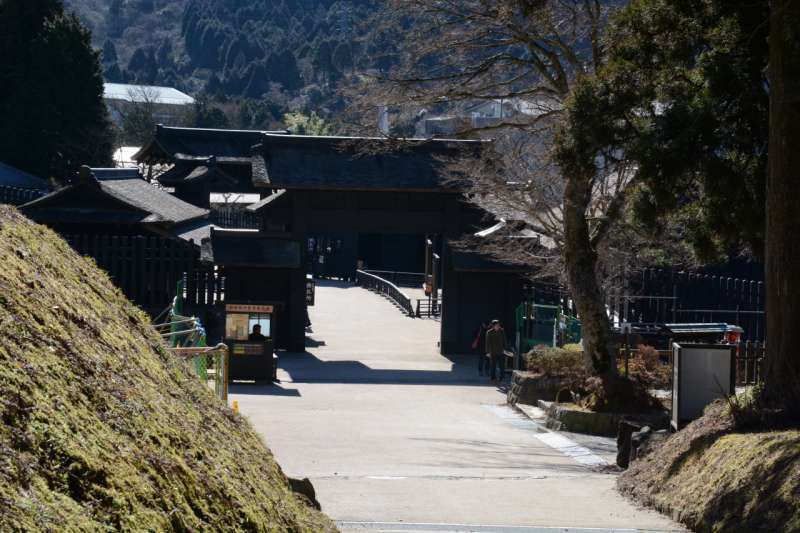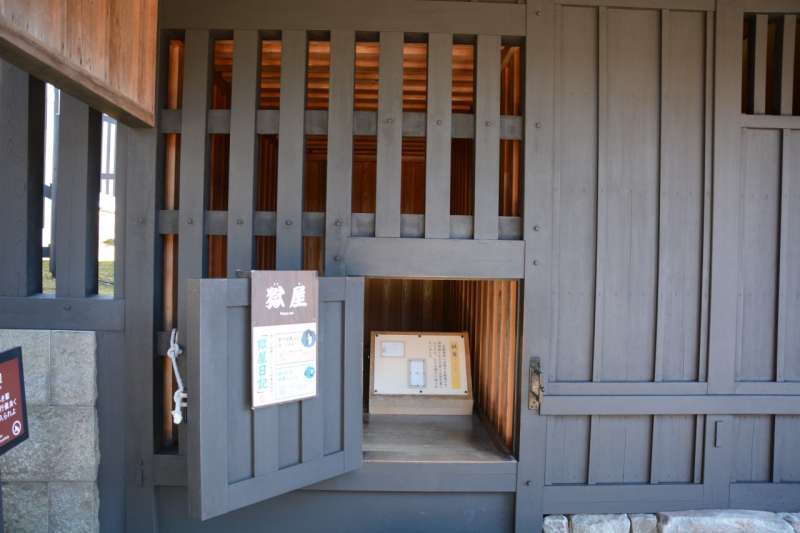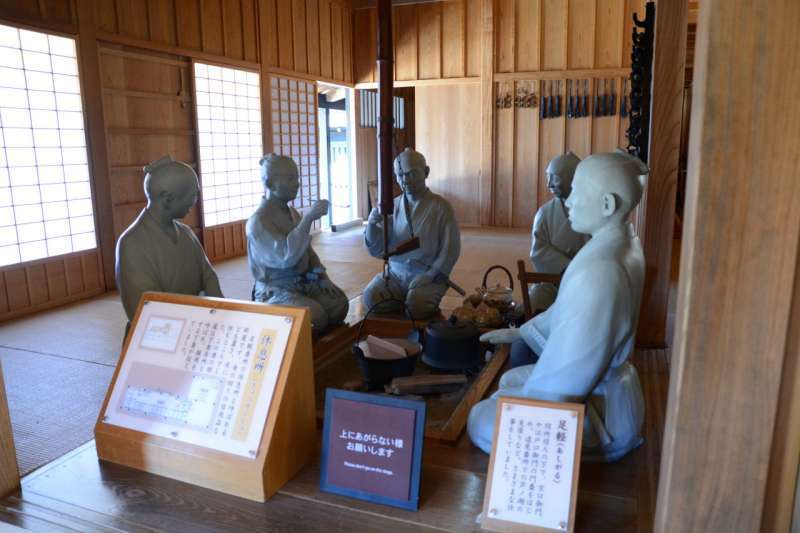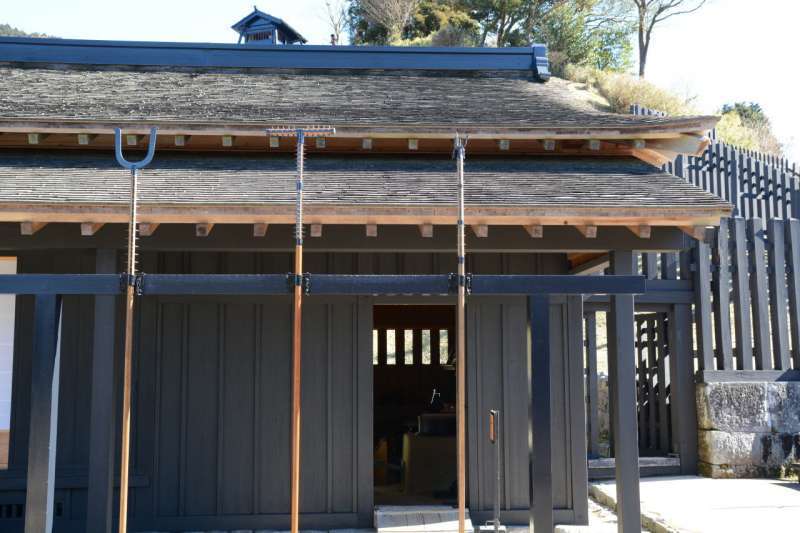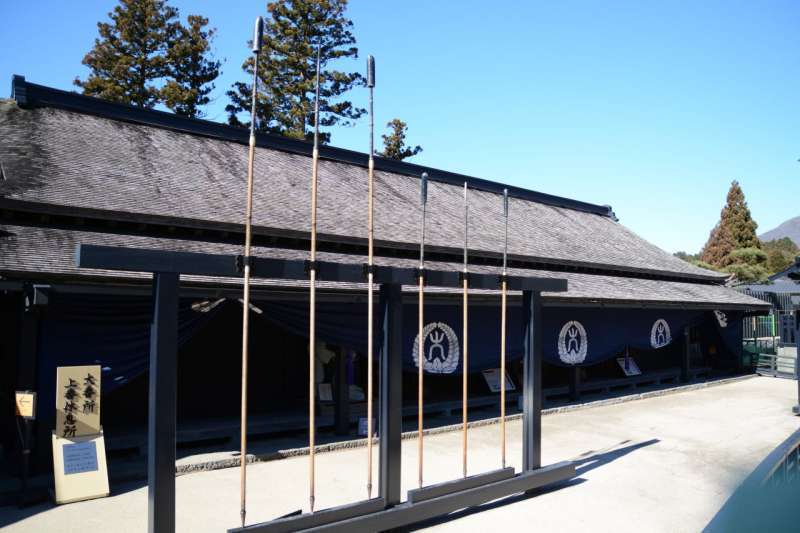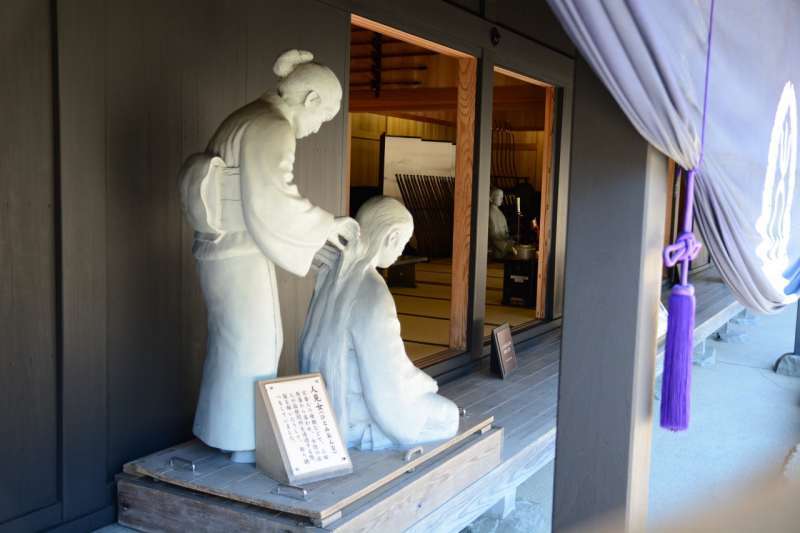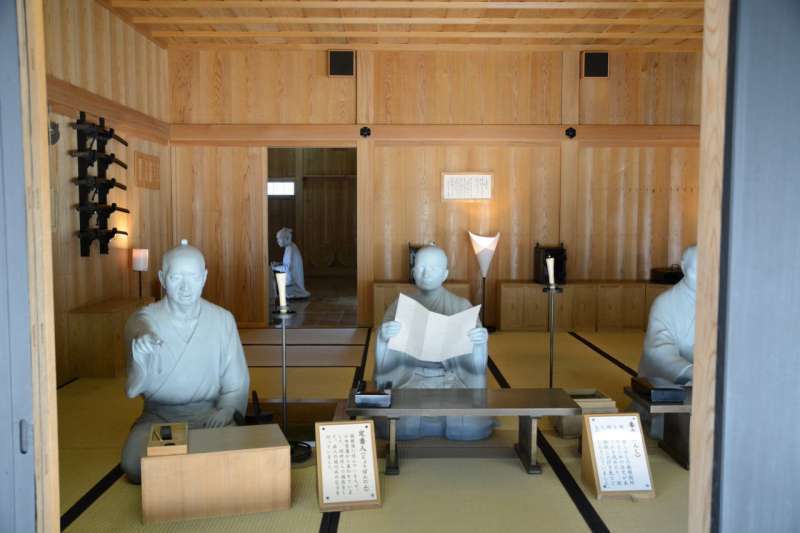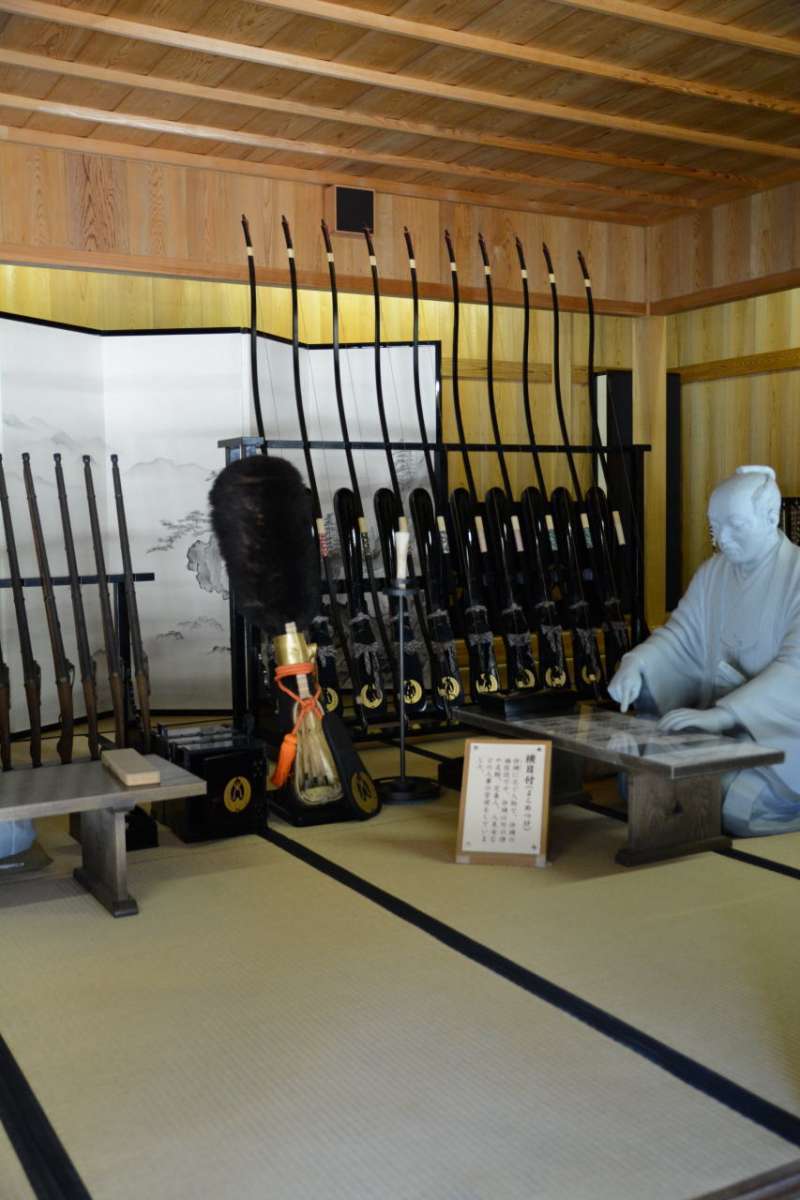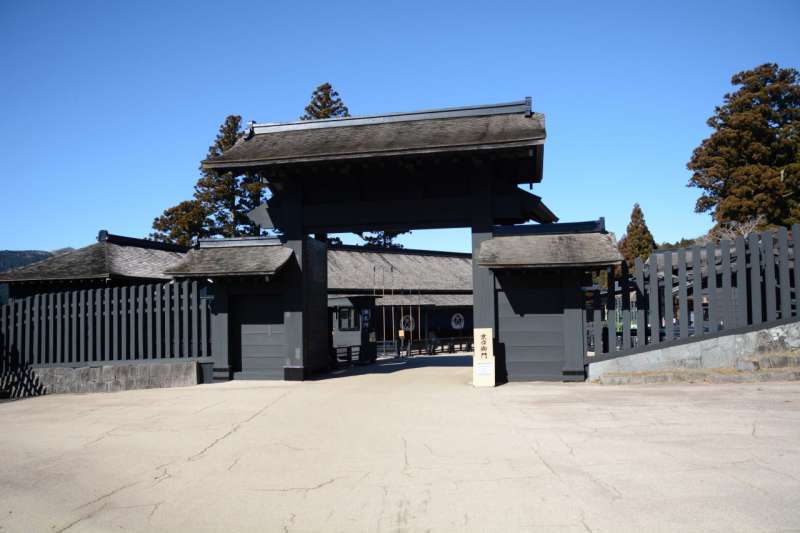 In the Edo period, people were required to carry the pass authorize themselves. There were some checkpoints all over Japan to check the pass. Hakone Sekisho was the most famous among them. Officials check women elaborately because many women were living Edo as hostage for Tokugawa Shogunate. Officials didn't allow those women escape to went back their country.
Pirate Ship for sightseeing crusing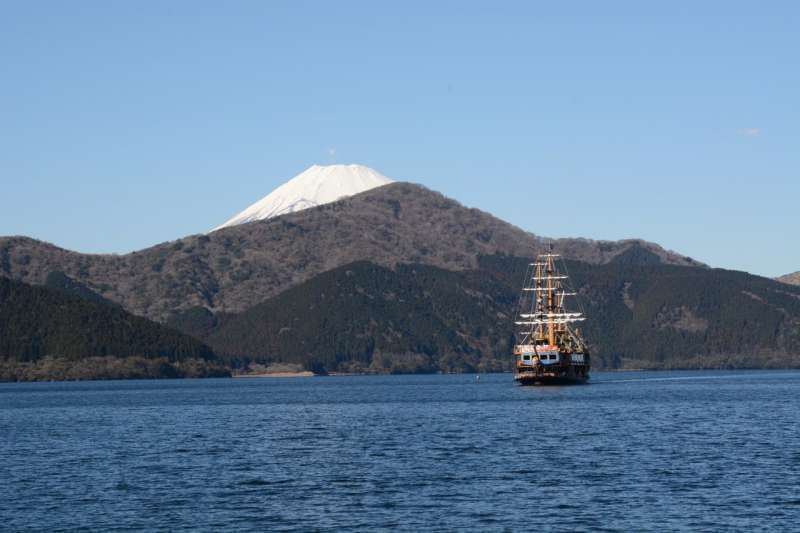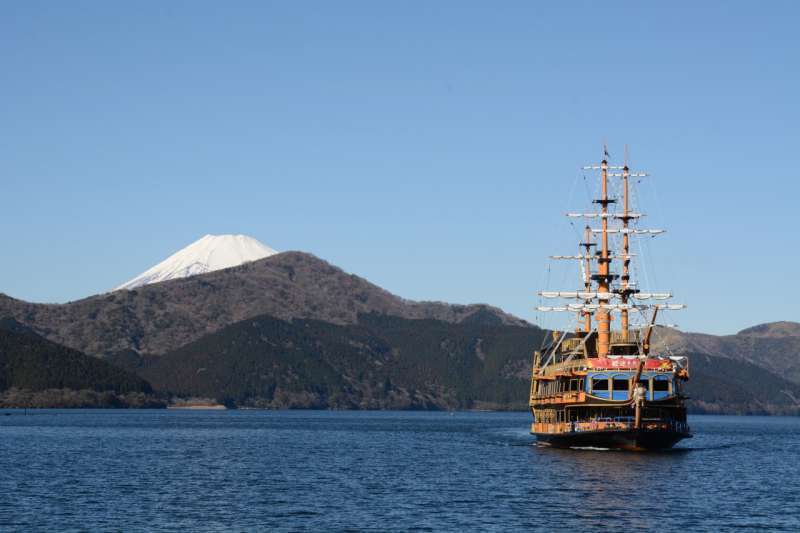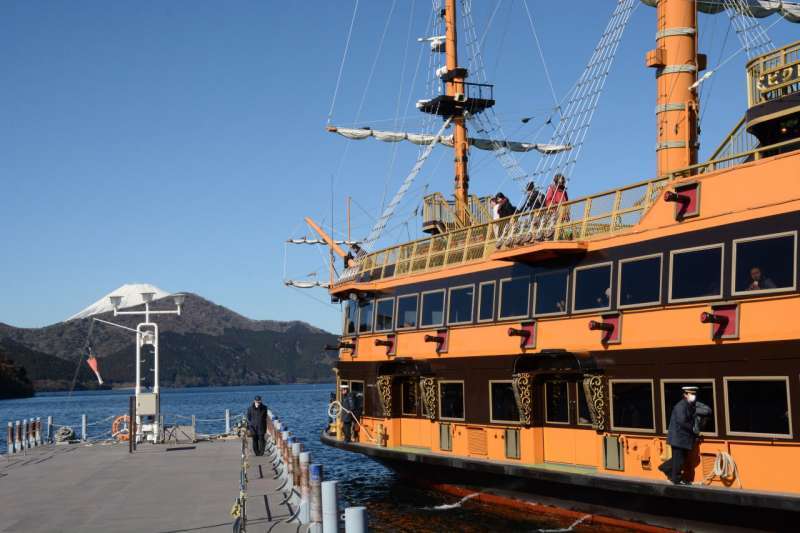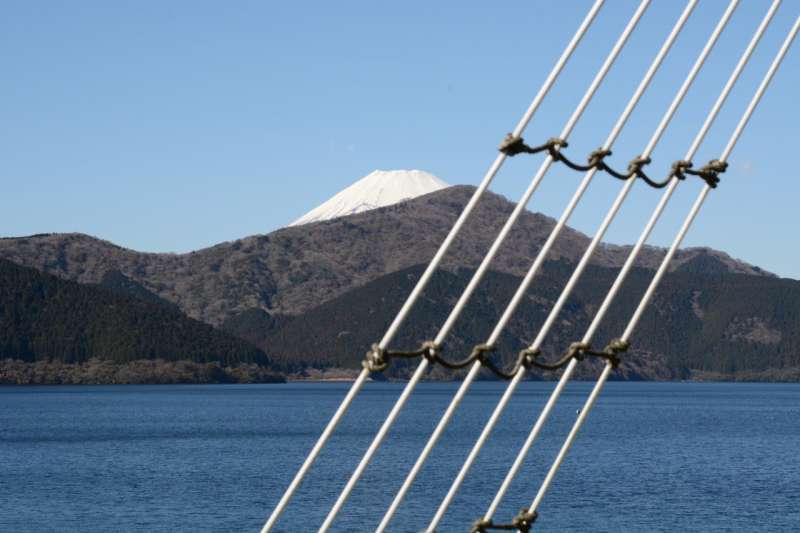 We board the ship at Moto-hakone-ko port or Hakonemachi-ko port depend on to see Sekisho Checkpoint or not.
Views from the Pirate Ship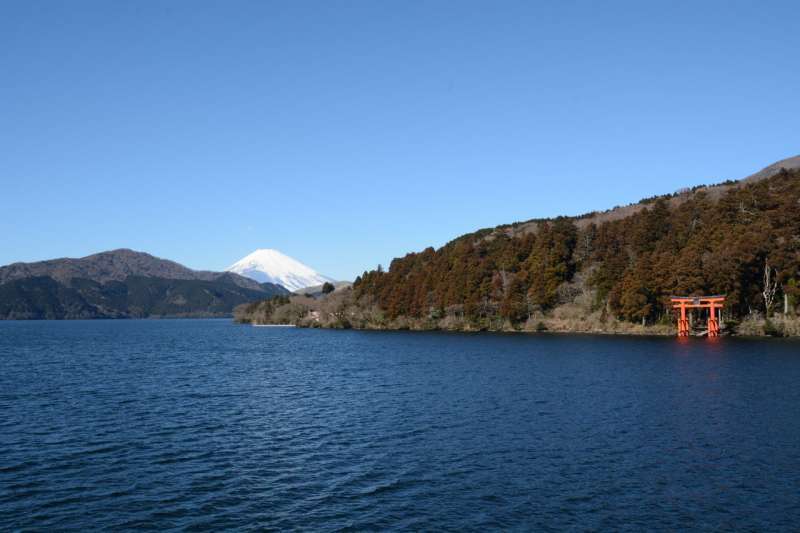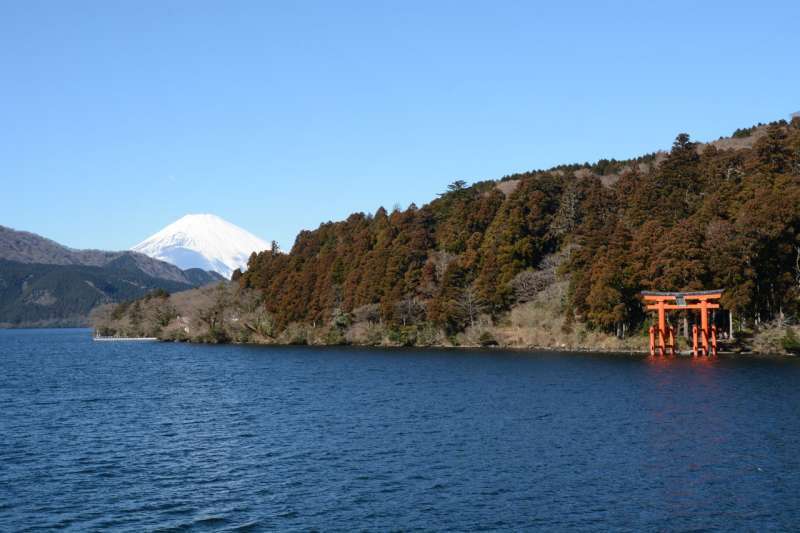 The highlight are Ashinoko Lake, Mt. Fuji and Hakone-jinja Shrine's red Torii Gate.
Mt. Fuji & historical looking buildings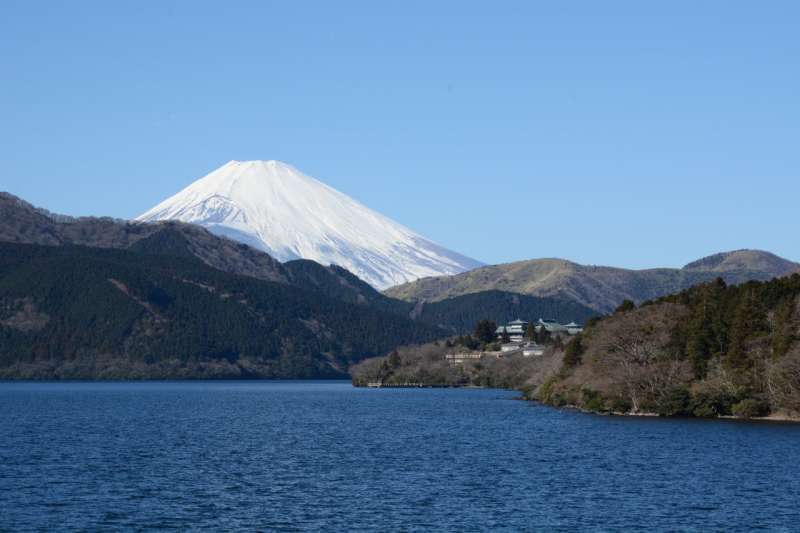 Those buildings are Hot Spring Inn facility, called Takogawaonsen Ryuguden.
Change to Hakone Ropeway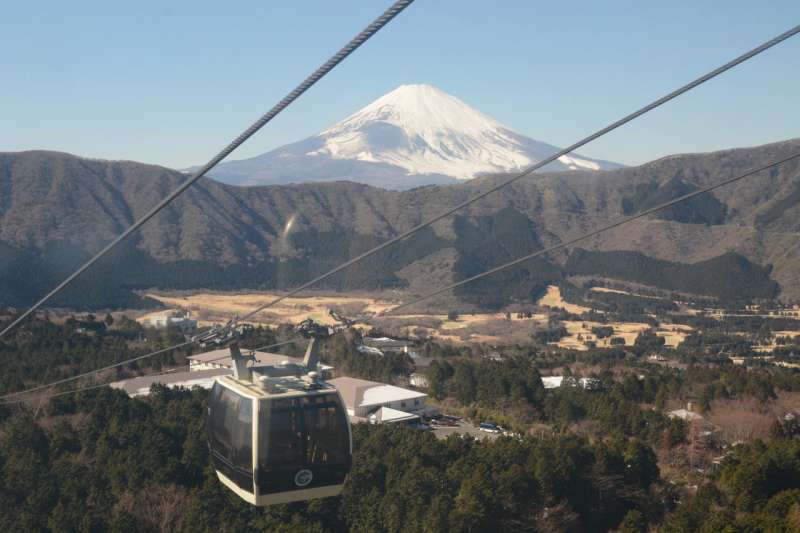 I changed to Ropeway at Togendai Station. You can see Mt. Fuji if you are lucky. This ropeway has Swiss made Gondora that the fixed number was 18.
Owakudani Valley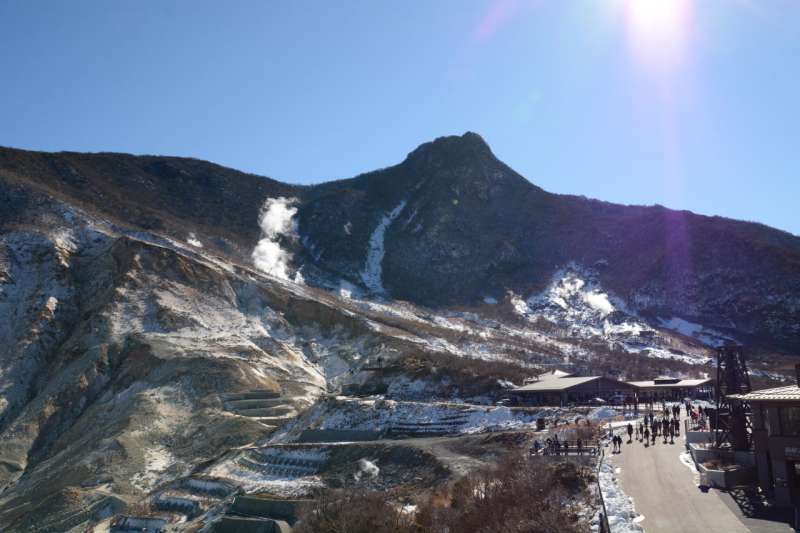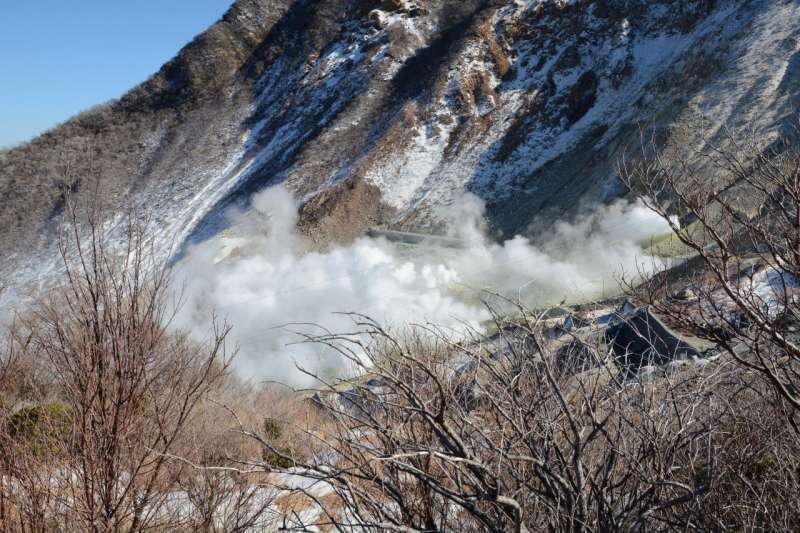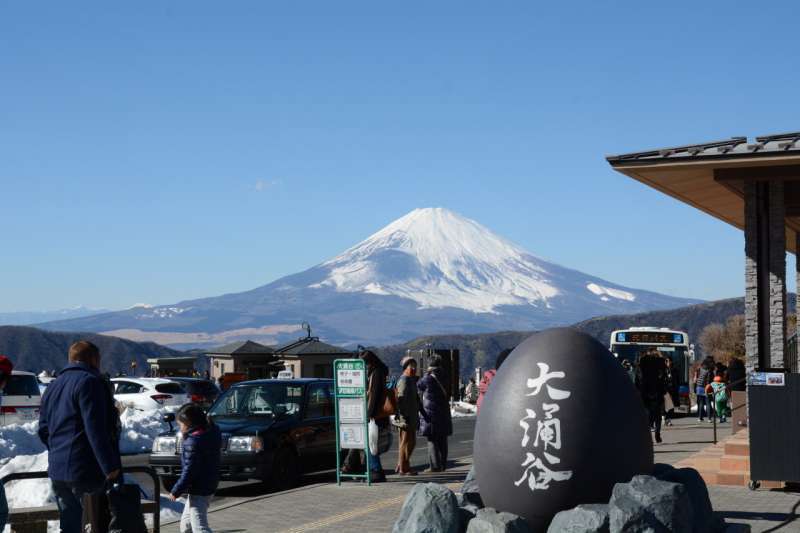 You can feel active volcano here. There are some hiking trails around this smoky area, but they have been closed due to the intense volcanic activity. You can eat Kurotamago, or black egg. The eggs are boiled in a hot spring water. Hydrogen sulfide in the hot spring makes eggshells black. The white egg skin appears when you peel the black shell. It is said that, your lifetime extends seven years each time you eat one black egg here.
View from Sounzan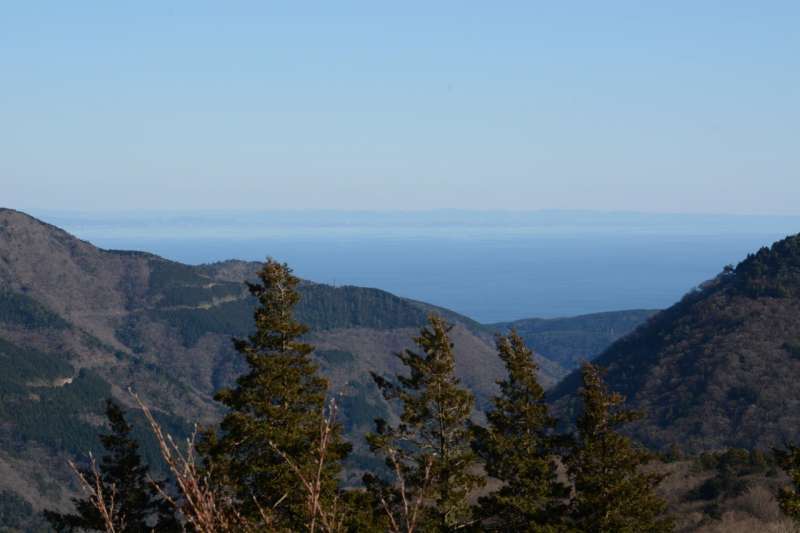 I changed to Cable Car here.
Hakone Tozan Cable Car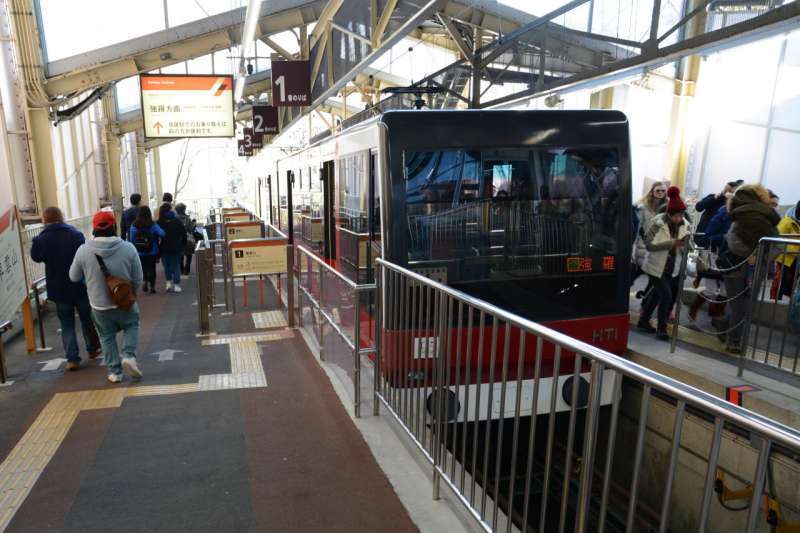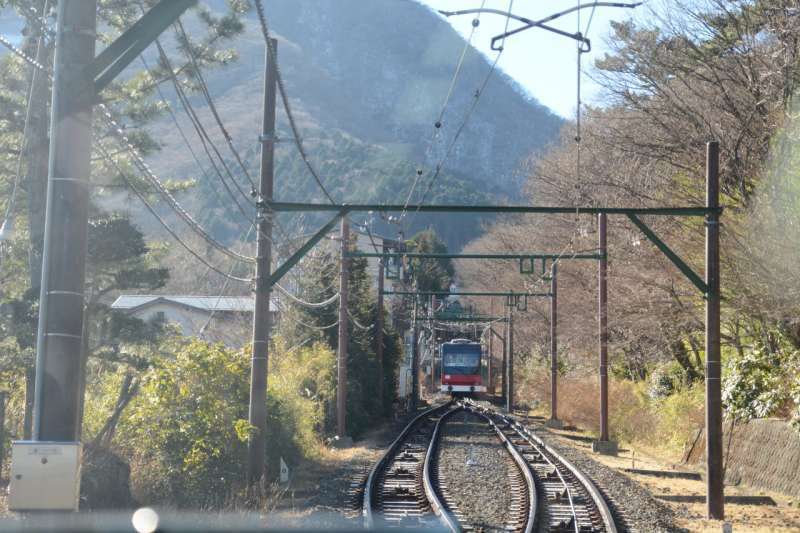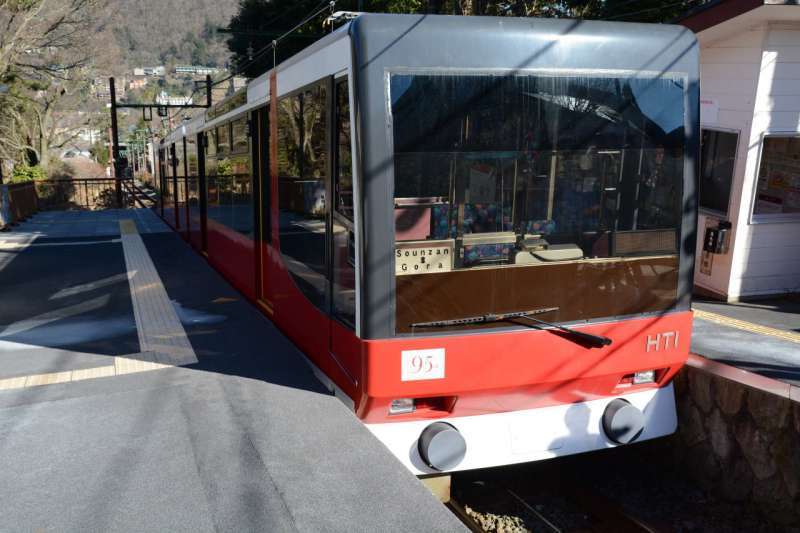 I took this cable car from Sounzan Station to Gora Station.
Hakone Tozan Tetsudo Mountain Train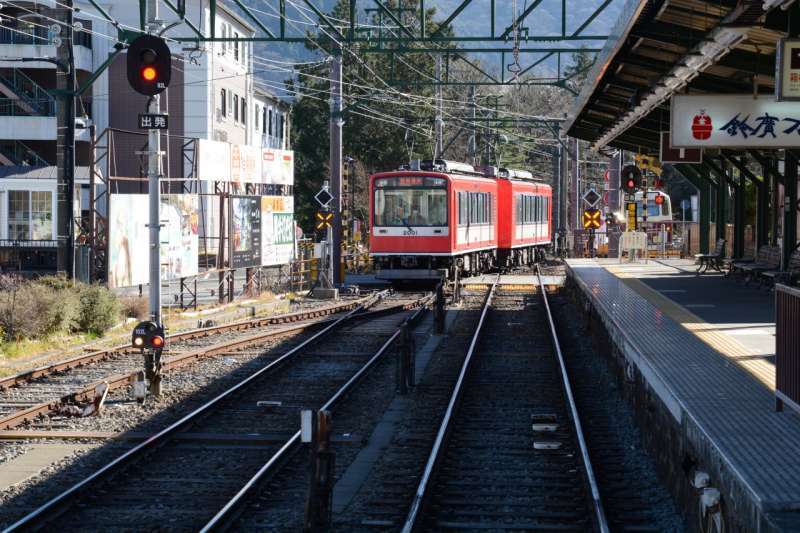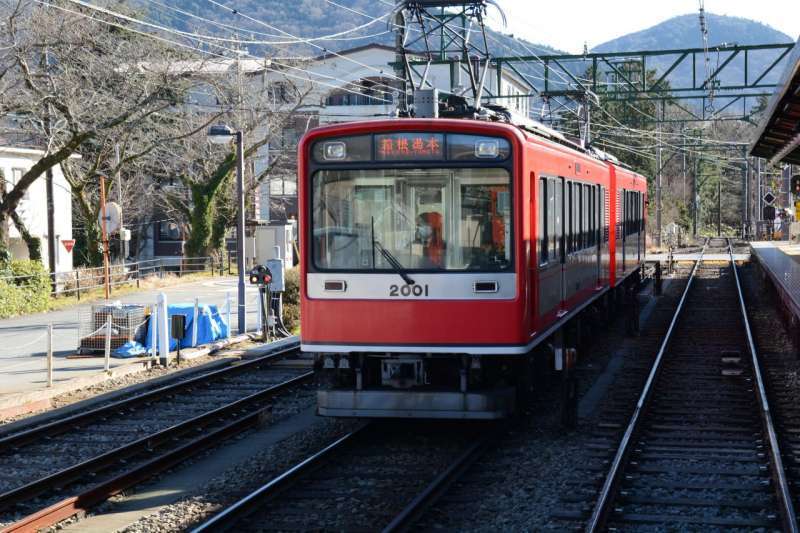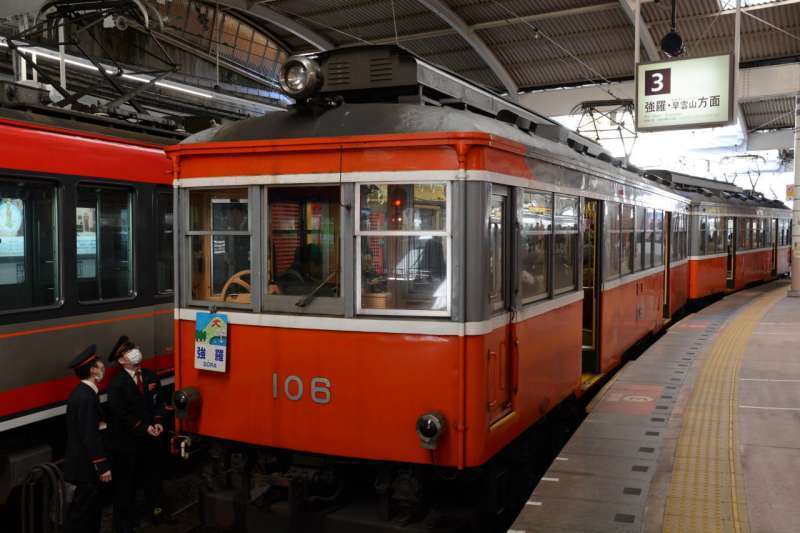 I transferred to mountain train at Gora Station. This is the best mountain train in Japan. It is proud of minimum radius of curvature, steepest gradient and three switchbacks. The maximum gradient is 80 per mill. It's fun to be riding. We will get to Hakoneyumoto Station by about 40-minute train ride.
A Romance-car to Kitasenju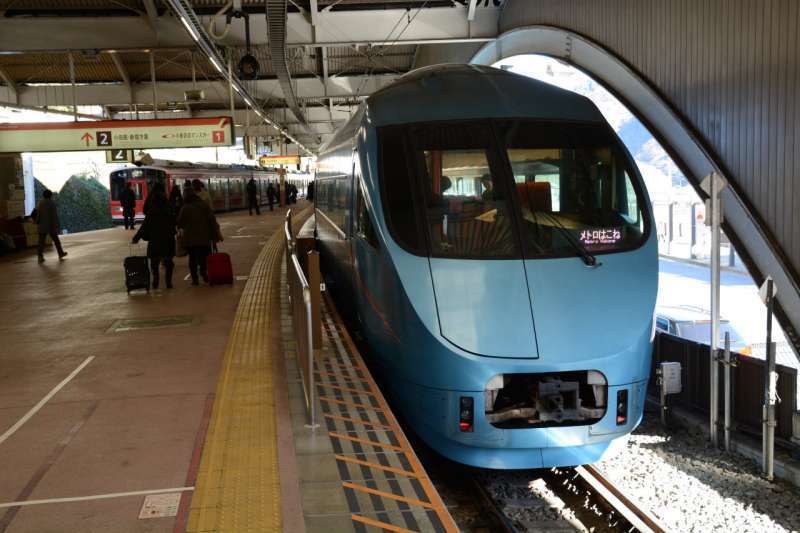 Most of Romance-cars here bound for Shinjuku. But this train is bound for Kitasenju. It goes underground near Shinjuku Station and goes through the rail of subway to get to Kitasenju.
Odawara Castle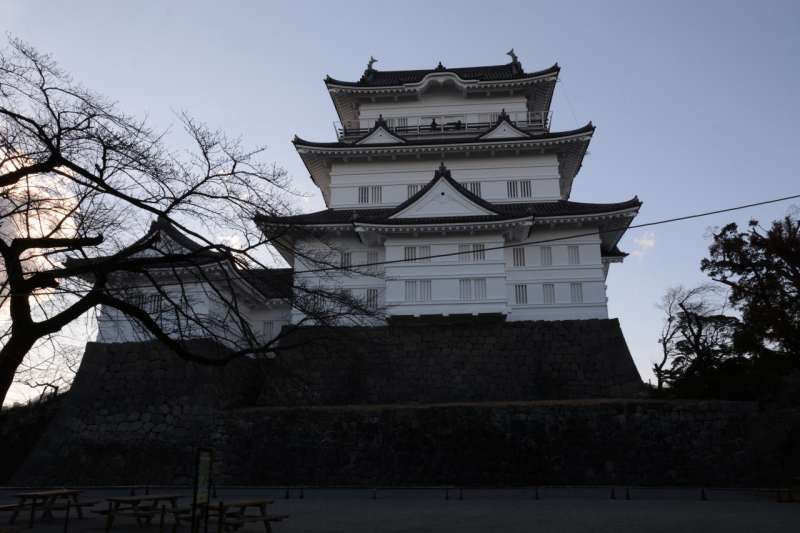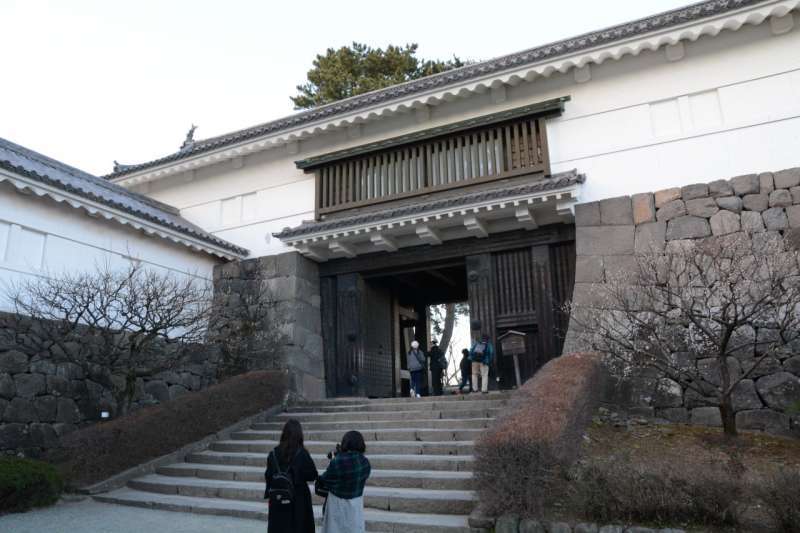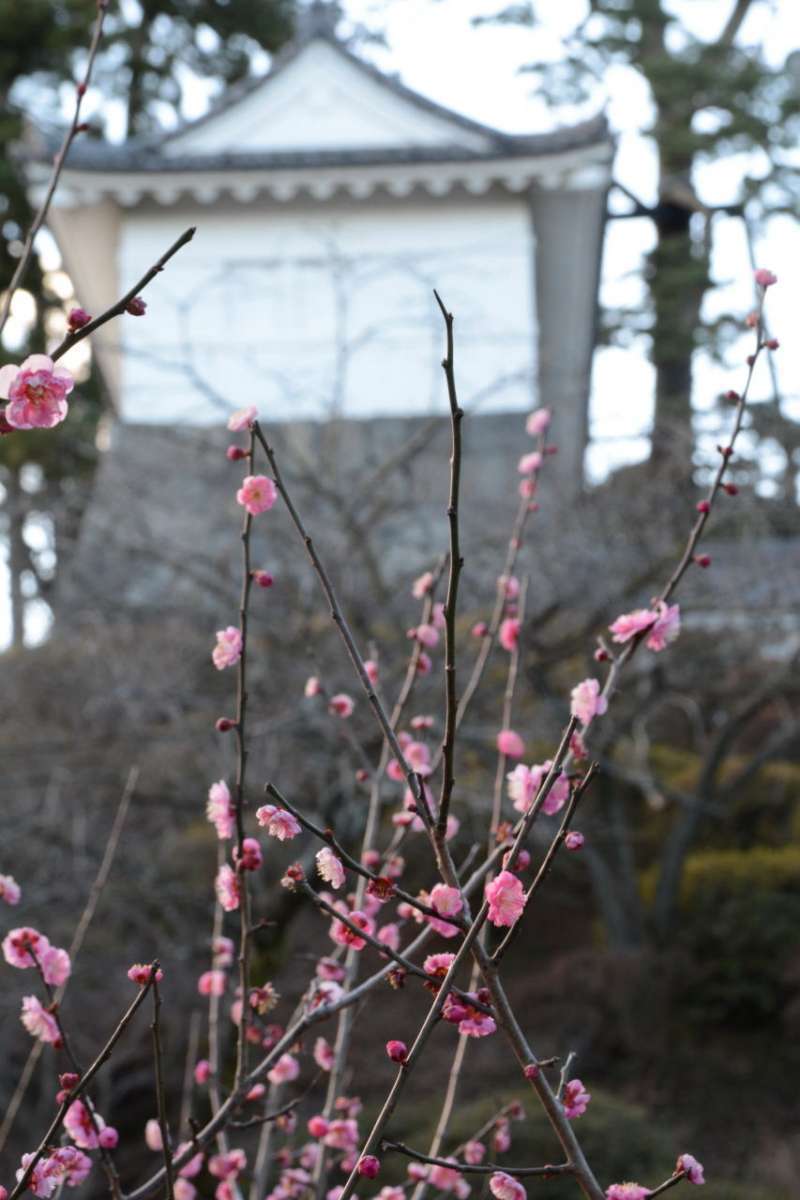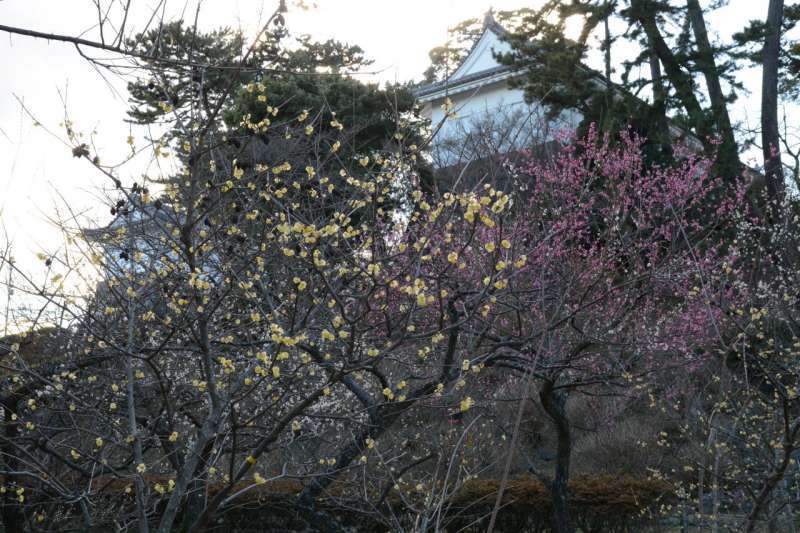 Odawara Castle is not so famous as Himeji Castle or Matsumoto Castle, but it's possible to get image of old castle. It's about ten-minute walk from Odawara Station.
Why don't you visit Hakone?