France holds the distinction of being the most popular tourist destination in the world. Its classical European architecture, rich culture, internationally renowned wineries, and even pristine Mediterranean beaches offers something for everyone. The country is also home to a whopping 49 UNESCO World Heritage Sites, including famous sites such as Mont-Saint-Michel, as well as many lesser known gems.
Other notable attractions include Paris, the infamous 'City of Lights' with its world renowned sites such as the Louvre, Eiffel Tower, and Notre-Dame. Foodies from around the globe also converge on France due to the stellar reputation that French cooking and especially Michelin-star premium restaurants have.
If you're planning a tour to France we would recommend consulting one of our French private tour guides for their advice and services. Our guides are all vetted and professional locals who have a passion for showing visitors around their beautiful country. The benefits of hiring a private guide includes enjoying a stress-free holiday (they can take care of all the planning), having your own translator at hand when shopping and touring, and ensuring you enjoy the most interesting places while avoiding the obvious tourist traps.
Editor's note: Unless otherwise stated, figures below were recorded prior to the Covid-19 pandemic.
France's Top Tourism Statistics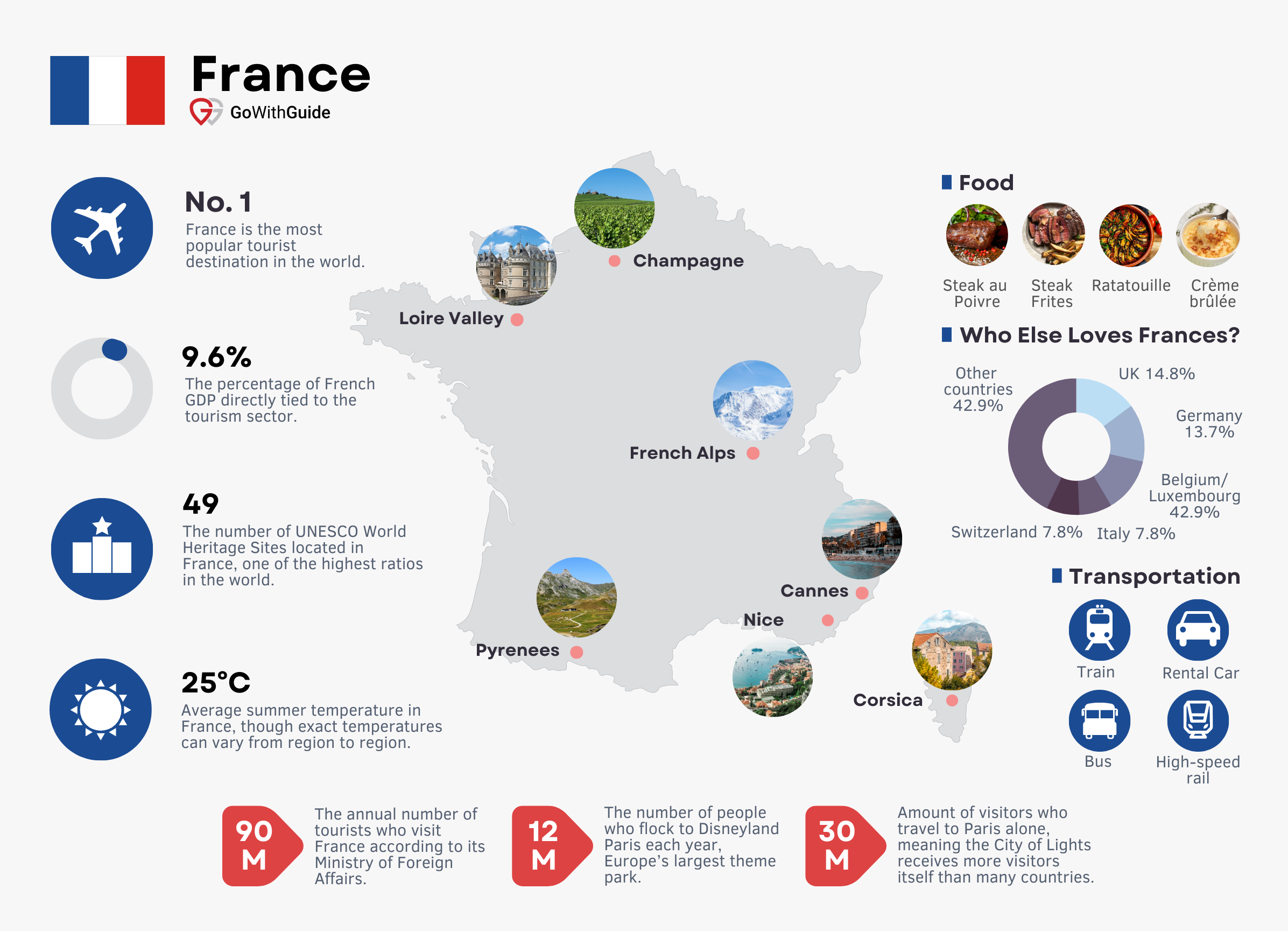 No. 1: France is the

most popular

tourist destination in the world.
> 90 million: The

annual number

of tourists who visit France according to its Ministry of Foreign Affairs.
9.6%: The percentage of

French GDP

directly tied to the tourism sector.
12 million: The

number

of people who flock to Disneyland Paris each year, Europe's largest theme park.
30 million: Amount of

visitors

who travel to Paris alone, meaning the City of Lights receives more visitors itself than many countries.
25°C: Average

summer temperature

in France, though exact temperatures can vary from region to region.
The Most Popular Places to visit in France
As we stated previously, France is a large country with many different regions to explore, so you have many choices when it comes to planning your trip. The obvious choice is the capital city of Paris, legendary for its museums, architecture, art scene, restaurants, and of course its reputation as the most romantic city on Earth. We have a detailed article exploring some of the top sights to see in Paris, but for a brief rundown here we would recommend planning your tour to include a visit to the Eiffel Tower, the Louvre, and Palace of Versailles among others.
If you're more in the mood for sun tanning on a Mediterranean beach, swimming, surfing, scuba diving, or taking a majestic yacht cruise, we'd recommend visiting the French Riviera. The largest cities (and location of some of the best beaches) are Nice and Cannes, the latter also famous for the international Cannes Film Festival. Here you can enjoy some truly once-in-a-lifetime luxury experiences. This playground of the rich and famous offers a variety of attractions to guests, including water sports, sprawling parks, art museums, and some of the best cuisine in the world - a fusion of French and Mediterranean tastes.
If you're itching to depart the mainland for some island hopping, why not visit the island of Corsica, one of the largest islands in the Mediterranean and a place where you can immerse yourself in a truly unique blend of Corsican, French, Italian, and Greek culture.
On the other side of the coin, those who are more interested in mountaineering and winter sports will also be happy to know that France has its own share of spectacular skiing, snowboarding, and hiking locations thanks to the French Alps and Pyrenees mountains. Another popular activity to engage in when in France is touring the country's famous wineries. From the Loire Valley to Burgundy, and of course the aptly named province of Champagne, any wine connoisseur worth their salt simply has to pay a visit to the French wine regions. As a bonus, these areas are all also well known for their exquisite cuisine.
Weather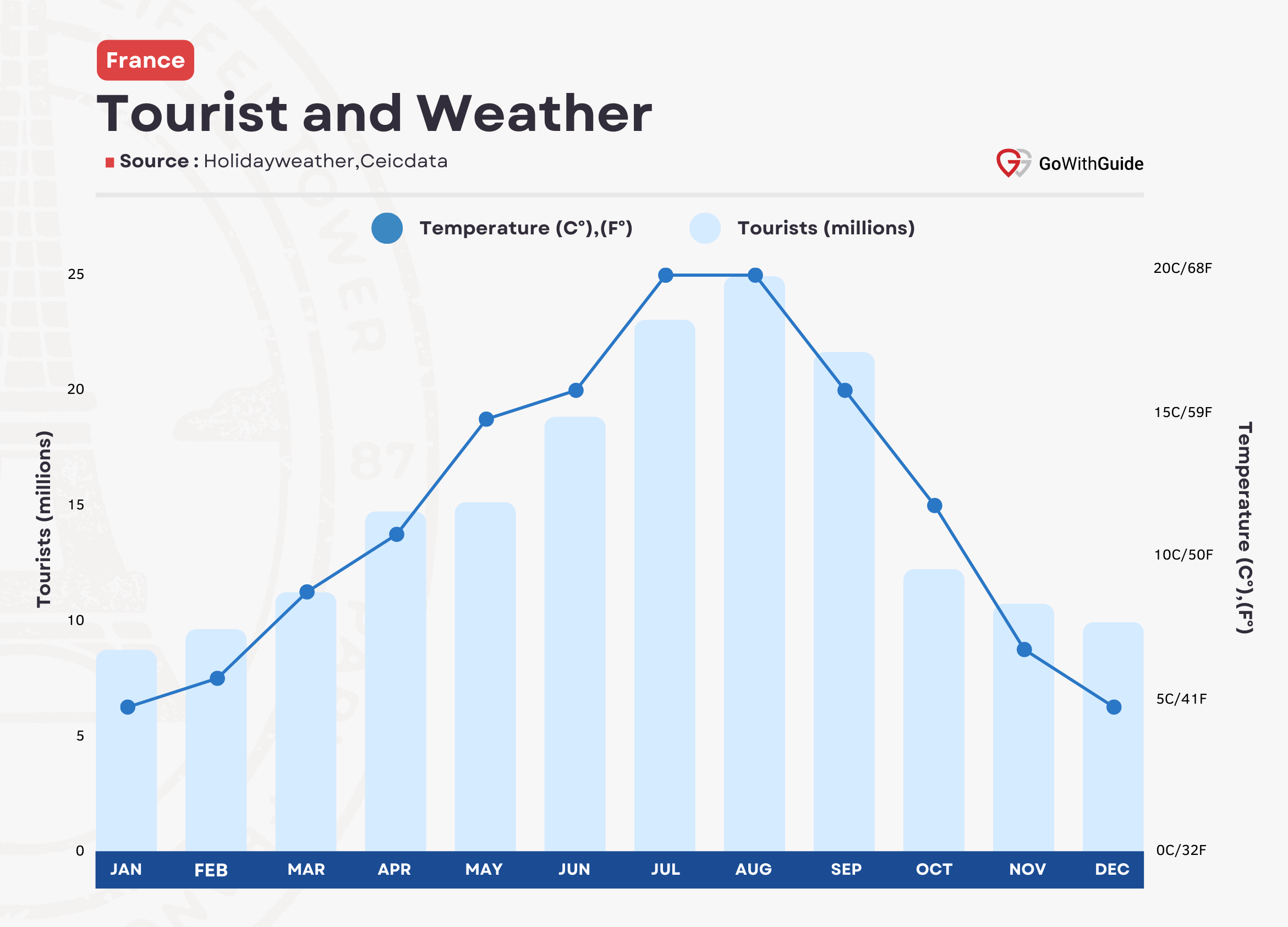 The weather in France varies quite a lot depending on the region and time of year. As a western European country, rainfall can be heavy and winters chilly (1°C /33F - 7°C /44F), but the summers in France are warm and comfortable (around 25°C / 77F), and the country even experiences heat waves in excess of 40°C / 104F at times!
This large variation is due to the country hosting several climatic regions, from the rainy coasts of Normandy to the sunny shores of the French Riviera located on the Mediterranean Sea and colloquially referred to as the Côte d'Azur (Azure Coast). Deciding on which season will be best for your tour of France will depend on your personal preferences and the region you're visiting. Reach out to one of our private tour guides to get in-depth weather information for your planned tour.
Who Else Loves France?
As the most popular tourist destination in the world, you may be surprised to learn that the exact figures of visitors to France can vary substantially based on how they are counted. This is partly due to the fact that it is part of the European Union, meaning many visitors pass through not just France but various European countries, all holding EU passports. The largest number of visitors come from the United Kingdom and Germany, and other popular countries include the United States, China, and various African countries.
UK - 14.8%

Germany - 13.7%

Belgium/Luxembourg - 13%

Italy - 7.8%

Switzerland - 7.8%
The fastest growing demographic for international tourists to France is China, with the French government actively promoting tourism for visitors from China and East Asia in general. Prior to Covid-19 the country aimed to attract a whopping 5 million tourists from China alone per year, but currently that figure is around the 2 million mark.
Food
It goes without saying that a trip to France will be incomplete without properly experiencing the country's excellent selection of gastronomic delights. As already mentioned, France is the home of high quality cuisine as the proud creators of the internationally acclaimed Michelin star, an award which recognizes establishments with exceptional cuisine.
One of the foods the country is most known for is the humble bread, a staple in many countries, but a food which takes on a new dimension thanks to France's many high quality bakeries. The most famous French breads are undoubtedly the baguette and the croissant. Walking the streets of any city or town in France you will undoubtedly find several traditional bakeries where you can purchase warm home-made breads in various styles. If you are in Paris we would recommend Du Pain et des Idées, famous for their flaky croissants and L'Epi Dupin for some delicious baguettes baked with organic butter.
The country is also famous for its large selection of cheeses, from Brie to Camembert, French cheese is truly a delight for the soul, made even better via a pairing with a high quality French wine. Some of the best cheese shops include Androuët, Fromagerie Quatrehomme, and the outdoor market of Marché d'Aligre.
Pro-tip: Enjoying cheese in France is par for the course, but when it comes to taking them home to enjoy, be aware that each country has their own export rules regarding products such as cheese, meat, or fresh produce.
For the meat lovers out there we would recommend trying Steak au Poivre (pepper steak) and Steak Frites (steak & fries). When ordering steak, remember that it's important to tell your waiter how you would like it done. Some useful phrases to remember is; "saignant" (rare), "a point" (medium-rare), and "bien cuit" (well-done).
Other delicious French dishes include Escargot (snails cooked in butter and garlic), the vegetarian favorite Ratatouille (various stewed vegetables), and of course Crème brûlée (a creamy dessert) for those with a bit of a sweet tooth. We could go on and on about French dishes, but that's not the primary focus of this article. Check out our looks at Parisian cuisine and restaurants for some more details, or ask your French private tour guides to introduce you to their favorite dishes.
Transportation
France has a well developed transportation system, including trains, subways, buses, taxis, and airports. Most major cities can be traversed by train and bus, and since traffic can be an issue we would highly recommend taking advantage of the public transportation network. If you aren't used to using public transport, worry not! Our private guides can meet you at your hotel (or any other preferred meeting point), and chaperone you throughout your customized tour.
If you're planning to head to a more rural area you can of course rent a car as well, or ask your private tour guide for their recommendation or catch a lift with them. High-speed rail is also available when it comes to quickly moving over longer distances, and it's usually much more convenient than taking a domestic flight.
Do's and Don'ts in France

Do's:
Learn some basic French phrases - say hello (bonjour) when entering a store, and goodbye (au revoir) when leaving.

Keep your ticket stub on you when using the metro or other trains, also remember to validate your ticket before boarding your train.

Affectionate greetings such as 'air-kissing' are acceptable, or if you know the person well, a peck on both cheeks. Otherwise, stick with a handshake.

Dress respectfully, especially when going out to dinner or to culturally significant locations (no shorts or flip flops unless on the beach or at a park).

Avoid standing too close when talking to someone or when queuing.
Don'ts:
Don't eat with your fingers or on the street (unless you are specifically eating 'street food').

Don't drink coffee or other drinks while walking around in public - consume these beverages indoors.

Don't feel like you have to tip as much as in some countries (the US), a service fee is usually included in the bill, but you can leave a few euros as a tip for great service.

Don't speak too loudly in public spaces, and in particular don't shout at your companions to get their attention.

Don't have dinner too early, most people (and establishments) in France serve dinner after 8:00pm.
Useful phrases to learn before going to France
While many people have basic English skills, you will undoubtedly enjoy your trip more and gain the respect of the locals if you take the time to learn some basic phrases before your trip. While you don't have to be able to have intricate conversations, most people will be much more receptive thanks to a simple 'hello' or 'thank you' in French.
Here are some key phrases to remember:
Hello = Bonjour (bohn-zhoor)

Goodbye = Au revoir (oh-rev-vwha)

Thank you = Merci (mare-see)

Please = S'il vous plaît (seel-voo-play)

Excuse me = Excusez-moi (ex-koo-say mwa)

Yes = Oui (we)

No = Non (noh)

I don't speak French = Je ne parle pas français (zhe ne parl pah frahn-say)

Do you speak English? = Parlez-vous anglais? (par-lay voo ahn-glay)
Luckily, all of our French guides are fluent in English and can help you with translation throughout your tour. They can also provide some unique insights which may not appear on the tourist brochures.
Safety
France is generally a safe country to travel in, although in larger cities there are issues with pickpockets. As a tourist, try not to stand out too much otherwise you risk yourself being targeted by petty thieves. Keep your valuables either in your hotel room or in a bag that isn't immediately visible. Ask your French tour guide for some additional safety tips, but as long as you keep an eye on your wallet you should be fine.
Conclusion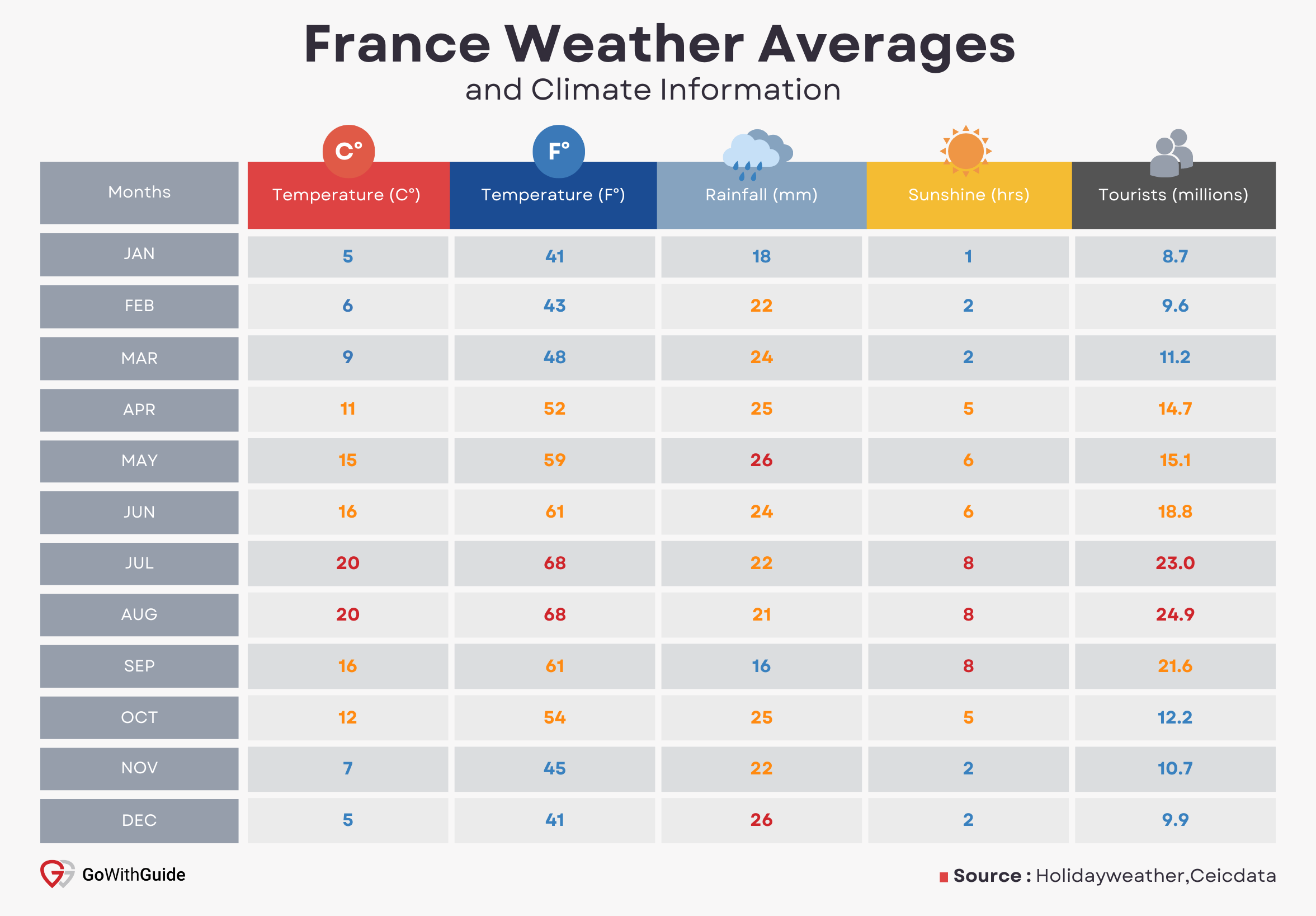 As the most visited country in the world, France lives up to the hype. The country sports attractions that will appeal to virtually every kind of traveler under the sun, from art lovers to extreme skiers, fashion aficionados, wine connoisseurs, and beachgoers. The best way to enjoy your journey through the country is alongside one of our French private tour guides. The benefits of having a guide extend not only to having someone show you where to go, but also personal translation, shopping advice, general safety tips, and help with transportation.