There are thousands of Buddhist temples and Shinto shrines in and around Kyoto, and even after a decade of living in Kyoto, it is likely that even locals have not yet visited all of the beautiful cultural relics that the city boasts. However, if you are visiting Kyoto for a few days, then it is necessary to plan ahead what temples and shrines you will want to visit. There are a few places of worship that we think are must-sees in Kyoto.
Golden Temple (Kinkaku-ji Temple)

Probably the most widely recognized cultural icon of Kyoto is Kinkaku-ji Temple, a structure that is famous for its stunning golden edifice and its representation as a symbol of the bygone lavish Kitayama culture. This temple, which is fully embellished in gold leaf, reflects itself onto Kyokichi (mirror pond) and is a breathtaking sight in all of the distinct four seasons of Japan.

This structure was initially built as a residence for the retired shogun Ashikaga Yoshimitsu but was later converted into a Zen temple after his death. There have been continuous renovations of the structure with the latest restoration occurring as recently as 1987.
Address: 1 Kinkakuji-cho Kita-ku, Kyoto
Tel.: +81-075-461-0013
Access: City Bus Stop Kinkakuji-mae / City Bus Stop Kingaku-ji-michi
Hours: 9:00 am - 17:00 pm
Closed: Open all year
Entrance Fee:
Adults (including High School students): 400 yen
Children (including Junior High, Elementary School students): 300 yen
more information

Map


View Larger Map


Kiyomizu-dera Temple
Kiyomizudera, which literally translates to Pure Water Temple, was created in 778 and was associated with the Hosso Sect of Japanese Buddhism. This relic was built even before Kyoto became the then capital of Japan. Since its establishment, the temple has been burned down and re-built several times, and as of 1994, the temple was added to the list of UNESCO World Heritage sights.

The most iconic element of the temple is the wooden stage that protrudes from the temple's main hall and provides stunning views of the city, as well as the flora and fauna underneath. In the springtime, visitors flock to Kiyomizudera to enjoy the cherry blossoms in full bloom, while in the autumn the temple is popular for viewing the fall foliage. One of the most fascinating elements of Kiyomizudera is that the entire main stage and hall were built without the use of nails. Within temple grounds, there are many other things to see: passed the main stage, you will find the Jishu Shrine, which is dedicated to love and matchmaking, and at the base of the main hall is the Otowa waterfall, which is separated into three trams and each stream is said to provide different benefits to those who drink the water.
Address: 1 Kinkakuji-cho Kita-ku, Kyoto
Tel.: +81-75-551-1234
Access: Kiyomizudera temple can be reached from Kyoto Station by bus number 100 or 206 (15 minutes, 220 yen) You will need to get off at the Gojo-zaka or Kiyomizu-michi stop, which is a ten minute uphill to get to the temple.
Hours: 6:00 am- 18:00 pm
Closed: Open all year
Entrance Fee: 300 yen
Fushimi Inari Shrine
Fushimi Inari Shrine is undoubtedly one of the most famous Shinto shrines in Kyoto, and of the thousands of shrines dedicated to Inari, the God of Rice, Fushimi is the most prominent of them all. Although the shrine is not located within the city centre, it is easy to reach and is only a short bus or train ride to the South end of Kyoto where this temple is located. The temple is famous for the thousands of red torii gates that envelop the main hiking trails leading up to the wooden forest of Mount Inari, which stands at 233 metres.

Behind the main shrine grounds are the two paths surrounded by rows of torii gates, each of which have been donated by individuals and companies whose name can be found at the back of each gate if you look closely. If you would like to get to the very top of Mount Inari, the hike there and back through the hiking trail will take you around 2-3 hours, so make sure not to arrive at the shrine too late in the day.
Address: 1 Kinkakuji-cho Kita-ku, Kyoto
Tel.: +81 75-641-7331
Access: The shrine is located just outside of JR Inari Station, the second station from Kyoto Station when taking the Nara Line (5 minutes, 140 yen from Kyoto Station).
Hours: Always open
Closed: Open all year
Entrance Fee: Free
more information

Map


View Larger Map


Yasaka-Shrine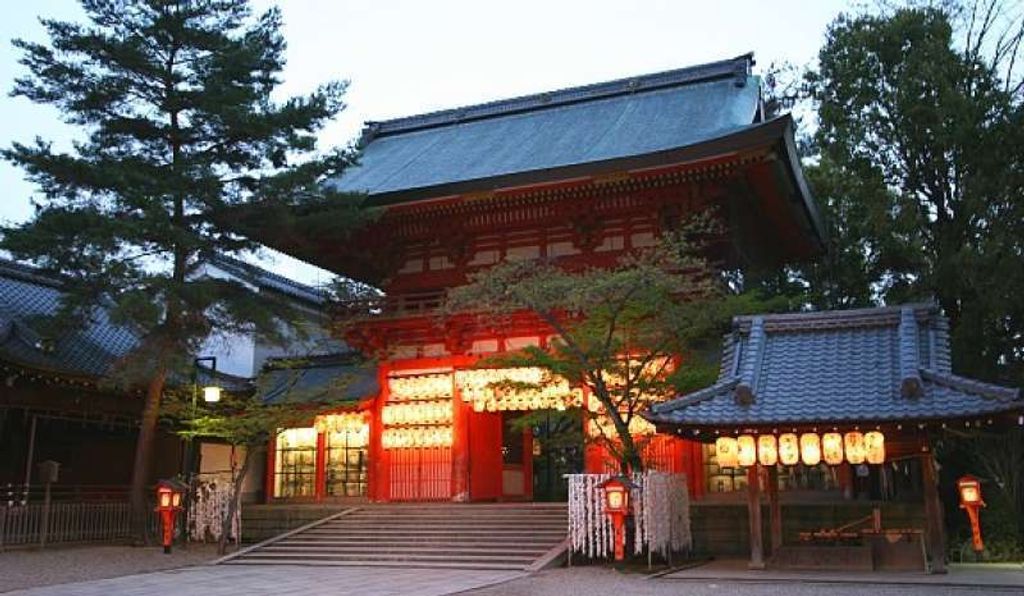 Also known as Gion Shrine, Yasaka Shrine was founded 1350 years ago and is famed nationwide for the festivities that take place in and around the temple grounds. The temple is located between the Higashiyama and Gion district, hence it is a great shrine to visit if you're looking to visit other cultural sites during your day of sightseeing. In fact, we recommend that you start at Yasaka Shrine and then head right and uphill until you reach Kiyomizudera.

Yasaka shrine is perhaps the most well-known for the summer Gion festival, which involves huge floats, parades, street vendors and hundreds of participants. If you happen to be visiting Kyoto in early April, you should not miss the hanami (spring cherry blossom) celebrations that occur in the neighbouring Maruyama Park.


Address: 1 Kinkakuji-cho Kita-ku, Kyoto
Tel.: +81-75-641-7331
Access: From Kyoto Station, you can reach the shrine by taking the number 100 or 206 bus and getting off at Gion bus stop. You can also take the Keihan Line and get off at the nearest station to the shrine, Gion Shijo Station.
Hours: Always open
Closed: Open all year
Entrance Fee: Free
more information

Map


View Larger Map


Ryoan-ji Temple
Ryoanji Temple is the site of the most famous Zen rock garden in all of Japan. The temple was originally built during the Heian Period as an aristrocrat's villa but was later converted into a Zen Temple. In addition to the rock garden, there is a spacious pond located below the temple's main building. Ryoanji is a very serene and relaxing place where you should take your time and enjoy a nice slow stroll and then finish off the walk with a visit to the restaurant located within the temple grounds. At this restaurant called Seigenin, you can try traditional Buddhist monk food, also known as Shojin Ryori. Their specialty is yudofu, or boiled tofu, which you will be able to enjoy while seated in the pleasant traditional tatami room overlooking the marvelous traditional Japanese garden. The restaurant is open during all seasons and is equally delightful regardless of the season during which you visit. You can find out more information about Seigenin on our blog post.
Address: 1 Kinkakuji-cho Kita-ku, Kyoto
Tel.: +81 75-463-2216
Access:From Kyoto Station, you can reach the shrine by taking the number 100 or 206 and getting off at Gion bus stop. You can also take the Keihan Line and get off at the nearest station to the shrine, Gion Shijo Station.
Hours: 8:00 amto 5:00 pm(March to November), 8:30 am to 16: 30 pm (December to February).
Closed: Open all year
Entrance Fee: 500 yen