Hi everyone! Time flies so fast and it is autumn here in Japan. There will be Halloween in the end of the month, Thanksgiving in November, and then comes the Christmas holidays. As the year comes to an end, we Japanese celebrate one of the biggest holidays, New year holidays. Today I would like to introduce you to some unique events you could see or try during the new year holidays in Tokyo.
What does NEW YEAR holidays mean to Japanese people?
The new years holidays means a lot to Japanese people. It is time for families to reunite, and spend time together (just like Christmas).We also express gratitude to people who cared about you during the past year and pray for each other's happiness and good health for the coming year. Each of the events we have, foods we eat has meanings related to those purposes. Your trip would be more fun and meaningful if you know those purposes and reasons why we celebrate the way we do.
Of all the seasons , the new year season is the best timing to see the city of Tokyo (or other areas) filled with the air of traditional celebration mood. You get to see many places decorated with traditional ornaments, and streets filled with new year's insanity. It is quite a view you would not be able to see anywhere else.
However, there is one point you should be careful about when visiting Tokyo in the new year season. Many stores might be closed as it is a holiday season. You should do a thorough reasearch whether the place you plan to visit is open or not before your visit. The transportation near major sightseeing spots in Tokyo might be really crowded, so you would not want to go back and forth just to find a closed store at your destination.
Things to try for a SPECIAL NEW YEAR HOLIDAY in TOKYO
I have been telling you about the basic idea of what the new year season is, and some points you should be careful about when visiting. Now, (finally) I would like to introduce you to some interesting events and activities to try during your visit in Tokyo. Most of you might imagine some things like countdown parties or fireworks. Yes, parties are enjoyable, and the fireworks are beautiful indeed. But if you are here in Tokyo to have a special new year experience, you should definitely try these:
So here we go!
1. Oji Kitsune-no-gyoretsu Fox Parade


This event is a parade, where the shrine-goers marching along the streets with the unique fox face painting, and holding a chochin lanterns. There has been a legend in Tokyo, that in the New years eve, foxes across Japan gathered disguising themselves as a human to visit Oji Inari-jinja Shrine, in the Oji area of Kita-ku. In 1993, Oji Inari-jinja honored this legend with a hatsumode first shrine visit of the year event inspired by the tale. This became the start of this parade. You can get yourself face-painted as a fox, dress in kimono, and join the parade ( face paint fee: 500yen!! Preliminary application needed) .
Details:
Address

Kita-ku Shozoku Inari-jinja Shrine, 2-30-14 Oji, Kita-ku, Tokyo;
Oji Inari-jinja Shrine, 1-12-26 Kishi-machi, Kita-ku, Tokyo;
and other locations

Contact Information
Name: Oji Kitsune-no-gyoretsu Executive Committee
Telephone number: 03-3911-5008
Website: http://kitsune.tokyo-oji.jp/
Schedule
2016.12.31 - 2017.1.1
Access
By train:8-min. walk from Tokyo Metro Namboku Line Oji Station;
10-min. walk from JR Keihin-Tohoku Line Oji Station
Related Links
http://www.kanko.city.kita.tokyo.jp/guidemap/event-kitunegyoretu.html
2. Hatsumoude

Hatsumoude is an event which people visit shrines or temples for the first time in the new year, and pray for their happiness and good health and other luck. Many people buy Omikuji which is a piece of paper with fortune-telling written.
3. Hatsuhinode

Hatsuhinode is the first sunrise seen in the new year. You might have noticed by now that you see alot of ''Hatsu-'' in words related to the new years events. It means ''first'' in Japanese. Japanese people like to celebrate their ''firsts'' and treat them very specially.
There are several locations you can possibly see the Hatsuhinode near Tokyo. The popular places are Tokyo tower, Sky tree, and Haneda Airport.
4. Dezome-shiki (New Year's Fire Review)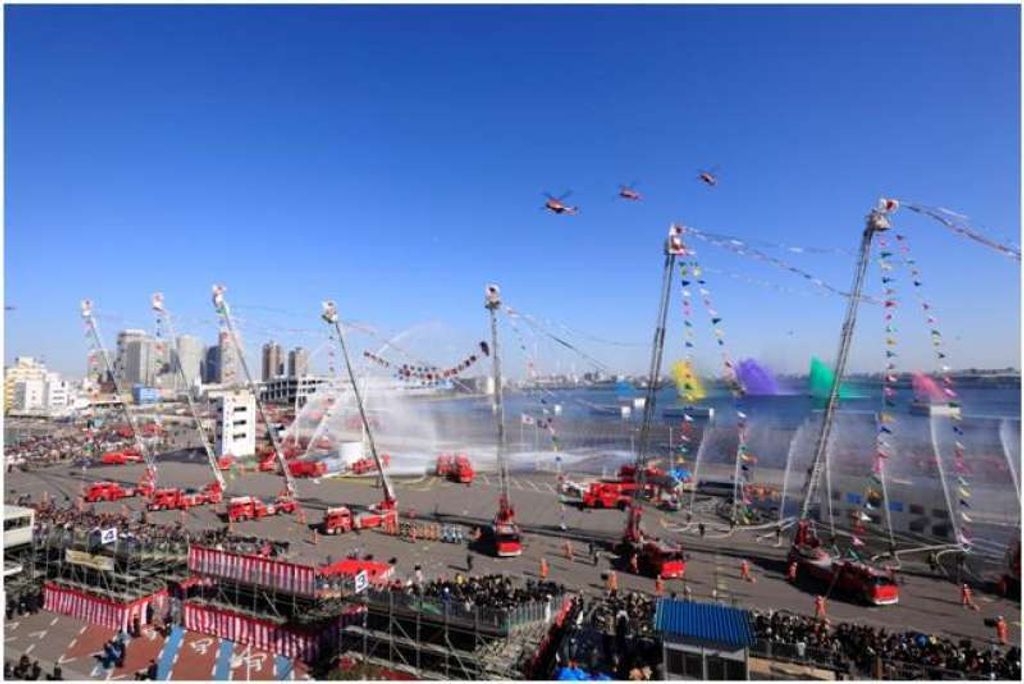 This event is firefighting, rescue, and first-aid demonstrations held by the Tokyo Fire Department. There are also performances of traditional kiyari songs and ladder-top stunts by the Edo Firemanship Preservation Association. The event has long been held to raise awareness of fire and disaster prevention in the year ahead. It is held in many areas across Tokyo, but here I will introduce the most famous ceremony.
Address

3-10 Ariake,Koto-ku,Tokyo Big Sight East Parking Lot

Contact Information

Name:Tokyo Fire Department
Website:http://www.tfd.metro.tokyo.jp/eng/index.html( External link )

Schedule
Early January 2017
Access
By train: 10mins walk from Ariake sta. (Yurikamome line) or Kokusai Tenjijo sta. ( JR Rinkai line)
5. Osechi cusine
Osechi was originally a way for housewives (and their families) to survive the first several days of the New Year, when stores throughout Japan were closed. Osechi is the traditional cusine made specially for the new year holidays, and has special meanings in each menu. These are few examples of menu included in Osechi.
To learn more about Osechi menus and the meanings, check this article from Japan times:
http://www.japantimes.co.jp/life/2014/01/05/language/impress-your-hosts-with-osechi-meanings/#.V_M36pN97Hc
6. Mochi-tsuki

Mochi-tsuki (pounding boiled rice into mochi) is Japan's unique production method of mochi (rice cake). In Japan, people make mochi for all kinds of celebrations. This mochi-tsuki in the new year season is the most important one to pray for happiness throughout the year.
Mochi-tsuki events are held in various of places. You can join and eat mochi, mostly for free!!
There will be many other mochi events in hotels, but some them are provided only for guests staying at the hotel.
Address
1-8-1 Shimo-meguro, Meguro-ku, Tokyo
Contact information
Name: Meguro Gajoen
Telephone: 03-3491-4111
Link: megurogajoen.co.jp
Schedule
Check the link above (It was held January 3rd, 14:30~15:15 in 2016.)
Details
You can see the sumo wrestlers do the mochi-tsuki here. Participation fee is FREE.
| | |
| --- | --- |
| Address | 4-42 Higashi-tateishi, Katsushika-ku, Tokyo |
| Contact Information | Name: Hara Inari Shrine |
| Schedule | January 1st, midnight |
| Details | This event is the only mochi-tsuki event you see inTokyo done in midnight of the 1st. There will be big bonfires as well. Partcipation fee is FREE. |
7. Kakizome (Calligraphy)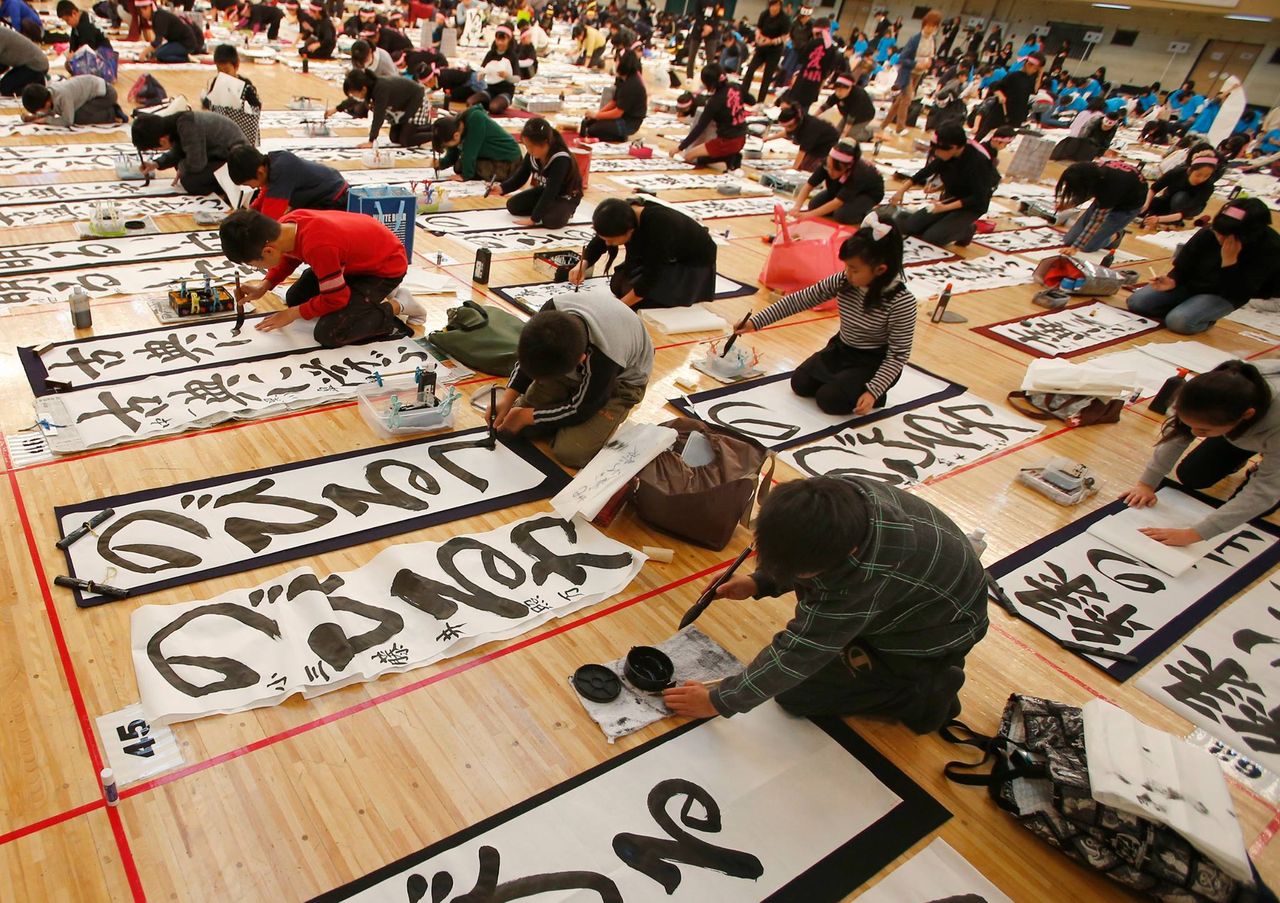 Kakizome ( literally "first writing") is an event to write the first calligraphy at the beginning of a year, traditionally on January 2.
Address
1-4-1 Yokozuna, Sumida-ku, Tokyo
Contact Info

Name: Edo-Tokyo Museum
Telephone: 03-3626-9974
Link: https://www.edo-tokyo-museum.or.jp/event/

Schedule
See link above
Details
You need entrance fee for entering the museum, but the participation fee is free.

Enjoy!
Sounds interesting? Come and join us to celebrate new years in Tokyo, and feel the special and unique traditional Japanese atmosphere!!