Here I would like to introduce some of the interesting spots that are very close to Shimizu Port. All the places I have listed below are located within 3 km (1.9 miles) of the port, and some of them are even within walking distance. The reason I write this post is mainly for the convenience of cruise ship passengers visiting Shimizu Port. Their initial destination might be Kunozan Toshogu Shrine (a National Treasure site) or Miho Pine Grove (a UNESCO World Heritage site), or somewhere much farther. But, after they hit all the places on their itinerary, if they still have some time before the ship's departure, where can they go and what can they do around the port? I hope the list below will give them some ideas in that respect.
S-Pulse Dream Plaza (8-minute walk from the port)
Deriving its name from the local professional soccer team, S-Pulse Dream Plaza is a four-storied "commercial complex" which contains a number of interesting shops, restaurants, and amusement facilities. Since its opening in 1995, it has been very popular not only among tourists but also among Shimizu locals, who regularly go there to buy their groceries or seek some entertainment. Of the many attractions Dream Plaza offers, Sushi Yokocho ("Sushi alley" in Japanese) is nationally famous, with ten different sushi shops located in one area. And at the large souvenir area, one can obtain many of the iconic items from the region, including green tea-related goods and locally-famous snacks, for example.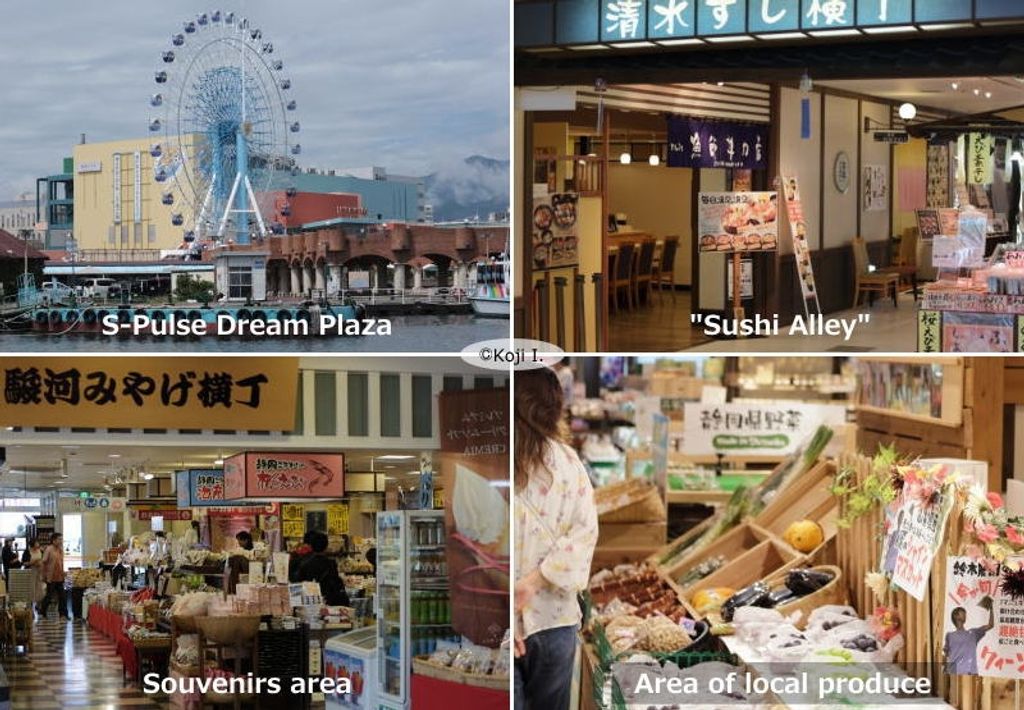 Both the Sushi Museum and Chibi Maruko-chan Land have their own "pay zone," for a fee, where one can be transported into the past and see life in Shimizu around 1900 and in the 1970s, respectively. But what I want to emphasize the most is the area for agricultural produce. Most of the goods sold there are locally produced vegetables or fruits which come straight from farmers in and around Shimizu. Just looking at various produce would surely be fun. Dori-pra (as locals call it) is just an eight-minute walk from the cruise ship pier.
"Kashi no Ichi" Fish Market (23-minute walk, or 6-minute drive, from the port)
Shimizu boasts of having the largest catch of frozen tuna in Japan. The tuna is caught at sea, frozen and then brought to the port. This fish market is called the "local kitchen of Shimizu Port" with more than a million visitors every year (according to the official website). The facility consists of two buildings, one having more than dozen eateries, and a market. The eateries, serving mainly raw fish dishes, are run directly by wholesalers. But if you go at lunch time, you need to prepare for the possibility of standing in line to get into some of the more popular eateries.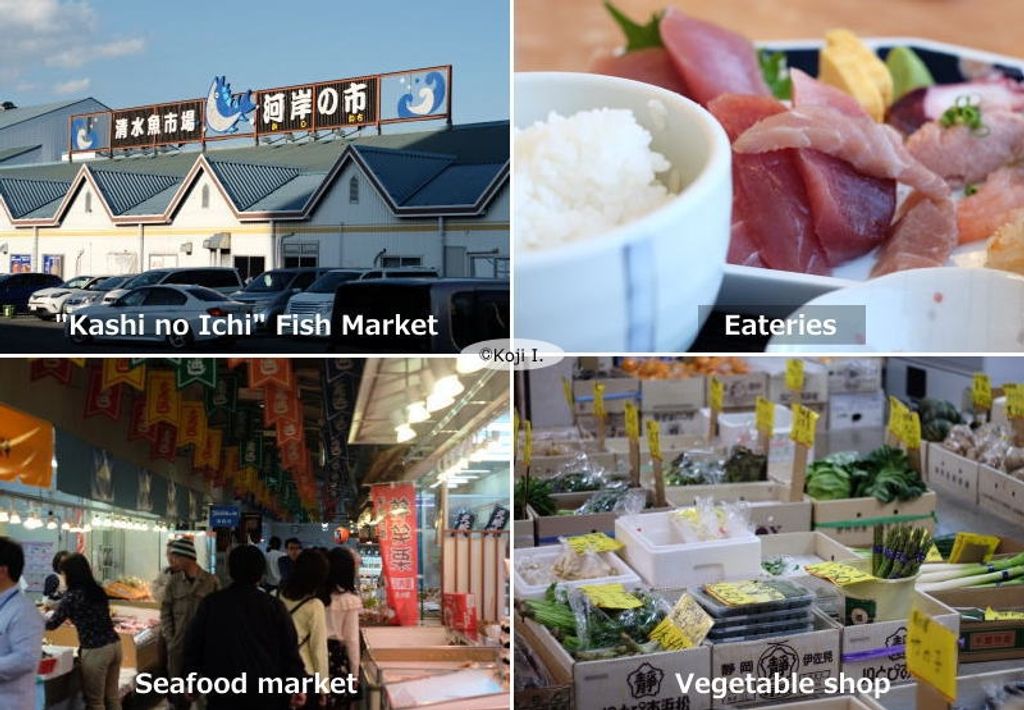 The market building includes some 20 shops mainly dealing with local seafood. This place seems to have an aura of a vibrant port town, and chatting with shop attendants might be fun. Aside from the seafood shops, there is a vegetable store and a tofu store which are also interesting. Clearly "Kashi no Ichi" Fish Market has some points in common with S-Pulse Dream Plaza, like raw fish dishes and markets. But compared to the fashionable Dream Plaza, this fish market has a slightly more down-to-earth atmosphere. The facility is usually closed on Wednesdays.
Verkehr Museum (6-minute walk from the port)
Shimizu Port has a long history. In the Edo period (1603-1868), it was one of the important "transit ports" for cargo ships sailing between Edo (today's Tokyo) and the Osaka area. In the early 20th century, the port prospered through the export of tea to the foreign countries, including the United States. And now it has grown into one of the most important international trade ports in Japan.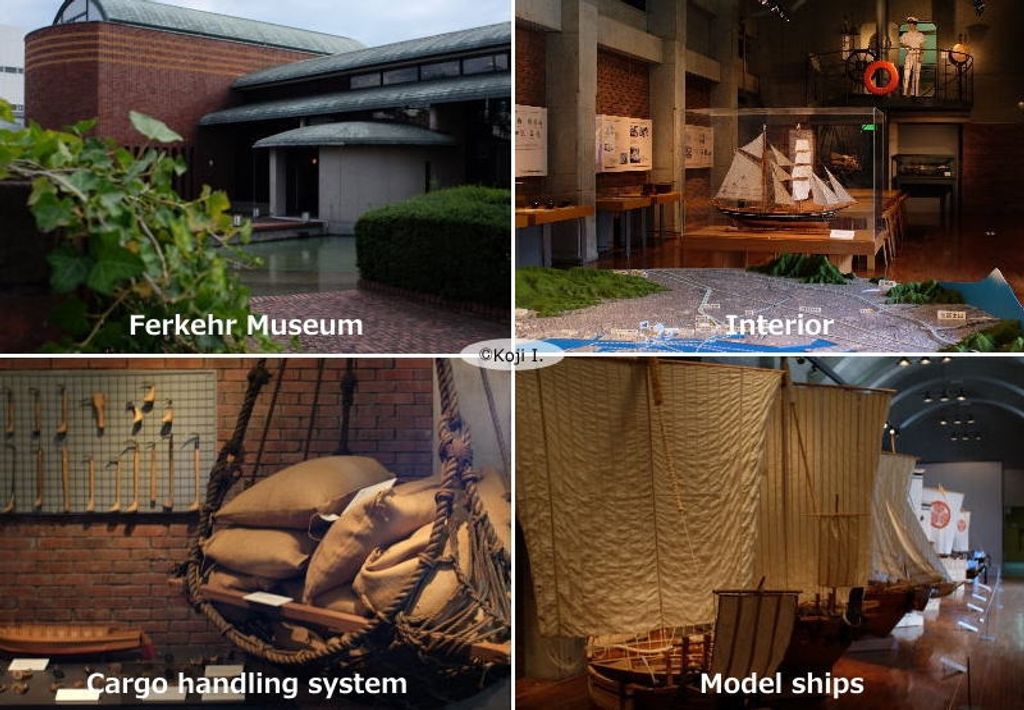 Verkehr Museum, formerly known as "Shimizu Port Terminal Museum," is just a 6-minute walk from Shimizu Port. If one wants to learn about the past and present (and future) of Shimizu Port, this museum is obviously the best place. The exhibits include various historical materials concerning the port, which has been accumulated over the years. Especially, the elaborate models of old cargo ships are outstanding. The interior of the museum is clean and well-organized. Admission to the museum is 400 yen. It is usually closed on Mondays.
Places related to Jirocho
Jirocho (often called Shimizu no Jirocho) is one of the most famous historical figures Shimizu town has ever produced. He was one of "bakuto" (itinerant gamblers in old-time Japan) who lived in the 19th century. His eventful life was later adapted into "rokyoku" (Japanese traditional narrative singing) and "kodan" (Japanese traditional oral storytelling), and these works were broadcasted on radio, making Jirocho―and Shimizu town―nationally famous during the first half of the 20th century. He has often been described as "kyokaku" (a man of chivalry) or "yukyo" (knight errant), and largely due to a number of good deeds he did in his later life for the development of the town and port of Shimizu, he has been greatly loved and respected by the citizen of Shimizu ever since.

Among several Jirocho-related places, Jirocho's Birthplace (11-minute walk from the port) is the house where he was born in 1820, as the second son of a boatman. The house recently underwent a large-scale renovation, but it still retains some of the atmosphere of Jirocho's childhood days. Here visitors can learn a lot not only about Jirocho himself, but also about a commoner's life in Shimizu in the early 19th century. Jirocho goods are sold at the shop. This place is admission free and usually closed on Tuesdays

Jirocho opened an inn for sailors in the waterfront of Shimizu in 1886. It was named Suehiro and mainly managed by his third wife Ochou. Jirocho himself resided there until his death in 1893 at the age of 73. The inn was reconstructed in 2001 as a museum, using some parts from the original structure, like columns and sliding doors. Today visitors can enter this two-storied building for free, and can learn about Jirocho's last years. Suehiro Inn (7-minute walk from the port) is admission free and usually closed on Mondays.

Baiinzenji Buddhist Temple (16-minute walk, or 6-munite drive, from the port) is generally known as a place which has the Jirocho's grave and his bronze statue. To see these, however, you need to pay 300-yen admission to the garden and Jirocho's relic museum. Among Jirocho-related places, this is one of the farthest from the port, but I think it is worth going, mainly because of its small but beautiful, well-kept garden.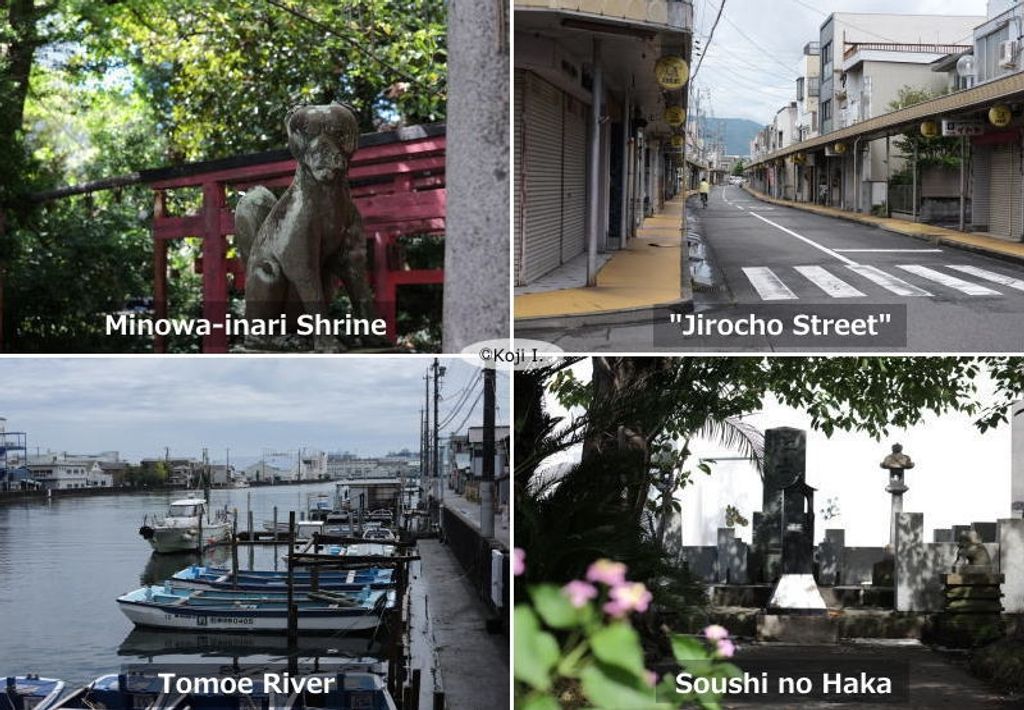 There are some other Jirocho-related places alongside the Tomoe River. Minowa-inari Shrine (12-minute walk from the port) is a shinto shrine along "Jirocho Street." It is said Jirocho would often play there when he was a child. And Soushi-no-Haka ( or "The Grave of the Braves" : 9-minute walk from the port) is a tomb of the crew of the Tokugawa shogunate's warship "Kanrin Maru." In 1867 during the civil war, the ship was attacked by the "imperial forces" near Shimizu harbor. Several crew members were killed and their bodies were abandoned on the ocean. Local people hesitated to get closer to the bodies mainly because they were afraid of being regarded as a "rebel" against the emperor. It was then that Jirocho stepped forward, retrieved the floating bodies, and buried them at the present-day Soushi-no-Haka site, saying something like "there is no more distinction of pro- or anti-imperial after they become Buddha (after they are dead)." This story is relatively well-known as one of Jirocho's "good" deeds.
Lastly, the information I provided here (including closing days and admission fees of the facilities) is the one available as of the end of August 2018, and therefore, they are subject to change. So, if you are going to visit some of the above places, I hope you will check once again before you go.
~Koji Ikuma
写真使用許諾:エスパルスドリームプラザ、河岸の市、次郎長生家、フェルケール博物館、梅蔭禅寺