Tokyo in April is arguably the best season to visit. Especially at the beginning of the month, the cherry blossoms are in full bloom. These light pink flowers are really beautiful and it is great to have them as the background of your photos. Other flowers are also blooming in the warm weather and the parks start to be filled with many lovely colours. It also becomes easier to spend hours walking around and going sightseeing in Tokyo since it's no longer bitterly cold anymore. The warmth from the sunshine will invigorate you and make your trip even more enjoyable.
Weather in Tokyo
The weather in Tokyo during April is a bit hard to predict. It tends to rain once in 3 or 4 days, so make sure to bring a small folding umbrella with you. If you don't have one, it's a perfect opportunity to buy one in Tokyo. There all sorts, big and small with pretty designs. choosing an umbrella here can be very fun, particularly for girls. In addition to that, the temperature considerably varies throughout the day The highest temperature of the day can be around 15 - 20 degrees Celsius and the lowest can be about 6 - 10 degrees. You may think that the weather is not that cold and you can bear with it, but make sure you bring a jacket to wear in the evening. The temperature rapidly drops after the sunsets, and you don't want to catch a cold during your trip.
Things to do in April
Cherry Blossoms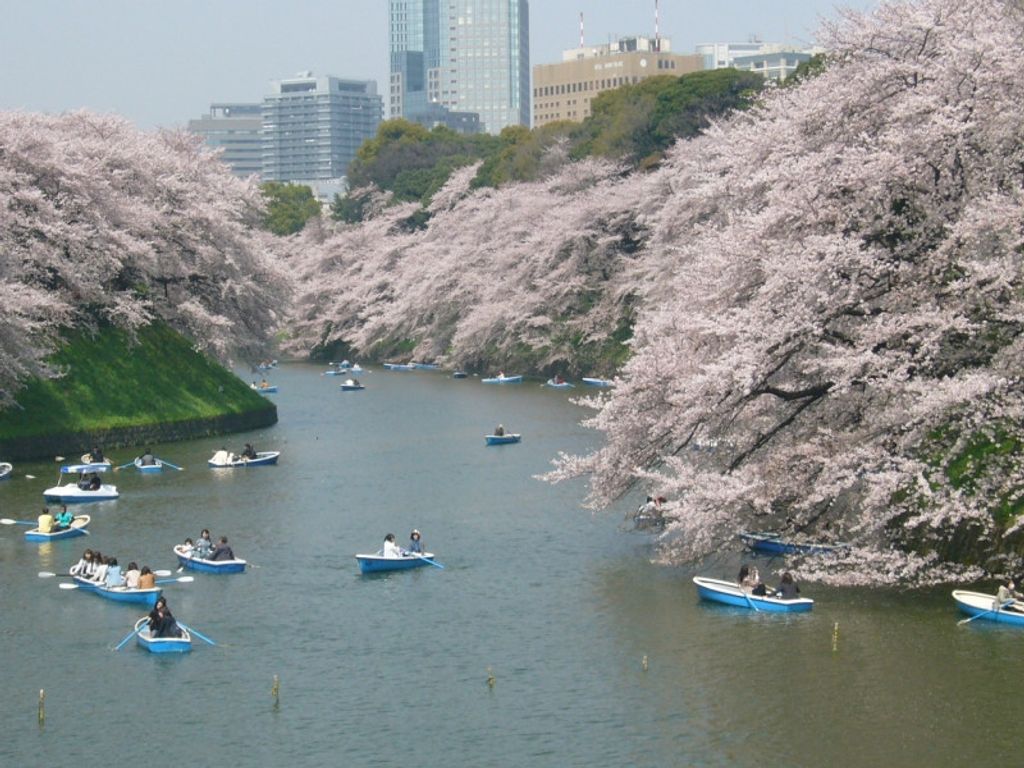 The most famous thing to do is to enjoy the cherry blossoms in the many parks around Tokyo. You can join the hundreds of the Japanese strolling along or having a picnic under the beautiful pink flowers. There are many interesting places to visit. Let's check out Cherry Blossom 2020 season in Japan: 5 Best Spots in Tokyo. Unfortunately, they'll only be in bloom until the first week of April, so if you absolutely want to see the flowers, you should visit at the very beginning of April. Most importantly, you can hire our local tour guides to take you to other amazing places around Tokyo, such as the Imperial Palace. If you are not sure where to go, take a look at "The best view of cherry blossoms tour".
Kanamara Festival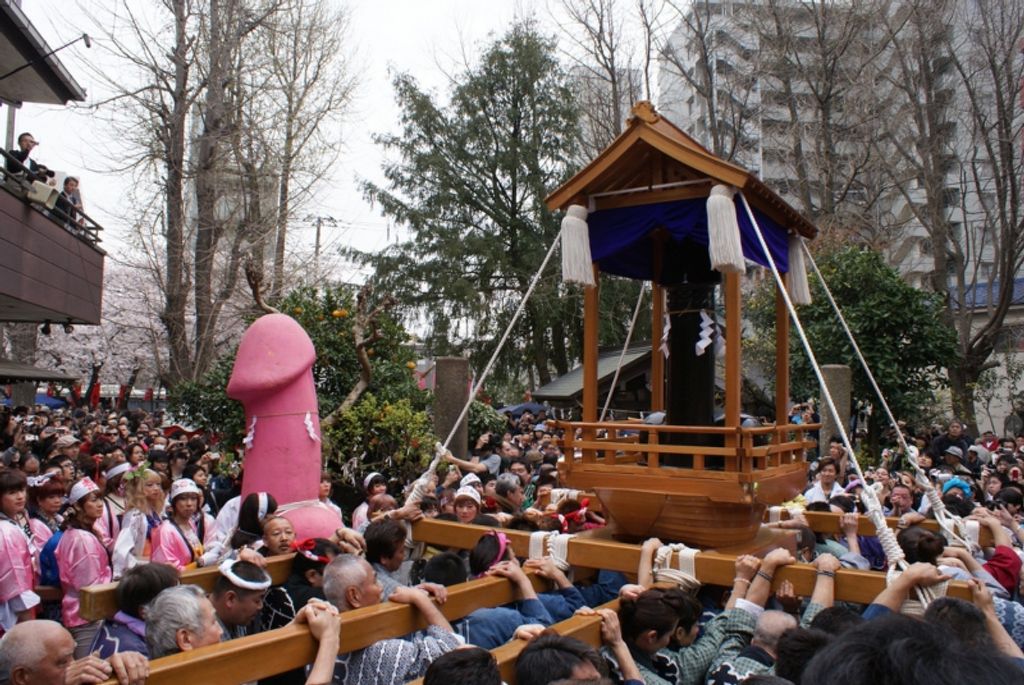 The Kanamara Festival is held at the Kanayama Shrine in Kawasaki, and is also known as the "Penis Festival". The deity of the shrine is not only a protector of blacksmiths but also a deity of sex. This very unusual festival has become hugely popular since many people uploaded videos of the main gigantic phallus parade on YouTube. Both foreigners and local people are very interested and increasingly participate in the festival every year. The festival is generally practiced to be blessed with children, including the unity of a married couple. If you want to do something off the beaten path, this is one of the most unique and weirdest things you'll find.
Address: 2-13-16 Daishi Ekimae, Kawasaki-shi, Kanagawa
Access: a 2-minute walk from the Kawasaki Daishi Station
Date: April 5, 2020
Hours: 11:00 am - 4:45 pm
Tokyo Romantic Flea Market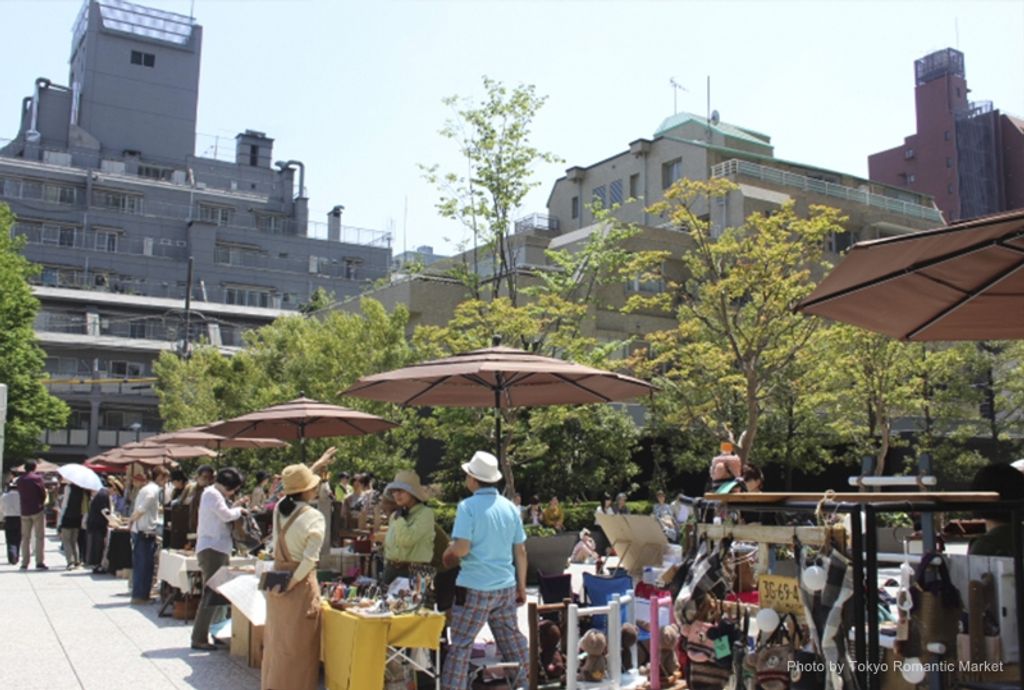 The Tokyo Romantic Flea Market is located in a lovely garden of Shibuya Garden Tower at the heart of Tokyo. Moreover, it also consists of approximately 100 shops, in which you will enjoy looking around. It's held every 2nd Sunday of each month. If you can't make it in April, there's always a chance to visit at another time. Here, you will be able to find all kinds of antique goods, not only from Japan but from around the world as well. The vendors are changed on a monthly basis so you'll always be able to see something new.
Address: Shibuya Garden Tower, 16 - 17 Nanpeidaicho, Shibuya-ku, Tokyo
Access: an 8-minute walk from Shibuya Station
Date: April 12, 2020
Hours: 10:00 am - 4:00 pm
Website: https://tokyo-romantic.com/
Ichiyo Sakura Festival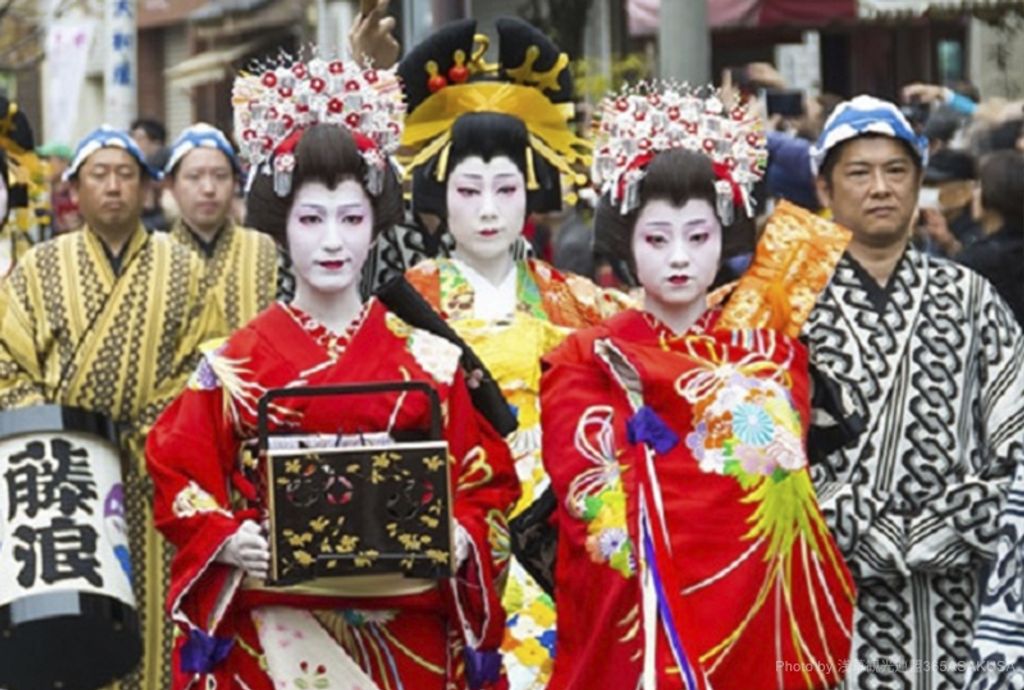 This festival held in Asakusa is very popular. You'll be able to enjoy the "Yaezakura", a type of late-blooming cherry blossom, and the "Oiran" parade. The Oiran was a high ranking courtesan during the Edo era. Some became celebrities even outside the pleasure districts. You'll be able to see the "Oiran" parade recreated with elaborate authentic traditional costumes weighing up to 30 kilograms. In order to see the parade at a good spot, make sure to get there about an hour before it starts.
Address: (Ichiyo Sakura Komatsubashi street) 4 chome and 5 chome, Asakusa, Taito-ku, Tokyo
Access: a 5-minute walk from Asakusa Station
Date: April 11, 2020
Hours: 10:00 am - 4:00 pm (the parade starts around 1:00 pm)
Asakusa Yabusame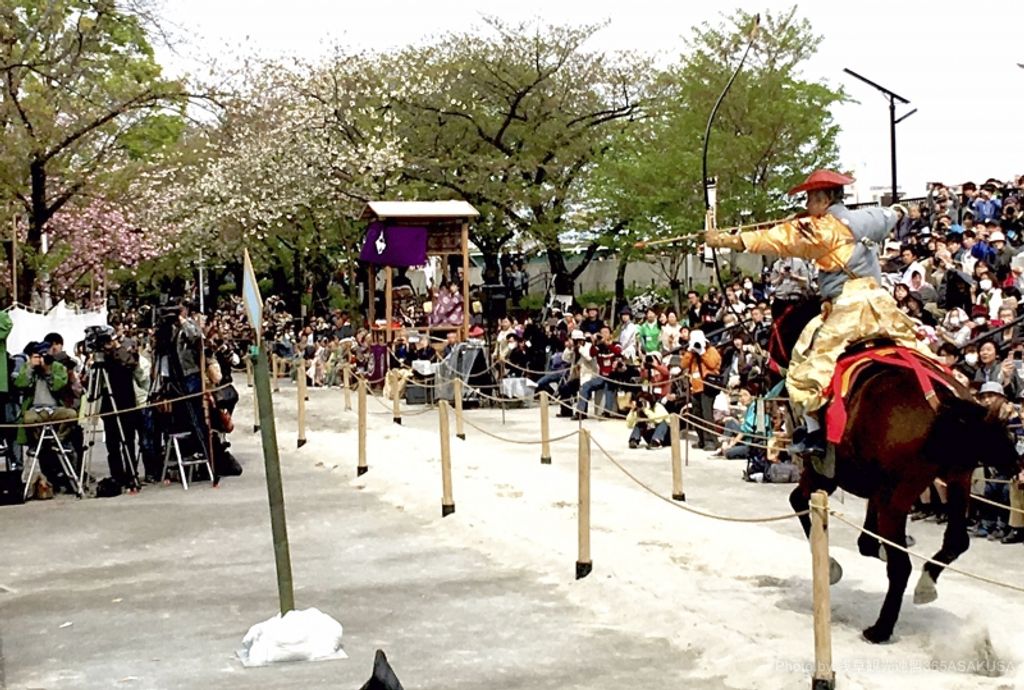 Yabusame is a traditional Japanese martial art. Riders on galloping horses try to hit several targets with a bow and arrow. The archers are dressed in ancient styled hunting clothes and also carry short and long swords as the noblemen of the 12th century did. It's quite an amazing performance. It's held in the narrow but long, Sumida Park, starting from the Azumabashi bridge. The performance is highly popular and crowded so you need to get there much earlier than the starting time in order to get a good spot.
Address: 1 Chome-2-5 Mukojima, Sumida City, Tokyo
Access: an 8-minute walk from Asakusa Station
Date: mid-April, 2020
Hours: 10:00 am
Nakisumo Festival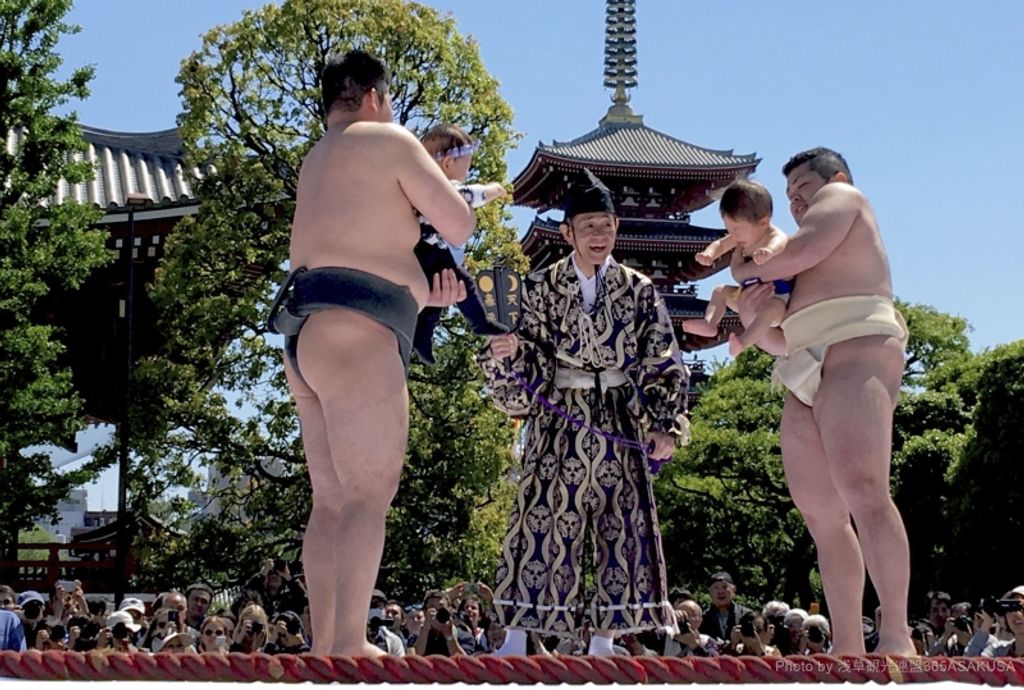 Nakizumo is an event, in which two sumo wrestlers hold a baby in their arms and face them off in the sumo ring. The one which cries first will win the game. In some regions of Japan, it's the other way around. If both cry at the same time, the one who is crying the most wins. The Japanese believed that the baby's cries can ward off evil. Moreover, this festival is a tradition of praying for the babies' health and growth.
Address: Yukigaya Hachiman Shrine, 2-25-1 Higashi Yukigaya, Ota-ku, Tokyo
Access: a 2-minute walk from Ishikawadai Station on the Tokyu Ikegami Line
Date: late-April, 2020
Hours: 12:00 pm - 14:00 pm
Nezu Shrine Azalea Festival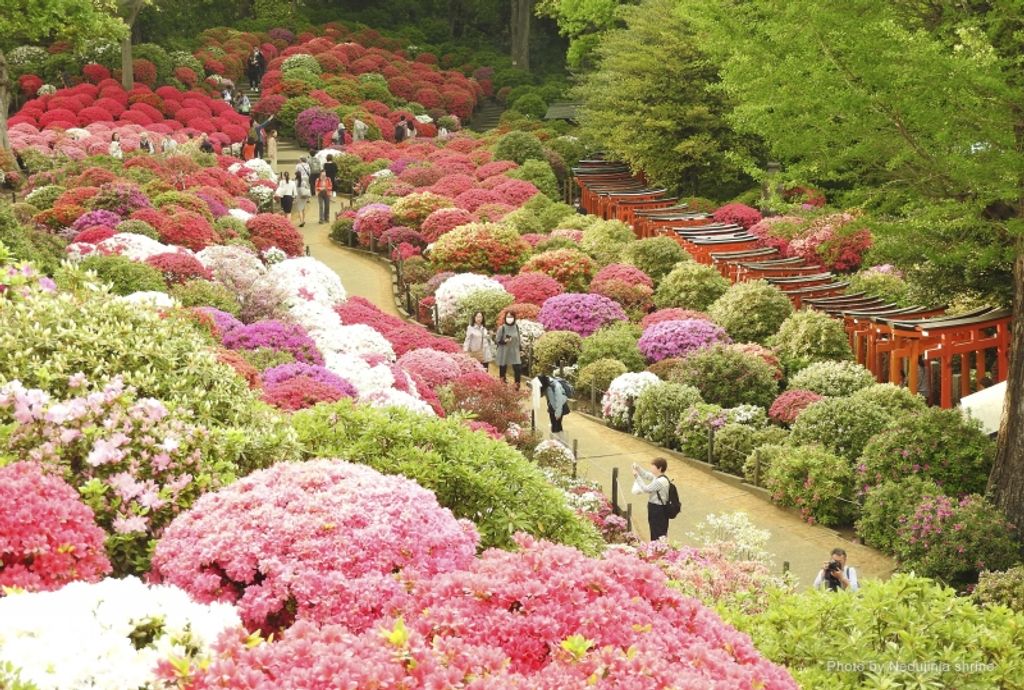 This festival is a scenic place great for taking amazing photographs. The 3,000 Azaleas of 100 types create a garden filled with various shades of pink and purple. It is very nice to take pictures with these beautiful flowers. Furthermore, you can also try some Japanese sweets at the small cafe next to the pond of the shrine grounds.
Address: 1-28-9 Nezu, Bunkyo-ku, Tokyo
Access: a 5-minute walk from either Nezu Station or Sendagi Station on the Chiyoda Line or Todai-Mae Station on the Namboku Line
Date: early April 2020 - early March 2020
Hours: 9:00 am - 5:30 pm
Fees: 200 yen
Website: https://tokyocheapo.com/events/nezu-shrine-azalea-festival/
Recommend Tours in Tokyo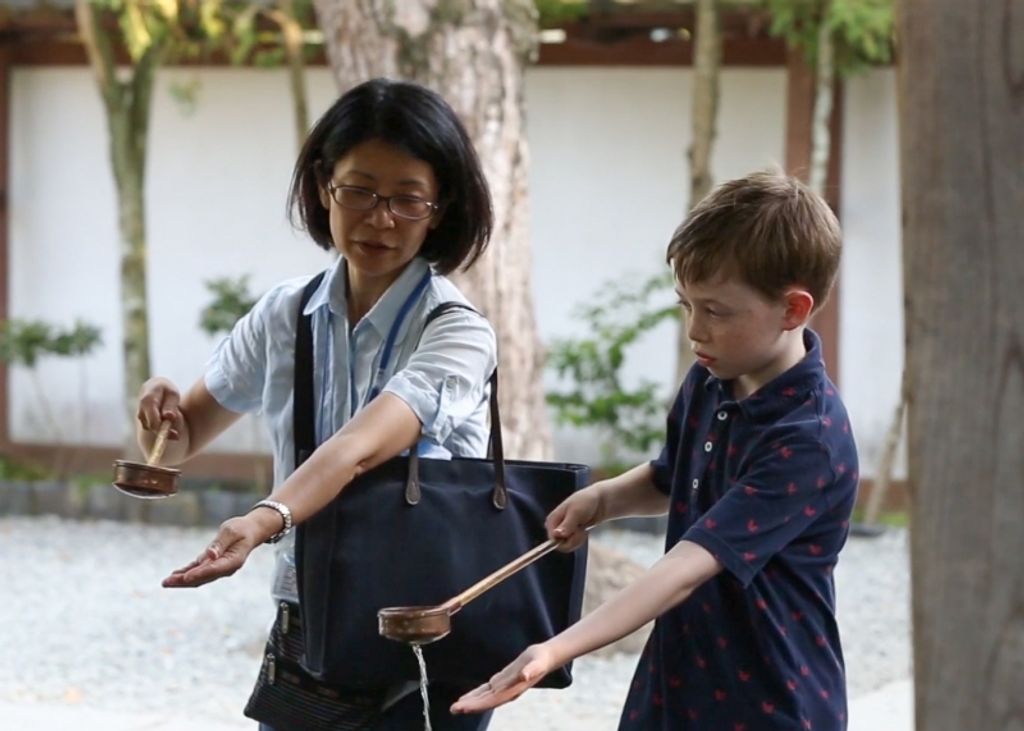 TripleLights provides a service of matching customers with the best tours and local guides. This offers you an opportunity to customize your trip! Moreover, the guides create their own tours, so all of the tours are unique. You can also contact the guide directly and ask for more details, for example, the length of a tour. You can also choose where you want to go from the lists of places provided by the tour guides as well. If you are coming to Tokyo in April, don't forget to check out the tours! One-Day Tokyo Tour, Tokyo 1st Day Highlights Tour, or the Tokyo Customized Tour.
And, if you don't find the perfect tour on the list of tours, you can request a tour for half a day, a full day or more, listing what you'd like to see or eat or so on. All of the guides will make a tour according to your request and you can choose the one which is suitable for you. This way you can create your own customized tour for however long you'd like.
Most of the tours are walking tours, so you will mainly use public transportation. This gives you a chance to go sightseeing and explore the city. By using public transportation, you will be able to observe the daily lives of the local people. However, there is also the option of hiring a private car and driver for your tour or just to get around. The option is very helpful and beneficial for the elderly, including those who are disabilities. Catching a taxi is also fine, but sometimes you just can't find one, so having a car just for you is pretty convenient.
You can also look at the guides' profile videos to see their personalities and also take a look at the reviews they received from other customers. This is an important step in choosing a tour. In most places, you aren't able to choose your guide or see what they look or sound like before the day of the tour. But, with our service, you will get to know the guide before hiring! Having a pleasant traveling companion will make your trip more amazing. So choose the perfect guide for you and enjoy the spring time in Tokyo.
Blogs About Tokyo
Cherry Blossom Season in Japan: 5 Best Spots in Tokyo
13 Top Tokyo Tourist Attractions by Local Guides
Shinjuku Gyoen Park: Tokyo Top Park You Must Visit
Shinto Shrine: Top 7 Shinto Shrines You Must Visit in Tokyo Japan
The 7 Top Places for Matcha in Tokyo: The Real Japanese Flavor