As one of the oldest cities in the world, Athens is fantasized as the perfect romantic getaway. When all is said and done, and the allure of the ancient relics slowly fades into the stress of planning and preparing, you may be asking yourself, "Is Athens really worth visiting?"
We've been in this exact situation before, and so GoWithGuide has curated a list of all the information you'll need to prepare for your Grecian adventure.
When it comes to traveling, visitors should know the good, the bad, and the ugly (or the great!) of the city you will be touring.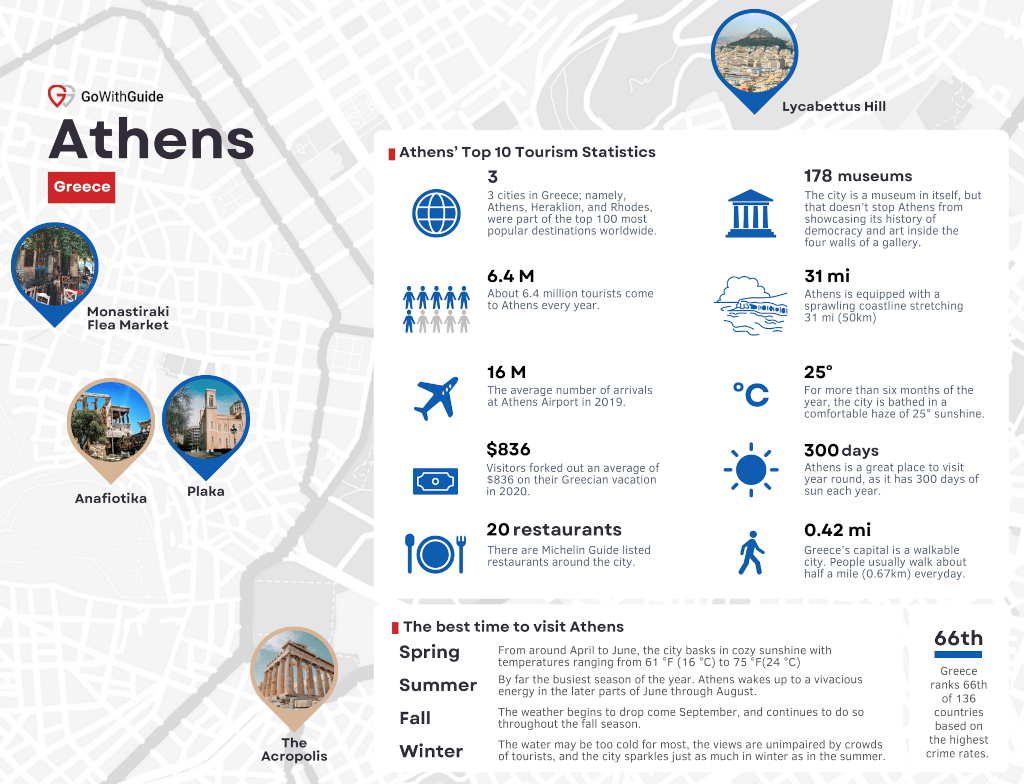 Athens' Top 10 Tourism Statistics
3:

3 cities in Greece; namely, Athens, Heraklion, and Rhodes, were part of the

top 100

most popular destinations worldwide.

6,400,000:

About

6.4 million

tourists come to Athens every year to experience life on the Mediterranean.

16,404,000:

That's the average number of arrivals at Athens Airport in 2019.

$836:

Visitors forked out an average of $836 on their Grecian vacation in 2020.

20 restaurants:

There are Michelin Guide listed restaurants around the city, making for an amazing gastronomic feast.

178 museums:

The city is a museum in itself, but that doesn't stop Athens from showcasing its history of democracy and art inside the four walls of a gallery. In the whole of Greece, feel free to traipse through one of the

178 museums

across the country.

31 mi:

Not only is Athens the largest of cities in Greece, it is also equipped with a sprawling coastline stretching 31 mi (50km).

25°:

Athens is in the Attica Region, one of the

warmest areas in Greece

. For more than six months of the year, the city is bathed in a comfortable haze of 25° sunshine.

300 days:

Athens is a great place to visit year round, as it has 300 days of sun each year.
0.42 mi: Greece's capital is a walkable city. This means that tourists and residents alike will be seen ambling through the cobblestone streets throughout the day. People usually walk about half a mile (0.67km) everyday.
FAQs about Athens
There is so much to do, see, and try in the city of Athens, that sometimes, planning a trip would feel like a daunting task. After scrolling through pages upon pages of travel guides, you might end up with a longer list of questions than you started off with. And so, we've curated a list of some of the frequently asked questions we get about traveling to Athens to ease you of your worries.
Is Athens worth visiting?
Athens dazzles in tourism blogs and travel magazines, with its crystal blue waters, and spells of sunny days. If you come to the island prepared, we assure you Athens will be a trip well worth taking.
For first-timers to the island of the gods, an Athens tour showcasing the city's highlights and best attractions will be your safest and best bet. By customizing the tour to your whims and wishes, you can easily visit many of Athens' top attractions.
Our Top 5 Must See Athens Attractions
The Acropolis

Plaka

Anafiotika

Monastiraki Flea Market

Lycabettus Hill
We suggest you take a look through our top 5 must-see Athens attractions to learn more about these amazing landmarks.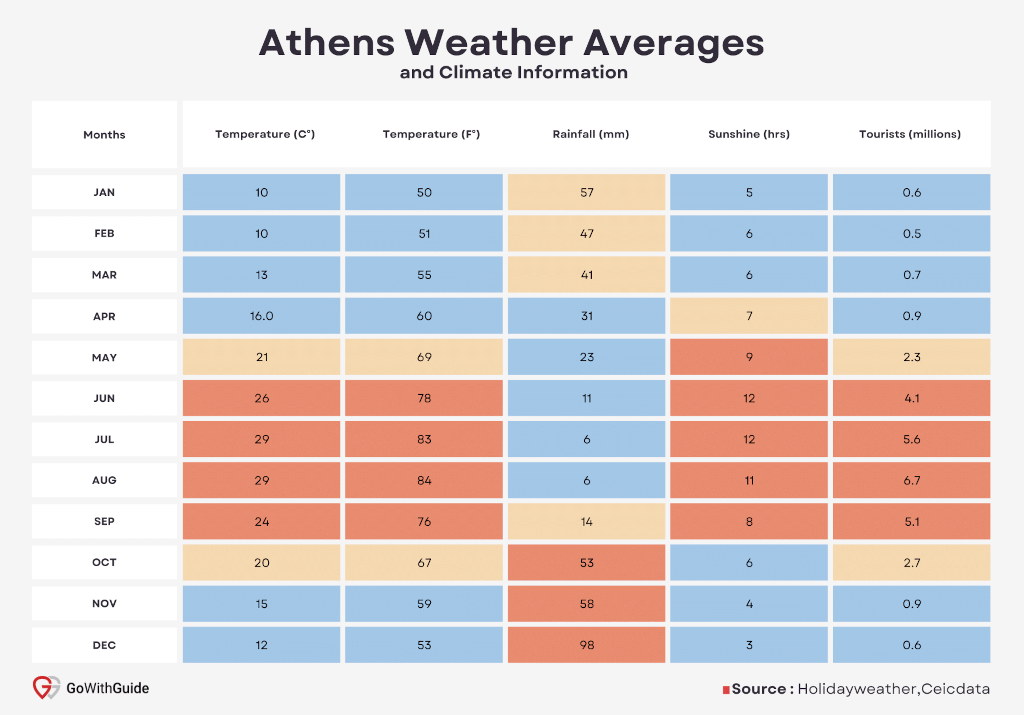 When is the best time to visit Athens?
This here's a tricky one. It's tricky because Athens is a year-round destination, even if it is mostly well-known to be a summer hotspot.
Spring - From around April to June, the city basks in cozy sunshine, with temperatures ranging from 61 °F (16 °C) to 75 °F(24 °C). It is also much less crowded than the peak summer months, and so you can enjoy lunch by the sea, some outdoor festivals, and of course Athens ruins and historical landmarks in relative solitude.
Summer - By far the busiest season of the year, and it's easy to see why. Athens wakes up to a vivacious energy in the later parts of June through August. Outdoor activities, from beach sports to outdoor cocktails, simply liven up the atmosphere considerably.
The capital is famous for its warm summers, sandy beaches, and hours of sunshine. So if you find yourself in Athens over the summer holidays, make sure to book a few day trips to the islands for a full Mediterranean experience.
Fall - The weather begins to drop come September, and continues to do so throughout fall. Fall is a great time to visit if you are sensitive to the sun, but beware of rainy spells, as this is the time of the year (together with winter) with the most rain.
Winter - This may surprise you, but Athens is actually a wonderful place to visit in the winter months. There are higher chances of rain as compared to the summer months, but this should not deter you from sightseeing too much. Although the water may be too cold for most, the views are unimpaired by crowds of tourists, and the city sparkles just as much in winter as in the summer.
Is Athens Safe?
Yes! With a crime index of 45.85, Greece ranks 66th of 136 countries based on the highest crime rates. This ranks Greece as a safer place compared to the United States (56th) and the United Kingdom (ranked 64th).
To know about the tourist scams and other tips to keep you extra safe on your trip, talk to one of our Athens private tour guides to get some insight from the locals.
How many days in Athens is enough?
The answer to this question would vary depending on the type of traveler you are, the kind of experience you want to have, and the budget and time constraints that you have to consider. If you really want to have the perfect Grecian escapade, then consult with a local private guide to create the perfect Athens private tour for you.
Or else, you can keep reading to decide which type of traveler you are, and what tour lengths and activities may be available for your Athens trip.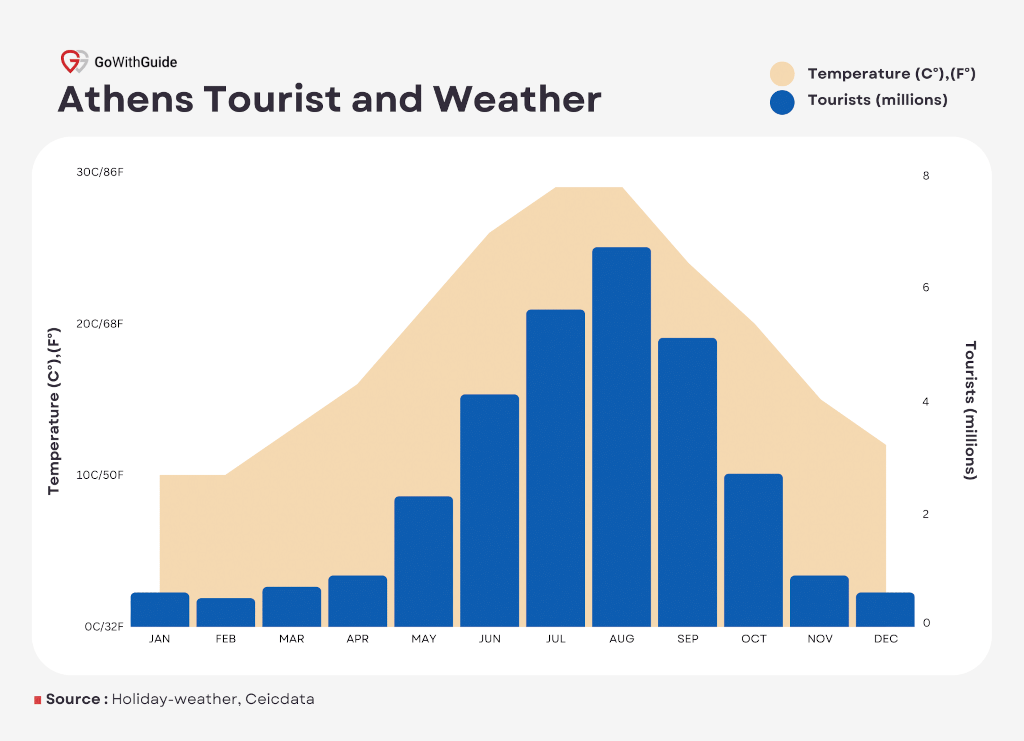 What Kind of Traveler are You?
The History Lover
For lovers of bygone chronicles, Athens is the perfect city to visit. Not only is it labeled the cradle of civilization, it is also the birthplace of democracy, and the land of hundreds of well-known philosophers. For those who really want to prepare, an Athens virtual tour will help you get into the proper mindset before your actual trip.
The Culinary Expert
From mouth watering appetizers like choriatiki and fasolada, to divine mains like moussaka and dolmades, Athens has a delectable food scene that will leave your stomachs full and your heart's content.
On one single trip to Greece, it is impossible to try all the best food in one go. Athens food tours will allow you to enjoy the city's gastronomic gems whilst getting to know a little bit about Athens, its food scene, and more.
The Adventurer
Disappear into the back of the beyond and enjoy Mother Nature's gifts to the Grecian capital by trying a nature tour through Athens' amazing green spaces. If you are adventurous enough, but still hesitant and cautious about safety, have one of our Athens private tour guides escort you throughout your hike. You might just find some hidden gems worth coming back to!
The Luxury Seeker
The celebrity in you just wants a good time, and if you're on vacation, relaxation and wellness are our top priorities. For week-long trips or longer, day trips from the capital will allow you to visit some amazing wellness spas and islands (fancy Santorini?) fit for kings. Of course, a bit of shopping should also be on the list if luxury is the name of the game!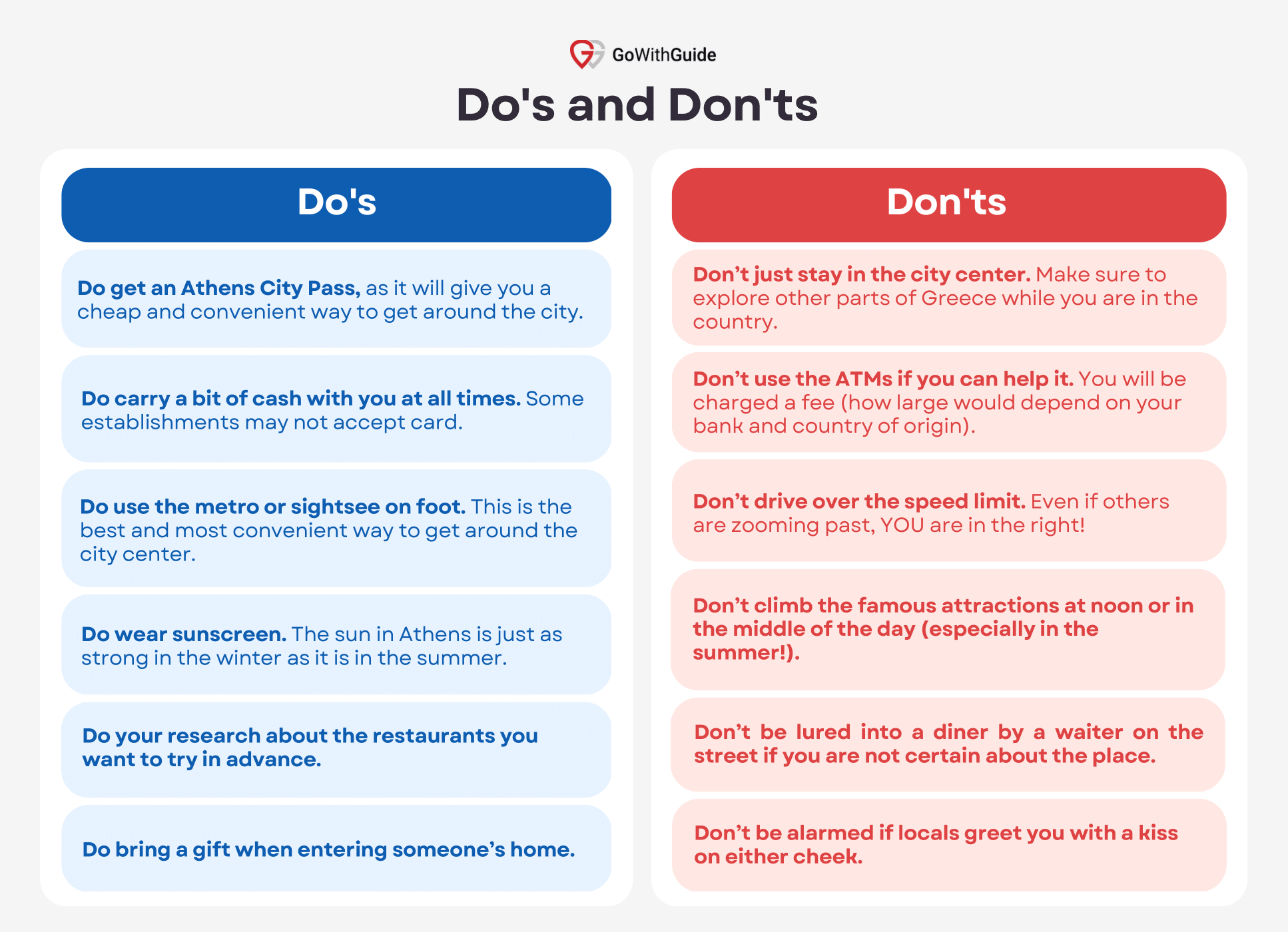 Conclusion
A perfect holiday escapade is not due to accidental circumstance. It takes a lot of planning and preparation, and oftentimes involves some stressful days, angry phone calls, and some last minute changes. Forget your planning worries when booking a private tour guide with GoWithGuide. With our local guides revising and improving your itineraries for you, you are guaranteed a trip worth remembering.