There is the glamour of a bustling city and the magnificence of sprawling nature both in land and in sea, hiding Indonesia's colorful heritage. Beating Japan and the Philippines, the country of Indonesia ranks first in the world for the largest coastline coverage at 54.72 thousand kilometers. Within these coastlines are miles upon miles of beautiful beaches incomparable with the rest of the world.
You would be surprised at how much more the country has to offer aside from its gorgeous beaches. Indonesia is also abundantly rich in biodiversity, historical architecture, and culture. If that is not the full package, then what is?
Southeast Asia is definitely a different type of travel to experience. If it is your first time in the region, we suggest booking a private guided tour to ease your worries. GoWithGuide only hires professional local guides who are trained and ready to answer any of your queries.
Before embarking on your equatorial exploits, read up on all you need to know before visiting incredible Indonesia.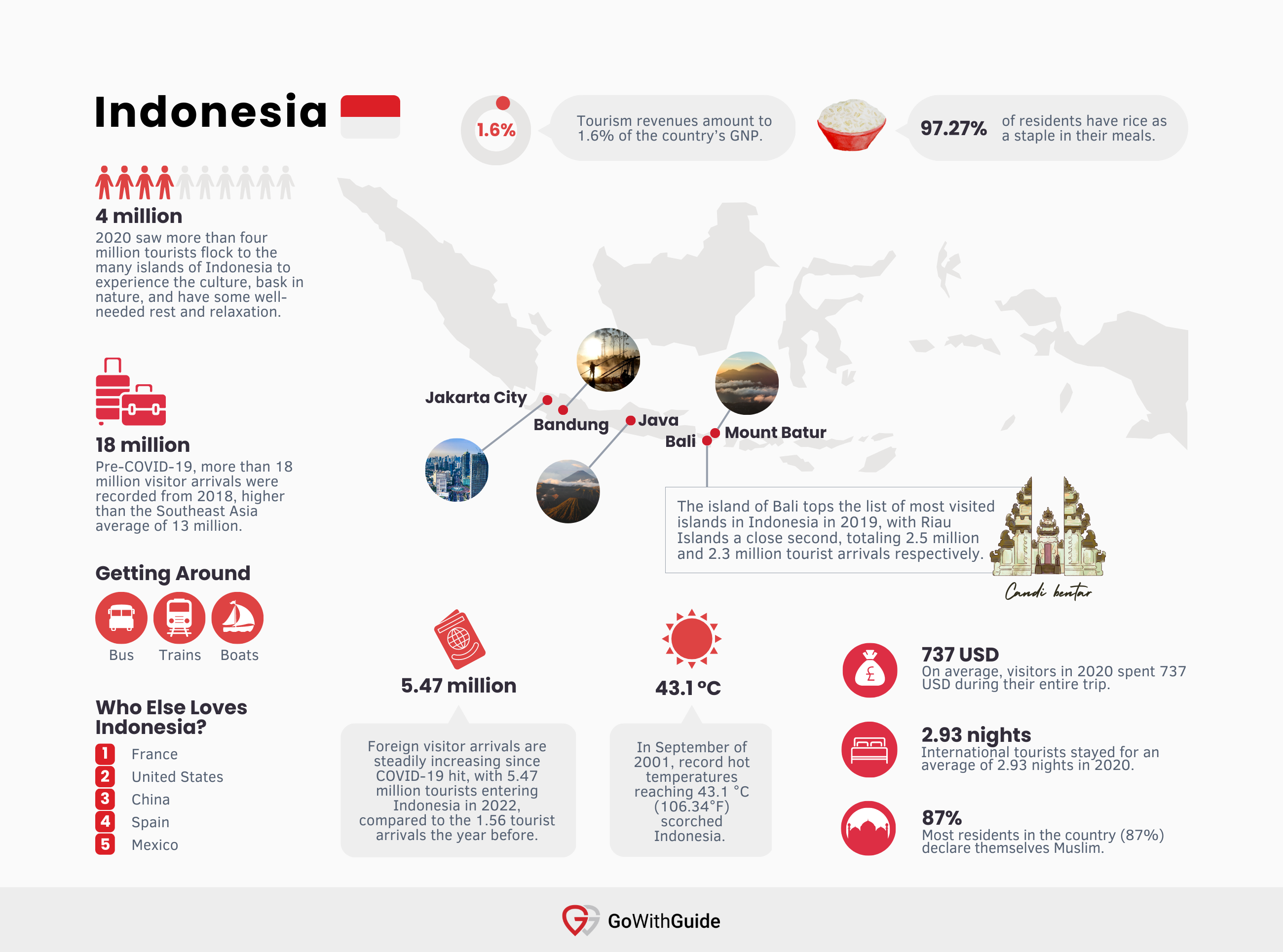 Indonesia's Top 10 Tourism Statistics
Home to 17% of the entire world's biodiversity and more than 273 million people, it is no wonder Indonesia tops the list of travelers wanting to experience the world. The archipelago awaits with 18,110 islands ready to be explored.
Who Else Loves Indonesia?
An interesting mix of countries top the list of international tourism arrivals in 2019, with European, North and South American, and Asian countries making an appearance.
France

- Tourists from France were the largest contingent of inbound visitors with more than 200,000 tourists visiting Indonesia.

United States

China

Spain

Mexico
Life in Indonesia
Indonesia has something for every type of traveler. For the foodies, food tours introducing you to the authentic tastes of satay, pece lele (catfish), and nasi liwet (Javanese rice) will leave you hungry for more. If you love adventure, exploring the country's many mountains and seas will strengthen your wanderlust. For the art aficionados, a trek through Indonesia's traditional sites and attractions will take you back in time.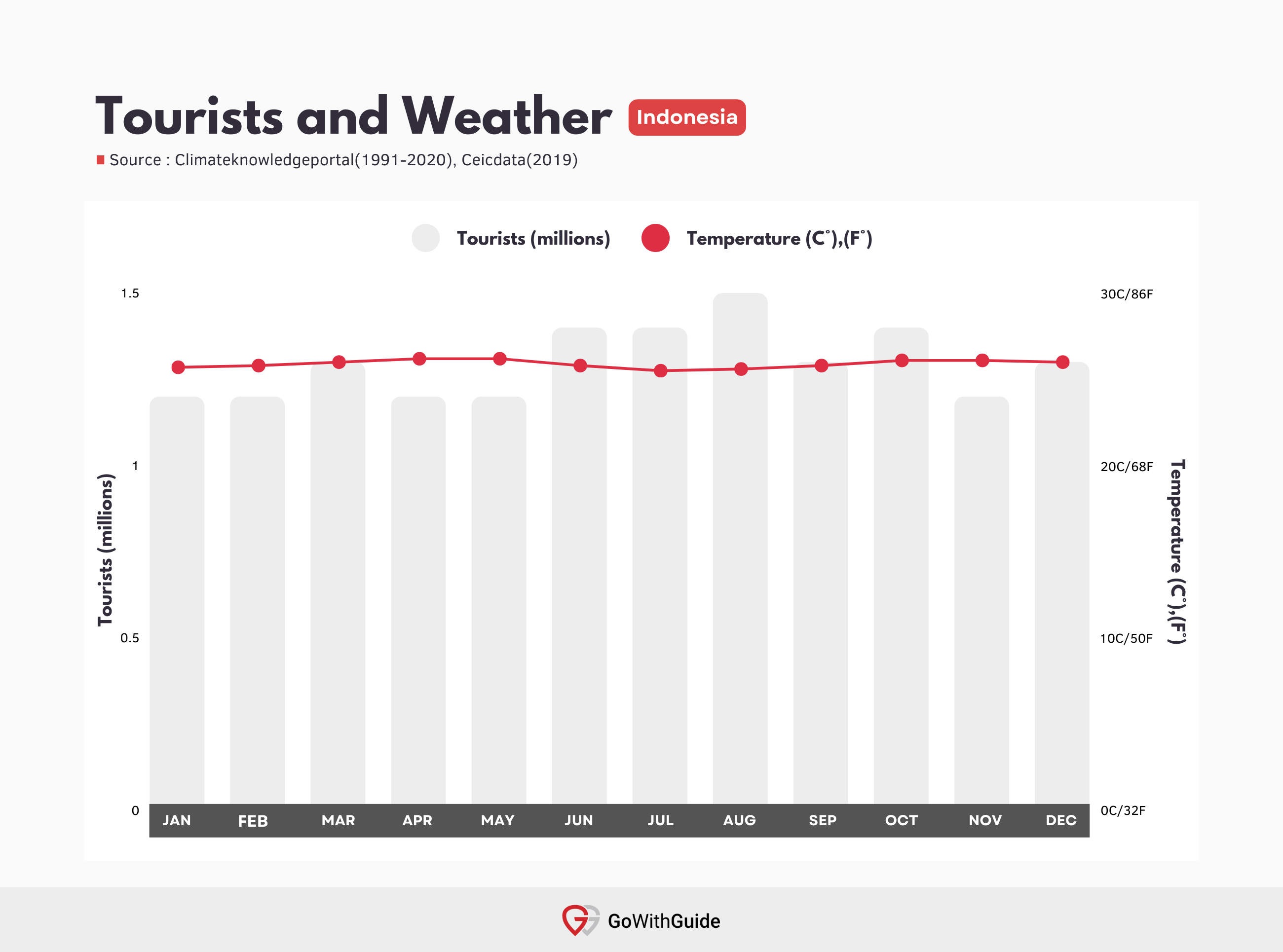 Top 5 Must See Indonesia Attractions
Jakarta City
Downtown, Jakarta blends Islamic culture and high class residential modernities like antipodes. Jakarta is the capital that keeps on giving, with extraordinary attractions such as the National Museum containing more than 140,000 collections of history and prehistory, the biggest mosque in the country in the form of Istiqlal Mosque, as well as China Town.
Mount Batur
Meeting up at Toya Bungka Village hours before sunrise, everything is still and the sky is dim. A local briefs you about Mount Batur, sharing a bit of its history and what to expect. He expects to give a more detailed account of the mountain on the hike to those eager to learn more. Reaching the crater, you are greeted with a lovely view, some delicious smelling breakfast, and whispers of a hot spring bath on the way down.
Bali
There is so much to do on the island of Bali, you could easily spend weeks without getting bored. Find yourself in Ubud, where UNESCO-listed rice terraces reign and the grand Tegenungan Waterfall and Sacred Monkey Forest Sanctuary can be enjoyed. Otherwise, lounge at Padang-Padang Beach before watching the entrancing Uluwatu Kecak Dance. In order to get the most of your visit, speak with our local guides to get the most accurate and up-to-date advice as to how to plan your days.
Java
Lying in between Sumatra and Bali is the island of Java, volcanic, historical, and undeniably beautiful. Hear the Buddhist stories to attain Nirvana at Borobudur Temple. Once spiritually refreshed, wake up your senses in the active crater at Kawah Ijen.
Bandung
Ever seen those markets in boats? Yes, you can find them in Bandung, specifically in the Floating Market Lembang. To get the best deals, book a private tour with a local guide so as not to get the "tourist price" of items and food. For the children, take them to the Great Asia Africa, a theme park with replica villages from the region, as well as a mini zoo.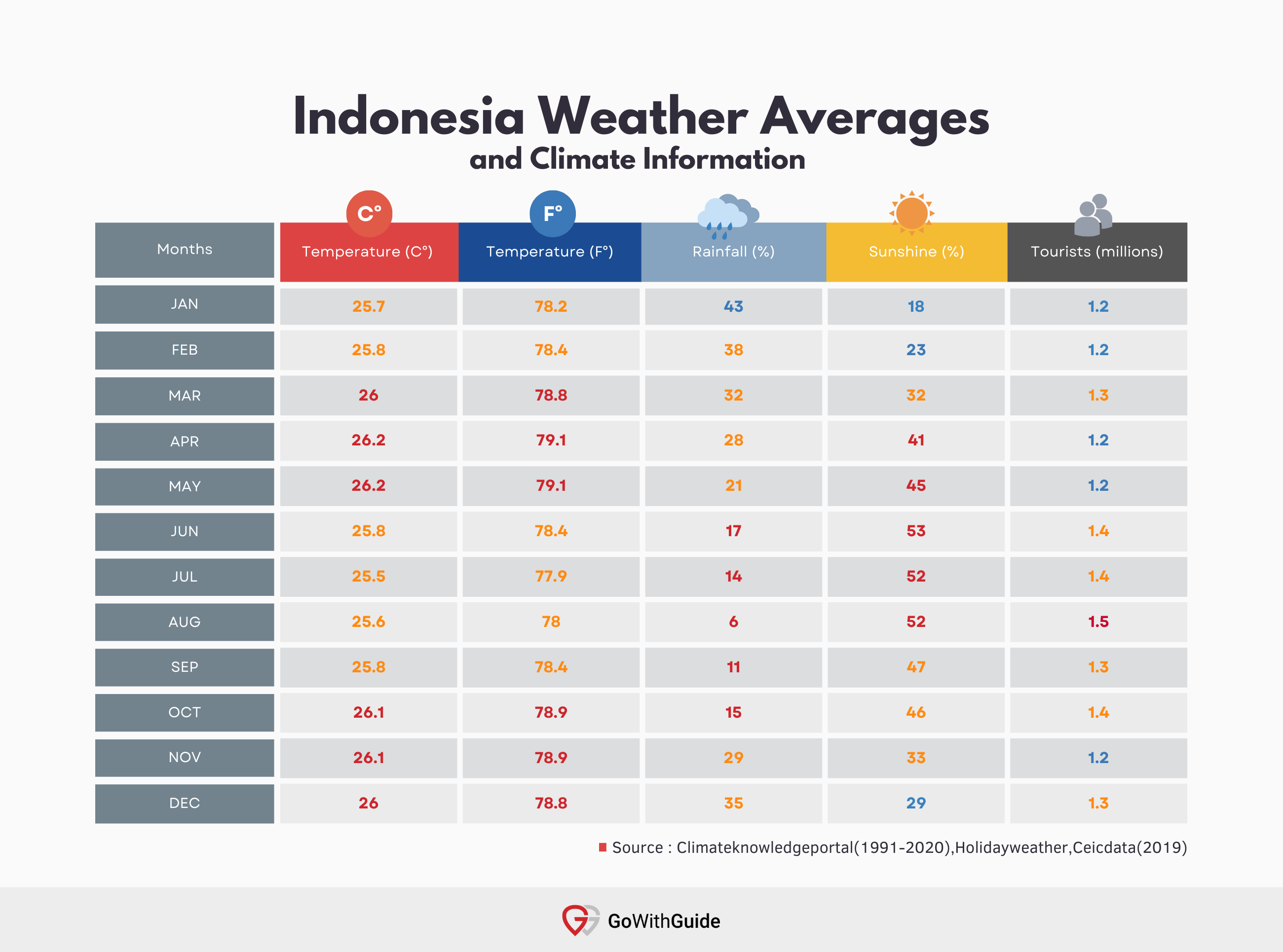 Best Time to Visit Indonesia
If you are in search of calm seas and blue skies, then Indonesia is best visited during its dry season from May to October. Although rain showers may occur during this time, these storms are definitely less frequent than in the wet season from November to April.
With highs of 31°C (87.8°F) and lows of 21°C (69.8°F), the country's weather follows many of the other equatorial regions nearby. If you are looking for clear skies and inviting temperature, then July and August are the best months for you.
How to Get Around Indonesia
Buses - This is the main way both locals and tourists get around, specifically in minibuses called angkots, short for angkutan kota, or public transportation.
Trains - More comfortable than buses, trains are your next best bet for transportation. Like most countries, the lines are mostly in central areas. Depending on where you would like to go, there may or may not be a train line available. Check the official train website for more information.
Boats - Boats and ferries will get you to the islands in but an hour or two. Make sure you book your tickets well in advance to ensure seats on your desired travel date.
Safety in Indonesia
Indonesia was ranked 14 out of 43 Asian countries in the list of Safety Index Rankings in 2021. The country is a relatively safe country to visit, but just like in any country, make sure you are aware of your surroundings. Pickpockets may abound, and taxi and ATM-related scams may occur.
In order to make the most of your tropical adventure safely, hire a private guide to whizz you through all the most interesting attractions. Having a local with you will not only assimilate you to the culture, but they can also recommend off-the-beaten path alternatives as well as suggest the best times to visit certain attractions.
Dos and Don'ts in Indonesia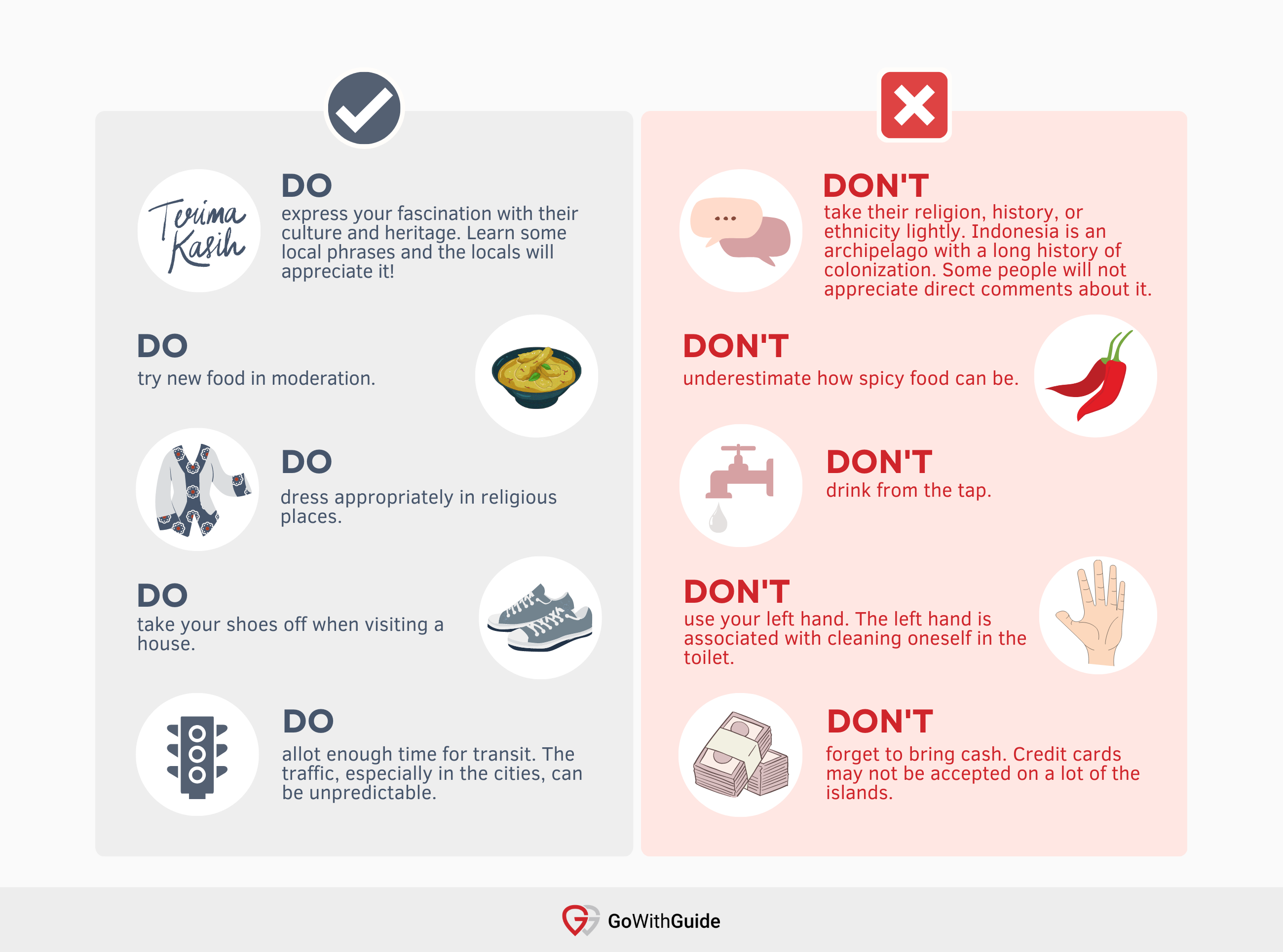 Conclusion
Indonesia has everything you need for a perfect summer vacation. This equatorial jewel will not only leave you refreshed, but even revitalized after spending some time in the country's spiritual nature.
For your next holiday destination, take your pick of one of the amazing islands dotted around Indonesia. Make sure to book your private tours with our local guides in advance to ensure we can provide the best service on your desired travel dates. Be the first to share these statistics and important information with friends and family. They will definitely add Indonesia to their bucket lists!