Bearing all its beauty and splendor, London makes space in its teeming streets for locals and tourists to live through a romantic movie plot in real life. The city is a bundle of exciting contradictions - busy yet civilized, plain but royal, sweet though spirited. Exuding an energy so unique and fresh, London's boulevards will make you fall in love in an instant.
You've already visited Buckingham Palace, had some champagne afternoon tea at the Ritz, and explored the British Museum. The next box you must tick on your itinerary is some good old shopping. Lucky for you, London appeals to every type of shopper. It doesn't matter if you are there for a bargain or on a hunt for some bespoke pieces; the English capital is eager to fulfill your retail wishes. There are a variety of amazing shopping destinations in London, and our guides got to work and handpicked five of our favorite retail spots for you to enjoy.
Oxford Street - London's Shopping District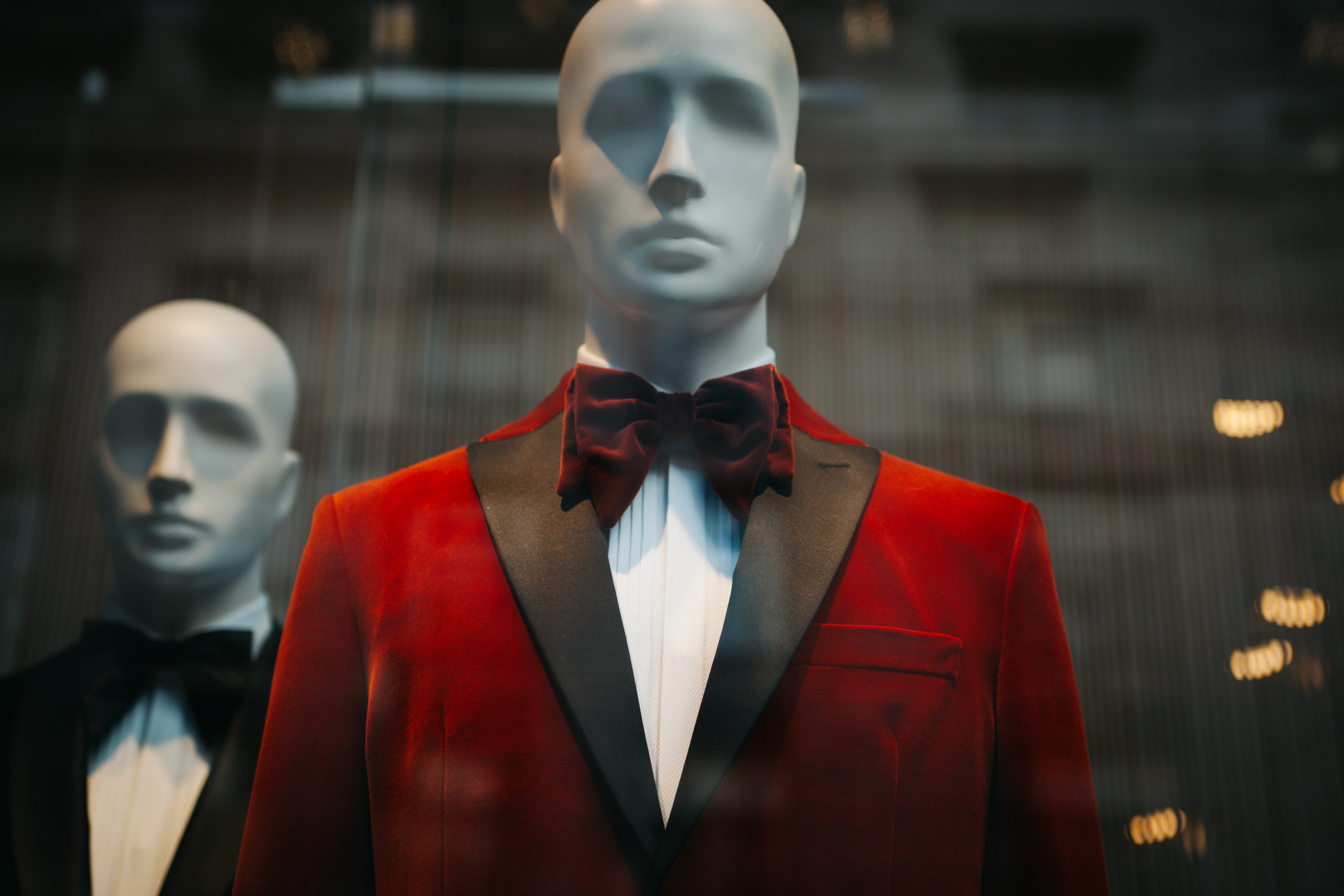 It is exceedingly hard to beat this retail paradise perched comfortably in the heart of London. Home to well over 300 shops and offering designer brands and flagship stores galore, Oxford Street is a staple favorite for celebrities and visitors throughout the seasons. It is like the grandfather of retail streets in London, and therefore an important stop in your shopping escapade. As one of the largest shopping districts of the capital, Oxford Street does not disappoint with its lineup.
Enter Selfridges - its historically protected flagship store is equipped with 27 dazzling ground floor windows for window shopping and daydreaming. Since 1909, the department store has been known for its huge shoe department, an extensive own-brand selection, as well as various in-store services to keep you busy throughout the day. Selfridges isn't just another London store: it is an institution.
Another heavy hitter iconic in the United Kingdom is none other than Debenhams. With seven floors of fashion and consumables both local and international, this department store will definitely give you a genuine British shopping experience. As you walk around with your bright yellow Selfridges bags and bursting Debenhams haul, your final stop should be a trip to Primark's flagship store. Perfect for the kids and teens, this Irish retailer makes for a good bargain.
Covent Garden - The Piazza of Dreams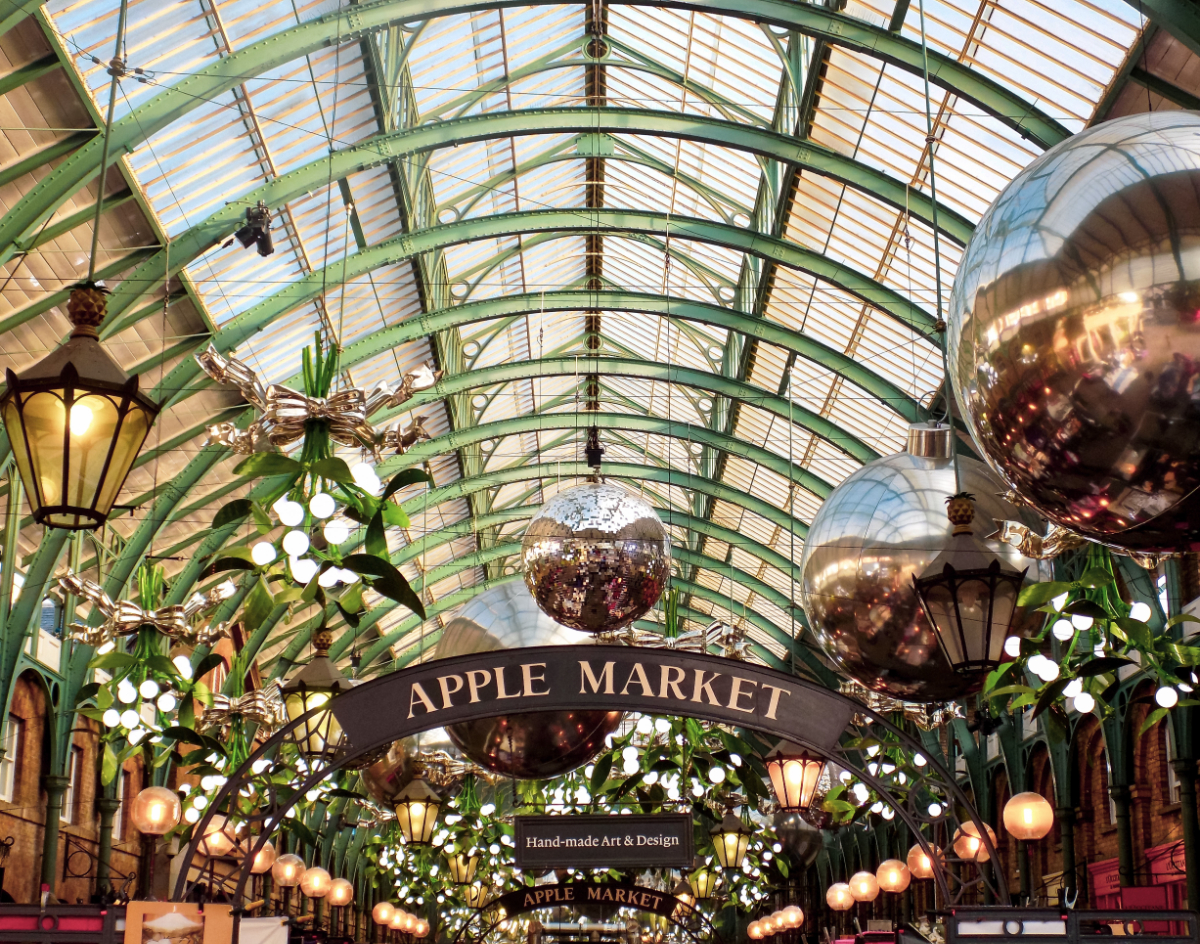 Traipse the streets of My Fair Lady and gaze at the spectacle of architecture that is Covent Garden. The market is a maze - what once was three markets has turned into an expanding retail village. Stroll through Apple Market, where handcrafted goods from jewelry to watercolor take center stage. Find yourself on the east wing and enter the delicious smelling East Colonnade Market, lined with sweet soaps and even sweeter treats. Go crazy at Jubilee Hall where vendors change every week. Each time you go, you're sure to have a unique experience.
If it is more clothes you are in search of, then head over to Long Acre, Covent Garden's main thoroughfare where you can find British brands such as Aspinal of London and AllSaints, as well as all the global brand favorites. Floral Street is host to even more international and British stores in the forms of Ted Baker and Paul Smith. And for the young and sprightly, a visit to Neal's Yard is of utmost importance. Colorful being an understatement, this area is perfect for a nice coffee break and photo opportunity.
Covent Garden is massive, holding not only the markets and its stalls, but also beautiful landmarks and architecture. This can make navigating this cobblestone fairytale overwhelming. We suggest you be escorted by one of our local guides who can help you get in touch with stylists and find the perfect stores for your taste. Create a customizable tour with GoWithGuide, and experience London like never before.
Coal Drops Yard - The Quirky New "It" Place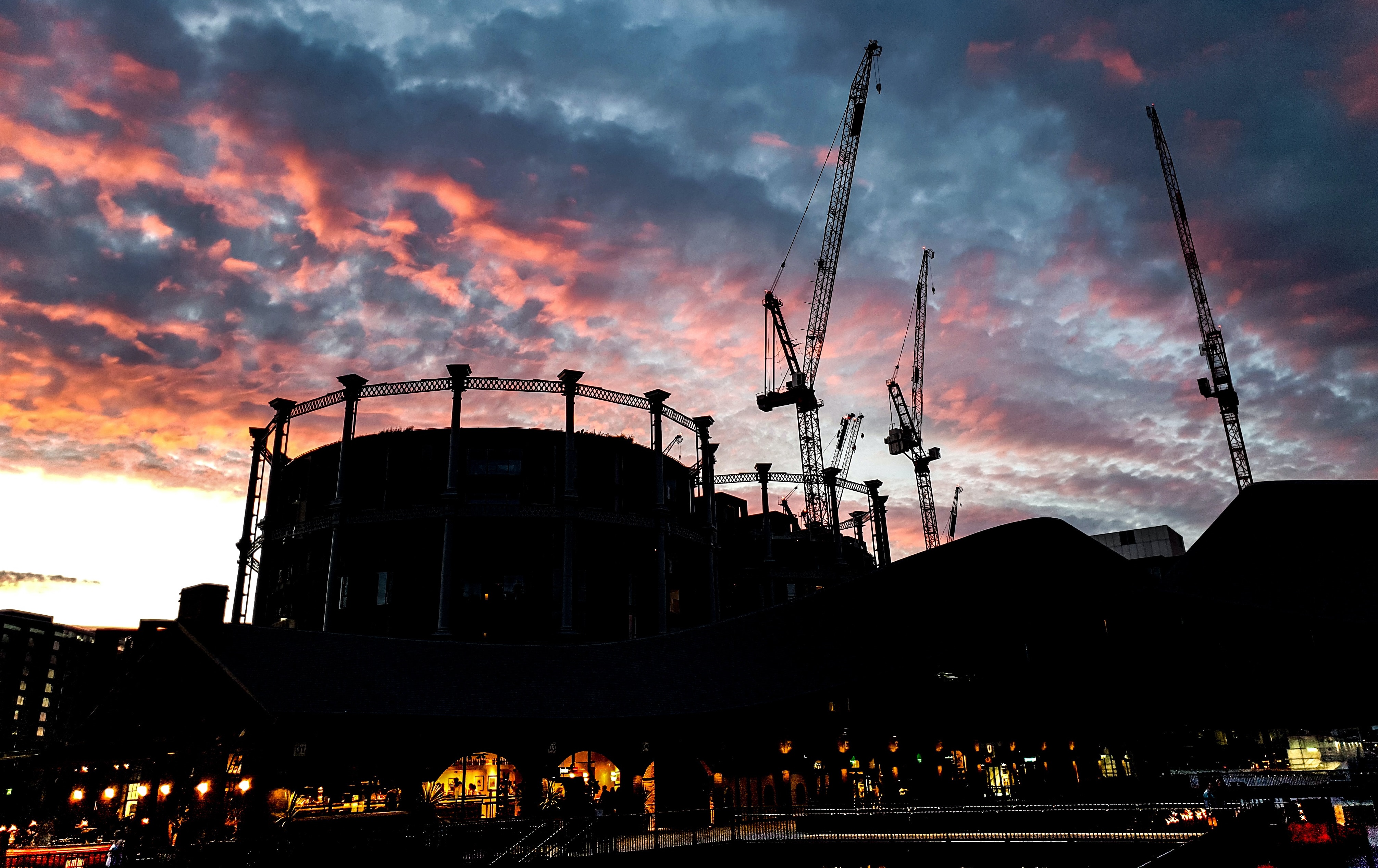 Relatively new to the shopping scene is Coal Drops Yard in King's Cross. True to its name, the shopping district was once a coal shed used for the transport of coal coming from South Yorkshire to load into the boats on Regents Canal. The buildings have since been redeveloped mostly by Heatherwick Studio, and have become the new hip and trendy landmark for a good time.
As you walk towards Coal Drops Yard, look up and admire the "kissing roof" entrance, Heatherwick's magnum opus. Breeze through the elevated garden walkway inspired by New York's High Line. And of course, shop 'til you drop at Margaret Howell and Wolf & Badger. This shopping utopia is the place to go for a relaxing retail venture if you are pressed for time, as it is only a few minutes away from King's Cross St. Pancras and is much less crowded than the long-established districts of Oxford and Covent Garden.
Notting Hill - Bohemian, but Make it Haute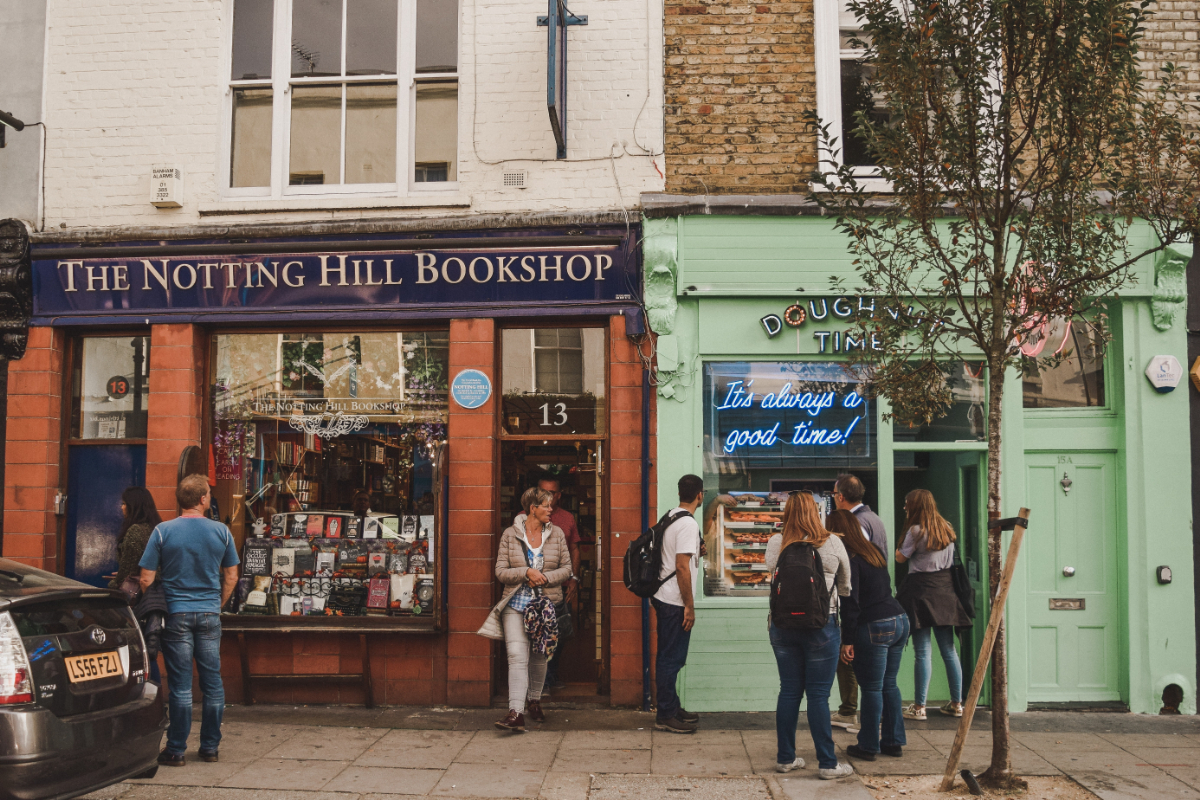 More known for where Anna Scott met her destiny in William Thacker, and less known for its shopping is Notting Hill. Home to a variety of shops from vintage to designer, Notting Hill's cobblestone streets cater to diverse cultures, styles, and budgets. Portobello Road Antiques Market is worth the trek for its collection of vintage knick-knacks and traditional stalls and arcades. Luxury boutiques including L'Appartement Sézane and Aimé have also found residence in this stylish neighborhood.
Aside from retail, a host of interesting specialty shops on Portobello Road will prove beguiling. Search for havens of alternative music, cases of unique literary wonders, and hole-in-the-wall stalls for the best coffee. During the summer, the neighborhood transforms itself to hold the Notting Hill Carnival, a celebration of West Indian culture. Join the merriment on the streets and enjoy the dancing and festive air. Notting Hill never fails to bring fun and excitement to the quarters of London.
Knightsbridge - Bespoke and Made-to-Measure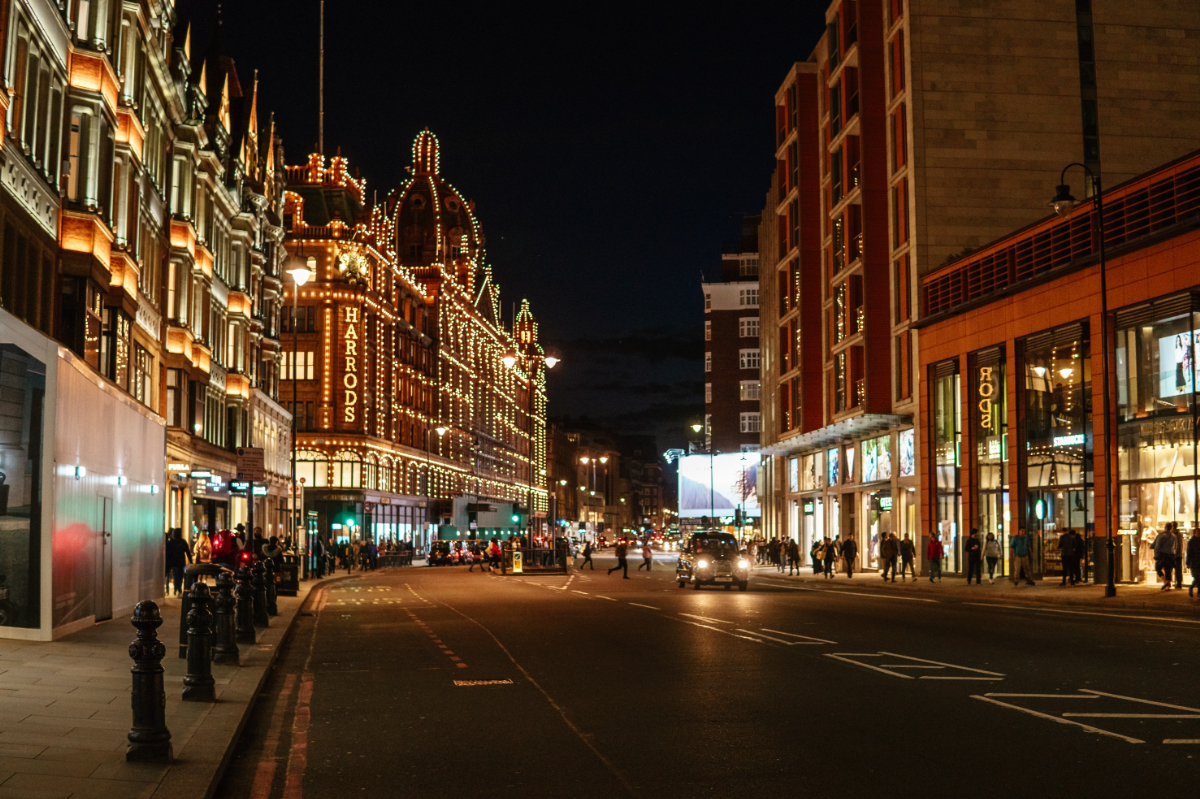 Here is where luxury and excess meet the modern conveniences of city shopping and pedestrian streets. Lined with high-end boutiques fluent in any and all things couture, Knightsbridge carries an abundance of reasons to visit, the most popular of which would probably be Harrods.
This 7-storey, 19th century building accommodates hundreds of luxury stores from retail to homeware. Big name celebrities such as Beyonce and Kate Middleton do their shopping here, and we can see just why. Harrods not only has a prolific collection of luxury boutiques, but also its own internationally acclaimed brand. The exterior and interiors of the building do not disappoint, with Egyptian escalators connecting the seven floors, and a beautiful baroque-style dome. Harrods isn't the only heavyweight in Knightsbridge. Harvey Nichols, Gucci's flagship UK store, Hermes, and Christian Louboutin also attract shoppers for good reason.
Conclusion
Our guides agree that London is a lovely place to shop. The city has stores permeating with heritage and boutiques filled with art. A retail tour around the city is like hitting two birds with one stone - you get to see and appreciate the sights, and fill your luggage with bounty at the same time. If you find yourself in the bustling city of London, GoWithGuide can help you customize and ensure an unforgettable adventure.
Image Source: https://unsplash.com/