Organizing a trip to London?
When planning your dream vacation, you may find yourself faced with a flurry of questions. If this is you, then we suggest you read on. Let GoWithGuide answer everything you need to know before you hit the road for your UK adventure.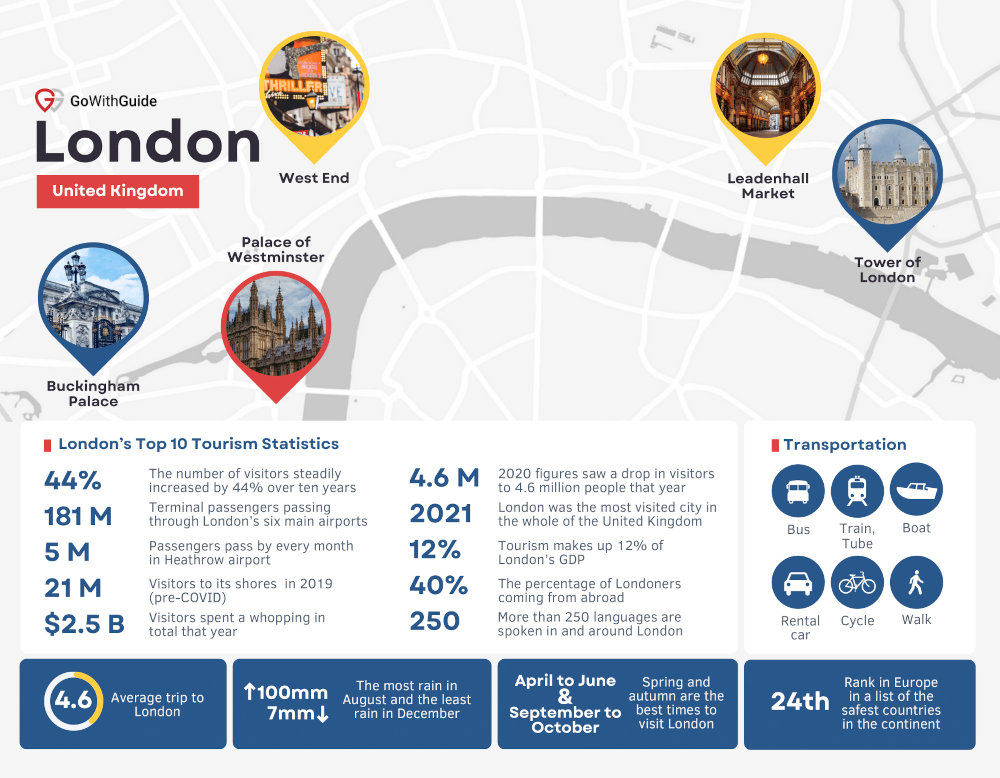 London's Top 10 Tourism Statistics
44%:

From

2009 to 2017

, the number of visitors steadily increased by 44% over those ten years.

181,000,000:

International air travel saw its peak in 2019, with 181 million terminal passengers passing through London's six main airports.

5,000,000

: Heathrow airport, one of the busiest airports in Europe, sees over 5,000,000 passengers pass by every month.

21,000,000:

In 2019 (pre-COVID) alone, the

City of London

greeted 21 million visitors to its shores and 7.44 million people to its various attractions.

2,104,000,000

: Visitors spent a whopping £2.104 billion ($2,585 billion) in total that year.

4,600,000

: 2020 figures saw a drop in visitors to 4.6 million people that year, with 1.56 million of that statistic entering the city's attractions. Visitors spent £409 million ($502 million) in total that year.

2021

: In 2021, London was the most visited city in the whole of the United Kingdom.

12%

: Tourism makes up

12% of London's GDP

, with one in seven jobs related to the field.

40.6%

: The percentage of Londoners

coming from abroad

has reached 40.6%.

250

: More than 250 languages are spoken in and around London, with English topping the chart, and Bengali coming second.
Frequently Asked Questions about London
1. Why do tourists visit the UK?
The main reasons visitors flock to the UK, and specifically London, are for seeing friends and family, for business, and for sightseeing. Not only do you have museums and art galleries to traipse through, but there too are amazing historical attractions to admire. Lovers of food, architecture, and art gather in London to experience some of the best sceneries in the world.
A London private tour might be the best bet for you if you want to experience only the best and the most sought after pursuits. Not only will you be seeing the city in style, safety, and splendor, you will also get to pick and choose the exact attractions you'd like to visit. A customized experience is yet to be beaten!

2. What are the best things to do in the city?
London overflows with things to do and sights to see, it may feel overwhelming if you want a relaxing trip. For first-timers in London, the most popular attractions to visit include:
Palace of Westminster

Buckingham Palace

Tower of London

Leadenhall Market

West End
You might also be interested in: Top 5 Must See London Attractions
3. What is the best mode of transportation?
London's public transportation system is applauded by many countries, making it easy to use the trains, the Underground (locally, the Tube), buses, and even boats. We suggest looking into a London car rental if privacy is your priority. But if you would like to travel like a local, then public transport is absolutely fine. Buy a Visitor Oyster Card for £5 ($6.15) beforehand, as this smartcard allows you to pay for almost all modes of public transportation available in the city.
A single bus fare will set you back £1.65 ($2), while train rides range from £3-5 ($3.69-6.15) depending on the zones in which you travel through. If you're the active type, you can definitely try out a walking tour. For something a little less tiring but still as adventurous, hiring a Santander Cycle is the best alternative for you. At £1.65 ($2) for 30 minutes, these convenient bicycles will get you to your favorite attractions in style.
4. When is the best time to visit?
Spring and autumn are the best times to visit London. From April to June and September to October, expect to enjoy the mild weather with other tourists. Because it is the best time to go, the city tends to get quite busy, but definitely not as busy as the summer months. If you want to have a more festive experience, then flying over to London during the Christmas holidays will deem bright and beautiful.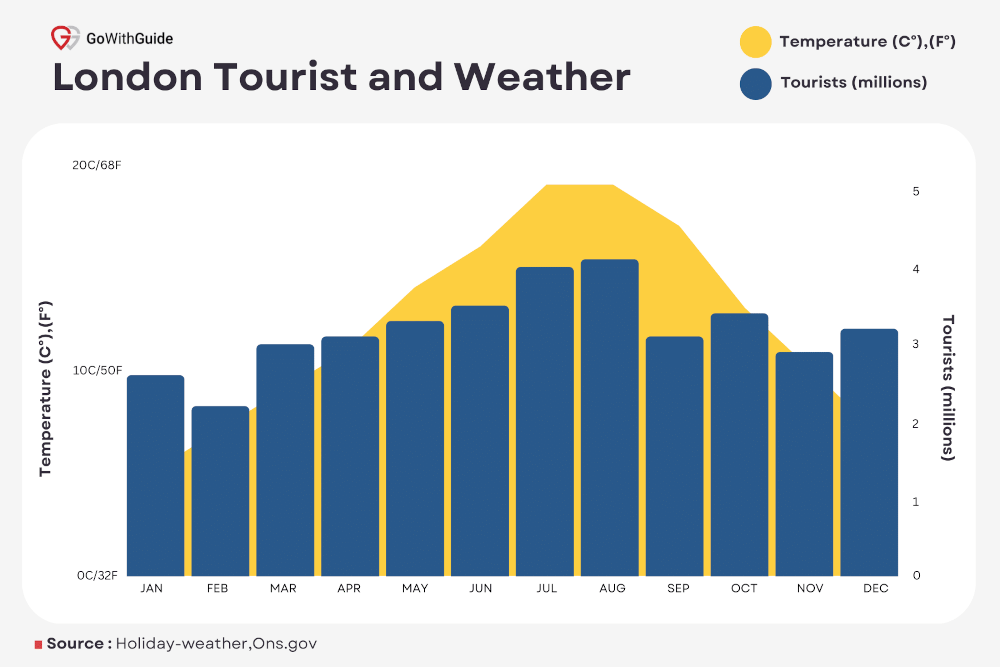 5. How many days is the average trip to London?
For tourists, the average length of stay in London equalled 4.6 days. London can be enjoyed at different lengths depending on your preferences. For first time visitors and people who would like to spend their time leisurely, a trip to 5 days or more is recommended.
You might also be interested in: How many days do you need to fully enjoy your trip to London?
6. Does it really always rain?
It does rain quite frequently in the City of London, but fear not! It is usually just a drizzle and shouldn't impair your sightseeing for too long. London gets the most rain in August, at around 100mm, and the least rain in December, at around 7mm.
Make sure to carry around a raincoat or umbrella at all times.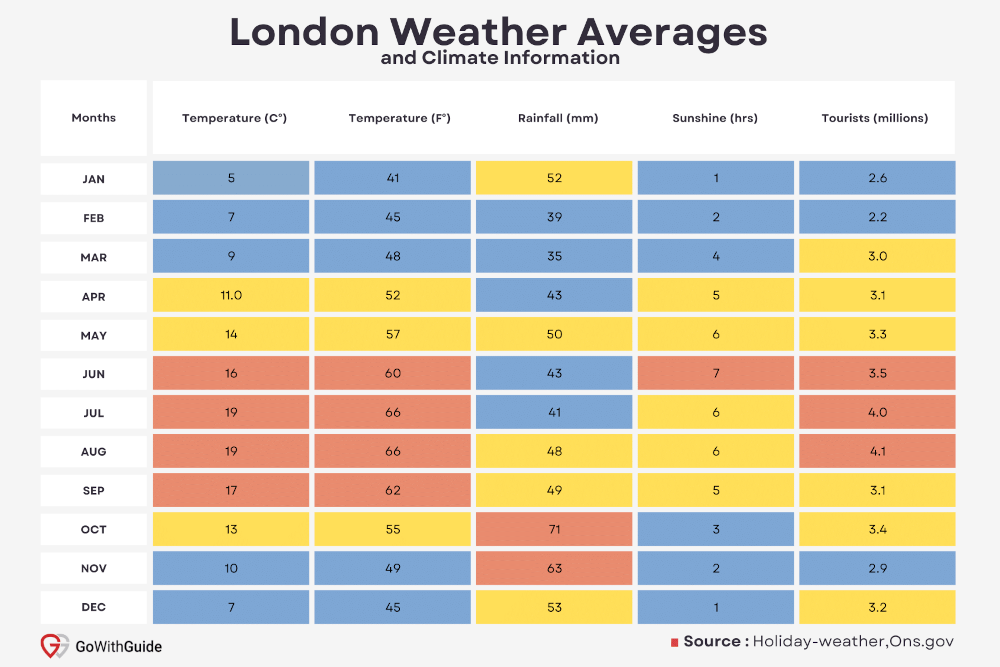 7. Is it safe?
According to the Global Peace Index of 2022, the United Kingdom ranked 24th in Europe in a list of the safest countries in the continent. Although London is a relatively safe place, be aware of your surroundings when in public transportation and in crowded areas.
As with any tourist area, pickpockets may abound. If you feel uneasy about these kinds of situations, then we highly recommend touring with a local guide who is versed in the intricacies of the city. In this way, you will not only tour through the most impressive and iconic sights, you will also be doing so safely and hassle-free.
Who Else Loves London?
London is truly a melting pot of cultures and backgrounds, making it an inclusive and comfortable place to visit. Visitors from all around the world flock to the country throughout the four seasons to enjoy a proper British experience.
Back in 2019, a grand total of 15,079,000 people explored the British capital. The USA, France, Germany, Italy, and Spain topped the list of international visitors for that year.
USA - About 3.6 million Americans relished the British flair in 2019, topping the charts for the number of visitors per country. Tourists will have no problem communicating, as the main language used in the UK is English.

France- Although English is the primary language here, you'll find many residents and visitors speaking dozens of other languages at the same time. French would definitely be one of them. 990 million French people crossed the border to neighboring England in 2019.

Germany- 809 million

Italy- 385 million

Spain- 556 million
What Kind of Traveler are You?
Before you begin your trip, it is essential to understand what kind of traveler you are.
The First Timer
For first timers, it is a MUST to visit all the iconic and beautiful landmarks the City of London has to offer. You can do so with one of our trusted local and professional guides. Our guides will usher you through London's Gothic architecture, recommend the best West End shows, and book a seat at the most sumptuous of restaurants!
You might also be interested in: Top 5 Must-See London Attractions
The Adventure Seeker
The road less traveled may well be the most enticing exploit of the adventure seeker in you. If you are the type of traveler who revels in history, mystery, and adventure, then the famous streets and lively tourist attractions might not float your boat. Get to know London from a different perspective. With our seasoned guides, learn about some of the underappreciated gems of the city. Feel just like a local and explore London the authentic way.
You might also be interested in: 5 Hidden Gems to Visit in London
The Foodie
If you are enticed by the sumptuous smells of London's best restaurants, then let the foodie in you fully enjoy a gastronomic experience of a lifetime. London is equipped with a variety of culinary choices- from picturesque afternoon tea to full on roast dinners. A food tour is definitely the best choice of action for you! Learn about the history of each dish with a private chef, or else dine in the local pub and hear stories of old from the beloved grandmother running the place.
You might also be interested in: Top 8 Most Popular Foods in London
Dos and Don'ts when Visiting the City of London
Truly knowing the ins and outs of a place also includes understanding the culture and manners of its people. This will definitely keep you out of scrapes and misunderstandings, and will alleviate minute difficulties you may face.

Visa Requirements for Entering the UK
If you are coming from the US, then get the bubbly out, because you do not need a visa to enter the UK if you are planning to stay for less than six months. If you are from the EU, EEA, and Swiss citizens also do not need a visa to enter the UK. To check whether you need a visa, take the UK GOV survey to find out.
Conclusion
London is one of the most well-loved holiday destinations in Europe. The cosmopolitan simply pulses with activity and glows with pride from its history and architecture. For a hassle and stress-free holiday, book one of our private, customizable London tours with one of GoWithGuide's London private tour guides for the best experience.