Thanks to its stunning beaches, rich history and incredible cuisine, Mexico is a dream destination for many a traveler. With so much to see and do, it can feel overwhelming to plan your visit to Mexico. We're here to help!
While most countries closed their borders, Mexico maintained loose travel restrictions throughout the pandemic. This allowed tourism to keep going throughout 2020, albeit on a smaller scale. In 2020, Mexico welcomed some 24 million international tourists and in 2022, visitor numbers surpassed pre-pandemic levels.
Whether you're planning to visit Mexico to immerse yourself in the local culture or simply want to work on your tan at a beach resort, having all the key facts and figures at your fingertips will help you plan the perfect holiday. Read on to discover all the need-to-know details!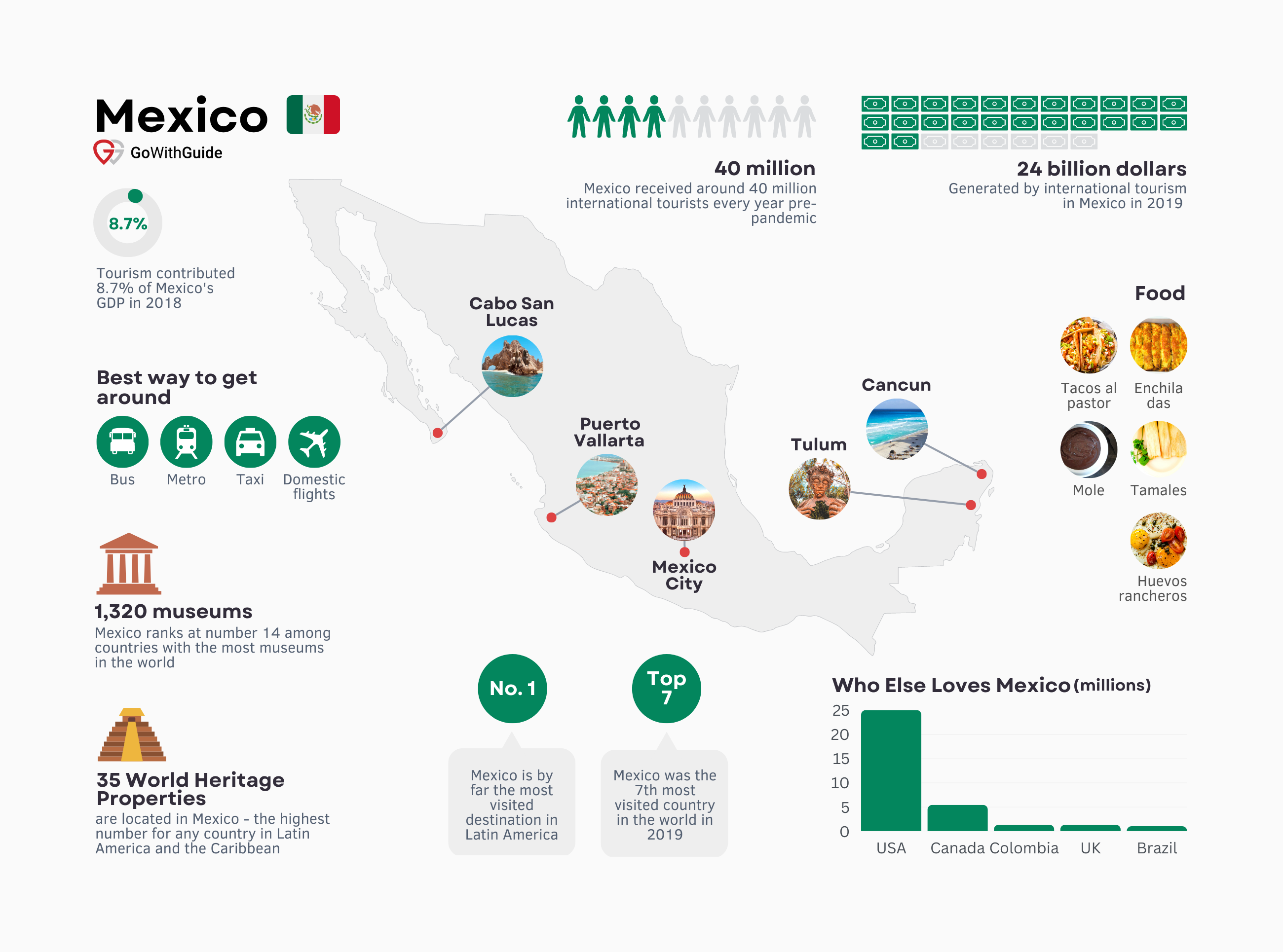 Need to Know Numbers - Mexico Tourism Statistics
Why we love Mexico
So what is it that makes Mexico such a popular destination? Let's take a closer look!
The sites
Mexico is world famous for its beaches and all-inclusive resorts. Besides beach goers and party lovers, the country boasts several destination which attract visitors interested in history, culture and getting back to nature. Here are some of the most visited destinations in Mexico.
The food
From quesadillas to tacos, Mexican food is beloved the world over. Here are some of the most iconic Mexican dishes you simply must try out when visiting the country!
Tacos al pastor

- One of the most popular takes on the classic taco, tacos al pastor are stuffed with slow roasted pork and pineapple. Quirky yet delicious!

Enchiladas

- This iconic Mexican dish features tortillas stuffed with meat, cheese, beans and veggies. The dish is covered in spicy chili sauce.

Mole -

This rich sauce is popular throughout the country. It's made using several different spices, plenty of chili and in its most famous iteration, chocolate!

Tamales

- Dating back to the ancient

Aztec, Mayan and Inca kingdoms, tamales are corn dough pockets that are filled with either sweet or savory stuffing. The pocket is then wrapped in banana leaf and steamed to yummy results.

Huevos rancheros

- This popular breakfast dish starts with fried corn tortillas which are topped with fried beans, fried eggs, hot sauce and fresh coriander. It is truly the breakfast of champions!
Foodie tip: The best way to get a real taste of the local food is to explore Mexico's vibrant culinary scene with a local in the know. If you're a foodie, consider joining a private food tour in Mexico.
Frequently asked questions
Before booking our flights and heading out for that long-awaited holiday, most of us have a few questions regarding our planned destination. Here, we answer the most commonly asked questions travelers have before visiting Mexico.
Is Mexico worth visiting?
That depends. Do you have a thing for beautiful beaches and warm, balmy weather? Are you looking to explore nature or visit ancient ruins? Do you love visiting world-class museums or eating delicious food? If you answered YES! to any (or all!) of these questions then yes, Mexico is definitely worth visiting. While may people visit Mexico solely to enjoy some R and R at an all-inclusive beach resort, keep in mind that the country also offers incredible cultural experiences and nature tours to explore.
Is Mexico safe to visit?
Though Mexico is a very popular tourism destination, there are certain safety concerns to consider when planning your trip. The US State Department lists the states of Campeche and Yucatan as the safest regions to visit and advises travelers in these areas to exercise normal precautions. Travelers are advised to avoid traveling to some parts of the country due to high crime rates - though these areas are not popular with tourists to begin with.
In general, travelers to Mexico should exercise common sense and follow the same precautions you would in any destination. Don't flaunt your money, jewelry or other valuables and remain vigilant when using ATMs. Avoid large crowds and protests. Don't drive alone at night and remain cautious when visiting bars and nightclubs. Of course, visitors should always check the latest travel advice before traveling.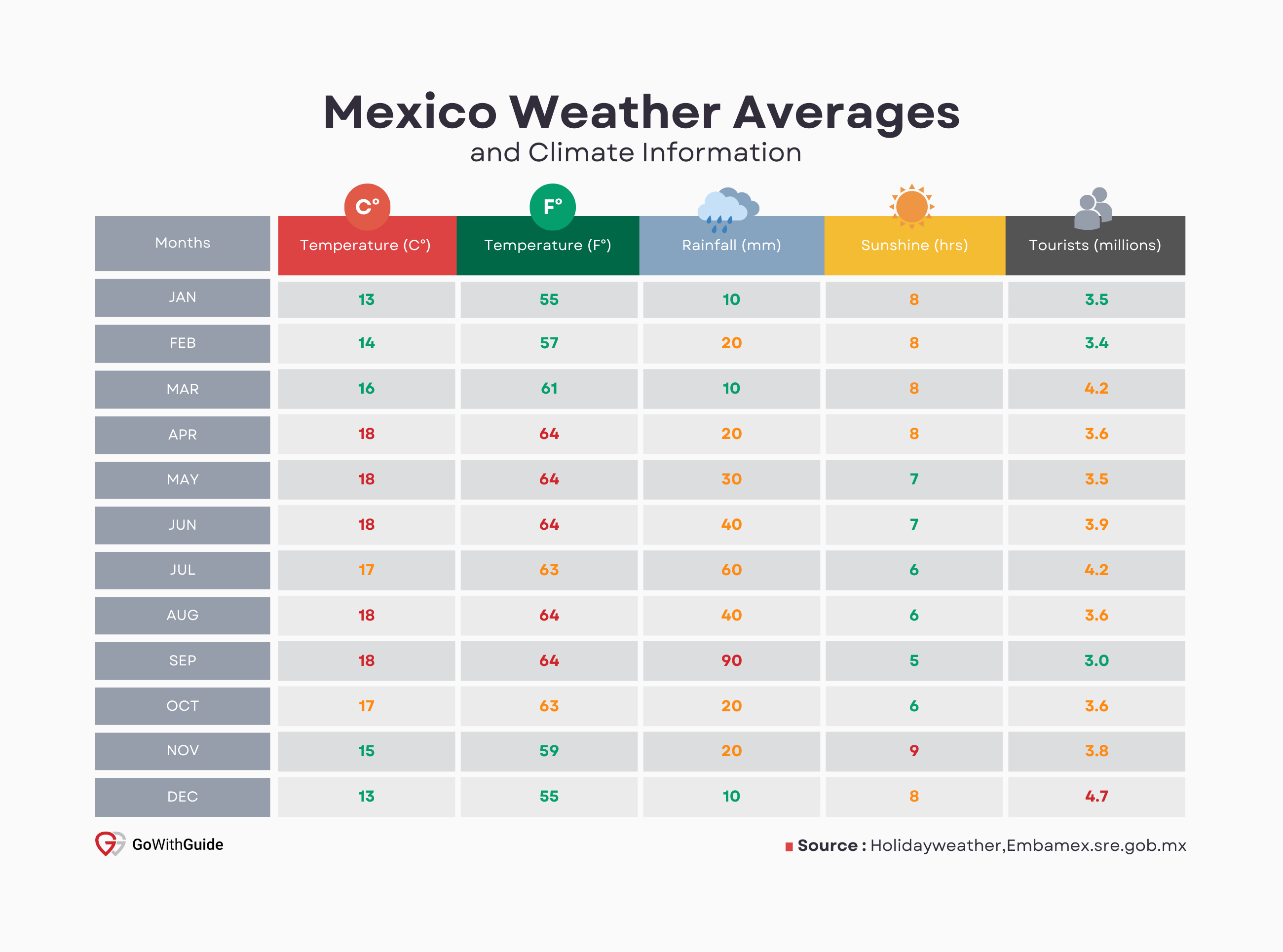 Weather - When is the best time to visit Mexico?
Mexico is blessed with a tropical climate and temperatures remain warm throughout the year. When planning the timing of your trip, the most important thing to consider is just how much it'll rain during your visit - especially if you're planning a beach vacation! Here are some key facts regarding weather in Mexico.
Average daytime temperatures remain between 23 - 32°C throughout the year.

The months between April - August are the warmest, with the average temperature hovering around 30°c.

June through to September are the rainiest months with each month seeing around 10 rainy days on average.

April and May are the sunniest months, averaging around 8 hours of sunshine per day.
When planning your trip, keep in mind that Mexico is a large country and conditions change from region to region. Make sure you check the weather forecast for your specific destination before slapping on the sunscreen!
What is the best way to get around Mexico?
Planning on travelling around the country? Or maybe you're looking to explore a single city? These are the best forms of transport for travelling around Mexico.
Domestic flights

- If you're visiting different parts of the country, domestic flights are often your best and safest bet.
Bus -

Mexico has a good network of roads with frequent bus connections between different cities.

Before heading out, it's best to check with a

local guide

to see if the route you're planning is safe.
Taxi -

Taxis are a prevalent and affordable way of getting around throughout the country.
Metro

- Mexico City has an efferent metro system which makes navigating this metropolis a breeze.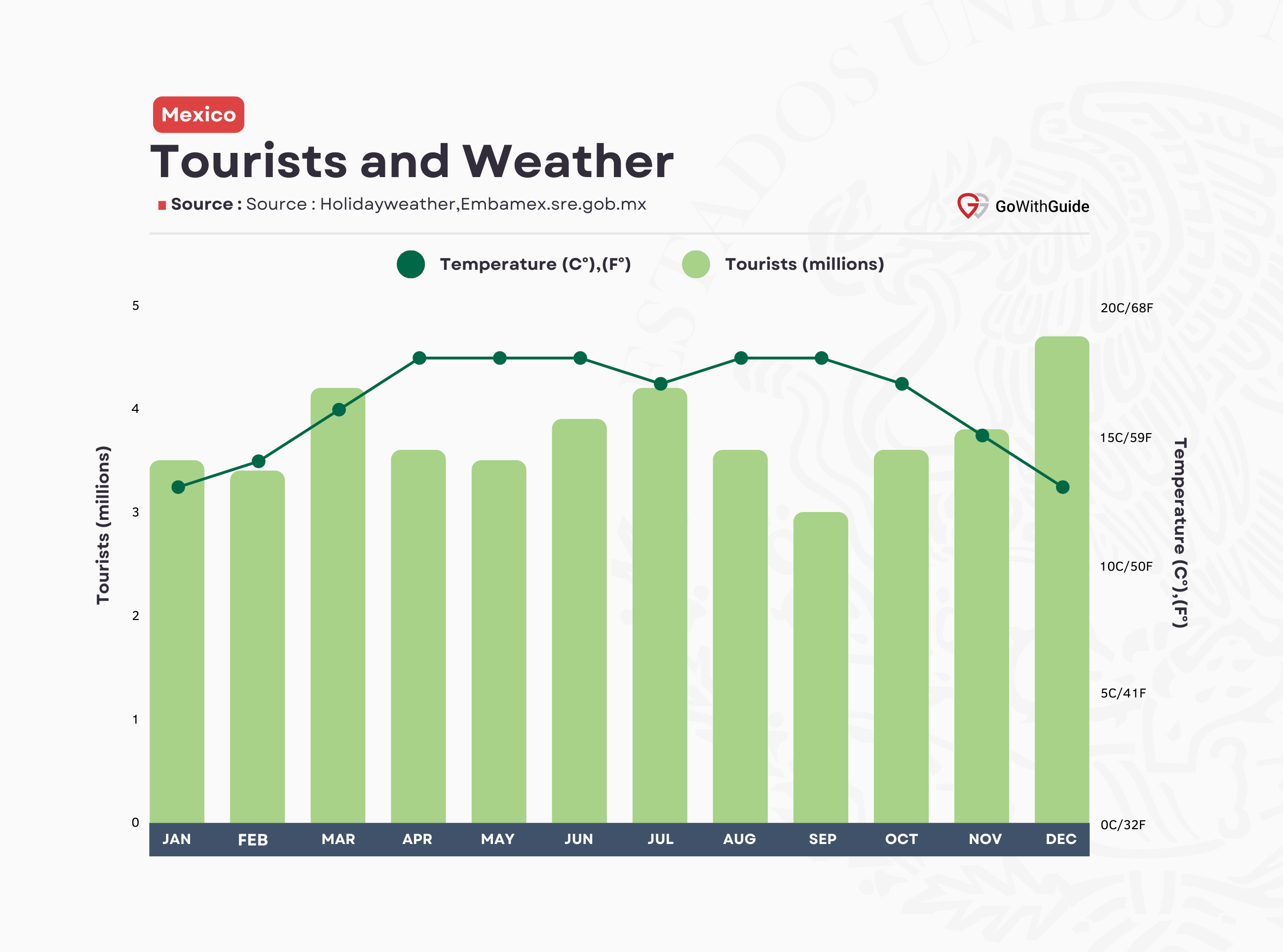 Who else loves Mexico
So far we've already established that Mexico is one of the most visited countries in the world - so where are all these visitors coming from? In 2019, Mexico received around 45 million international tourists. Nationals from these five countries visited Mexico the most.
United States - An overwhelming majority of tourists (nearly 25 million!) arrived from the United States.

Canada - In second place was Canada which accounted for 5,4 million visitors.

Colombia - Around 1,3 million Columbian tourists visited Mexico in 2019.

United Kingdom - Some 1,3 million tourists arrived from the United Kingdom.

Brazil - Just under 1 million tourists originated from Brazil.
Conclusion
It's little wonder that Mexico continues to reign as the most popular destination in Latin America. With its picture-perfect beaches, scrumptious food, vibrant culture and fascinating history, this beautiful country truly offers something for everyone. The best way to make the most out of your trip is to plan carefully and get to know the lay of the land before takeoff. We hope this article helps you plan the trip of a lifetime! Our final tip? You can always reach out to our local guides in Mexico who are ready to assist you once you touch down in Mexico.