If you're looking to take a trip through time, there's no better place to start than the quaint yet powerful city of Florence, Italy. The jewel of the Tuscan region is an essential travel destination for anyone who values human history, culture, architecture, and politics.
So let's celebrate the birthplace of the famed Renaissance era by highlighting our top 5 must-see destinations. To grasp the full scope of what Florence has to offer, get in touch with our professional and experienced guides, who are ready to take you through the ins and outs of this historical city with personalized tours.
Piazza Della Signoria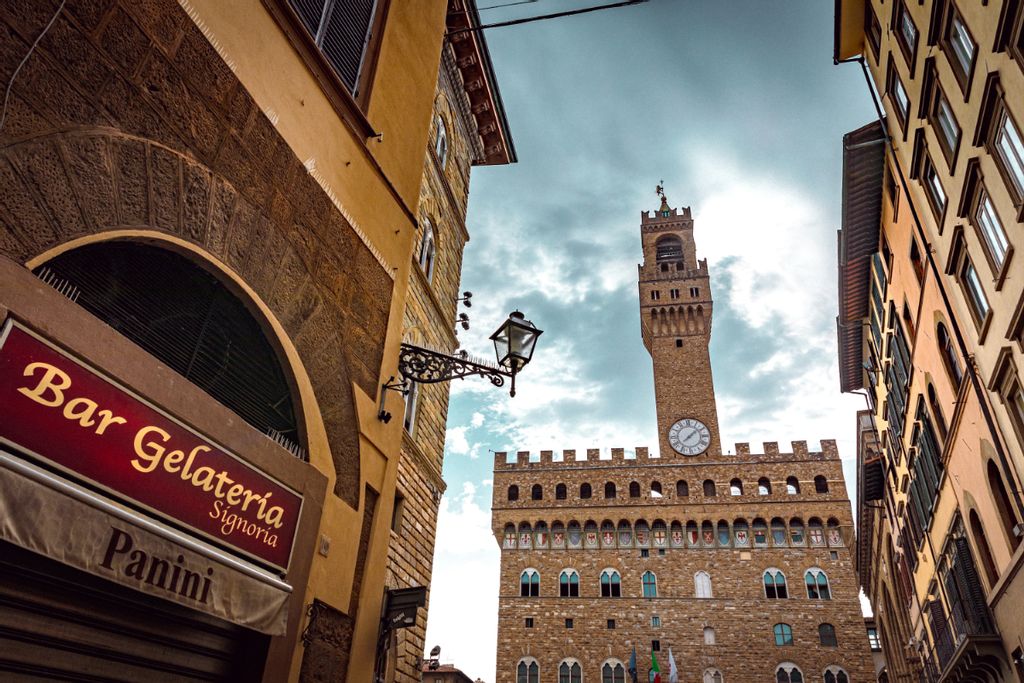 There's no better place to start your journey through Florence than with the Piazza Della Signoria, otherwise known as the main square. From here, you can enjoy modern fashion through the Gucci Museum or dive into some political history via the Palazzo Vecchio, which hosts the city's governing body and towers over the square. Cobblestone walkways make for a leisurely tour, so take your time because there's a lot to see.
Established in the 14th century as a political powerhouse, this Piazza has seen some pivotal moments in Italian history, such as the controversial Bonfire of the Vanities. It also hosts several sculptures and the famous replica of Michelangelo's David. Don't worry, you can see the real thing in just a few short steps at the Galleria Dell Accademia. The beautiful thing about a city like Florence is that most of these destinations are within walking distance from one another, so you get to enjoy the statue of Perseus and headless Medusa at one moment, and marvel at the Neptune Fountain the next. No wonder it's called the heart of the city.
Mercato Centrale: Florence Central Market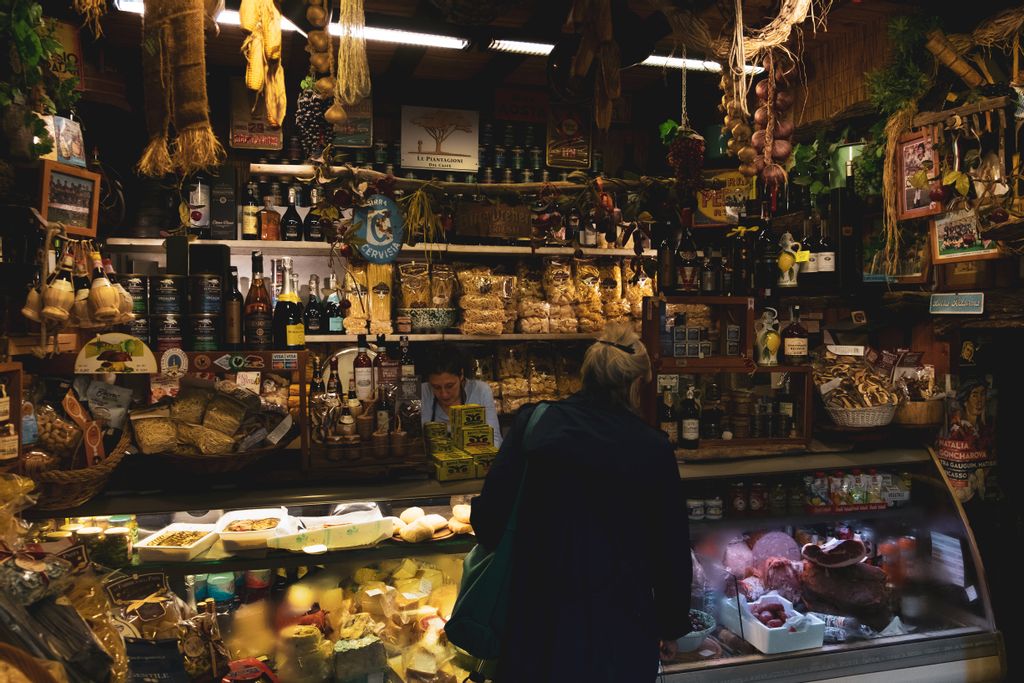 When you think of Italy, the first thing that probably comes to mind is the food. That's why a trip to Mercato Centrale will have you in the thick of Florence's food culture. From decadent desserts to light lunches, you can eat and shop to your heart's content. Spend a few hours taking in the various spices, dried meats, candied fruits, drinks, bread, and of course - pasta. It's especially mesmerizing for foodies who love the artistry and flair that Italian cuisine brings to the table.
Dating back to 1874 and designed by Giuseppe Mengoni, this ironclad market is one of a kind. With strong glass windows and winding iron architecture, Florence's Central Market looks more like a high-end museum. No wonder it's one of the most beautiful markets in the world. With daily events showcasing vendors' specialties and fast-paced restaurants offering convenient and flavorful foods, there's no shortage of options. You might even find something to take back home with you. Markets can get a little overwhelming, so to avoid confusion, it's best to book GoWithGuide's private guided tours when considering this high-energy location.
The Uffizi Gallery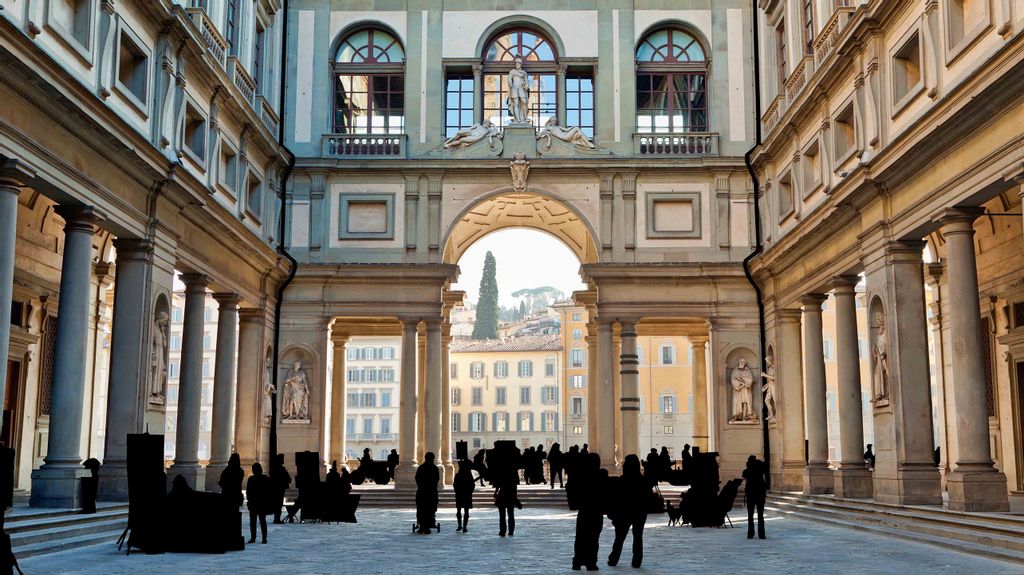 You may think that The Louvre in Paris has the highest concentration of life-changing art, but the Uffizi Gallery holds its own, making it one of the top museums in the world. Here you'll come face to face with Leonardo Da Vinci's 1481 classic, the Adoration of the Magi. Though unfinished, it's still a masterpiece and a staple for anyone studying Da Vinci's works, whether for academic purposes or pure appreciation. The sculptor Michealangelo's rare and breathtaking painting, Tondo Doni, is also displayed alongside works from the likes of Carravagio and Boticelli to really round out your renaissance dreams.
Built at the demand of Grand Duke Cosimo I de Medici around 1560 to 1580, the gallery was originally meant to house administrative offices in Florence. Today, it holds the influential Medici family's gigantic art collection mixed in with pieces from Dutch and German painters. Make sure you wear comfortable shoes because you'll be floating in and out of over 60 rooms, covering two floors full of jaw-dropping art displays. To take in the full majesty that the palace has to offer, simply stand in the courtyard where you will get a 360-degree view of the meticulous palatial architecture. You can also support local artists who display their pieces for sale, though you probably won't be walking away with the original "Birth Of Venus" anytime soon.
The Ponte Vecchio Bridge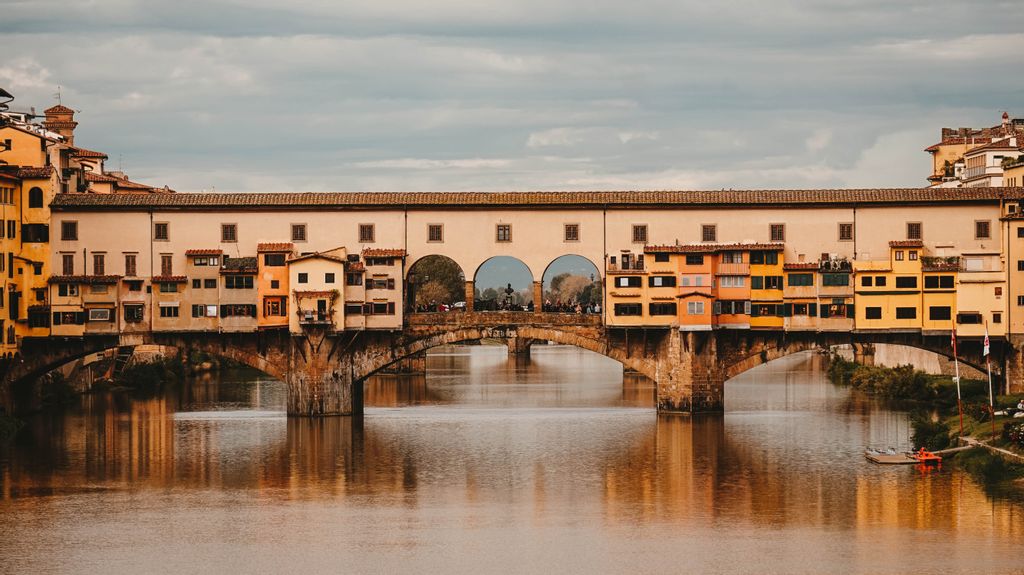 A stone's throw away from the Uffizi gallery lies the Ponte Vecchio, one of Florence's most famous landmarks. Also known as the Old Bridge, one could mistake this scenery for a Venice canal, given its soft, inviting waters and neutral tones. The grand, wide arches create monumental spacing between each pillar, and the rectangular shops suspended above form an optical illusion that's quite breathtaking. This bridge also holds a whimsical secret passageway you have to see to believe. Built to conceal the Medici family as they moved across the Arno, the Corridoio Vasariano is nearly 1km long and has been reconstructed for everybody to enjoy today.
The oldest bridge in Florence has stood the test of time, closing the gap created by the Arno River despite weather, misfortune, war, and erosion. Over the centuries it has hosted butchers, blacksmiths, goldsmiths, and jewelers, and it even holds a bust of famed goldsmith Benvenuto Cellini. The bridge is also perfect for lovebirds who want to seal their affections with a padlock around the Cellini fence before throwing the key into the Arno.
The Cathedral of Santa Maria del Fiore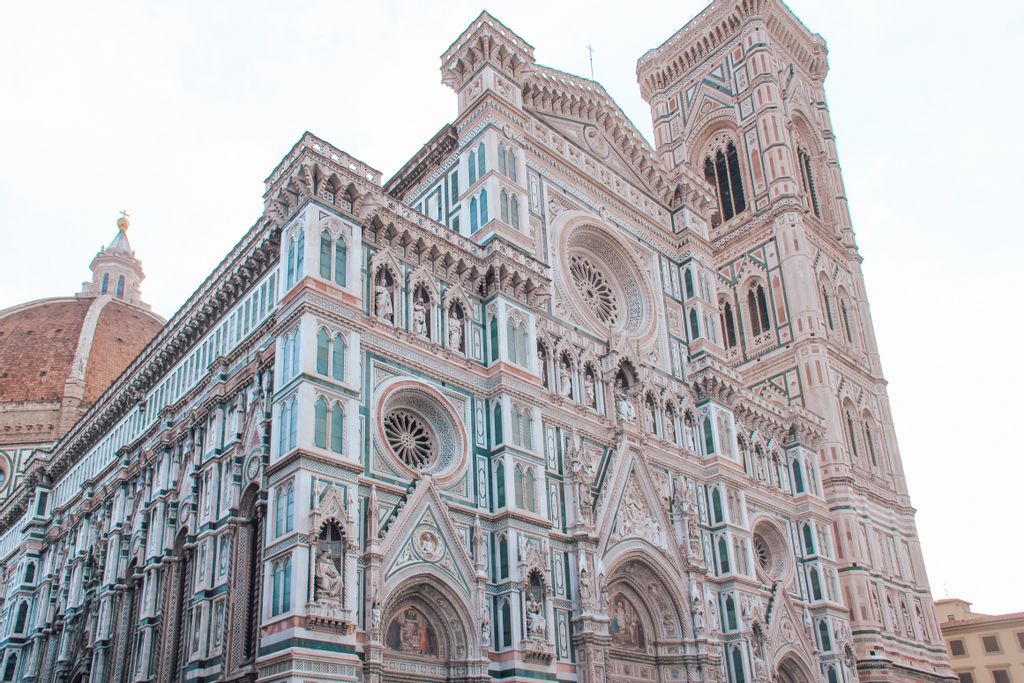 Cap off your breathtaking Florence adventure with the immaculate Santa Maria Del Fiore. With towering white and gray designs enhanced by a mixture of marble and brick, this building spoke to the city's growing prominence. Back when it was designed by Italian architect Arnolfo di Cambio, it was known as the biggest church in Europe. This structure has gone through a series of renovations, with a dramatic shift in its facade during the 18th century which gave it the famous Tuscan marble we see today.
Completed in the 15th century, this masterpiece took around 200 years to reach perfection and currently stands at 114 meters in height, truly a tribute to the Virgin of the Flower. Once inside, you can get lost in the beautiful frescos that adorn the ceilings, including scenes from the Divine Comedy. A true celebration of Gothic architecture from its base to the brilliant Brunelleschi's Dome, there's no way you can leave Florence without fully appreciating such a stunning structure.
Conclusion
We've barely scratched the surface when it comes to the beauty and richness of Florence, but the fun doesn't have to end here. From bustling streets to structured monuments, the layers of this Tuscan delight go beyond words and into something you simply have to see for yourself. Three thousand plus years of history may seem daunting, but you can count on our knowledgeable guides to create a tour that will fit your fancy.
From personalized itineraries to days-long discoveries, create your fully immersive Florence experience with us. So book your tour today and peel back the layers of this magnificent city!
Image source: https://unsplash.com