Exciting yet exhausting. These two words sum up most travel planning, especially when you're trying to unearth the everlasting beauty of a traditional yet modern city like Seoul. If your tabs are a twisted labyrinth of confusion, and you can't pick between hundreds of do's and don'ts, or tips on hiring a Seoul tour guide, you've come to the right place.

This collection of Seoul's greatest hits rolls dozens of tabs into one, covering must-see venues, tips and tricks, weather patterns, and more. You'll be strolling through Bukchon Hanok Village with a warm tea in no time, giving you two new words to remember Seoul by. Memorable and magical.
Seoul: A Traditional Wonder With Modern Numbers
Don't blame it on the Korean Wave (aka Hallyu). Seoul has been a hot travel ticket for a while now. With over 9.4 million residents and thriving entertainment, economic, and technology sectors, Seoul brings something new.
By innovating everything from jaw clenching tv dramas to cheesy street food and bullet-speed transportation, the city has become the number one tourist destination in the Korean peninsula. So how many tourists visit Seoul? In 2019, 13.7 million visitors touched down, and the Seoul Metropolitan Government is already looking to bump that number up to 28 million by 2026.
Wondering how Seoul ranks in terms of tourism? In 2018 they ranked 5th out of 10 top tourist cities in Asia Pacific, beating out Hong Kong, Phuket, and Osaka with 11.25 million overnight stays.

Fun Fact: BTS, the global music sensation, are honorary Tourist Ambassadors to the City of Seoul, so it's another win for the BTS Army!
The World Loves Seoul
Beyond the K-pop and K-drama hype, Seoul has a wealthy variety of attractions that domestic and international travelers can't get enough of.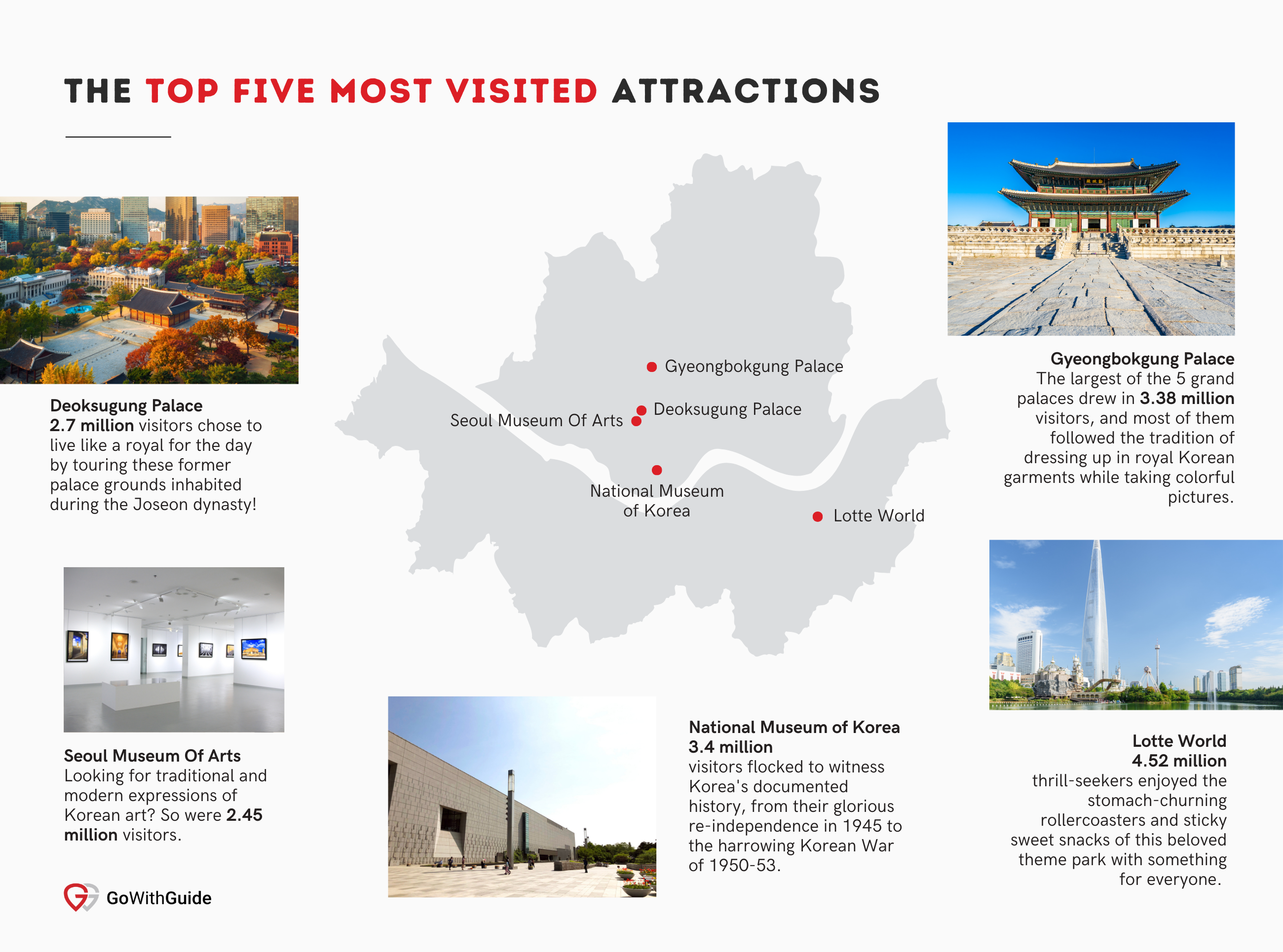 ​

Here are the top five most visited attractions in the city according to 2022 numbers.
Lotte World - 4.52 million thrill-seekers enjoyed the stomach-churning rollercoasters and sticky sweet snacks of this beloved theme park with something for everyone. They even have a Korean Folk Museum and a tornado simulator.

Word to the wise, don't eat any Hotteok (sweet pancakes) before hopping on that one.

National Museum of Korea-3.4 million visitors flocked to witness Korea's documented history, from their glorious re-independence in 1945 to the harrowing Korean War of 1950-53. For even more history, head to the War Memorial of Korea

.

Gyeongbokgung Pa

lace- The largest of the 5 grand palaces drew in 3.38 million visitors, and most of them followed the tradition of dressing up in royal Korean garments while taking colorful pictures. Don't feel nervous about cultural appropriation, as it's widely encouraged by locals.
Deoksugung Palace-

2.7 million

visitors chose to live like a royal for the day by touring these former palace grounds inhabited during the Joseon dynasty! If you stick around, you can watch the Royal guard changing ceremony.

Seoul Museum Of Arts - Looking for traditional and modern expressions of Korean art? So were

2.45 million

visitors.
Travel tip: To avoid massive crowds at these venues, try an early morning tour. You can check the timing and availability with our local Seoul tour experts.
Seoul Searching: A Tale Of Two Cities
There's no better way to tackle the monumental city of Seoul than with a two-sided approach that highlights both sides of the Han River. The North & South Cities have distinct personalities, from the flashy, luxurious streets of Gangnam to the quiet cafes of Ikseon Dong.
Kangbuk: Northern History, Tradition & Timeless Beauty
Exploring Kangbuk: The North City's Top Destinations

Fun Fact: Netflix Asia's Korea branch is based in Jongno!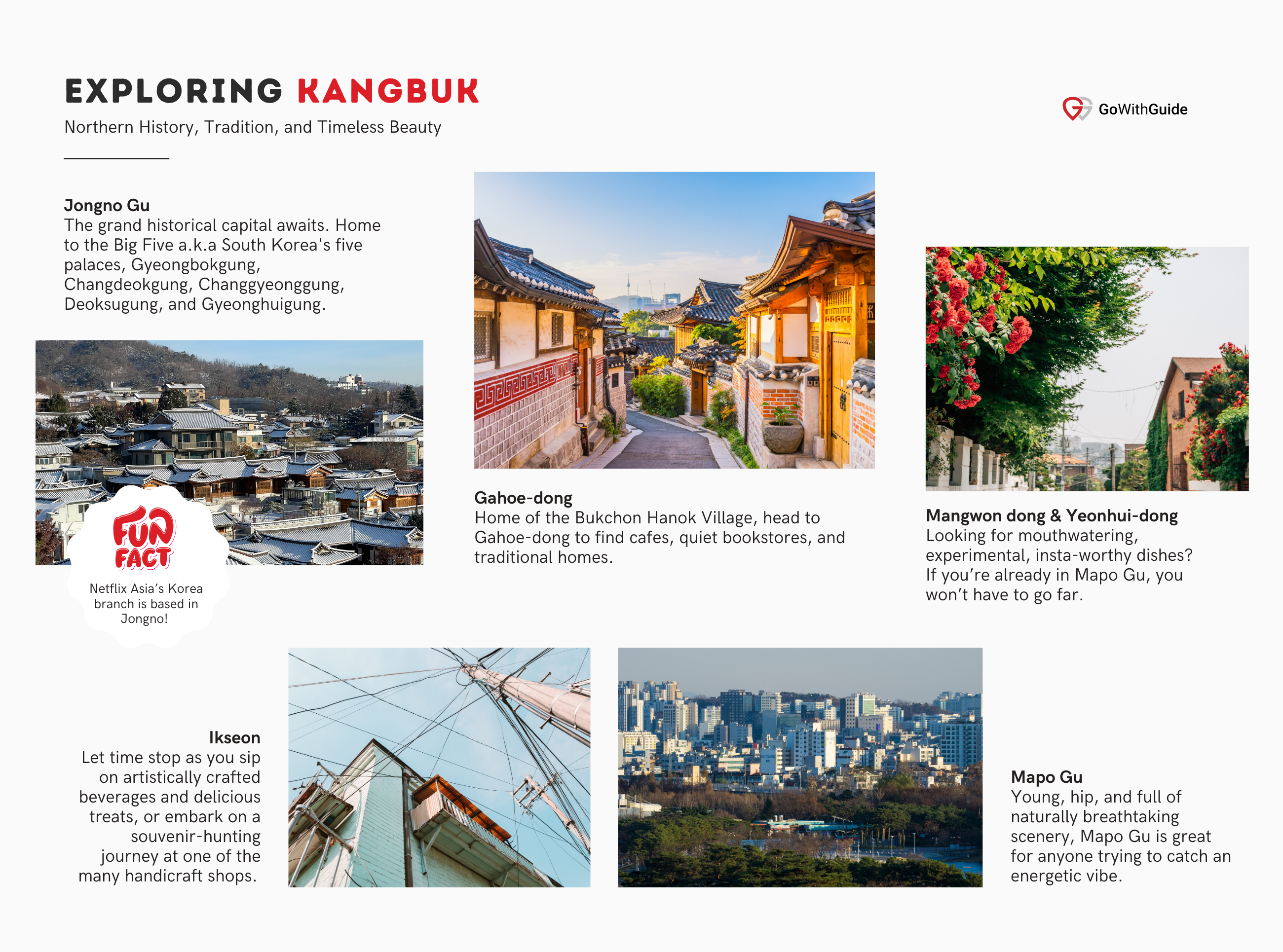 ​
Jongno Gu

- The grand historical capital awaits. Home to the Big Five a.k.a South Korea's five palaces, Gyeongbokgung, Changdeokgung, Changgyeonggung, Deoksugung, and Gyeonghuigung, history buffs prepare yourselves for information overload.
Gahoe-dong

: Home of the Bukchon Hanok Village, head to Gahoe-dong to find cafes, quiet bookstores, and traditional homes. Nothing is as it seems here, so a tour of hidden gems would be eye-opening. Some cafes even feature international cuisine from Spain and France.

Ikseon Dong

: Ready to slow down? Head to Ikseon dong and learn the art of slow living. Let time stop as you sip on artistically crafted beverages and delicious treats, or embark on a souvenir-hunting journey at one of the many handicraft shops.

Mapo Gu

: Young, hip, and full of naturally breathtaking scenery, Mapo Gu is great for anyone trying to catch an energetic vibe. Head to Mangwon Hangang Park for views of the Han, or slow down in the wheat fields of Haneul Park.

Mangwon dong & Yeonhui-dong

: Looking for mouthwatering, experimental, insta-worthy dishes? If you're already in Mapo Gu, you won't have to go far. Spend the day touring the many trendy eateries, and with a guide by your side, you won't have to worry about missing out on some serious food photography.
Kangnam: Southern Glamour, Thrill & Modernity
Head across the Han River and discover South Seoul's opulence, elegance, and lavishness, with a splash of thrilling fun just to keep things fresh.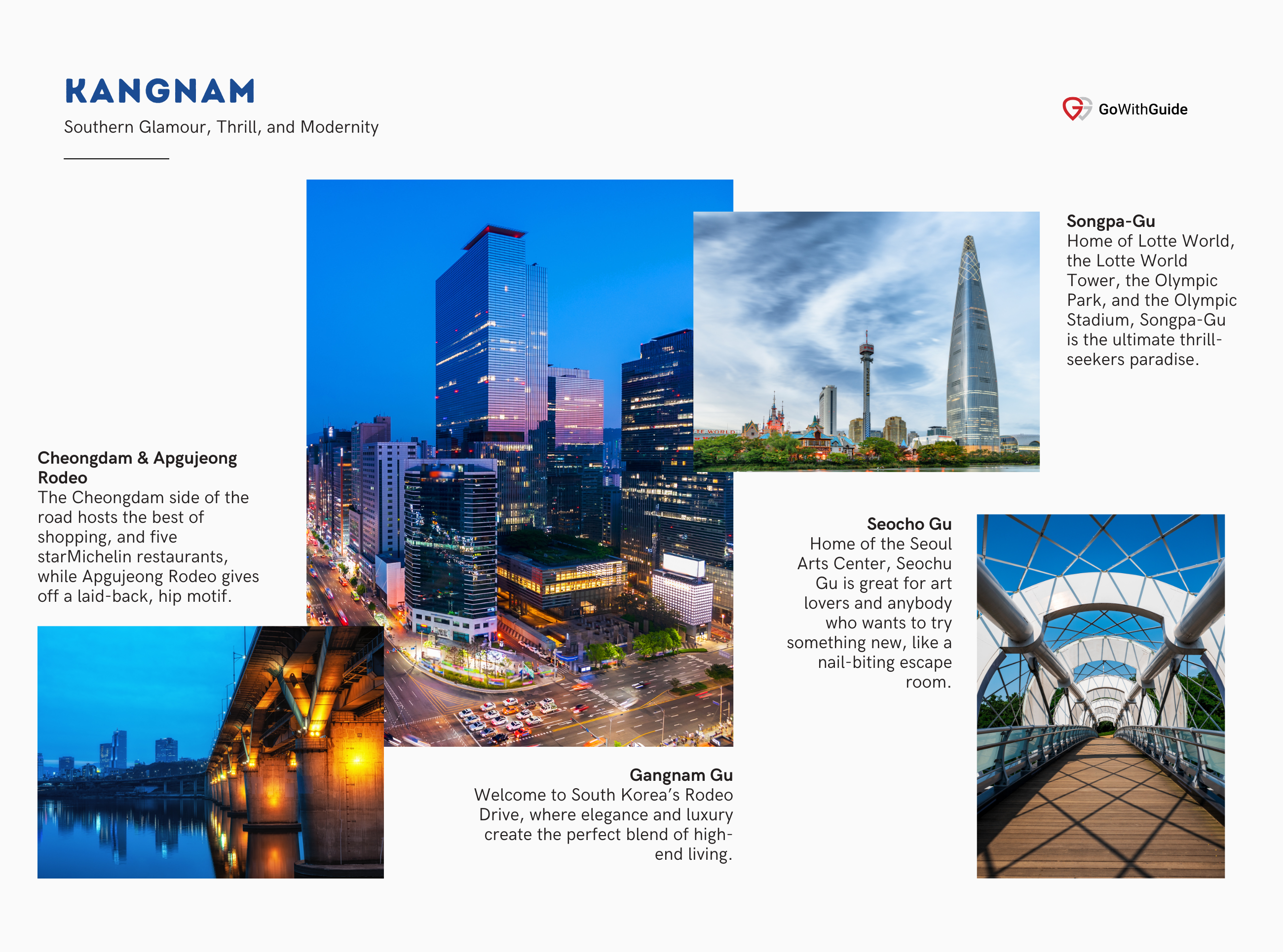 Exploring Kangnam: The South City's Top Destinations
Gangnam Gu

- Welcome to South Korea's Rodeo Drive, where elegance and luxury create the perfect blend of high-end living. Had enough five star treatment? Head to the

Coex Center

& Aquarium where beautiful sea creatures await.

Cheongdam & Apgujeong Rodeo

: The Cheongdam side of the road hosts the best of shopping, and five star Michelin restaurants, while Apgujeong Rodeo gives off a laid-back, hip motif.

Songpa-Gu

: Home of Lotte World, the

Lotte World Tower

, the Olympic Park, and the Olympic Stadium, Songpa-Gu is the ultimate thrill-seekers paradise. It's also a great place to attend some base-blasting concerts.

Seocho Gu

- Home of the Seoul Arts Center, Seochu Gu is great for art lovers and anybody who wants to try something new, like a nail-biting escape room. It's close to the Songpa Gu district, so a day trip is ideal.
See something you like? Talk to a Seoul tour guide to add one of these districts to your itinerary.
What To Eat: Sweet & Savory In The North & South City
Enter the wonderland of South Korean food and experience the culinary side of the city.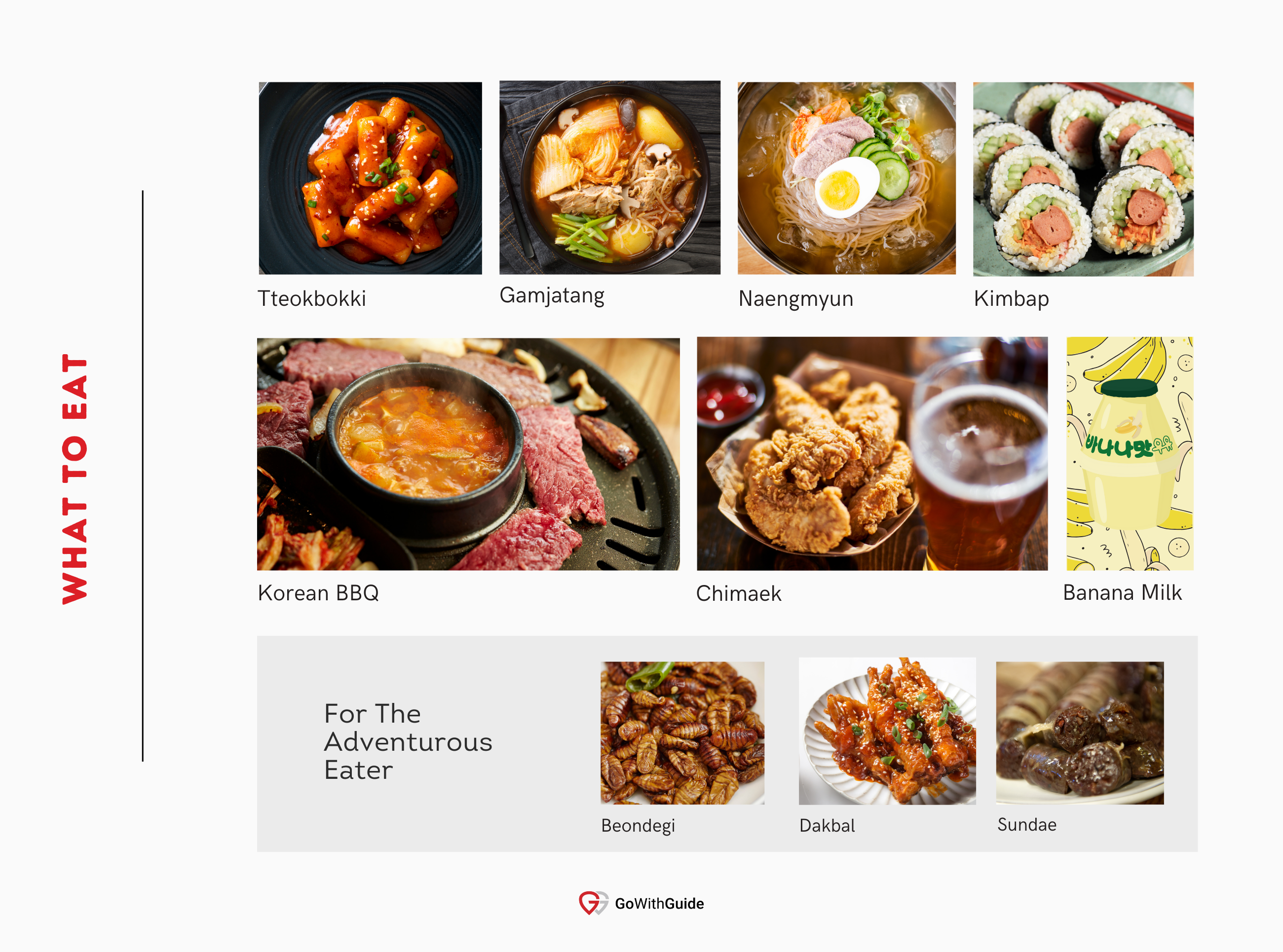 ​
Tteokbokki

- This dish is a texture explosion! Chewy, bouncy Korean rice cakes soaked in spicy red sauce can be found at any respectable street food stall, so be on the lookout.

Gamjatang

- What's better than slow-cooked pork bone and perfectly seasoned broth? Not much. Enhanced with radish greens, noodles, potatoes, peppers, and sesame seeds, it's a comfort meal, especially during the winter.

Naengmyun

- This authentic Korean dish features thinly stretched noodles made with starch from either a potato, buckwheat, sweet potato or even arrowroot. Since it's a cold noodle soup, you can enjoy it during Seoul's hotter months.

Kimbap

- It might look like sushi, but Kimbap (Gimbap) doesn't use vinegared rice, nor does it feature raw fish. Instead, the rice is coated in sesame oil and stuffed with savory meat and vegetables.

Korean BBQ

- If you're going to enjoy Korean BBQ, bring your friends! This family-style experience lets you roast your own meat and vegetables, with a series of starches and broths, and it's all done at the table.

Banana Milk

- Now for something sweet. Banana milk has gained somewhat of a cult status in Seoul thanks to the smooth, creamy fresh banana, sugar, milk, and honey combo. In fact, Binggrae's Banana Flavored Milk, a popular brand, sells

800,000 bottles

every DAY.

Chimaek

- It's a classic combination for a reason. Featuring deep-fried crispy chicken and an ice-cold beer, Chimaek is the perfect post-tour meal, and it's so popular that the phrase, which combines chicken and beer, was added to the

Oxford dictionary

.
For The Adventurous Eater
Alright, you've had the Seoul classics, so now it's time for something new. These Seoul delicacies are as unfamiliar as they are delicious, so your adventurous taste buds will thank you.
Beondegi

- Sometimes boiled, sometimes steamed, sometimes roasted, this silkworm larva snack is a great way to get that extra protein in. You'll find Beondegi at any traditional food market, with Gwangjang Market being a great place to start.

Dakbal

- Consumed by nearly every culture except in the West, chicken feet are a staple in street food stalls, and there are endless preparation methods.

Sundae

- Not to be confused with ice cream, this dish features a mix of meat, spices, and yes, cow and pig intestines. Try before you deny.
Feeling hungry? You can add a mouthwatering food tour to your travel itinerary anytime.
Let's Get Real: What To Expect In The Special City
Alright, so we're all obsessed with Seoul, but it's time to tackle the practical side of touring the city. Here's what your days in the Special City could look like.
When To Go: Seoul By The Seasons
Thanks to its humid, continental climate, Seoul is both sizzling and shivery. There are four distinct seasons, with varying temperatures, rainfall levels, and sunshine hours.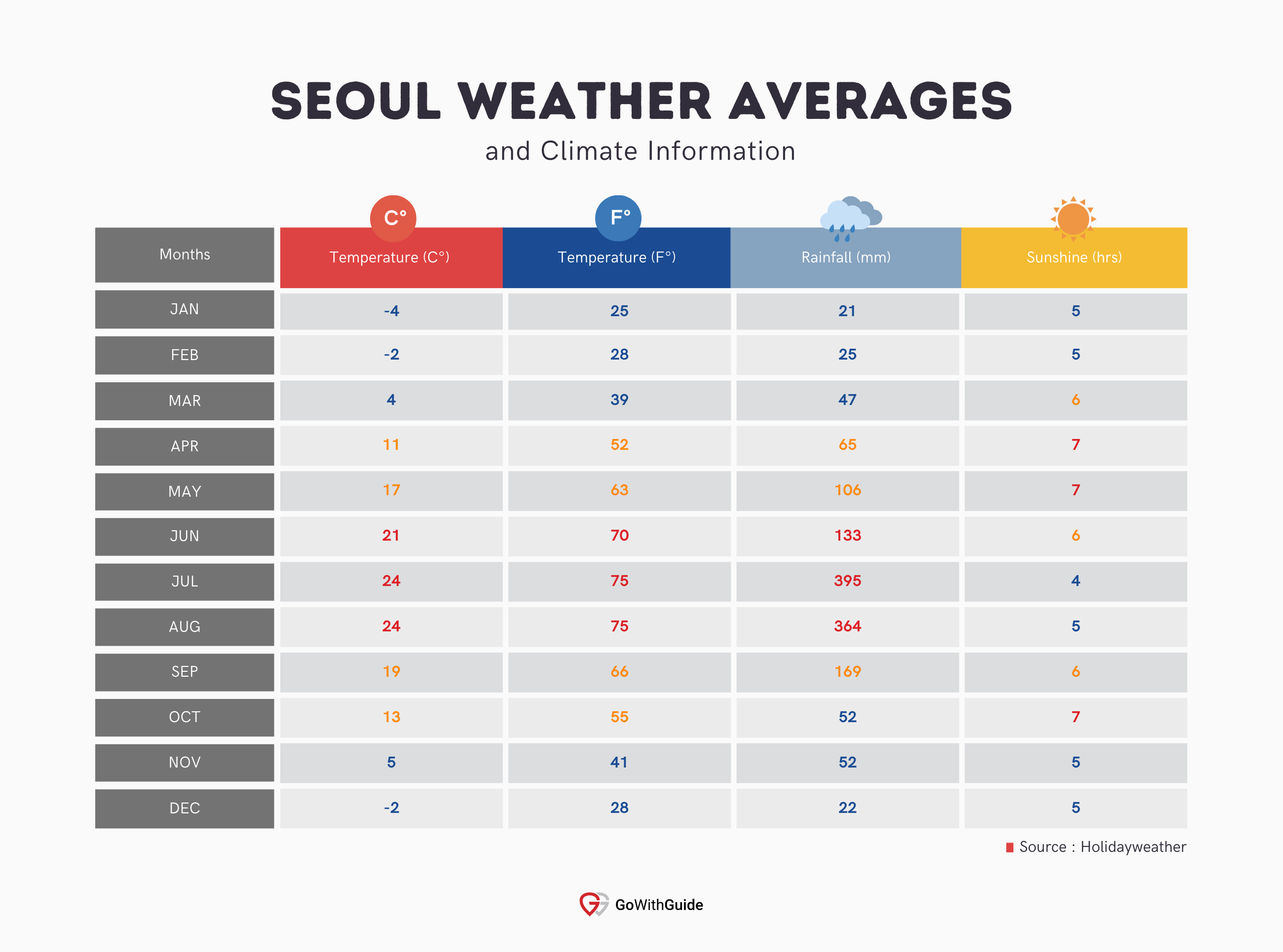 When is the best time to visit Seoul? March to May and September to November are often considered ideal travel months because of the mild weather and slightly lower crowds, but Seoul has something to offer all year round, so let's dive into the city's four seasons.
May to June

: Cool and breezy, Seoul's springtime hits that temperature sweet spot with average highs of

17°C (63°F)

in April, and lows of

11°C (52°F)

in May. The weather is mostly dry, but occasional showers are nothing to worry about. With a light rain jacket or umbrella, the blossoming flowers can still be enjoyed. Don't forget your shades and a sweater for the nighttime chill.

July to August

: Hot, wet, and muggy, Seoul's summer season is no joke! June is the hottest month, with an average temperature of

24°C (75°F)

and average highs of

27°C (81°F)

. Seoul's monsoon season also starts near summertime, so expect some sporadic rains as July is also the wettest month with 395 mm of rain.

September to November

: Warm and colorful is the best way to describe Seoul in the fall. October invites breezy but mild averages of

13°C (55°F)

with the highest sunshine hours at 7, and by November, weather averages drop to

5°C (41°F)

. Fall is a harvest season, and if you're around, you can catch the Seoul Street Art Festival and the Seoul Lantern Festival. Just remember to bring a jacket and layer your clothing.

December to March:

Chilly, snowy and dry characterize Seoul's winter season. Though it can get pretty cold, with January bringing in the lowest average temperatures of

-4°C (25°F)

, winter is a great travel time for those looking to escape hordes of tourists at top sites. Number one advice? Pack a reliable, heavy jacket, sturdy gloves, and some thermal wear. By the way, the Christmas displays in Myeongdong are magical.
Travel Q&A:What is the busiest tourist season in Seoul?
June to August is when Seoul's crowds come out to play. Though most locals are off vacationing in other places, a higher number of inbound travelers makes for larger crowds as most follow the traditional summer vacation schedule.
How To Get Around: Navigating A Modern Metropolis
Seoul's transportation system is highly efficient, modern, and sleek, so getting around the city is a breeze.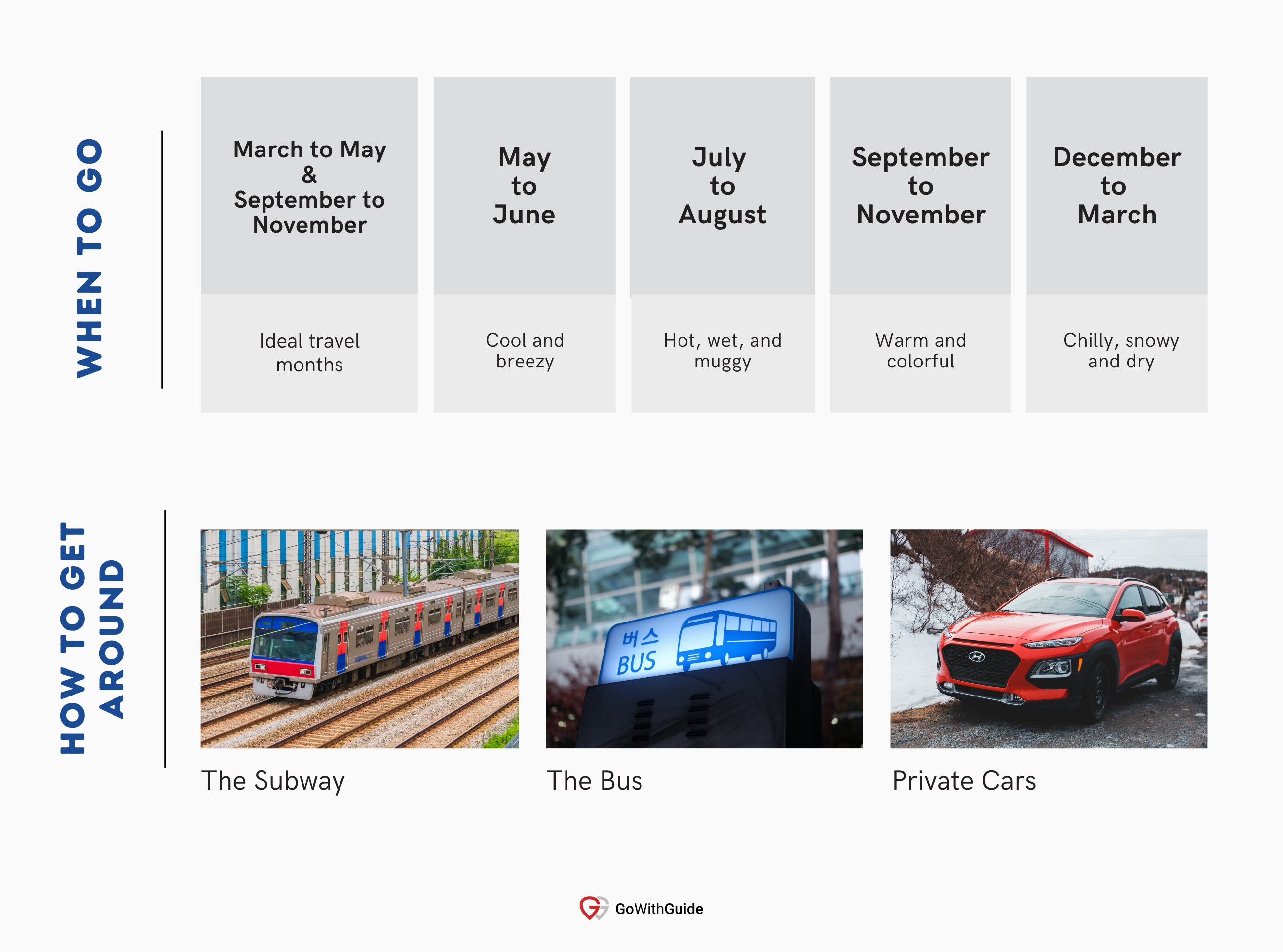 Here are some transport highlights to look out for.
The Subway

: This is by far the best way to get around Seoul as there are 22 subway lines connecting

302 stops

throughout the city. If you get the T-Money card, you can connect your bus and subway transit. Major stations like Seoul and Sindorim can be overwhelming, so keep that in mind.

The Bus

: Seoul uses a

color-coded

bus line with blue, green, yellow, red, customized, and nightrider buses shuffling throughout the city. It's a great way to take smaller trips, and the bus lines connect with the Airport and Seoul's subway.

Private Cars

: Always an option for those seeking exclusivity, private cars, and deluxe taxis are a great way to get around on your personal schedule. The only downside is the traffic. It's often easier to hop on a train/bus or walk around Seoul.
Travel treat: Try the KTX bullet train for a scenic day trip from Seoul to Busan when you can.
Travel Q&A: Is Seoul English-friendly? Yes, if you're navigating public transport or walking along the street, there are signs in English, Japanese, and Chinese to help you along. With that said, people in Seoul are less likely to speak fluent English, though a good number do understand what you're saying. The remedy? Speak slowly and learn some common phrases.
Do This, Not That: Seoul Edition
​Seoul is an accommodating city filled with kind residents willing to help. Want to return the favor? Keep these etiquette tips in mind.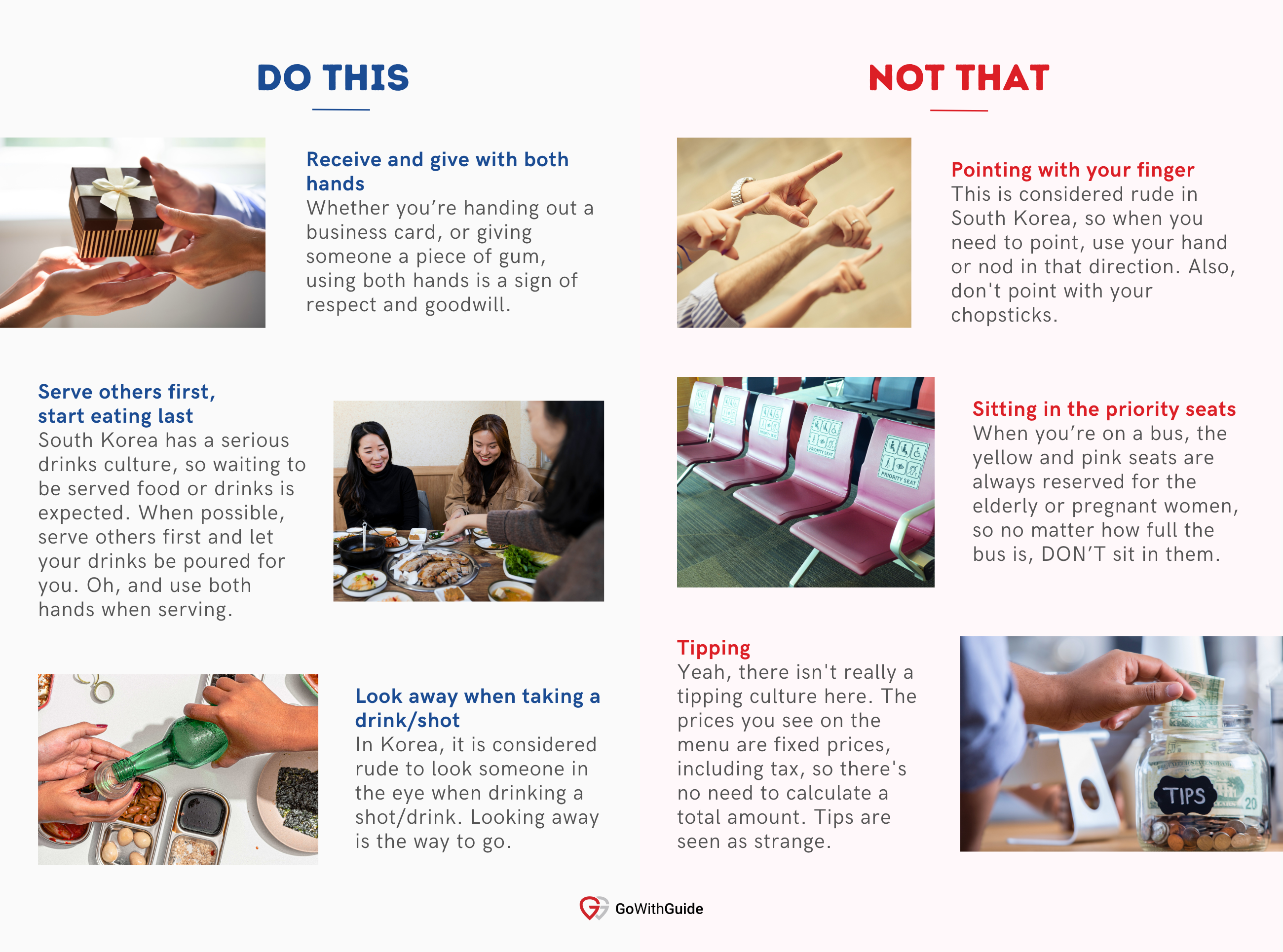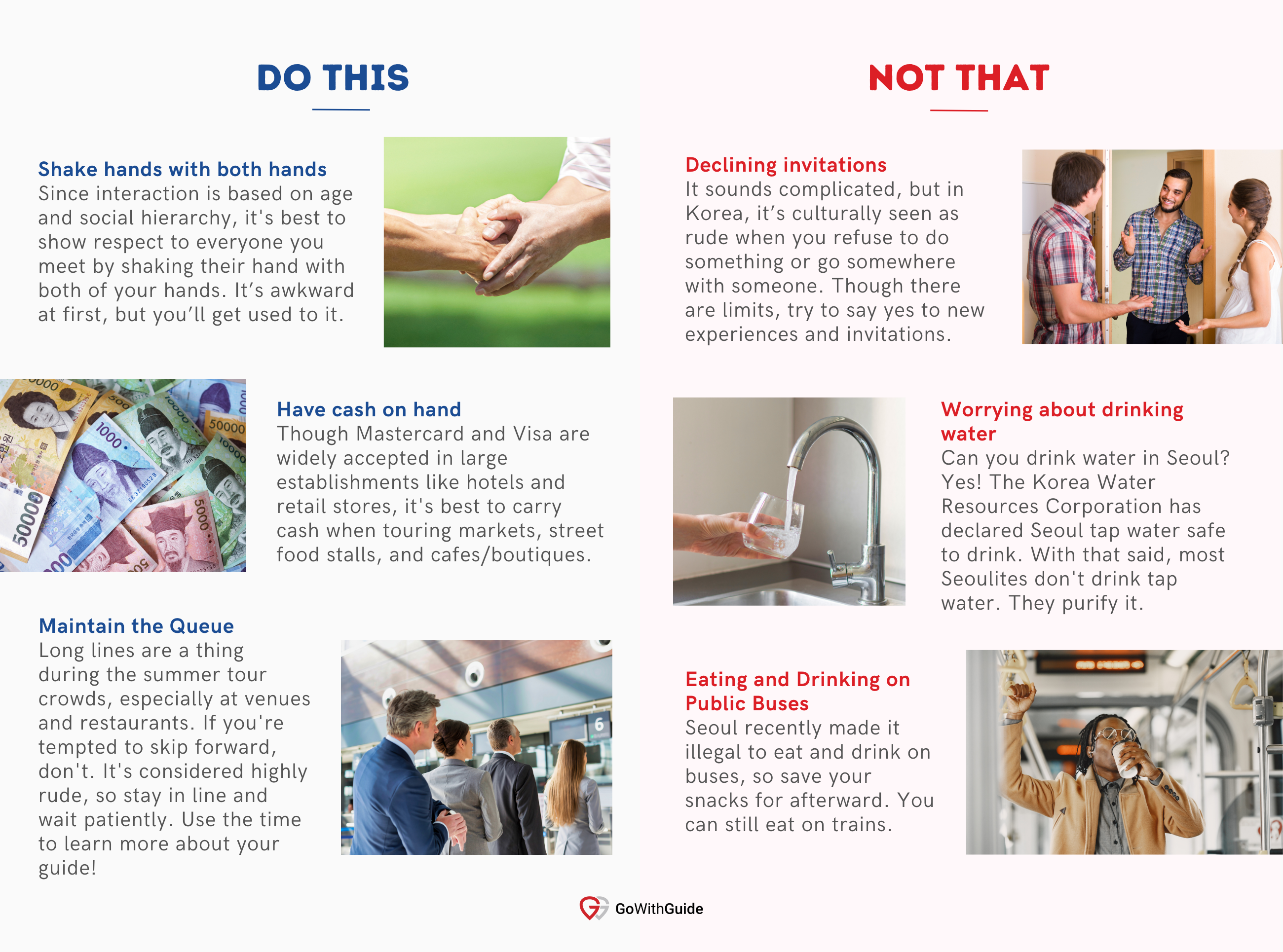 Staying Safe: The Seoul Edition
When it comes to safety in Seoul there's not much to say because Seoul is one of the safest cities in the world. With a low crime index of 24.54 and a safety index for walking around at night of 73.51, Seoul is a city built for safety in exploration.

To add to that, people are very kind and trusting, especially due to the high CCTV presence. This makes even petty crimes low, at 20.60. Is Seoul safe for solo female travelers? Absolutely! You're no more likely to face the same scams or pickpocketing as men, and public gender-based aggression or violence is more likely in countries like Germany, the UK, and the United States than in Seoul.
Okay, so your soul is set on Seoul. You're ready to devour the cheesy corn dogs and sip some sweet Soju. Or maybe you're looking forward to nature walks along the Cheonggyecheon Stream. There's just one nagging thing at the back of your mind. Planning it all. That's where we step in.
With a GWG local expert, touring Seoul can be convenient and comforting. Having a local by your side can help you;
Gain deeper knowledge of Seoul's traditions and future through the eyes of a local.

Interact with locals and meet new people with your guide acting as a bridge between languages and cultures.

Immerse yourself in Seoul's lesser-known gems, expanding your trip beyond the usual tourist attractions.

Avoid social etiquette mistakes and learn about daily living in the city.
Ready to take the stress out of your tour planning? Get in touch with a Seoul tour guide and get your trip started right!
P.S. Looking to travel with companions? The more, the merrier. Share this post with your friends and get them as excited about touring Seoul as you are.