Mexico City is a huge metropolis known for its vibrant culture, rich cuisine, innovative art scene, theatrical wrestling matches - and so much more. With so much to see and even more to do, planning an itinerary can feel like a task of epic proportions.
After spending hours, days, or even weeks scrolling the internet for the best things to do in Mexico City, it's no wonder if the thought crossed your mind that: "maybe I should just hire a professional?" True enough, hiring a guide can definitely take a lot of the stress away from planning your trip. At the same time though, there can be some unexpected downsides to hiring a guide as well.
So when it comes down to it, do you need a tour guide in Mexico City? What are the benefits of having a guide and what are the cons? Let's break it down!
What is a private guide?
Before we dive deeper into the pros and cons of hiring a private guide, here's a brief overview of what a private guide actually is. When planning a trip, it used to be that you basically had two choices: you would either plan and execute the whole trip yourself or join a tour group. Hiring a private guide falls into the sweet spot between the two: local insight and easy logistics similar to a tour group with the same freedom and flexibility you'd enjoy when traveling on your own. In other words, you have a knowledgeable local showing you the way without having to commit to a strict schedule with a bus full of strangers. Hiring a private guide has become increasingly popular (and affordable!) and it has even been lauded as the future of travel.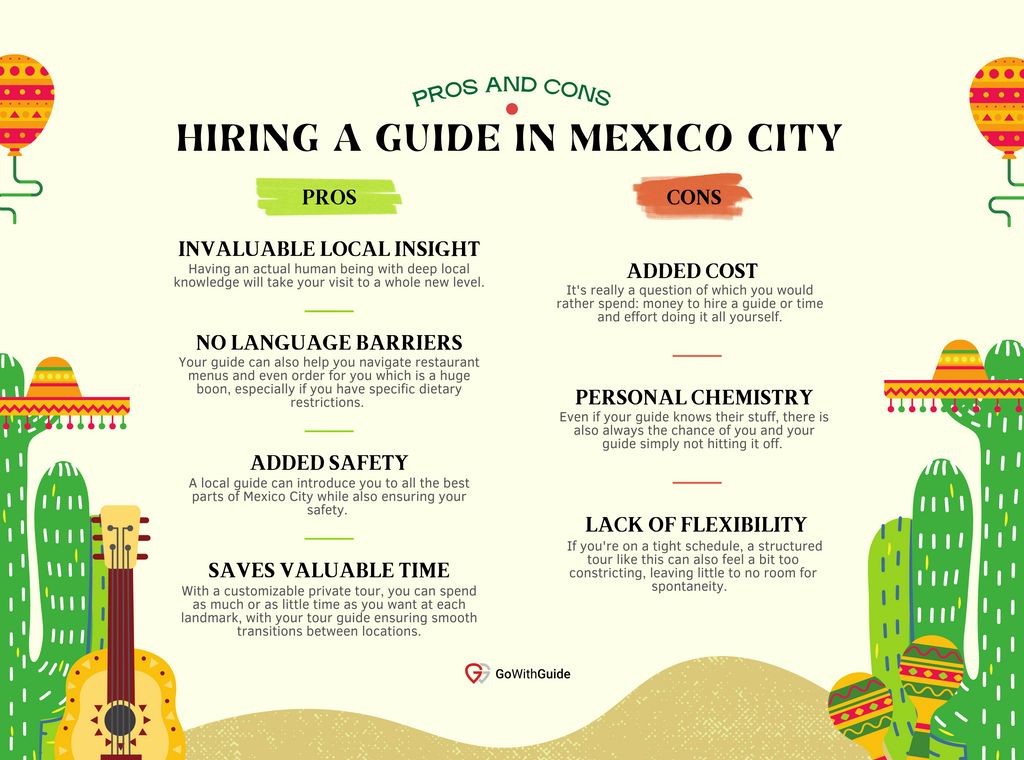 Pros of Hiring a Guide in Mexico City
+ Invaluable local insight
For most travelers, this is the biggest benefit of hiring a local guide. They will introduce you to attractions and experiences only locals know about. Whether you're interested in exploring Mexico City's most famous landmarks or discovering the hidden gems of CDMX, a local guide will take you beyond the tried and tested. Thanks to the Internet, all of us have access to the basic facts of any given landmark or location. Trust us though: having an actual human being with deep local knowledge will take your visit to a whole new level.
+ No language barriers
Though Mexico City is a major tourist destination, English is far less widely spoken than you might expect. If you don't speak any Spanish, having a native speaker with you as you explore the city will make things that much easier. After all, translation apps and body language will only get you so far! Your guide can help you bargain at the local markets and shops, ensuring you're not being overcharged. They can also accurately translate Spanish signage at monuments and museums as the information given in English can be very limited. Your guide can also help you navigate restaurant menus and even order for you which is a huge boon, especially if you have specific dietary restrictions.
+ Added safety
Mexico City is a huge metropolis and at times, the city can be a little rough around the edges. Many travelers wonder about safety before visiting. Naturally, you should follow the same precautions you would when traveling anywhere in the world. This includes being discreet with your belongings (especially large amounts of money, flashy jewelry and designer gear), not driving alone at night and keeping alert when visiting an ATM.
Beyond these basic measures, you might still have some questions regarding safety in Mexico City. Is it safe to walk around the city? How about taking the metro? Which areas are safe and which neighborhoods should I avoid altogether? No one can answer these questions better than a well-versed guide. A local guide can introduce you to all the best parts of Mexico City while also ensuring your safety. This includes navigating the city's notorious traffic!
+ Saves valuable time
When you're on holiday, you only have a limited time to explore your destination. In Mexico City, it's especially important to plan your visit well, given the sheer size of the city. The most efficient and enjoyable way to explore to the fullest is a well-planned private tour with a local guide. This will maximize your time as you'll be focusing on the landmarks that interest you most, following an itinerary that takes into account traffic conditions and other factors that may impact your schedule. With a customizable private tour, you can spend as much or as little time as you want at each landmark, with your tour guide ensuring smooth transitions between locations.
Travel tip: How many days do you need to enjoy Mexico City to the fullest? Check out our suggested itineraries for a day trip, weekend getaway or weeklong visit.
Cons of Hiring a Guide in Mexico City
- Added cost
From plane tickets to accommodation costs, we all know how quickly the cost of holiday travel can add up - and yes, hiring a guide will add yet another expense to that list. If you look at the bottom line, exploring the city on your own, sans guide, is the cheaper option. On the other hand, you will have to spend your own time and resources planning the itinerary and handling all the logistics. At the end of the day, it's really a question of which you would rather spend: money to hire a guide or time and effort doing it all yourself.
- Personal chemistry
Finding the right guide can be a challenge. Obviously, you don't want to end up touring Mexico City with someone who's as lost as you are or someone who doesn't speak adequate English. Even if your guide knows their stuff, there is also always the chance of you and your guide simply not hitting it off. Especially if you are more of an introvert, being around a new person for several hours can be draining. Before you hire a guide, be sure to check out reviews from previous guests and discuss your expectations to avoid disappointment. To get an idea about what to expect, you can check out the personal bios and reviews of our local guides in Mexico City.
- Lack of flexibility
Many tours of Mexico City are planned to give visitors an overview of the city and its culture and to hit all the major landmarks in the process. While this can be a great way to see the city, especially if you're on a tight schedule, a structured tour like this can also feel a bit too constricting, leaving little to no room for spontaneity. With a rigidly structured tour, it can feel like you're merely checking things off a to-do list rather than exploring this endlessly fascinating city at your own pace. We know how frustrating this can be and that's why all our Mexico City tours are fully customizable. This means you can either leave all the planning to your guide or tweak the tour as much as you want. After all, this is your holiday!
Conclusion
As you can see, there are many benefits to hiring a guide in Mexico City. A guide can help you navigate language barriers and ensure your safety throughout your trip. Perhaps most importantly, a guide will help you view the city through the eyes of a local. They can introduce you to attractions and experiences you would never be able to discover on your own.
At the same time, you need to consider how the added cost of hiring a guide fits into your budget. You might also be wondering if having a guide will mean you'll be stuck with a rigid itinerary with little room for spontaneity. Don't worry - if you book one of GoWithGuide's private tours of Mexico City, you'll be able to customize your trip from start to finish. If you're still undecided, you can also reach out to our private guides in Mexico City and discuss your specific needs and concerns before hiring a guide.
Sources
https://travel.state.gov/content/travel/en/traveladvisories/traveladvisories/mexico-travel-advisory.html
https://www.travelsafe-abroad.com/mexico/mexico-city/
https://www.smartraveller.gov.au/destinations/americas/mexico
https://howwidelyspoken.com/how-widely-spoken-english-mexico/
https://www.transitionsabroad.com/listings/study/articles/crossing-language-learning-barrier-mexico.shtml
https://www.webuildvalue.com/en/global-economy-sustainability/mexico-city-transportation-system.html
https://www.mexperience.com/some-practical-and-safety-tips-for-driving-in-mexico/
https://www.forbes.com/sites/rogersands/2020/04/16/will-small-private-tours-become-the-new-travel-norm/
https://www.jetsettingblonde.com/blog/the-pros-and-cons-of-booking-a-private-tour-guide-experience
https://saltandwind.com/tips-shopping-in-mexico/
https://sandinmysuitcase.com/bargaining-part-shopping-fun-mexico/
https://www.storiesbysoumya.com/why-visit-mexico-city-reasons/