Rome is an ancient and fascinating city, filled with centuries of history, awe-inspiring architecture, and of course delectable Italian cuisine. Due to this (and the fact that it's a world capital), the city can get quite crowded, especially during the peak tourist season. Therefore, you may want to take a bit of a break from the city while on holiday without having to completely relocate somewhere else. Thankfully, day tours exist for this very reason, and in this article we'll be going over some of the best day excursions from Rome!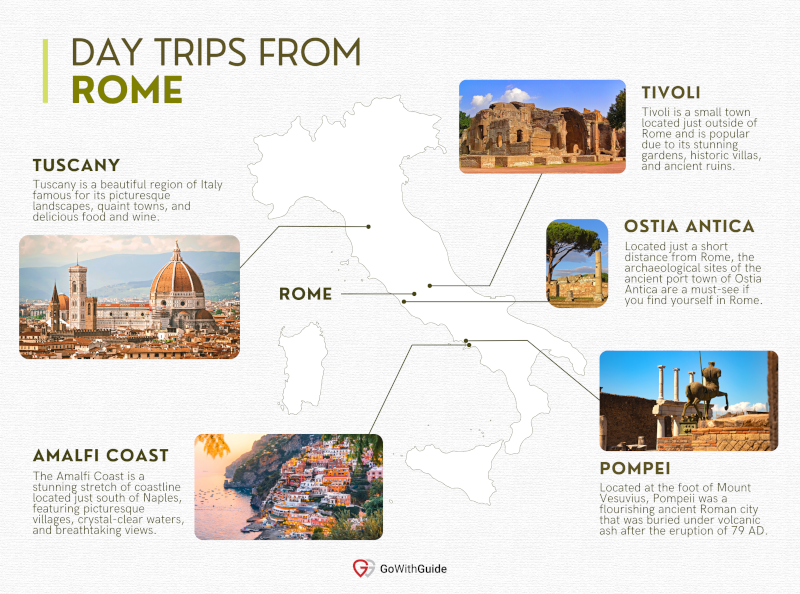 What is a Day Trip?
A 'Day Trip' sees one spending a day exploring the area around your original destination. This may sound obvious, but Day Trips are distinctly different from 'Full Day Tours' in the sense that it's essentially a tour within a tour. Day Trips are also a great idea for locals since you can go on a mini adventure without committing to a long vacation.
Examples of Day Trips in other countries may include adventures such as crossing the border to visit the Niagara Falls during your time in Toronto, or relaxing at the Hakone hot springs when in Tokyo. Basically any place that can be reached within a few hours, whether remote or not, can count as a Day Trip.
Due to Italy's geography (a relatively narrow and elongated peninsula), along with its good road and rail network, many parts of the country can be accessed during a day trip. You can even head to some of Italy's stunning offshore islands such as the famous island of Capri via ferry or boat if you get the urge to stretch your sea legs.
The Surrounding Area
Rome is located in the Lazio region of Italy and is of course also the capital city of the country. If you look at a map, the city is situated roughly in the midpoint and on the western coast of the Italian peninsula. Most of central Italy can be reached from here within an hour or so, and as previously mentioned there are also many coastal islands that can be visited.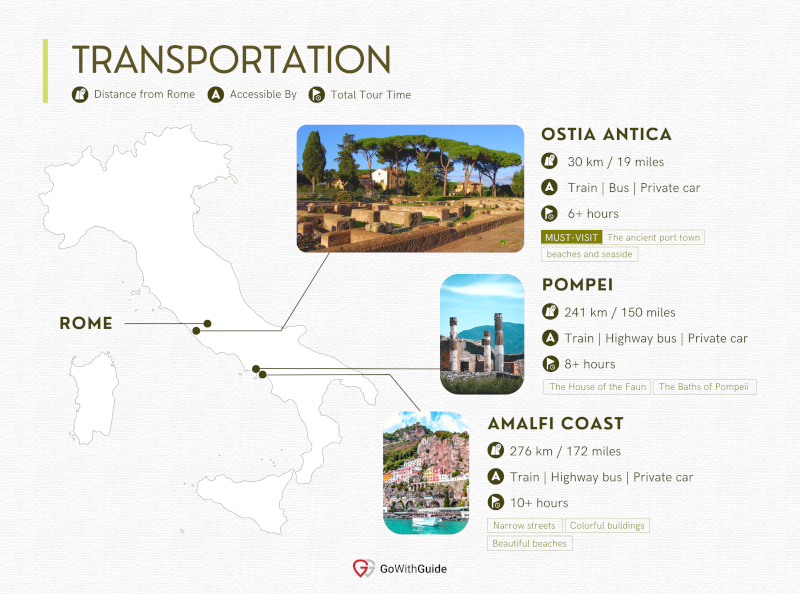 Ostia Antica
Distance from Rome: 30 km / 19 miles
Accessible by: Train, bus, private car
Total tour time: 6+ hours
Located just a short distance from Rome, the archaeological sites of the ancient port town of Ostia Antica are a must-see if you find yourself in Rome. As one of the best preserved examples of ancient Roman architecture, here you can catch a rare glimpse at what life might have been like during the days of the empire. Marvel at the remains of the Temple of Jupiter, Baths of Neptune, and much more.
You can also enjoy the beaches and relaxed seaside atmosphere of the town of Ostia itself. The archaeological site covers a large area, and there are many well-preserved ruins to explore, including the amphitheater, the public baths, and the ancient market.
The town is close to Rome and easy to get to via either train, bus, car, or even taxi. The easiest way is to take the train, the journey taking only around 30 minutes on the Roma-Lido line. It's a good idea to purchase your tickets before the day of your trip as there may be long queues during the peak tourist season. Also remember to wear comfortable shoes since you'll be walking a lot, and bring a hat and some sunscreen especially if visiting during the warmer months.
Pompeii
Distance from Rome: 241 km / 150 miles
Accessible by: Train, highway bus, private car
Total tour time: 8+ hours
Pompeii is one of the most famous archaeological sites in the world and just a day trip away from Rome. Located at the foot of Mount Vesuvius, Pompeii was a flourishing ancient Roman city that was buried under volcanic ash after the eruption of 79 AD.
While a little bit farther away, Pompeii and Naples can be easily reached via a comfortable train ride from Rome. Once in Pompeii, visitors can explore the ancient city and its well-preserved ruins, including the amphitheater, the Forum, and the Temple of Apollo. One can also visit the House of the Faun, one of the largest and most luxurious villas in Pompeii, and the Baths of Pompeii, which give a glimpse of ancient Roman bath culture.
You can also choose to hike up Mount Vesuvius itself to enjoy stunning views of the Bay of Naples and the surrounding area. You can also visit Herculaneum, another ancient Roman city that was destroyed by the same eruption. Herculaneum is smaller than Pompeii but better preserved, offering a more intimate and less crowded experience. The city is known for its well-preserved mosaics and frescoes.
Amalfi Coast
Distance from Rome: 276 km / 172 miles
Accessible by: Train, highway bus, private car
Total tour time: 10+ hours
One of the most sought after and exclusive places to visit in Italy, the Amalfi Coast is a stunning stretch of coastline located just south of Naples, featuring picturesque villages, crystal-clear waters, and breathtaking views.
When visiting the Amalfi Coast you can easily combine it with a tour of Pompeii, Herculaneum, or Naples since they are all in the same region. The town of Amalfi is also a must-visit, with its narrow streets, colorful buildings, and beautiful beaches. Visitors can also take a hike along the Path of the Gods, a scenic trail that offers breathtaking views of the coastline.
If you are in search of a nature-filled getaway, the Amalfi Coast is your best bet. You can enjoy a quiet day relaxing on the beach, go on amazing hikes, or even scuba dive, surf, or swim in the azure waters of the Mediterranean. Many boat tours are also available in the area, so you can even visit nearby islands.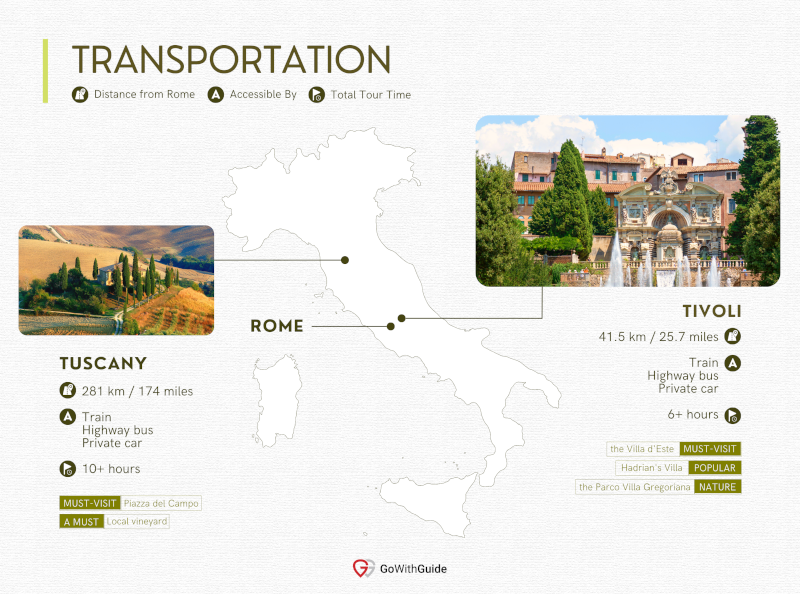 Tuscany
Distance from Rome: 281 km / 174 miles
Accessible by: Train, highway bus, private car
Total tour time: 10+ hours
Tuscany is a beautiful region of Italy famous for its picturesque landscapes, quaint towns, and delicious food and wine. From Rome, it's possible to take a day trip to Tuscany and experience the region's many delights, again taking the train is probably the easiest. Visitors can explore the charming medieval towns, take in the stunning views of the rolling hills, and indulge in the delicious local cuisine.
One of the must-visit destinations in Tuscany is the town of Siena, famous for its medieval architecture and historic Piazza del Campo. Visitors can take a guided tour of the town and learn about its rich history and culture, or simply wander the narrow streets and soak up the ambiance.
For those interested in wine, a visit to a local vineyard is a must. The region is known for its excellent wines, and visitors can sample some of the best while learning about the winemaking process.
Tivoli
Distance from Rome: 41.5 km / 25.7 miles
Accessible by: Train, highway bus, private car
Total tour time: 6+ hours
Tivoli is a small town located just outside of Rome and is popular due to its stunning gardens, historic villas, and ancient ruins. Visitors can experience a taste of Italy's rich history and culture while enjoying the town's natural beauty.
One of the top attractions in Tivoli is the Villa d'Este, a 16th century villa with stunning terraced gardens and fountains. Visitors can stroll through the gardens, admire the ornate fountains, and take in the breathtaking views of the surrounding countryside.
Another popular destination is Hadrian's Villa, a sprawling complex of ruins that once served as the private residence of the Roman Emperor Hadrian. Visitors can explore the ruins of the villa and learn about the emperor's life and reign.
For those interested in nature, a visit to the Parco Villa Gregoriana is a must. This scenic park features a series of waterfalls, caves, and grottoes, and offers stunning views of the surrounding countryside.
Conclusion
The myriad of sights and attractions you can visit with a simple Rome day trip is truly astounding and this is by no means an exhaustive list. As an added bonus you can take advantage of Italy's excellent public transportation network to get to these destinations within a few hours, or if you'd prefer a more private journey rental car or chauffeurs are also available.
Contact one of our excellent guides today to figure out how best to plan and execute a Rome day trip that will enhance your tour experience to no end.