It's like swimming against the Nile's current, isn't it? With each hour spent deciding if a private guide is the best way to explore the Land of Pharaohs, the dream of a carefree Egypt Adventure slips away. We're here to end that back and forth.
Whether you're freaking out over the horror stories you've heard about touring Egypt or trying to figure out how to fit the country's greatest hits into your limited itinerary, you've come to the right place. Do you need a tour guide in Egypt? By the end of this article, you'll be able to confidently make that decision, so let's break down the good, bad, and everything in between.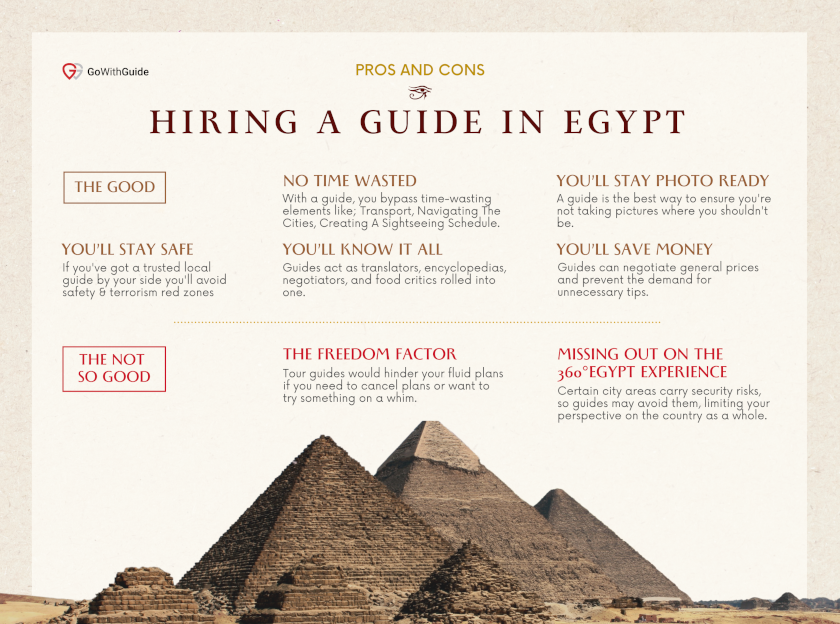 The Good
Should you get a guide for Egypt? This is why we say yes.
1. You'll Stay Safe - Let's address the camel-shaped elephant in the room. You've probably encountered some worrying information while doing research for your Egypt trip. From scams and tourist haggling to harassment and terrorism, Egypt has some of the same struggles other developing nations face. So Is it safe to travel to Egypt? Yes. If you've got a trusted local guide by your side you'll avoid;
Popular counterfeit goods such as gold and papyrus

Harassment from idle locals

Areas with heightened political unrest
2. No Time Wasted - Who wants to get lost in the middle of Cairo? Or spend hours in traffic from one monument to the next? Nobody. With a guide, you bypass time-wasting elements like;
Transport

- Getting around

Cairo

and Egypt's major cities is difficult. A guide can organize

private transport

. So no long negotiation processes with taxi drivers.

Navigating The Cities

- The sights, sounds, and smells of a major metropolitan city like Cairo can be overwhelming for first-timers. Your attention will be pulled in several directions. Stick to the important stuff and avoid getting derailed by hiring a local resident.

Creating A Sightseeing Schedule

- You want to hit the

Giza Plateau

,

Valley of the Kings

, and the

Egyptian Museum

, but it's taking just as long to plan it all? Our guides are experts at creating customizable tour plans that fit your schedule, personal needs, and interests.
3. You'll Know It All - Reading up on your destination's customs and rules is one thing, but having a local with knowledge about the lay of the land unlocks a level of information you wouldn't have known. Guides act as translators, encyclopedias, negotiators, and food critics rolled into one. Their knowledge will paint an authentic picture of Egypt.
4. You'll Save Money - The phrase "private guided tour" isn't often associated with saving money, but in Egypt, private guides are a budget's best friend. The tipping culture can be excessive, with some demanding tips for lifting your bag or opening the door. Guides can negotiate general prices and prevent the demand for unnecessary tips.
5. You'll Stay Photo Ready - There's a bit of a photography problem here. Street photography was forbidden for years, but things have eased up. Still, a guide is the best way to ensure you're not taking pictures where you shouldn't be. They'll also be the perfect camera person should you decide to strike a pose.
The Not So Good
Here's why a guide might not be the best for you.
The Freedom Factor

- though GWG tours are as flexible as they come, tour guides would hinder your fluid plans if you need to cancel plans or want to try something on a whim.

Missing Out on The 360°Egypt Experience

- While guides offer an authentic view of Egypt, those looking to experience all sides of the country, good, bad, and in-between, would miss out. Certain city areas carry security risks, so guides may avoid them, limiting your perspective on the country as a whole.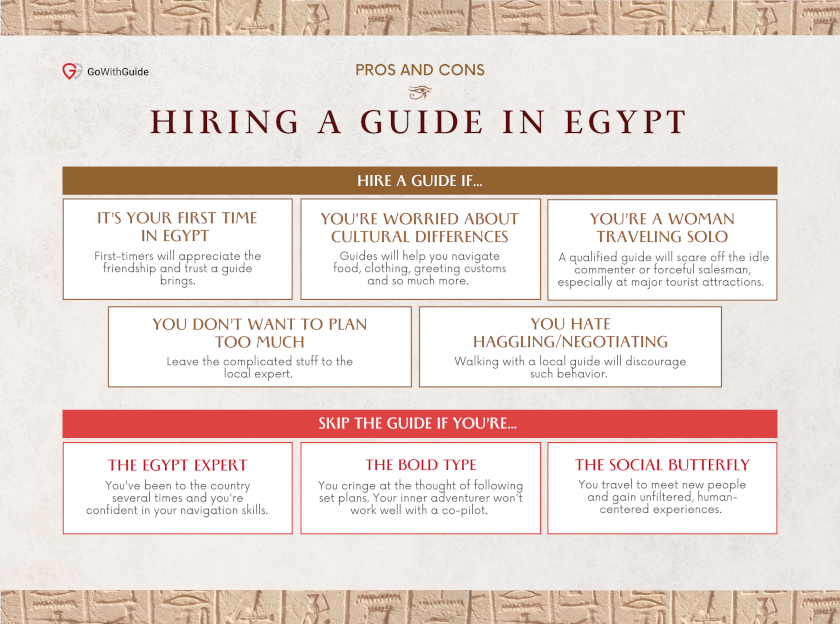 Hire A Guide If…
If this sounds like you, a GWG Guide is in your near future.
It's your first time in Egypt

. There's a learning curve, so your Egypt journey will be more enjoyable with a trusted companion. First-timers will appreciate the friendship and trust a guide brings.

You're worried about cultural differences

. Egypt is a Muslim nation, so its culture has strong roots in the religion. That comes with customs and daily practices that you should keep in mind. Guides will help you navigate food, clothing, greeting customs and so much more.

You hate haggling/negotiating

. There's a lot of that here. One of the most common complaints from tourists is the haggling and persistence from vendors, taxi and motorbike drivers, and salespeople. Walking with a local guide will discourage such behavior.

You don't want to plan too much

. Luxor, Alexandria, Cairo, and Aswan have much to offer, and you want to spend time seeing instead of planning. Leave the complicated stuff to the local expert.

You're a woman traveling solo

. It's frustrating, but in Egyptian society, women can be the target of some uncomfortable catcalling and staring. They're also seen as easier targets for scammers and aggressive vendors. A qualified guide will scare off the idle commenter or forceful salesman, especially at major tourist attractions.
Skip The Guide If You're…
The Egypt Expert

- You've been to the country several times and you're confident in your navigation skills. From the pyramids and downtown Cairo, you can expertly tackle any issues that arise. Egypt is basically your backyard.

The Bold Type

- You cringe at the thought of following set plans. You'd rather pull up Google Maps, pick a random spot and head out. Your inner adventurer won't work well with a co-pilot. Even if some encounters are negative, you want to have them, knowing they will enrich your trip.

The Social Butterfly

- You travel to meet new people and gain unfiltered, human-centered experiences. You would hate to be limited, and you'd prefer learning some key Arabic phrases and interacting with everyday Egyptians than having a guide act as the go-between.
Conclusion
What if you fall somewhere in the middle and want the best of both worlds? We've got you. Explore on your own, and reserve your guided trips for Egypt's in-demand sites, where large crowds and aggressive vendors are plenty. Our most popular Egypt tours range from a few hours to a day.
With a GoWithGuide tour, the only thing you'll be breaking a sweat over in Egypt is the heat. No anxiety over safety. No overpriced trinkets and low-quality experiences. No time wasted calling venues to check availability. Just time well spent in a breathtaking country. Ready to get started? Check out our Egypt private tour guides and create your customizable dream tour.
Image Links
Al Giza Desert, Egypt
Cairo Street View, Egypt
Kom-Ombo Temple, Egypt
Sailing In Aswan, Egypt
Valley Of Kings, Egypt
Cairo Market, Egypt
Hurghada, Egypt
Cairo Souk, Egypt
The Red Sea, Egypt
Cairo Aerial, Egypt
Source Links
Challenges Facing Tour Guide Profession and Their Impact On The Egyptian Guide's Performance
Ministry of Tourism & Antiquities: Discover Egypt
Egyptian Tourism Authority
Egypt: Prime Minister Issues New Rules on Personal Photography in Public Places | Library of Congress