Let's be real. You don't need a reason to dive into the sights and sounds of Lisbon. As one of the most visited cities in Europe, Portugal's capital is exciting and charming all at once. The kicker? It's only up from there.
Enchanting as the capital city is, there's a treasure trove of exploration just a few kilometers from popular sites like The Belem Tower or the Alfama district. Want to experience it all? That's where day trips come in.
Unlike a day tour where you stick to sites within Lisbon, like the Jeronimos Monastery or the Oceanarium, day trips allow you to venture beyond the city limits and back, all in one day. With each region having something special to offer, you're bound to find an adventure that suits you.
Discover Portugal: Sites Around Lisbon & How To Get There
What day trips can you take from Lisbon? For some fun in the sun, head to Sesimbra, Costa da Caparica, and Arrabida. Hopeless romantics will fall in love with Sintra and Obidos, and history buffs will quench their thirst for knowledge in Fatima and Evora.
How about the journey there? Day trips from Lisbon are accessible via trains, private cars, and buses, so keep reading for a full breakdown. If you're strapped for time, the closest tourist city to Lisbon is the lovely Sintra. Do you have time on your hands? Try a trip to Porto or Faro. Either way, we've got you covered.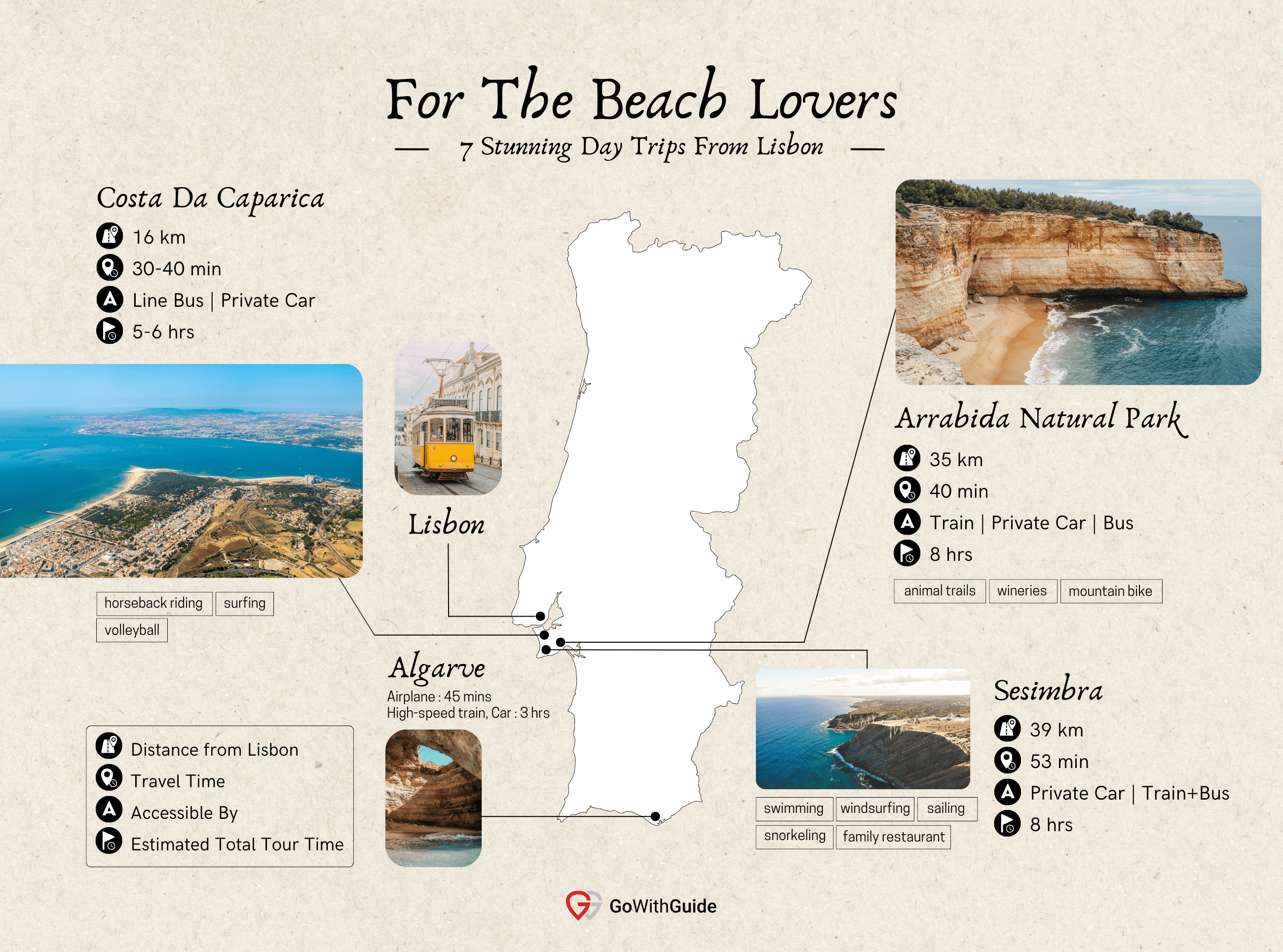 For The Beach Lovers
1. Sesimbra
Distance from Lisbon: 39 km
Travel Time: 53 min
Accessible By: Private Car, Train+Bus Combination
Estimated Total Tour Time: 8 hrs
At the foot of Arrabida's rolling hills lie the soft sandy beaches of Sesimbra. Beloved by locals thanks to its fishing roots and quiet living, it's a great way to catch some sun and step away from city life.
Hikes along lush greenery, scenic bike paths, tours of the Moorish Castle, and white-walled churches are just some of the many elements in this Atlantic jewel. There are several mountain bike renting shops, so get the best for you and your group with a local guide's expertise. If you're looking for adventure, head towards the crystal waters for lots of sun, swimming, windsurfing, snorkeling and sailing.
One of the greatest highlights of the city lies in its cuisine. Simply duck into one of the many family restaurants and refuel with freshly caught fish, prepared with local ingredients. When it comes to transport, a private car will get you there fastest, in 35 minutes. If you want to try the train or bus, both will take around 1 hr.
2. Costa Da Caparica
Distance from Lisbon: 16 km
Travel Time: 30-40 min
Accessible By: Line Bus, Private Car
Estimated Total Tour Time: 5-6 hrs
Dancing alongside the Atlantic, Costa da Caparica beach is a 15 km breath of fresh air. From horseback riding to surfing and volleyball, there's much to do here. It's ideal for adventurers who want to experience Portugal's growing social crowds.
With so much to see and do, you can get caught up in the buzzing beach lifestyle. Local experts can help you find the best restaurants, activities, and transport options, leaving you more time to relax or chase that adrenaline rush. Never tried a guided tour before? Check out our pros and cons list to take the guesswork out of your dream vacation.
If you're not a fan of big crowds, save your Costa da Caparica trip for the off-season, as the summer months of June-September see heavy crowds along the first 5-10 km of the beach.
3. Arrabida Natural Park
Distance from Lisbon: 35 km
Travel Time: 40 min
Accessible By: Train, Private Car, Bus
Estimated Total Tour Time: 8hrs
A stone's throw from Sesimbra, Arrabida Park is a protected paradise designed for the environmental enthusiast. With over 100 sq km to discover, you'll be spoiled for choice between beaches, animal trails, and even wineries! The diversity means a full day of touring ahead, so an early morning departure is the best way to experience it all.
This place has it all. Hiking the steep hills of Setubal, paragliding along the Atlantic, soaring the green valleys on a mountain bike, and stopping by a winery to taste local port varieties. Since it's only 40 minutes from the city, heading here with your travel group via private car service will keep things light and carefree. You can even stop along the way to look at Setubal's stunning scenery.
Travel Treat: Discover The Algarve
Southern Portugal's premiere region may be further, at 280 km, but with beaches, caves, castles, and hiking trails, it's quickly becoming a must-see destination. So can you take an Algarve day trip from Lisbon? Yes, if you plan on flying, which takes 45 minutes. Is there a high-speed train? Yes, but the journey takes 3 hours, roughly the same time it would take if you use a private car. If you head to the Algarve, this immersive New Sensations tour is the perfect introduction.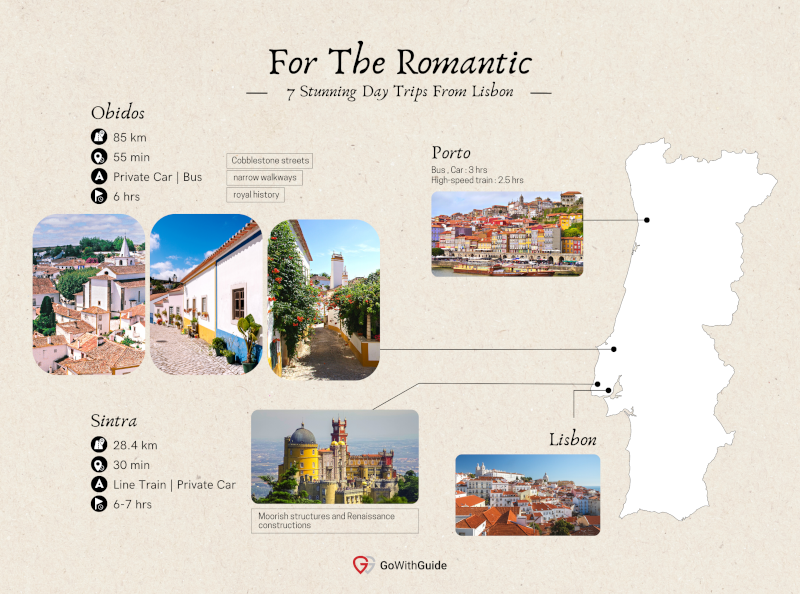 For The Romantic
4. Sintra
Distance from Lisbon: 28.4 km
Travel Time: 30 min
Accessible By: Line Train, Private Car
Estimated Total Tour Time: 6-7 hrs
Welcome to Sintra, Portugal's whimsical destination built during Europe's architectural exploration of romanticism. Step into 19th-century Sintra, where winding forestry of local and imported trees blends with Moorish structures and Renaissance constructions.
Dubbed a place of universal value by UNESCO, it's perfect for those looking to get lost in a storybook setting. So, can you take a day trip to Sintra from Lisbon? Yes! It's only 30 minutes from the capital, so you'll only spend an hour on the road. You've got the entire day to explore, so check out some of our popular Sintra tours and pick your favorite!
Sightseeing Through Sintra & Cascais

- Spend the day strolling through breathtaking sites like the colorful Pena Palace. Then, stand at the westernmost point of mainland Europe, Cabo da Roca, to gaze at the spectacular mountain ranges. Finish the day in Cascais and Estoril to discover the World War 2 roots that held the nation together.

Culture & Nature Sintra Tour

- Spend the day like a royal in the white, tiled walls of Sintra Palace before heading towards the fairytale setting of Villa Sassetti. The icing on the cake? Sampling Sintra's beloved Queijada de Sintra e Travesseiro pastries.
5. Obidos
Distance from Lisbon: 85 km
Travel Time: 55 min
Accessible By: Private Car, Bus,
Estimated Total Tour Time: 6 hrs
Obidos is the kind of place that would make the perfect setting for a love story. Cobblestone streets, narrow walkways, and royal history, what more could you ask for? Rich in medieval scenery, it's one of the most well-preserved towns in the country. Beloved by the Romans and later King Afonso Henriques, the first of Portugal, it's reminiscent of traditional neighborhoods like the Alfama.
We suggest a stroll through Rua Direita, the main street, where you can buy locally made crafts, and speak to the residents about daily life. Looking for something a little more royal? Head to the Obidos Castle, one of Portugal's Architectural Wonders, which doubles as a luxury hotel, so you can live like a royal.
What's the fastest way to get here? Private car. With a GWG tour, you'll be picked up and dropped off at your Lisbon hotel. Public buses can take up to 1hr 45 minutes, and trains can take up to 2 hrs.
Ready for a picturesque tour? Uncover Obidos with this guided experience;
Discover Historic Obidos & Mafra

- Fortified walls, cozy castles, and medieval markets make for a scenic journey in this slow-paced village. Once you've tasted Obidos, head for Mafra, a city with one of the largest palaces in the country.
Travel Treat: Discover Porto
There's a bit of a silent competition between Lisbon and Porto, thanks to its port wine, daring architecture, and stunning art hubs. Though Porto is 314 km from the capital, it's a popular day trip destination for those touching down in Portugal. Is it a long journey? Yes. A bus or car ride to Porto can take over 3 hours. How long is the train ride to Porto? High-speed trains can take 2.5 hours, which is the fastest form of land travel. If you feel it's worth the journey, which we think it is, check out these Porto private tours.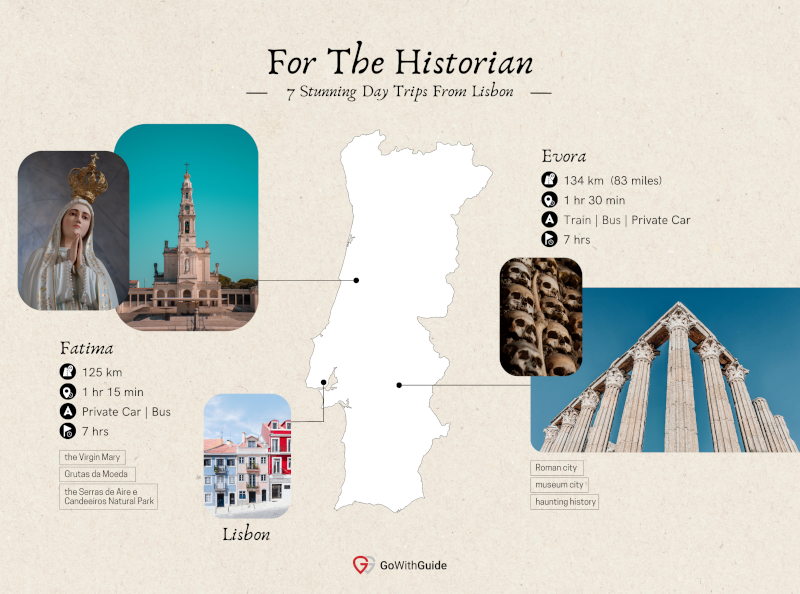 For The Historian
6. Fatima
Distance from Lisbon: 125 km
Travel Time: 1 hr 15 min
Accessible By: Private Car, Bus
Estimated Total Tour Time: 7 hrs
Fancy mysterious encounters and unexplained phenomena? Head to Fatima, home of the 1917 alleged sighting of the Virgin Mary. The story of three peasant children witnessing the revelation of The Virgin transformed this small village into a key destination for Catholics worldwide. It is home to the monumental Sanctuary of Fatima and several religious museums and architectural feats.
Beyond faith-based structures, you can head to the Grutas da Moeda, Portugal's largest cave collection, with ten chambers to explore. Or, you could walk amongst giants at the Serras de Aire e Candeeiros Natural Park, where Jurassic-era dinosaur footprints await.
7. Evora
Distance from Lisbon: 134 km (83 miles)
Travel Time: 1 hr 30 min
Accessible By: Train, Bus, Private Car
Estimated Total Tour Time: 7 hrs
You'll be forgiven for mistaking Evora for a Roman city. After all, the glaring columns of the Diana Temple could easily fit in with any ancient Roman civilization. As a military stronghold for commanders like Quintus Sertorius, the city remained prominent until the 16th century.
Beyond its Roman roots, the capital of the Alentejo region was home to many Portuguese kings and later became a hub of artistic influence thanks to its azulejo tiles. Today it's known as the museum city, rich in beautiful and haunting history like the Chapel of Bones, and the Cathedral of Evora.
Though the journey is 1.5 hours, each location is within walking distance, making for a carefree tour once you arrive. Trains and private cars will get you there around the same time, so it all comes down to what you prefer. For a modern perspective on ancient history, you'll love this Evora day tour;
Evora Historic Discovery

- Learn about the legacy of Evora, including its Roman beginnings, Moorish rule, and the Portuguese golden era. Then, head to the Bone chapel for the ultimate "memento mori" before strolling through old town Evora.
Conclusion
With so much to see, just the thought of planning every step on your own is overwhelming and boring. Leave the logistics to the experts.
With a GWG private tour guide by your side, you'll get the best of Lisbon's surroundings and none of the stress. Our customizable, flexible tour puts the thrill back into travel, keeping your interests at the center of every trip. So Vamos, let's make it happen!
Source Links
Arrábida Natural Park-Setúbal-Portugal
Rome2Rio
Algarve | Location, History, Economy, & Facts | Britannica
Cultural Landscape of Sintra - UNESCO World Heritage Centre
Fátima | Portugal | Britannica
Grutas da Moeda
Historic Centre of Évora
Évora | Portugal | Britannica