Ah, the Queen of the Sea. The White City. The City of Light. Each name is a perfect description of your dream destination. The only thing that doesn't fit your Lisboa adventure is your nervous feelings about exploring the city. Do you go it alone? Is it better to travel with a tour guide? Guides are great, but are they always necessary?
We're here to help you cut through the noise and experience your own age of discovery, whether that's with our Lisbon private tour guides, or not. So let's get the pros and cons out of the way, so we can get to the best part, touring Lisbon. Vamos!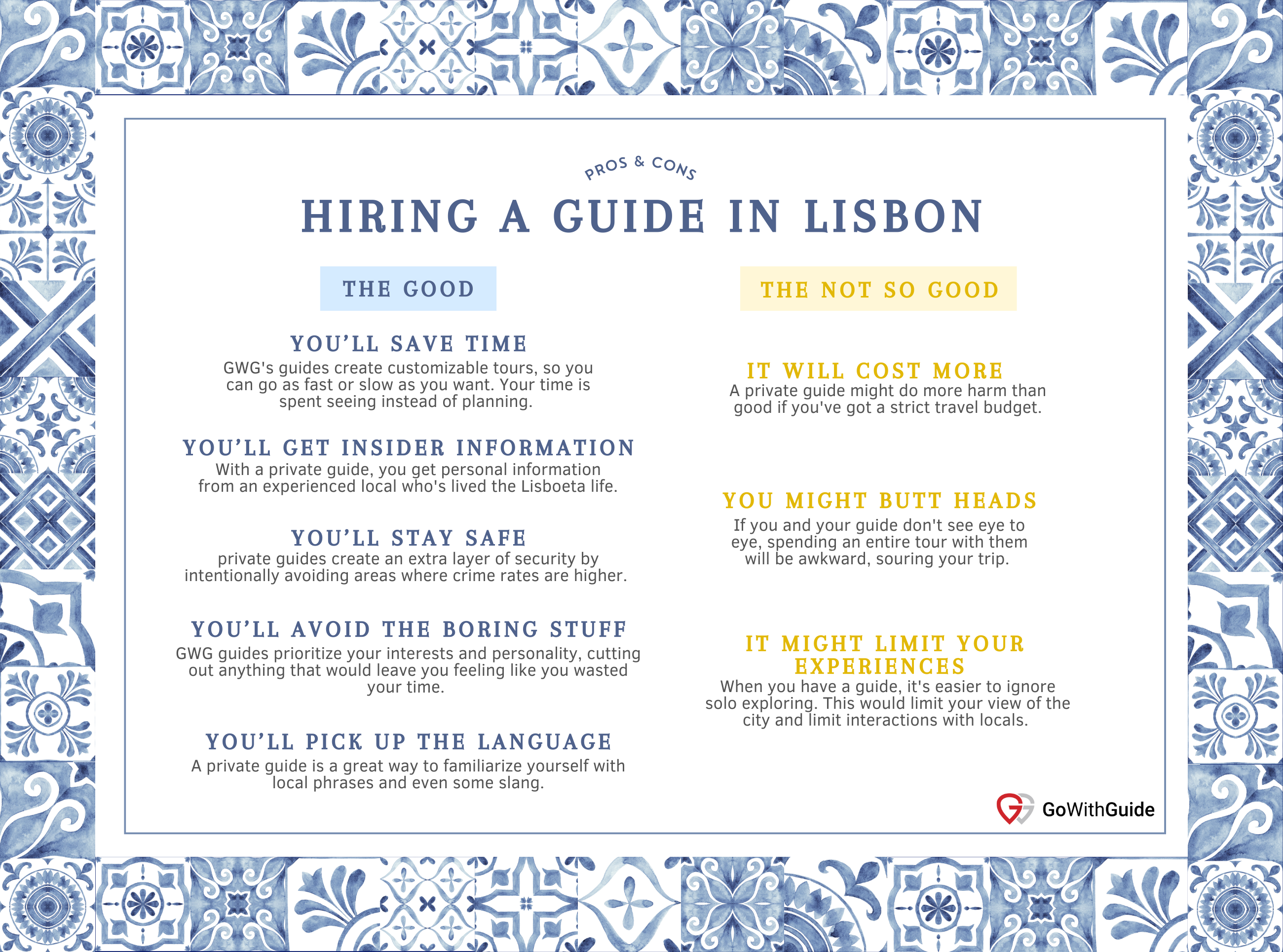 The Good
Why should you hire a tour guide?
You'll save time - Everybody loves traveling, but few love the complications associated with planning an itinerary, especially in a city as popular as Lisbon. Who do you call? How do you book tickets? What should you avoid? Private guides take care of all of that. GWG's guides create customizable tours, so you can go as fast or slow as you want. Your time is spent seeing instead of planning.
You'll get insider information - Sometimes, reading a tour pamphlet or article isn't enough. With a private guide, you get personal information from an experienced local who's lived the Lisboeta life. Private guides know Lisbon's best-kept secrets, which gives you access to special tour deals, hidden restaurants, and rare local attractions.
You'll stay safe - When it comes to safety, Lisbon is high on the list. In fact, the Institute for Economics & Peace ranked Portugal the 6th safest country in the world. So are there areas in Lisbon to avoid? Of course. Though it's generally safe, private guides create an extra layer of security by intentionally avoiding areas where crime rates are higher.
You'll avoid the boring stuff - There's so much to see, so why waste your time in places that don't interest you? Traditional tours can be stiff, often featuring popular locations, but your inner adventurer might find museum tours boring. GWG guides prioritize your interests and personality, cutting out anything that would leave you feeling like you wasted your time.
You'll pick up the language - One of the best parts of traveling is learning a new language. Looking to sharpen your Portuguese? A private guide is a great way to familiarize yourself with local phrases and even some slang. They're patient and great for practicing your skills without pressure.
The Not So Good
What are the disadvantages of having a tour guide in Lisbon?
It will cost more. A private guide might do more harm than good if you've got a strict travel budget. If you're considering cost over convenience, it's something to look into, especially if you have to cancel a tour last minute. For a general price breakdown, check out our Lisbon tour packages.
You might butt heads. More often than not, you and your guide will get along just fine. You might even become close friends after spending a day together. However, if you and your guide don't see eye to eye, spending an entire tour with them will be awkward, souring your trip.
It might limit your experiences. When you have a guide, it's easier to ignore solo exploring. This would limit your view of the city and limit interactions with locals. To avoid this, try mixing in some guided and solo tours. After all, Lisbon is one of the most walkable cities in the world, so pick a site and test your navigation skills.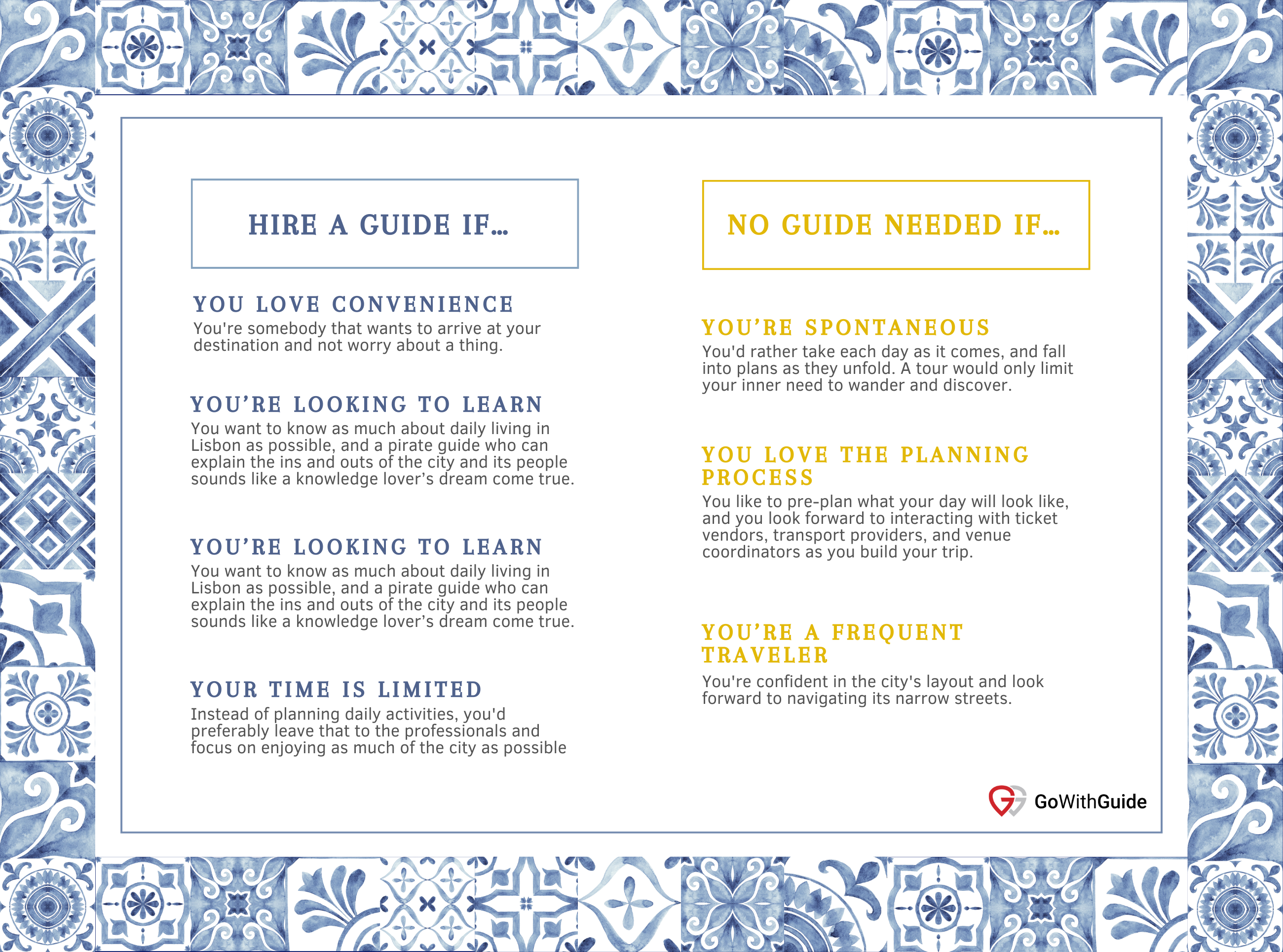 Wondering what a tour guide provides and whether you'll need one? Consider this quick checklist.
Hire A Guide If…
You Love Convenience. You're somebody that wants to arrive at your destination and not worry about a thing. You trust a local expert to handle the logistics and want to minimize the stress from detailed planning.
You're Looking To Learn. Travel for you is just as educational as it is relaxing. You want to know as much about daily living in Lisbon as possible, and a private guide who can explain the ins and outs of the city and its people sounds like a knowledge lover's dream come true.
Your Time Is Limited. Your time in Lisbon isn't as long as you would like. Instead of planning daily activities, you'd preferably leave that to the professionals and focus on enjoying as much of the city as possible
No Guide Needed If…
You're Spontaneous. "Structure" isn't a word you include in your trips. You'd rather take each day as it comes, and fall into plans as they unfold. A tour would only limit your inner need to wander and discover.
You Love The Planning Process. For you, the joy of traveling is all in the details. You like to pre-plan what your day will look like, and you look forward to interacting with ticket vendors, transport providers, and venue coordinators as you build your trip.
You're A Frequent Traveler. Lisbon is not so scary for you as you've traveled far and wide. You're confident in the city's layout and look forward to navigating its narrow streets.
Okay, so you've weighed the options, and you're ready to hire a guide, but you've got first-time jitters. These quick do's and don'ts should ensure a smooth tour free of awkward moments.
Lisbon Guide Do's & Don'ts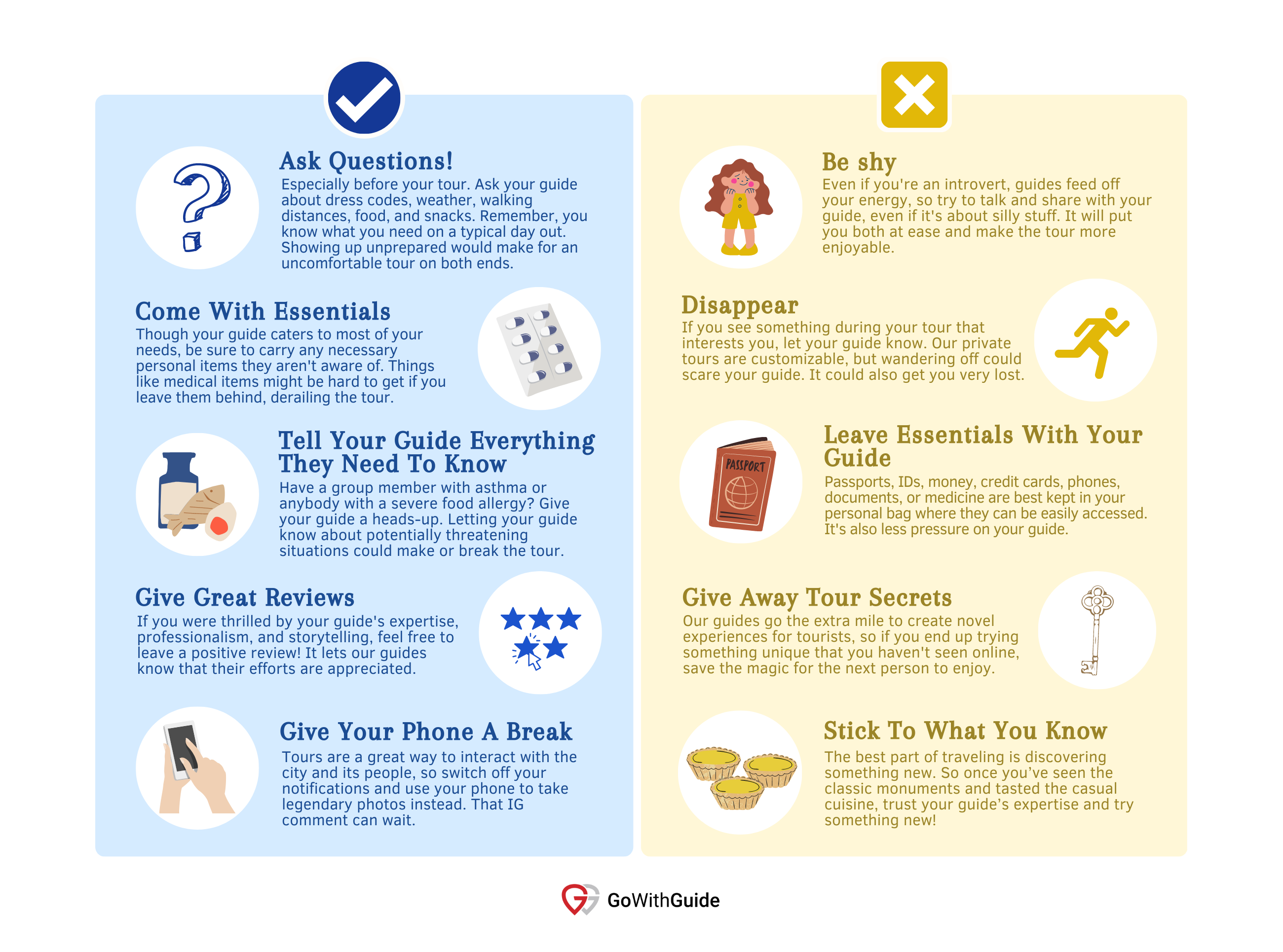 Need to know more about your destination? Get the scoop on the White City with our Lisbon Tourism Statistics
Now For The Fun Part…
Alright, the mental gymnastics are over. You're getting a private guide. It's time for long walks along the Alfama district, mornings spent sampling local delicacies, and days spent sipping port wines. Here are some guided tours to get you started.
Fancy a taste of Portugal? These Lisbon Food Tours bring out the best of the city, from bifana sandwiches to bacalhau, Portugal's beloved codfish.
Discover the Setubal Region - Wine awaits on this day trip from Lisbon to the beloved wine region of Setubal. After sampling the best of 3 wineries, your day wraps up with a quiet evening in the old town of Pamela.
A Taste of Traditional Portuguese Cuisine - Experience a 3-hour indulgence of Portugal's classics, from stunning seafood to soothing olive oil and the beloved pastel de nata.
Enchanting Sintra awaits. From castles and peaceful forests to small towns, Sintra's storybook charm is worth the journey.
Full Private Sintra Day Tour - Sintra's landscape feels like an enchanted fairytale. This UNESCO World Heritage Site is home to several stunning castles, and a tranquil beach, which means spectacular seafood.
Take advantage of Lisbon's winding streets with these guided walking tours through some of the city's most historic sites.
Exploring Alfama & Rossio - Get to the roots of Portugal's capital with an in-depth walking tour through the old Alfama neighborhood. From Tram 28 to the haunting Fado music, you'll discover why everyone's raving about this humble destination.
Lisbon's History Uncovered - Did you know that Rome's footprints can be found in Lisbon today? Discover this and more as you walk through the city's longest-standing structures.
These tours are the tip of the iceberg, but if you're looking for something specific that speaks to your Lisboa dream, get in touch with our Lisbon private tour guides to create a custom itinerary that highlights your interests.