One of the best Hot-springs as good quality and oldest history is Arima-onsen. Several others are Kusatsu, Dougo, Gero and Shirahama. Arima-Onsen (Hot-spring) is located north-east in Kobe and around 1.8million people come to enjoy here every year.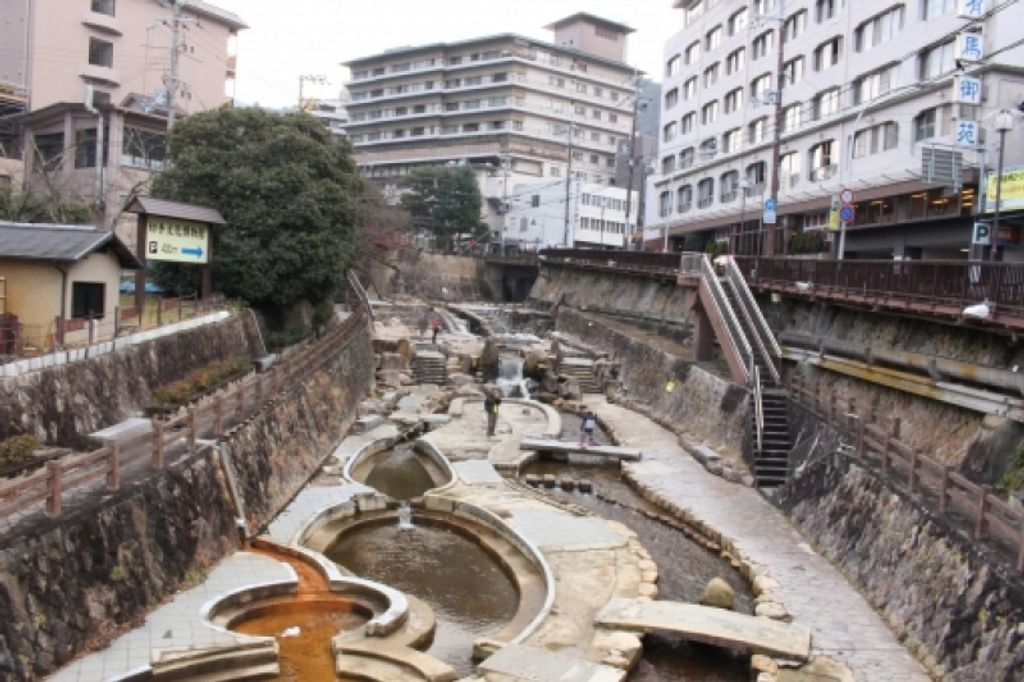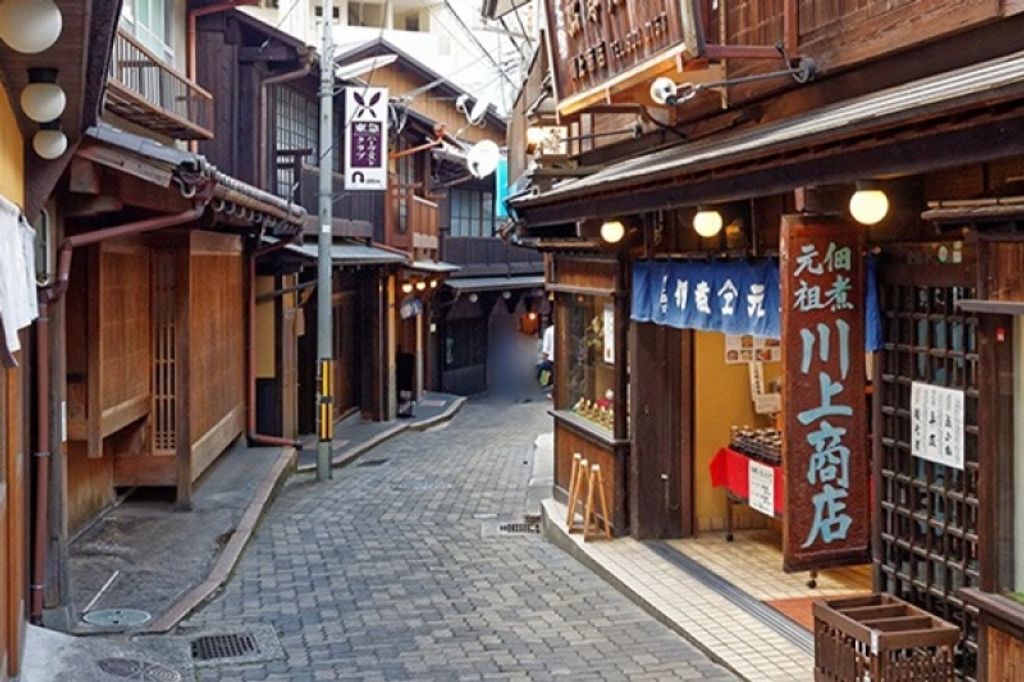 This onsen is the oldest one in Japan where there about 3000 numbers of onsen. You can see the evidence in the oldest historical book named "Nihonshoki" that describes Emperor Jomei at the first time had took vacation in Arima onsen for three months in 631.
Almost all historical famous writers, all top Samurai worriers from Heian-era to Edo era (12th century – 19th century) and even historical famous great people in the world such as Grace Kelly (Queen of Monaco), Sun Yat-sen and so-on.
Specially, Hideyoshi Toyotomi (Taiko) who had unified Japan at the first time as the greatest top Samurai in 16th century loved this onsen very much.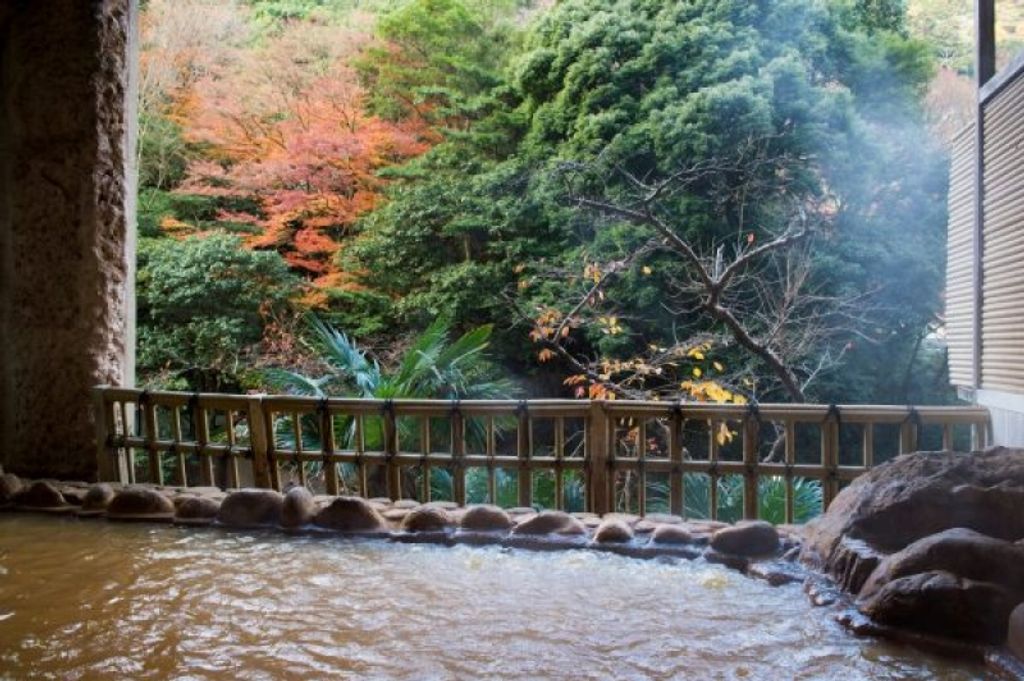 As the result, Hideyoshi had come here and enjoyed onsen after any important events such as all victories of war against his enemies, his all happly events for example of being blessed with his son and so-on.
He had re-arranged the town of Arima to be the best Onsen tour spots and he decided there as his own territory.
Even now, the special hot spring named Taiko-buro which was made for Hideyoshi has been remainned in Arima and you can see it.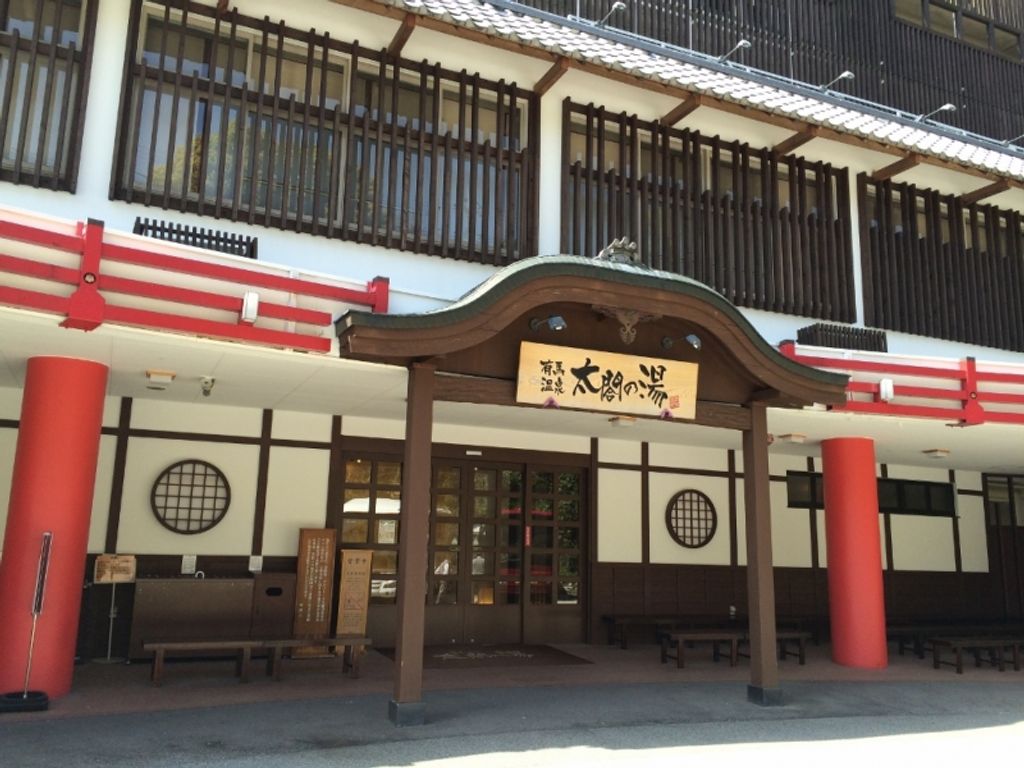 This onsen is famous for red hot spring called "Kinsen" and the temperature coming from underground is 98 degree.
It is said that the hot spring of Arima has excellent therapeutic effects. The reason are as follows.
Lots of iron content included inside the hot spring that bring heat keeping effect and let your body be warm.
Lots of salt included inside the hot spring that let your skin covered with coat and bring you moisture retention effect.
Lots of carbonic acid included inside hot spring that let your blood vessel widen and the circulation of blood be improved.
This hot spring including all of iron, salt and carbonic acid is very rare one in the world and the hot spring blow out with full power from the undergrounds. However, this hot spring is not from the effect of active mountains eruption, but it is blown up by a special topographical condition as follows.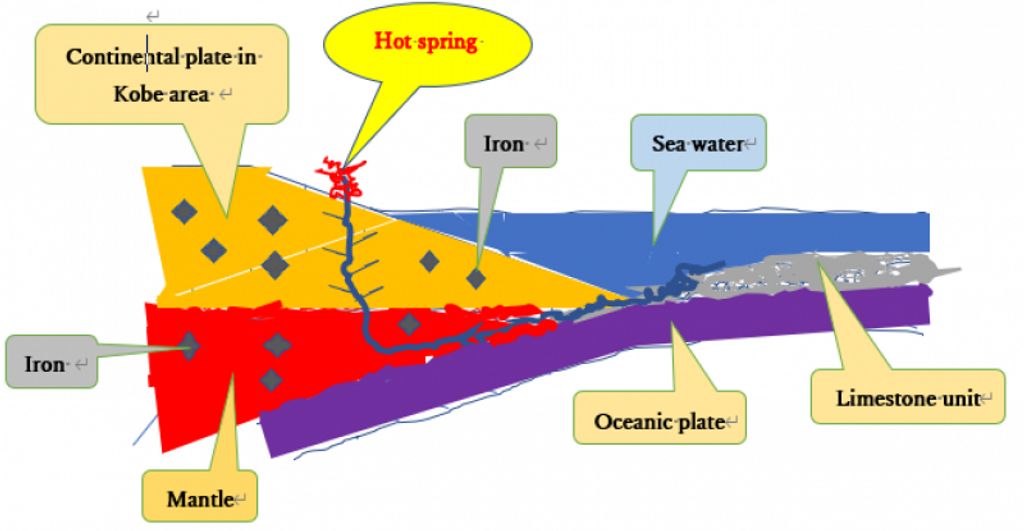 On this area near Arima in Kobe, Oceanic plate from the sea sink to underground with large quantities of sea water. Then, the sea water instantly boiled up by the mantle (600 degree) that was waiting under the continental plate.
In parallel, due to the shock of movement of fault created by Oceanic plate and Continental plate, there had occurred infinite cracks inside the rocks of continental plate.
Then, the boiled sea water climb up through those cracks by around 60km.
Please see the mechanism in the photo above which I described.
There are lots of iron included inside the rocks as shown in the photo and cracks that let the hot spring be included iron contents.
And the hot spring is created by sea water that let the water be included lots of salt.
There are limestone unit on the Oceanic plate that are created by the corpse of coal. (Please see the photo.)
This limestone inside the sea water is resolved to become carbonic acid by the mantle that let the hot spring be included carbonic acid.
This hot spring coming up at present has been created by spending 6million years with condensing sea salt, iron contents and carbonic acid into the hot water.
You can feel the hot spring which had been created 6million years ago when human-being had not yet existed.
If you are interested in visiting Arima Onsen, please contact me and I can supprt you.
by Kashima