I would like to introduce Ise Grand Shrine as the Top of All Shrines in Japan where I visited recently.
Ise Grand Shrine is located in Ise city of Mie prefecture and recognized as the universal tutelary god and the top of all 80 thousand number of shrines in Japan. There are 125 numbers of shrines not only Naiku(Inner shrine of Ise Shrine) and Geku(Outer shrine of Ide Shrine) but also associated shrines, auxiliary shrines, subordinate shrines and jurisdiction shrines.
Ise Grand Shrine had been the place where all Japanese people wanted to visit one in their whole life during Edo period (1602-1868).
Naiku(Inner shrine of Ise Shrine) was enshrined in about 2000 years ago of Emperor Suijin on upper part of Isuzu-river and deify the god named "Amaterasu Oomikami" who is the universal tutelary god in Japan.
Geku(Outer shrine of Ide Shrine) was enshirined in about 1500 years ago of Emperor Yuryaku on Ise city and deify the god named "Toyouke Oomikami" who serve the meals for Amaterasu-Oomikami and considered as the god of food, clothing and shelter.


The mythology of Japanese Gods had been written on "Nihon Shoki" which is the oldest history book in Japan,spending about 40 years from the beginning of Nara period (710-794) and been finished in 720. It is said that the purpose of this book is for Imperial Court to control all gods of shrines which each local clan had deified and to govern all these local clans.
According to this "Nihon Shoki", two gods named Izanami-no-Mikoto and Izanagi-no-Mikoto were the wife and husband who had created islands in Japan at the first time and Susano-no-Mikoto was the son of them who created actual country on earthly world in Japan. It is said that Izumo area was the first land Susano-no-Mikoto had stepped foot on from the heavens. That is why Izumo is said to be the hometown of Gods. Ookuninushi-no-Mikoto who was the son of Susano-no-Mikoto had executed nation building in Japan by Izumo as the basement.
After a while, the messenger from the heavens had come to meet with Ookuninushi-no-Mikoto and demanded him to descend the land. The meeting had been held in "Inasa-no-Hama" beach and finally Ookuninushi-no-Mikoto had agreed to transfer the land in Japan to the descendant of Amaterasu-Oomikami. In return for the transfer, it is said that Izumo Taisha shrine was built for Ookuninushi-no-Mikoto as main enshrined deity.
After the transfer, Emperor Jinmu who was the fifth grandchild of Amaterasu-Oomikami had executed eastern expedition and finally entered Yamato as the center of Japan and he became the first emperor in Japan.
Amaterasuoomikami has been enshrined in Ise Jingu shrine by Emperor Suijin who was the tenth emperor in Japan.


There are several arguments if these historical descriptions of deities are true or not, however, thanks to this mythology of Gods, Japan has kept Imperial Household of same family on more than 1400 years without be killed or ruined by any Samurai worriers who had dominated Japan and lots of traditional festivals of Shinto related such as Nachi-Fire Festival have been kept up to now.


Within the vast site of Ise Grand shrine whose total area is 5500 hectors as big as 1170 Tokyo fields, cypress has been planted on the area of 3000 hectors. In this area, lots of broad-leaved tress are also planted combined with coniferous trees of cypress so that moisture retention can be raised. Thanks to theses plants, Isuzu river can be white water within a half day even if the river once become muddy due to a big rains occur.
Regular shrine removal named "Shikinen-sengu" has been executed once 20 years from about 1300 years ago by which special shrines are re-built, all the costumes and ceremonial implements are changed to new ones.
Recently, the 62nd removal was executed in 2013 spending 8 years preparation period and at the time, Ujibashi bridge was reconstructed over Isuzu-river. The timbers for this removal currently are cut down from national forest because it will take 200 years for timber to be able to use in area of Ise grand shrine. Ise city has plan to use these timbers in the area in future.


Naiku(Inner shrine of Ise Shrine) :
Naiku(Inner shrine of Ise Shrine) is located in the riverside of Isuzu-river whose water come from Mt.Kamiji. According to "Nihon-shoki", it is described that during the period of the 11nd emperor Suijin, the best place to defy "Amaterasu-Oomikami" had been searched and finally, found this place about 2000 years ago.
Ujibashi-bridge:
Ujibashi-bridge is constructed over Isuzu-river whose length is 100meter and made by Cypress. Two big Torii with 7meter height are standing at both the foot of this bridge.
You can see the divine landscape of morning sun rising from the center of a big Torii standing in front of Ujibashi-bridge during the winter solstice.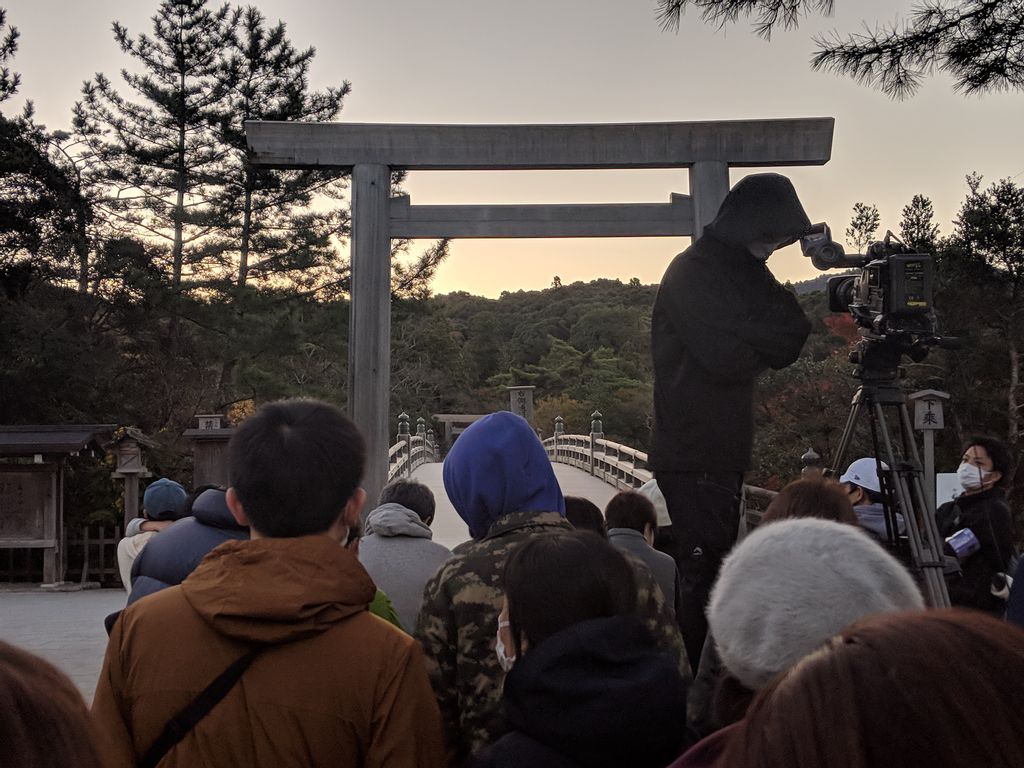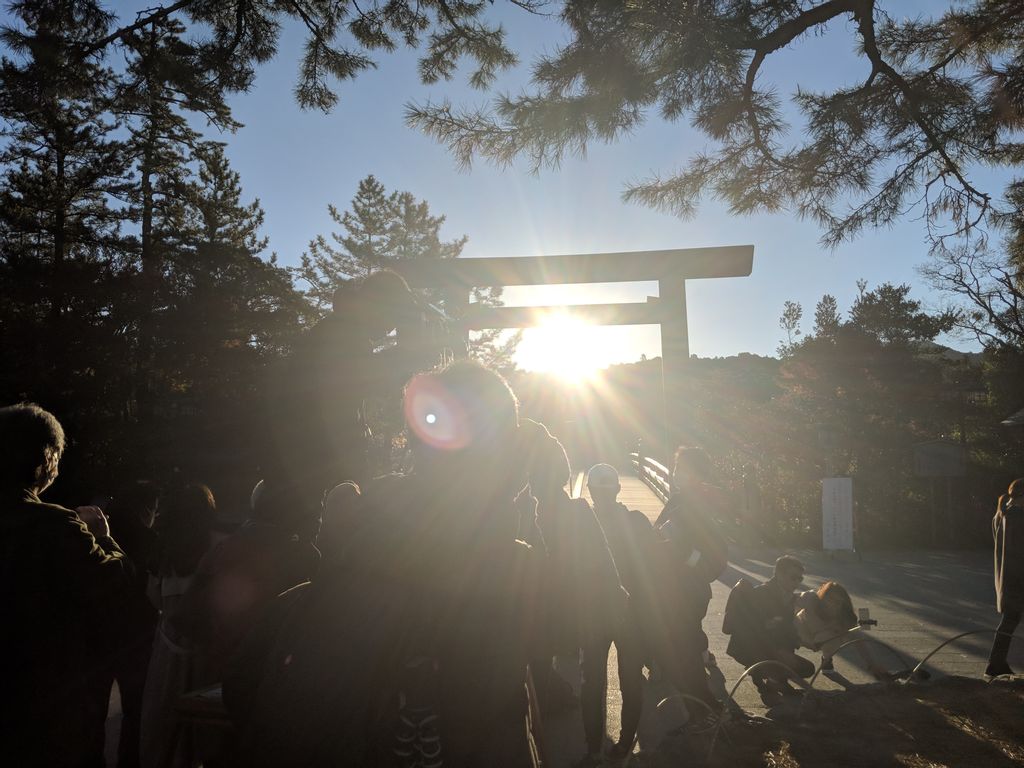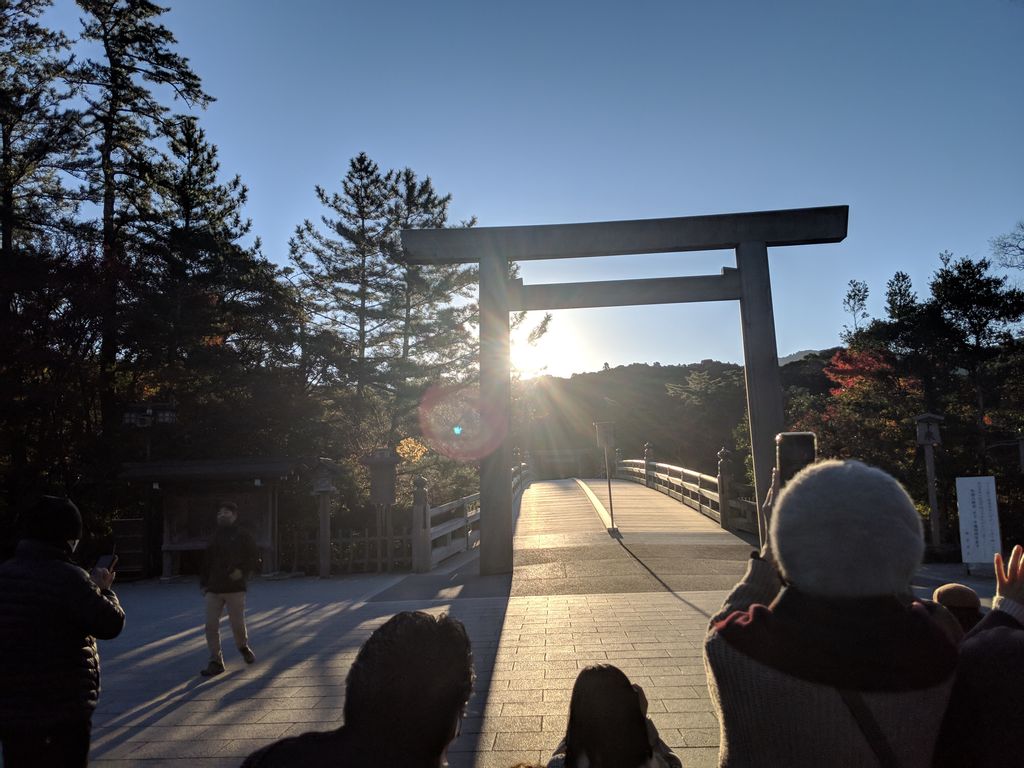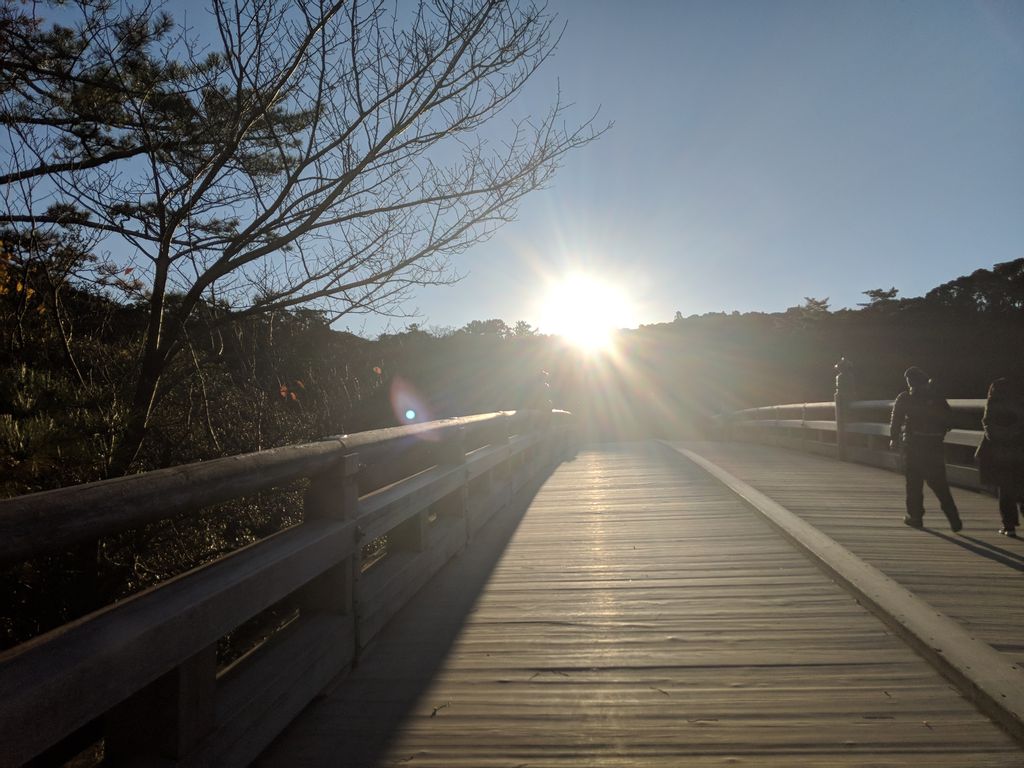 Ujibashi-bridge and surroundings: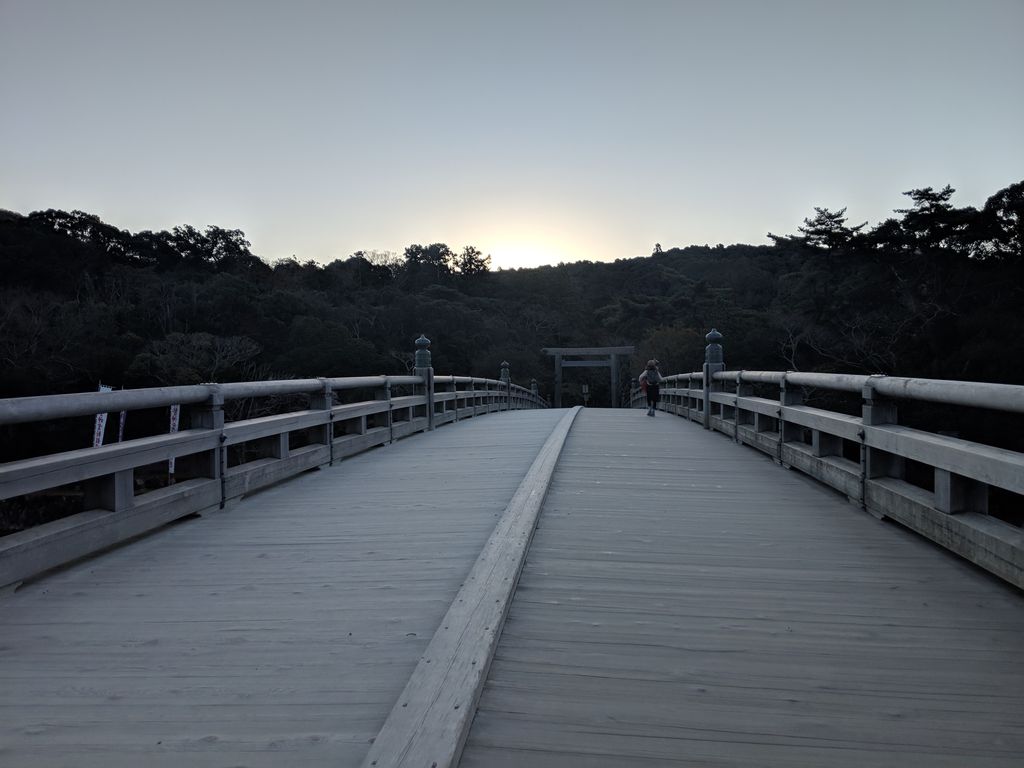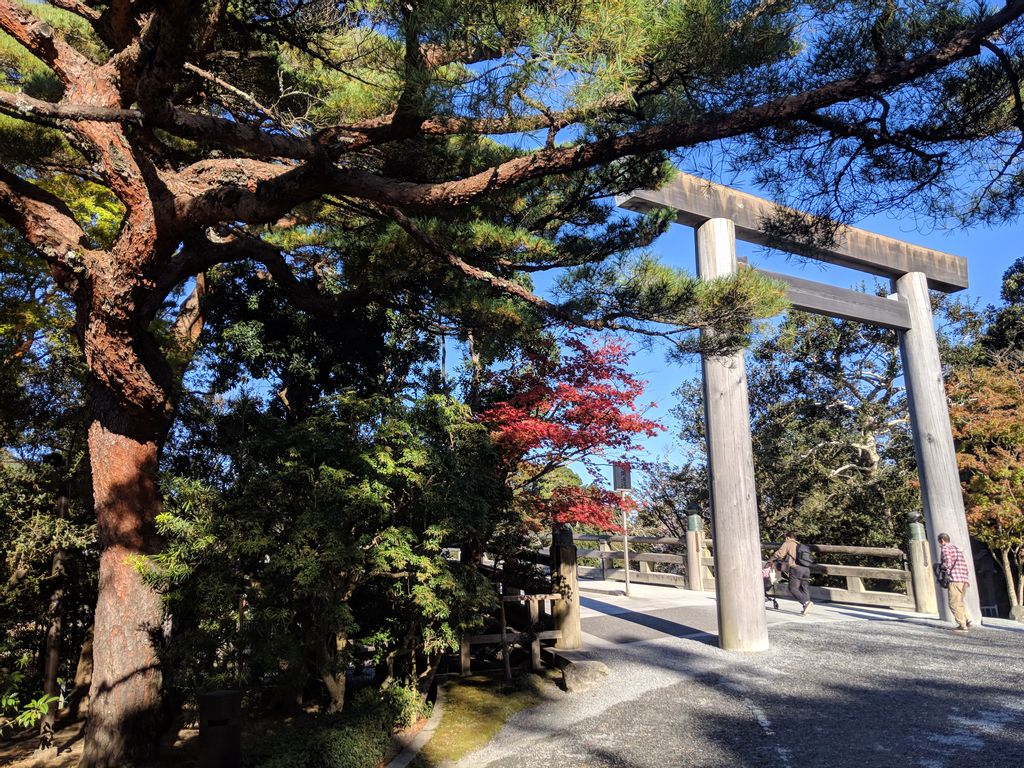 Upper side of Isuzu river landscape seen from Ujibashi-bridge: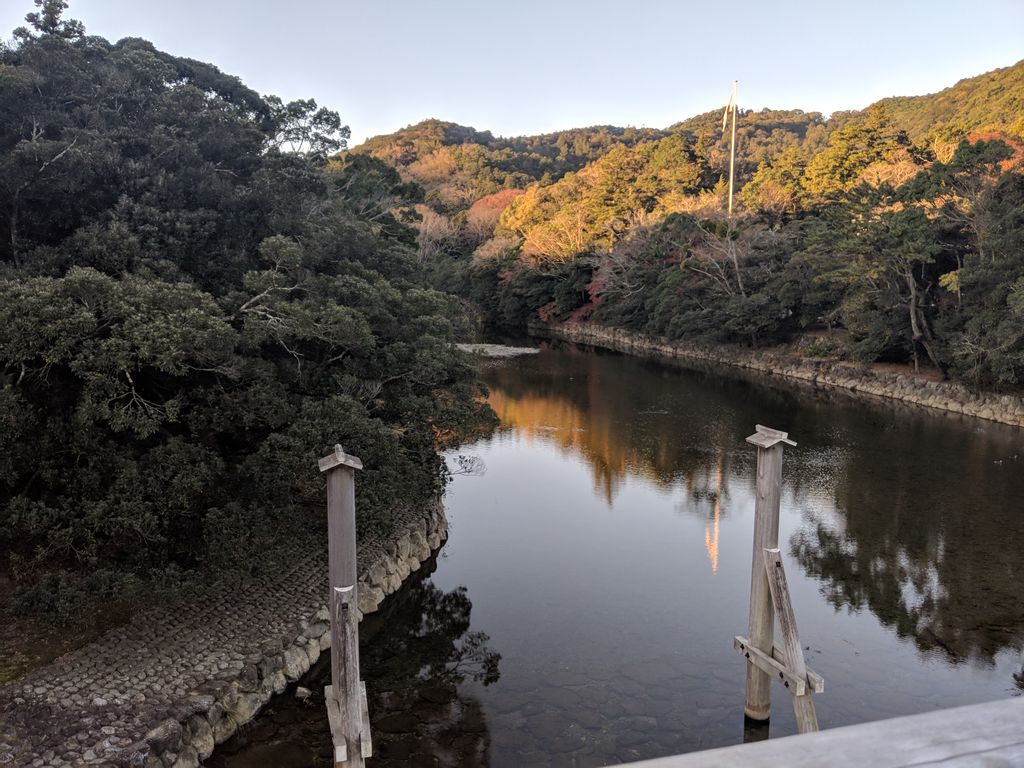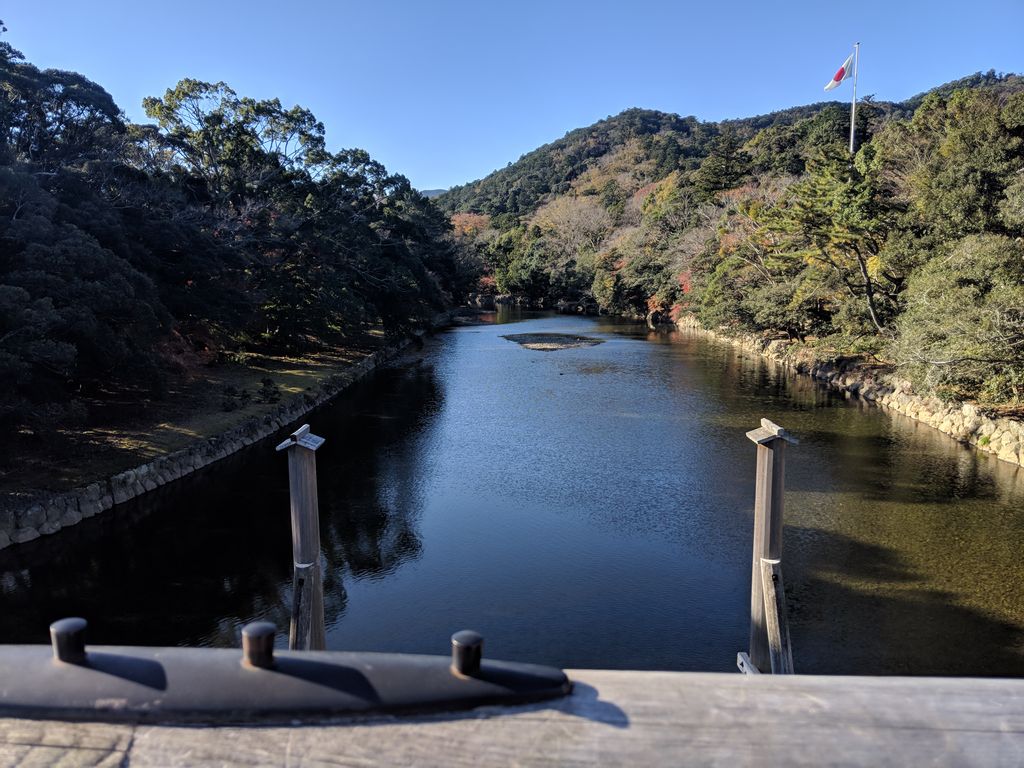 The wide approach laid by white gravel: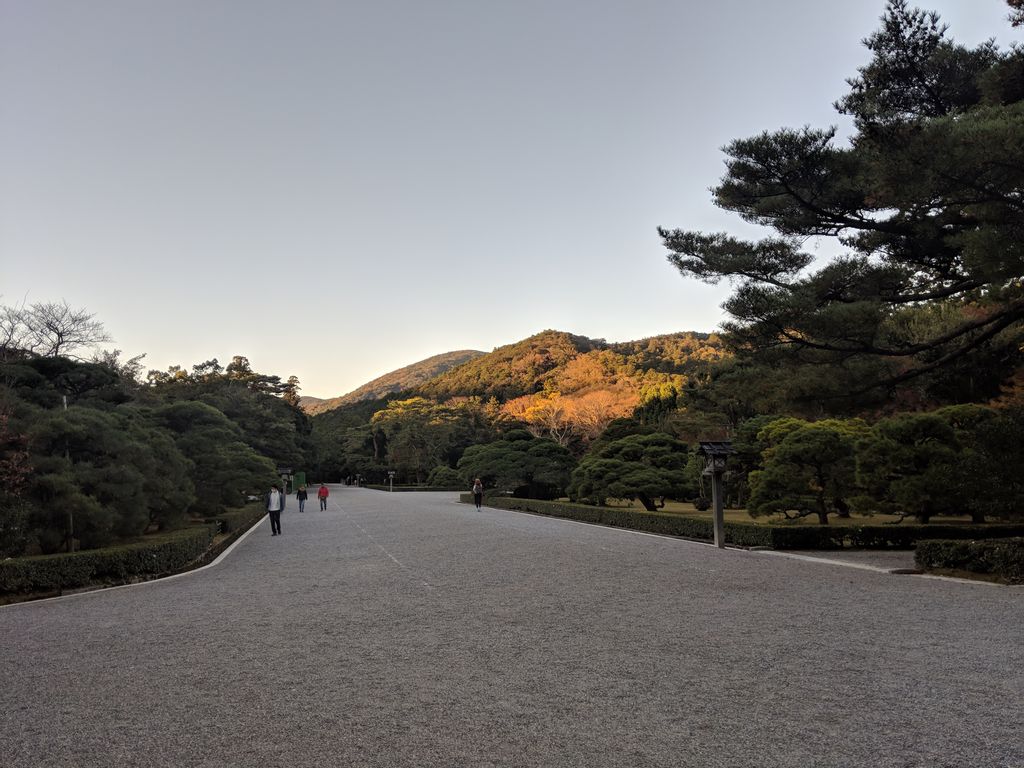 Mitarashiba:
Mitarashiba is located in the riverside of Isuzu-river by walking to a moderate down slope made by stone matts from the approach road. This used to be a place for people to purify before worshipping at Shoden shrine.
Autumn color leaves and green trees are reflected on the surface of the river whose landscape have people felt overwhelmed.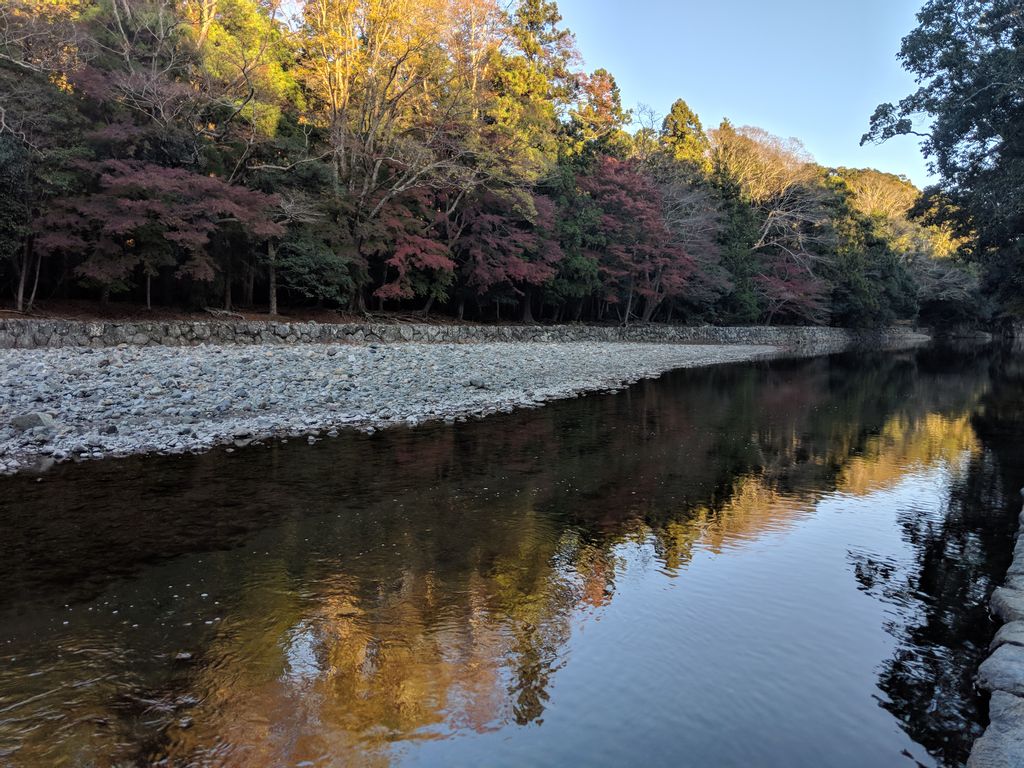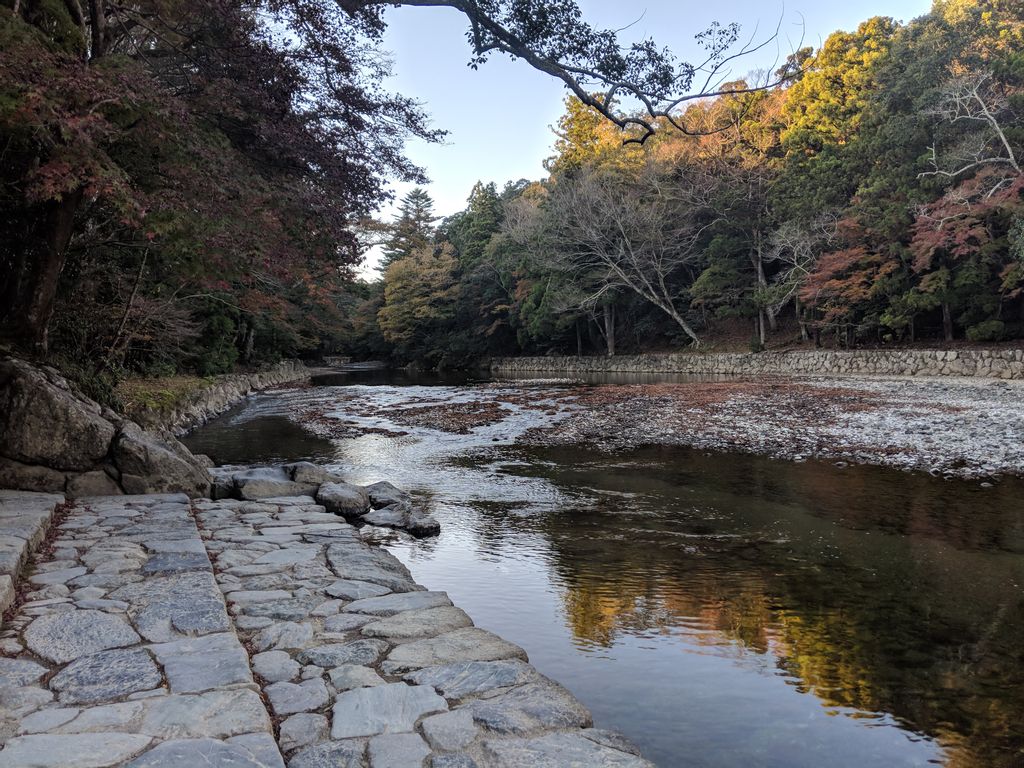 Shogu shrine:
Shogu shrine where the god named "Amaterasu-Oomikami"" enshrined is located on the top of 30 stone steps and protected by fivehold wooden walls named "Itagaki-Minamigomon, Sototamagaki, Uchitamagaki, bangaki and Mizugaki from the outside.
People can worship in front of the second wall named "Sototamagaki".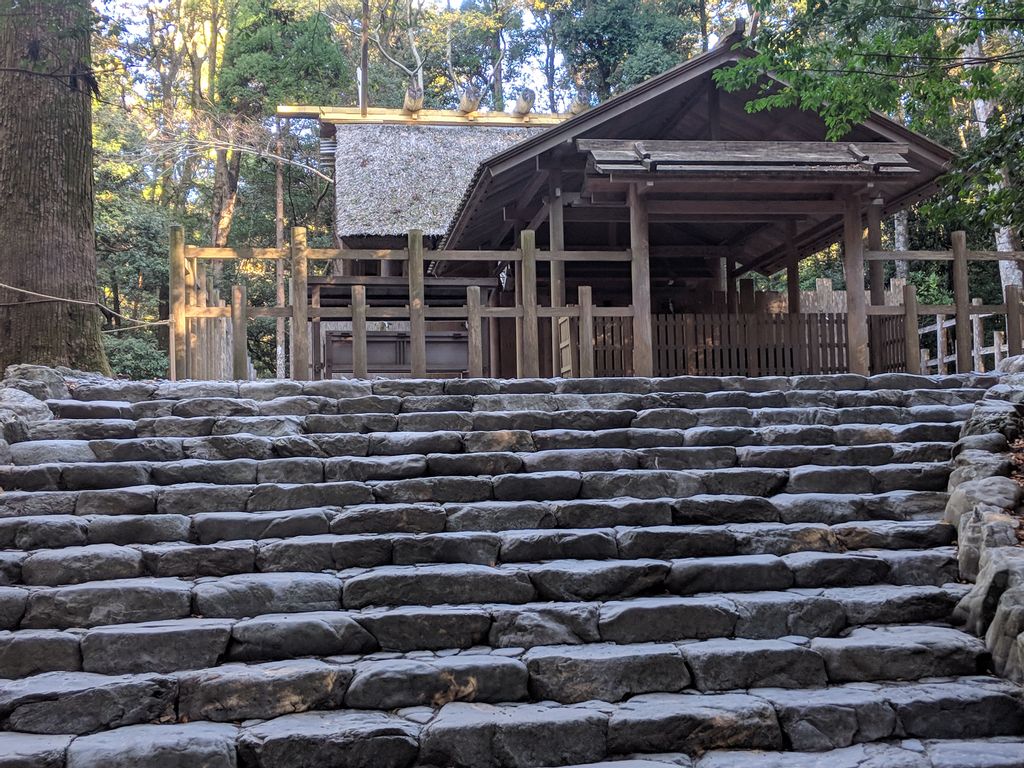 Aramatsurigu:
Aramatsurigu deify Aramitama of "Amaterasu-oomikami" as a god who acts malevolently and the highest status within all associated shrines of Naigu.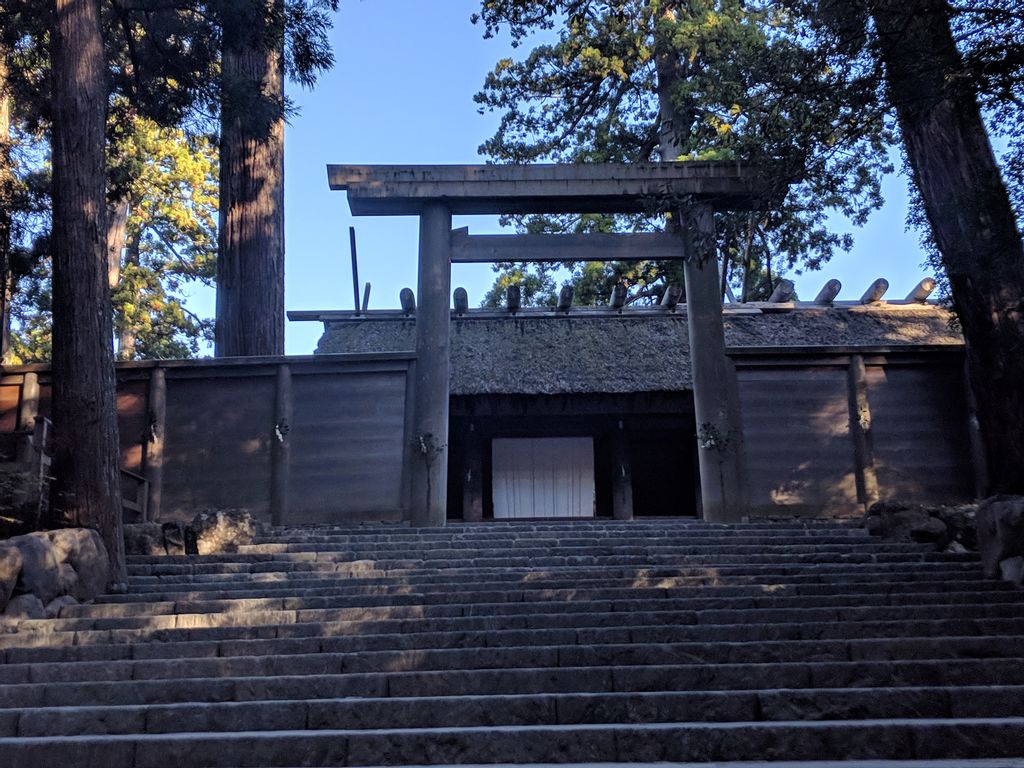 Kazahinominomiya:
Kazahinominomiya deify two gods who control wind and rain.
It is said that these two gods raised divine wind to protect Japan during the Mongol invasion in Kamakura period (1192 – 1333).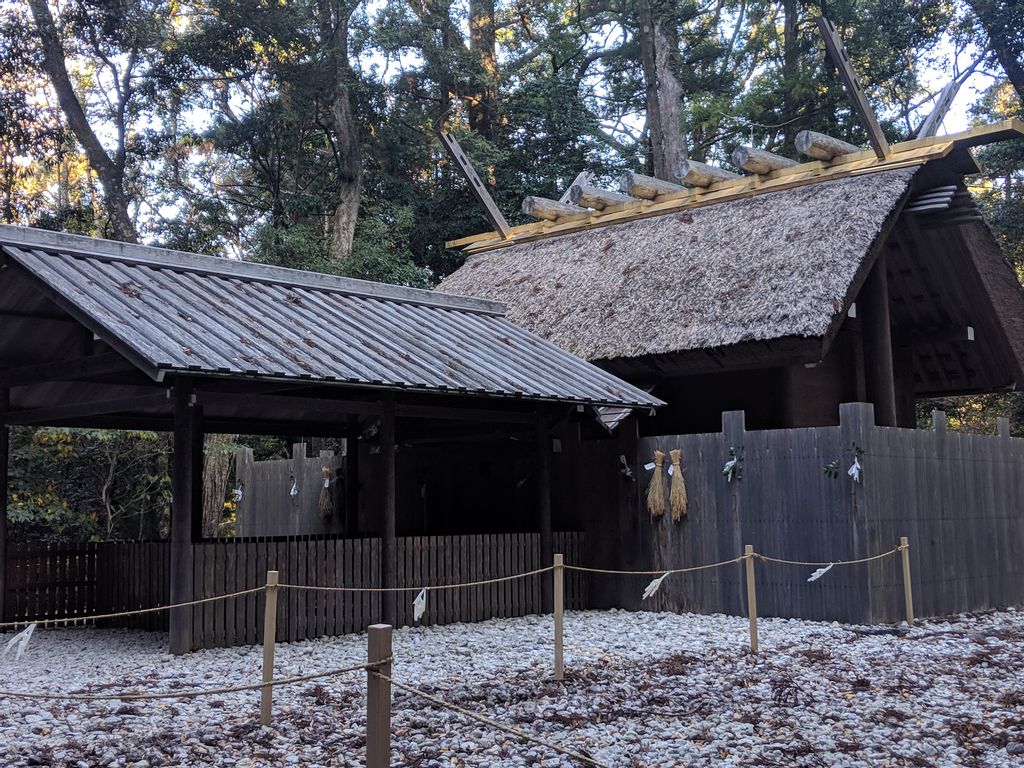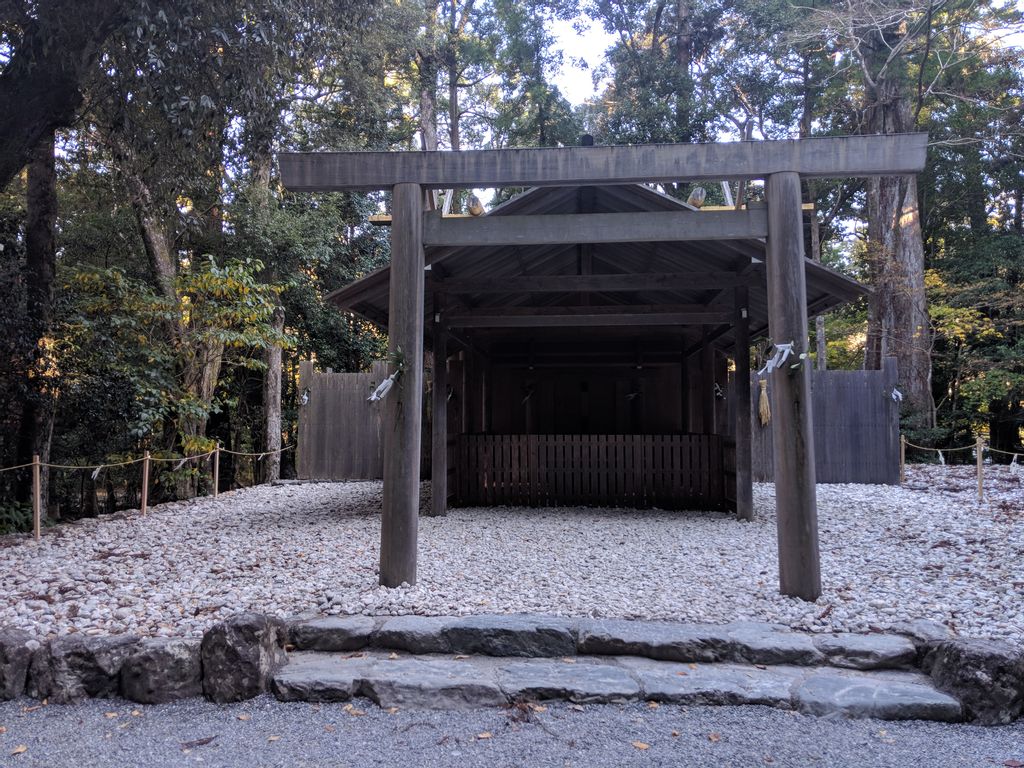 Kanraden hall :
Kanraden hall whose architecture style is "Irimoya-Tuskuri" building with a hip-and-gable roof can serve you an amulet.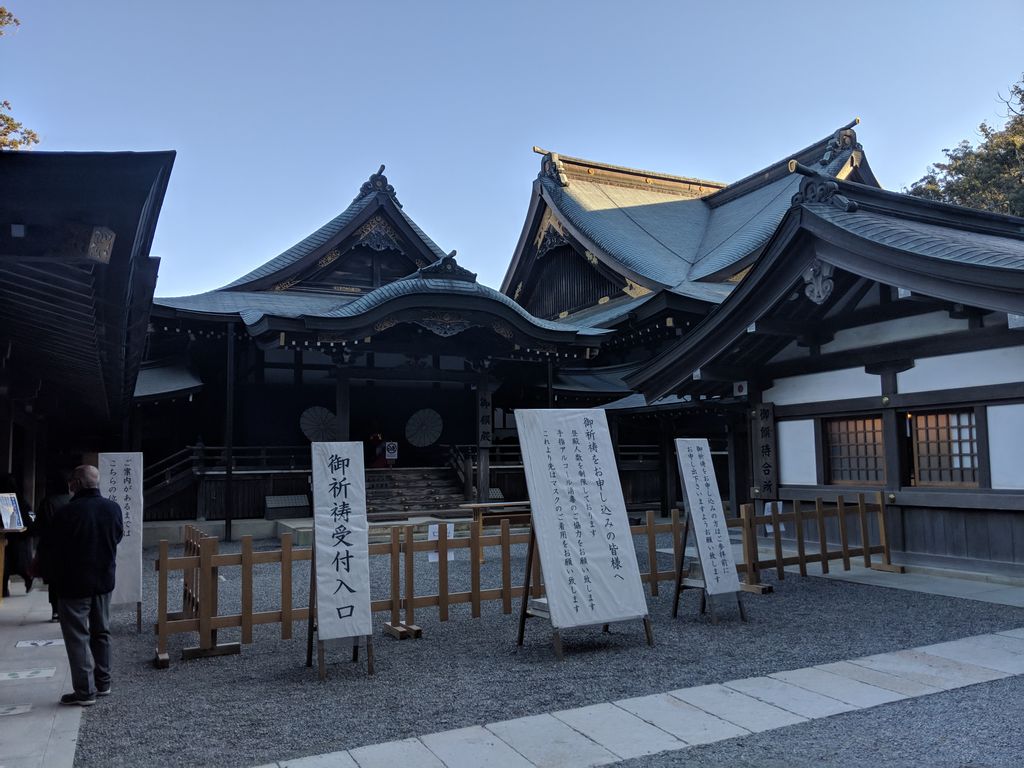 Tsukiyomino-miya :
Tsukiyomino-miya is located in outside from Naigu and deify a god named "Tsukiyomino-Mikoto" who was the younger brother of "Amaterasu-Oomikami" and his Aramitama as a god who acts malevolently.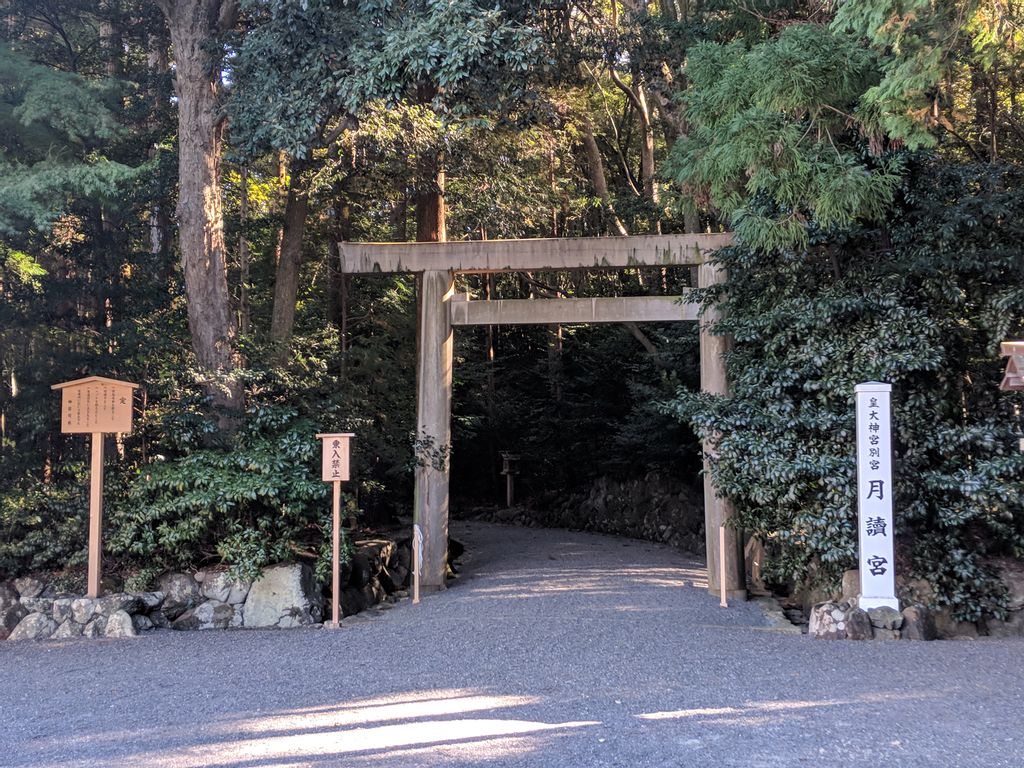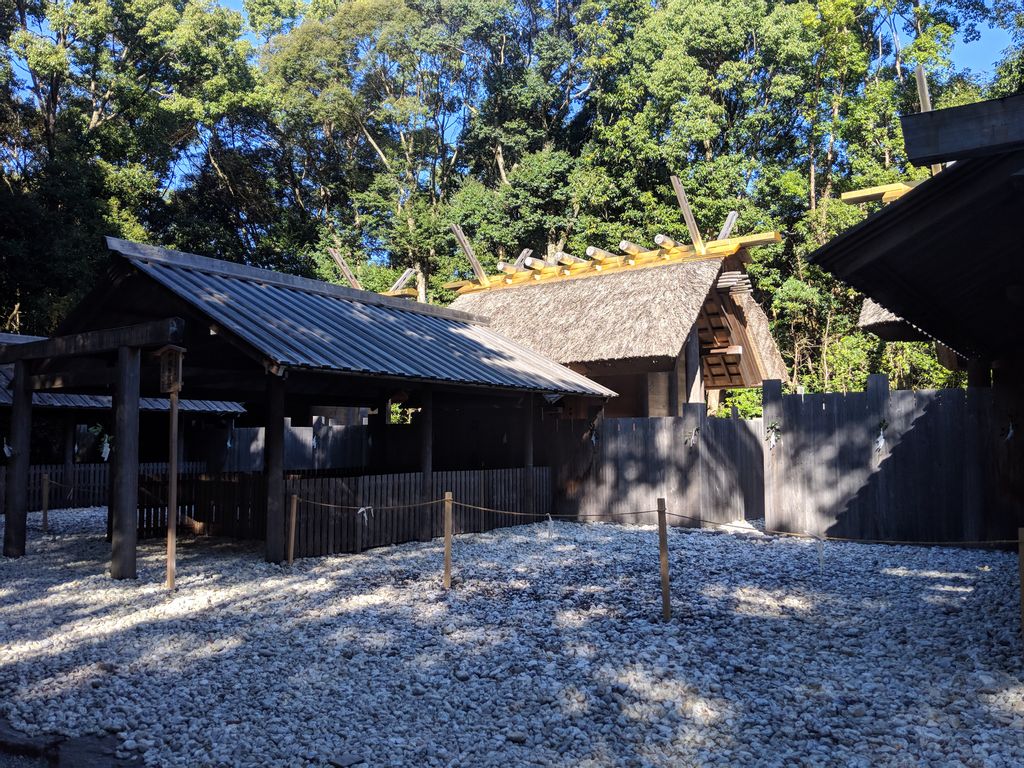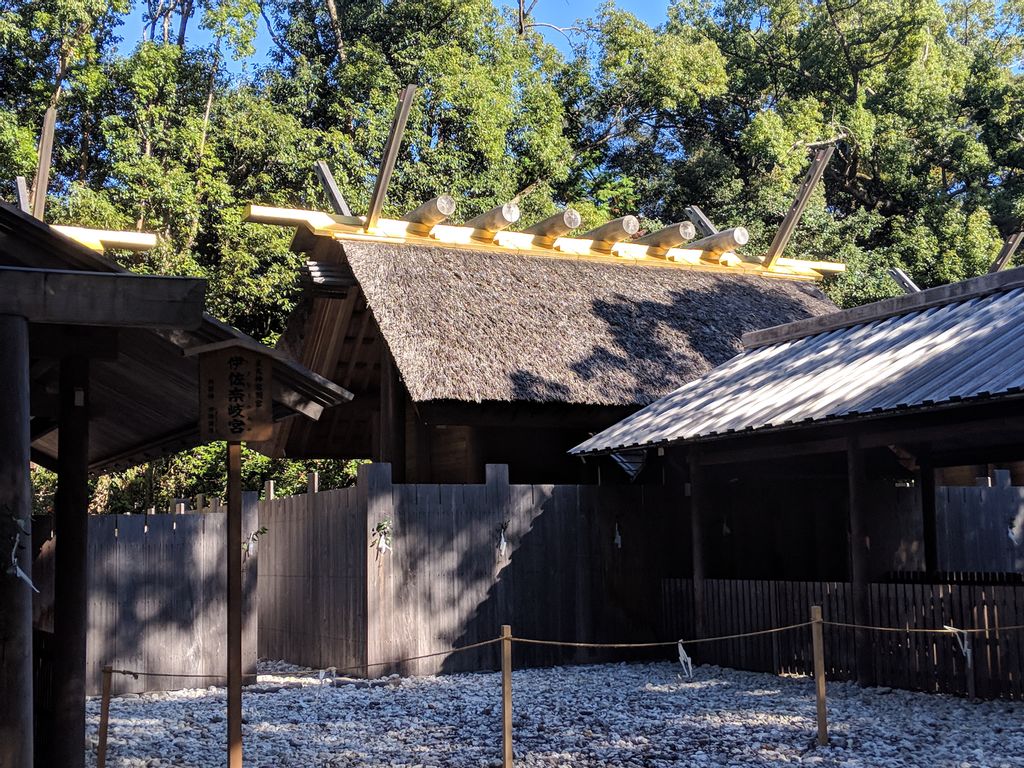 If you become interested in visiting these Ise grand shrine tour spots, please contact me. I can support you and I recommend the best tour for you. By Kashima