If planning your Lisbon adventure is starting to feel like an endless marathon of information, and you have a million tabs open right now, we feel your pain.
That's why we've made discovering Lisbon easier by breaking down the good, the bad, and the brilliant from red flags and tourism stats to saint-worthy sardines and underground Roman cities. By the time you reach the bottom of this page, you'll know if Lisbon is for you, so let's get started!
Lisbon, aka the White City, The City of Seven Hills, and The City of Light (not to be confused with Paris), is Portugal's capital and the second oldest capital city in Europe. In 2021 alone, over 1.9 million international tourists flocked to the city. This number rose in the first 8 months of 2022 with pandemic restrictions lifted.
With Portugal being voted the "Best Tourism Destination in Europe" for 2022, Lisbon has greatly benefitted from a growing interest from international travelers. The capital is expected to reach 85% of its pre-pandemic numbers in 2022.
It's one of Europe's top 30 most visited cities, so why is Lisbon so popular? Let's count the reasons.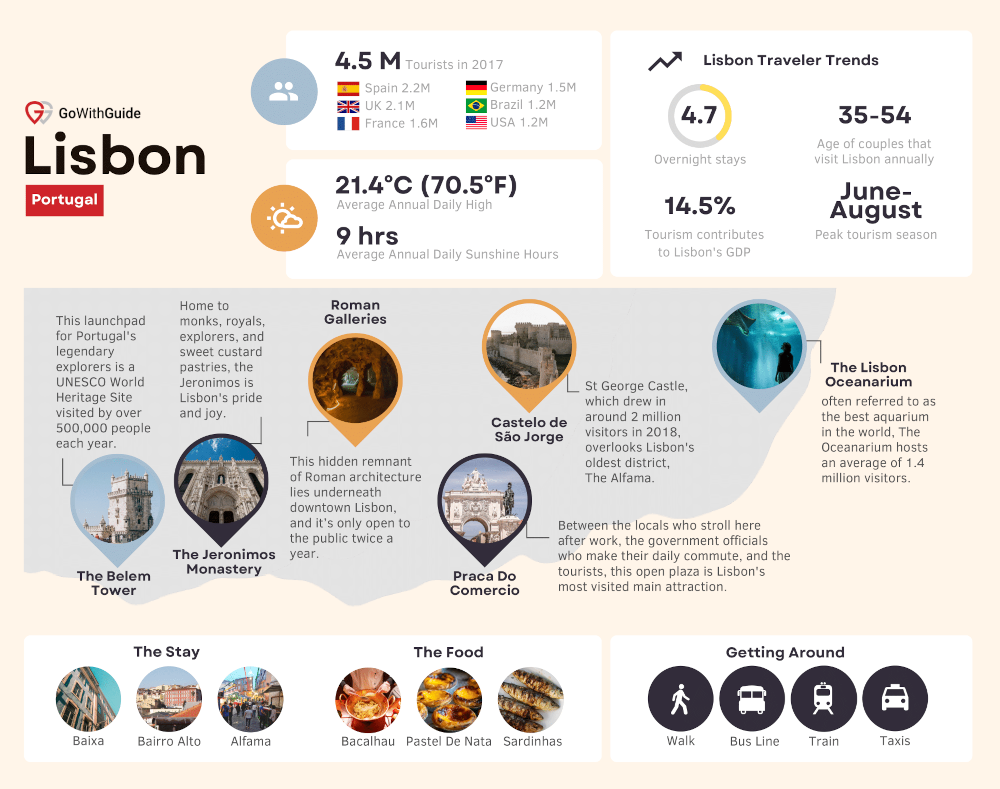 Why We Love Lisbon
The Sites: Lisbon is home to some of Europe's most breathtaking sites, with a rich history spanning over 1000 years. Some of the most visited attractions include;
The Jeronimos Monastery

- Home to monks, royals, explorers, and sweet custard pastries, the Jeronimos is Lisbon's pride and joy. The

UNESCO World Heritage Site

gathers over 1 million tourists annually.

The Belem Tower

- This launchpad for Portugal's legendary explorers is a UNESCO World Heritage Site visited by over 500,000 people each year.

Castelo de São Jorge

- St George Castle, which drew in around 2 million visitors in 2018, overlooks Lisbon's oldest district,

The Alfama

.

Praca Do Comercio

- Between the locals who stroll here after work, the government officials who make their daily commute, and the tourists, this open plaza is Lisbon's most visited main attraction.

The Lisbon Oceanarium

- often referred to as the best aquarium in the world, The Oceanarium hosts an average of 1.4 million visitors.
Travel Bonus: If you're lucky enough to be in Lisbon in April or September, you've got to book a rare tour of the Roman Galleries. This hidden remnant of Roman architecture lies underneath downtown Lisbon, and it's only open to the public twice a year. Prepare for an eerily enjoyable tour.

The Stay- Lisbon has a certain old-world charm that international travelers can't resist. Some of the most popular overnight destinations include
Baixa

Bairro Alto

The Alfama
Travel Trend: In Lisbon, tourists are hungry for authenticity, so most favor short-term rentals like Airbnb and Vrbo. According to AirDNA, there are over 12,700 operating short-term vacation rentals throughout the city.

The Food- It's the first thing on most people's mind when they touch down in a new city. So what are some popular foods in Lisbon?
Bacalhau

- There are over 1000 ways to prepare this salted cod fish in Portugal!
Bifana-

For around 3€, you can have this savory pork steak sandwich.
Pastel De Nata

- The

Pasteis De Belem

, home of the famous tart, sells a whopping 20,000 egg custard tarts daily.

Sardinhas

- These little fish are a powerhouse in Lisbon. They even have their own festival, also known as the Santos Populares, held every June.

Caldo Verde

- Soupy, green, and filled with salty sausage, this Lisbon delight is perfect for a cold night.
Travel Treat: Diving into a city's culinary footprint can be one of the most enlightening experiences of any trip. With so much to explore, from salty sardines to sweet custard tarts, our Lisbon food tours can take anywhere from an hour to an entire day!
The Weather- There's a reason why Lisbon is known as the City of Light. Its ideal location next to the Atlantic and the cool waters of River Tagus make it a pleasant place all year round. According to the UK Meteorological Office, here's what tourists can expect;
21.4°C (70.5°F)

-Average Annual Daily High. Lisbon's Summer (June-August) has an average high of 27.3°C (81.1°F)

9 hrs

-Average Annual Daily Sunshine Hours. June, July & August are mainly sunny with an average daily of 12 hrs

728 mm

-Average Annual Rainfall. November is particularly wet, with an average monthly rainfall of 120mm

January is the coldest month. You can expect a daily average of 14.3°C (57.7°F)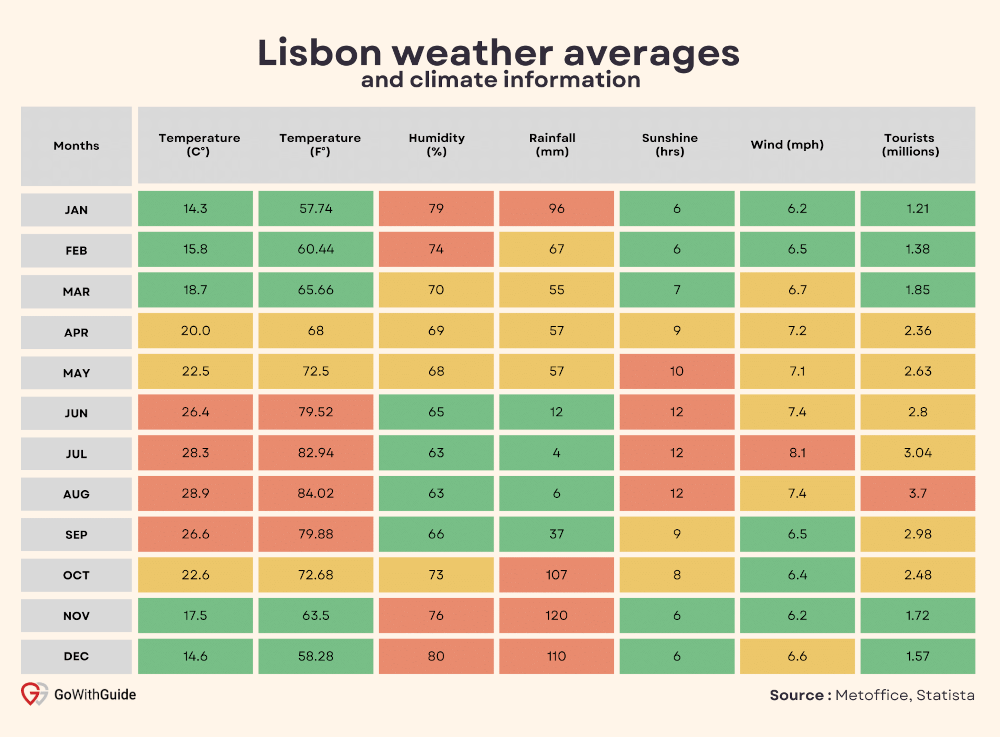 Who Else Loves Lisbon?
Okay, so we know The White City is one of the most visited cities in Europe but is Lisbon full of tourists? Well, In the first eight months of 2022, travelers flocked to the capital, booking over 1.1 million overnight stays, according to the INE (Portugal's National Institute of Statistics).
Pre-pandemic numbers in 2017 saw 4.5 million tourists in the city alone! The average statistic for tourists to residents was 9-1. Barcelona's pre-pandemic numbers were 5-1, and London's were 4-1. So we'd say yes, Lisbon is a tourist hot spot. Want to know which nationality visits Lisbon the most? Drumroll please;
Spain-

Portugal's neighbors can't get enough of the Iberian city. Over 2.2 million Spanish residents visited in 2019.

The United Kingdom

- 2.1 million UK residents choose Lisbon and greater Portugal as their preferred destinations.

France

- 1.6 M

Germany

- 1.5M

Brazil

-1.2M

United States

- 1.2M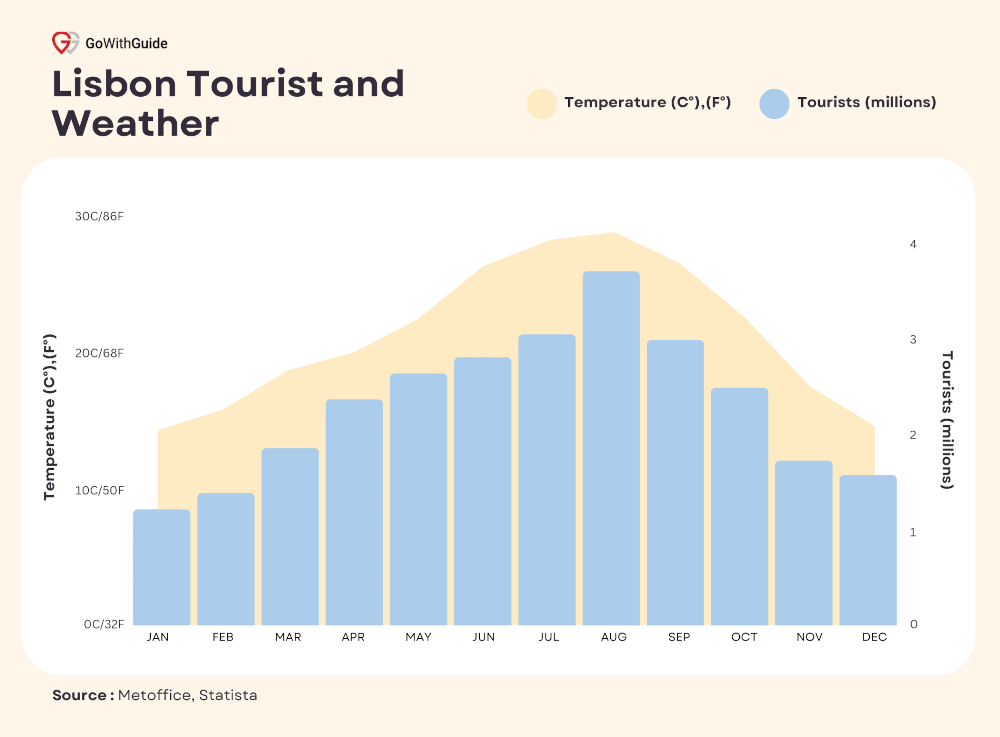 Quick Lisbon Traveler Trends
4.7

- The average amount of overnight stays

35-54

-The average age of couples that visit Lisbon annually

14.5%

-The amount tourism contributes to Lisbon's GDP

June-August

- Lisbon's peak tourism season
Travel Truth- Lisbon has greatly benefited from tourism, but there's more to the story. How has tourism affected Lisbon?

Higher rent prices for locals, leading to

displacement

Loss of 'historical charm" for smaller neighborhoods

Crowded public transport, especially the Tram 28


Okay, so all this hype begs the question, is Lisbon the best city in the world? Well, according to the 2022 World Travel Awards, it comes pretty close. Lisbon was voted Europe's leading city break destination, beating out favorites like Paris, Athens, and Venice.
Thanks to their beautiful port, they also took home Europe's leading cruise destination and Europe's leading seaside metropolitan destination. Lisbon is like Meryl Streep at the Oscars.
Visiting a city can be a life-changing experience, but to get the best out of it, you've got to consider Lisbon from a local's perspective. So here are a few quick tidbits.


Life in Lisbon: What To Expect In The City Of Light
Living "a vida Lisboeta" looks a little like this;
Getting Around
Here are some great ways tourists take on the city,
Walk

- Lisbon is a walkable city, especially for tourists looking to take in the sights.

The Bus Line

- The best way to experience Lisbon's bus line is with a

Lisboa Card

. You'll have unlimited access to the bus and the tram line, though trams can be crowded during rush hour.

The Train

- If you plan on traveling to

Sintra

or Cascais, hop on a train.

Taxis- Lisbon's taxis are a quick way to get around without struggling to find parking.


Do's and Don'ts
Just a few pointers to keep your Lisboa trip stress free.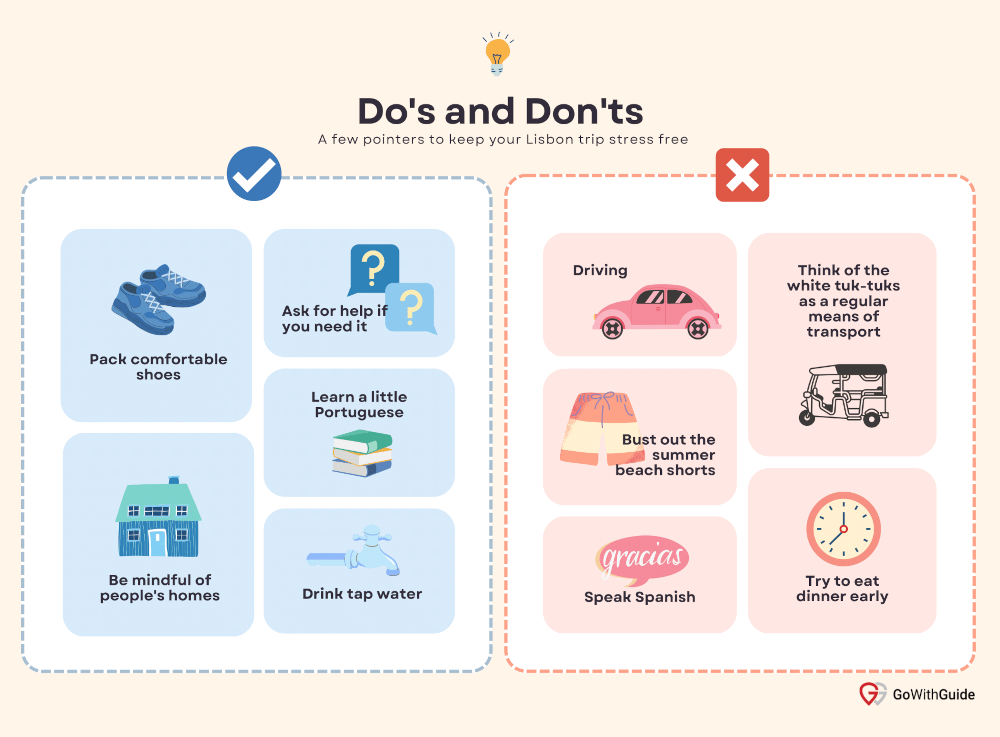 What To Avoid: Red Flags For Travelers
Okay, so Lisbon might be winning you over, but it can't be all roses, right? Right. So let's check out how Lisbon stacks up safety-wise.
Is crime high in Lisbon?
Portugal is exceptionally safe, ranking 6th in countries with the lowest crime rates. Since it's a capital city, Lisbon has a higher crime index compared to rural areas, 29.5, which is low. The safety index is 70. The Institute for Economics & Peace ranked the 6th most peaceful country in the world, overtaking Japan and Singapore.
With that said, there are a few things you should look out for.
Keep your eyes peeled: Especially while walking in crowded areas and on public transport (pickpockets). Tram 28 is notorious for having pickpockets and some tourists are so enamored with the sites, they ignore the people around them.

The Drug Call- If you find yourself in a "touristy" area, you'll most likely encounter men offering "cocaine, hashish, or marijuana." Don't be startled; just ignore the calls. It's an attempt at scoring quick cash for what is most likely fake drugs.
So Lisbon is pretty safe. Still, it's a new environment and it would be a shame to spend valuable vacation time calculating which neighborhoods to avoid, or which street vendors have bad intentions.
Our Lisbon private tour guides help you bypass the noise. They deal with the safety, curating a tour that avoids uncomfortable situations or dangerous areas. That leaves you to;
Explore the best of the city in a relaxed atmosphere

Experience an exclusive, in-depth tour free of strangers

Cut planning time in half with a personalized itinerary that suits your interests, so no going to sites you don't care about.

Fill your day with as much or as little activity as you want.

Avoid awkward/unwanted experiences due to the language barrier.
If you're still here, you already see yourself strolling along the slick-tiled Rue Augusta with a juicy Bifana sandwich and an entire city to explore. The crisp Atlantic air, the music, it sounds perfect.
You're probably not imagining the cluster of strangers in your tour group surrounding you as your legs cramp up in a ticket line. Nobody imagines that part.
Luckily, GoWithGuide's Lisbon tours ensure your travel plans are seamless. With a customizable private outing through the White City, we cut out the hassle, leaving you with the fun stuff. Now let's get your Lisbon party started!
P.S Looking to travel with companions? The more, the merrier! Share this post with your friends and get them just as excited about touring Lisbon as you are.
Sources List
Portugal's Travel & Tourism could surpass pre-pandemic levels in 2023
Lisbon's Overtourism Lesson: Living Like a Local Is Not Enough
Portugal's flourishing tourism becomes economic mainstay | Reuters
The Rise of Tourism in Sunny Lisbon – ATIG
Lisbon: What NOT to Do in Lisbon, Portugal
Portugal Scores Record-Breaking Tourists Numbers in August - SchengenVisaInfo.com
Portugal Overnight Stays in Hotels - Foreigners - October 2022 Data
Portugal named best tourism destination in Europe, 5th time in last six years
Monastery of the Hieronymites and Tower of Belém in Lisbon - UNESCO World Heritage Centre
World Heritage by UNESCO | Visit Lisboa
Tourism in Portugal - Wikipedia
Tourism in Lisbon - Wikipedia
Visit Lisboa
Heritage & Culture | Visit Lisboa
Turismo em Números | setembro 2022
Impacts of Tourism and Residents' Perceptions: A Study in the Regional Tourism Area of Lisbon
Tourism Cluster in Lisbon
Portugal - UNESCO World Heritage Convention
For Tourists | Safe Communities Portugal
Crime Statistics | Safe Communities Portugal
Deloitte City Mobility Index 2020 - Lisbon
Lisbon Flavours | Visit Lisboa
Gastronomy | Visit Lisboa
15 Must-Eat Foods in Lisbon - Cookly Magazine