⭐⭐⭐⭐⭐ Enjoy Lisbon, the historic capital city of Portugal, through our Lisbon private tours.
Lisbon's shopping scene is an experience unlike any other with quirky speciality stores, high-end boutiques, and mega malls. While it's regarded as a city filled with historical monuments, Lisbon has much to offer for retail lovers fortunate enough to visit the White City.
Make room in your suitcase because we're breaking down the top five shopping spots that will steal your heart and add to your travel collection. To help you navigate Lisbon's bustling retail culture, get in touch with our local, experienced guides and create the ultimate personal shopping adventure.
Centro Vasco Da Gama Mall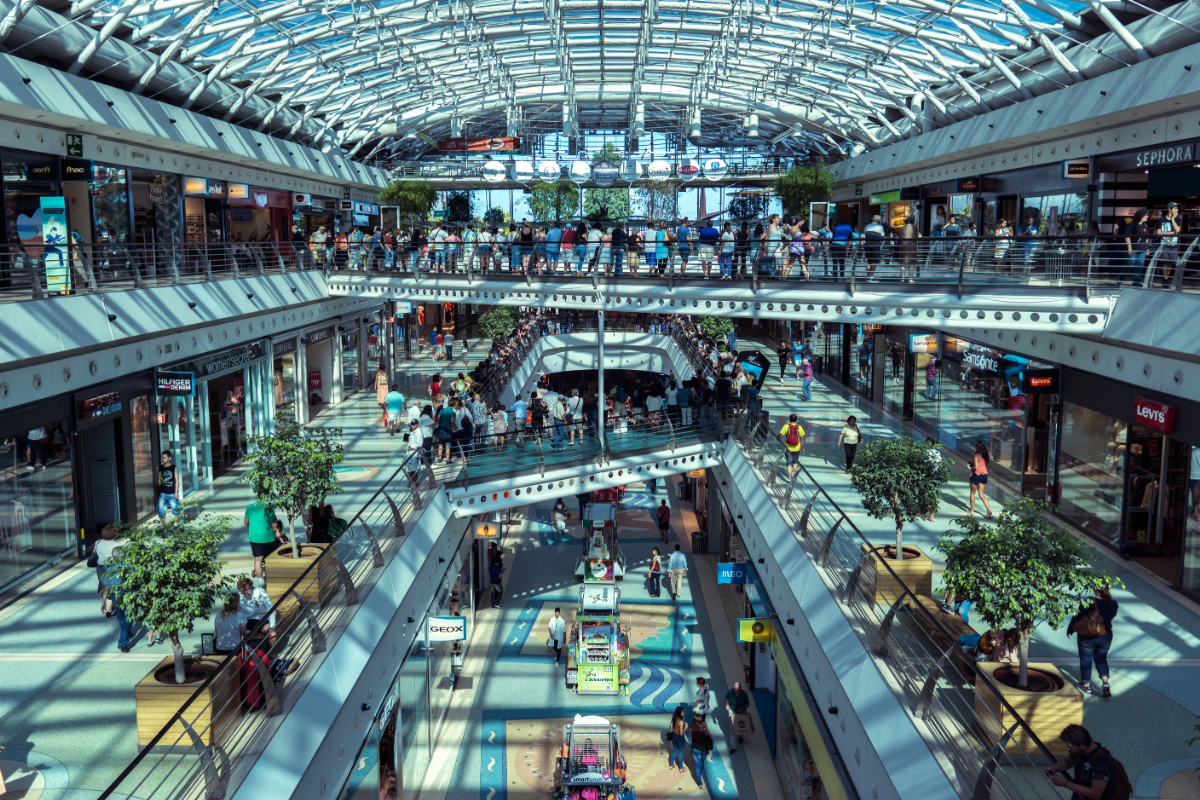 Start your Portuguese shopping adventure at Centro Vasco De Gama, where architecture meets comfort. This mall is the result of Lisbon's 1998 revamps during the World Expo. It's named after famed Portuguese explorer and seafarer Vasco De Gama. To say that this mall has everything isn't an exaggeration. It's the second largest mall in Lisbon with three floors, over 50 restaurants, 10 movie theaters, and a whopping 164 retail stores. Spend an entire day leisurely strolling in and out of the local boutiques and international shops like Calvin Klein, Guess, and H&M. If your tour leaves you hungry, you're in luck. The food floor has everything from Italian cuisine, to artisanal coffee shops, classic cafes, and American fast food favorites.
From the terrace, you can enjoy views of the River Tagus and the Parque das Nações, the district that transformed Eastern Lisbon into a modern metropolis. You also get a bird's eye view of the Vasco Da Gama bridge, Europe's largest so far. Stop by the nautical-themed gardens and the Oceanarium where you'll find one-of-a-kind souvenirs near and inside the world-famous aquarium.
To experience variety without the large crowds, GoWithGuide experts suggest you explore the mall on a weekday just after lunch hour.
Alfama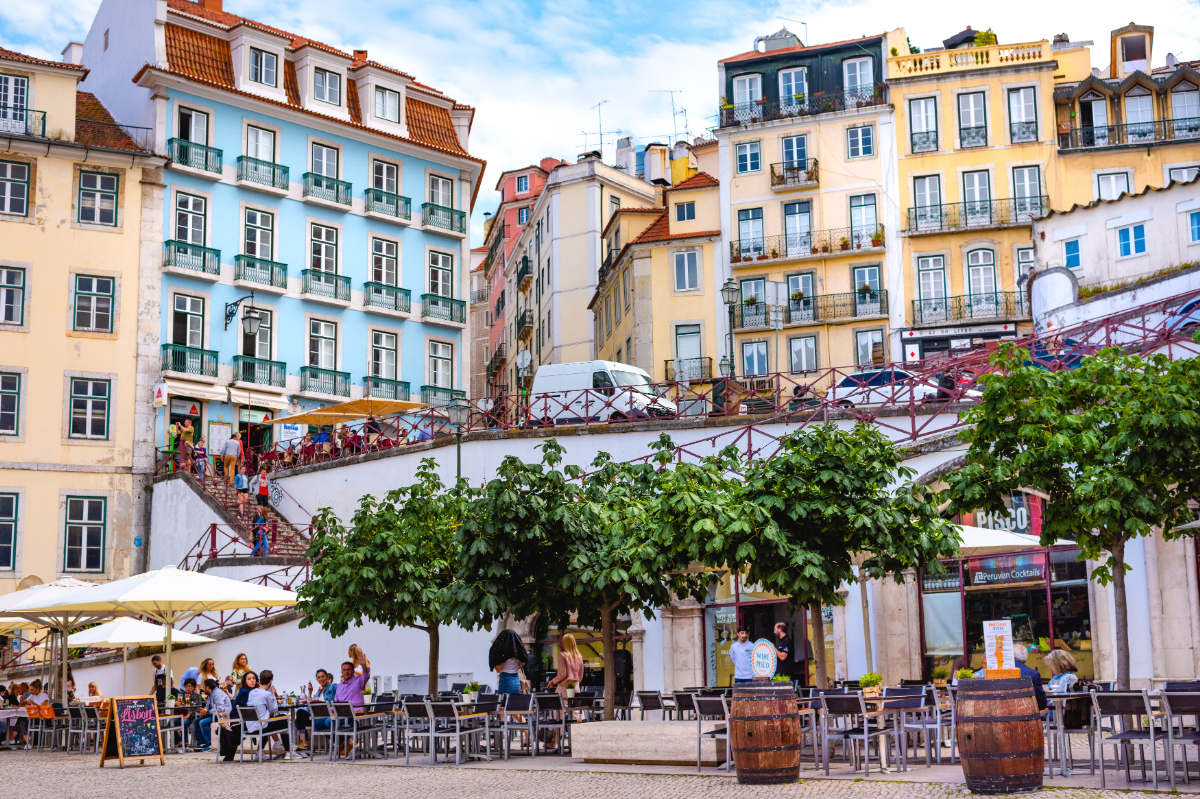 There's a reason why locals and visitors alike can't stop singing Alfama's praises. Beyond the flavorful food and fascinating history lie rare fashion, beauty, and culture. If you find yourself walking through winding streets and slopes, here are some places you must visit. First up, Loja dos Descobrimentos, the home of Lisbon's tile culture. Also known as Azulejos, Portuguese tiles have a legacy that spans centuries. They were brought in from Egypt during the 13th century, but have adopted Portuguese artistry over the years. At the Loja, you'll discover an assortment of locally made traditional tiles, hand-painted ceramics, and unique souvenir pieces. Head to the back of the workshop to get the full experience, where you can watch the fascinating tile-making process up close.
One thing Alfama is known for is its artisan shops. Arte de Terra has a selection of niche antiques and cultural crafts, like their skilfully made Portuguese carpets. They even have a collection of offbeat puppets that will make for a great story. For the thrift-lover, head to Alfama on Tuesday and Saturday, and you'll find the Fiera de Ladra flea market. It's a great chance to interact with local vendors and select from a wide variety of second-hand vintage art, clothing, tile work, books, stamps, and furniture.
Craving touristy souvenirs that scream "I love Lisbon"? Head to the Alfama Shop, it has everything from tile-themed gift cards and stationery to funky fish-shaped decor. Popular items include their famous "Miss Edite" aprons, handmade baskets, and scarves. Alfama can be a dizzying journey, even for seasoned travelers, so explore the district as locals do with your personalized Alfama tour.

⭐⭐⭐⭐⭐ Enjoy Lisbon, the historic capital city of Portugal, through our Lisbon private tours.
Ler Devagar Bookshop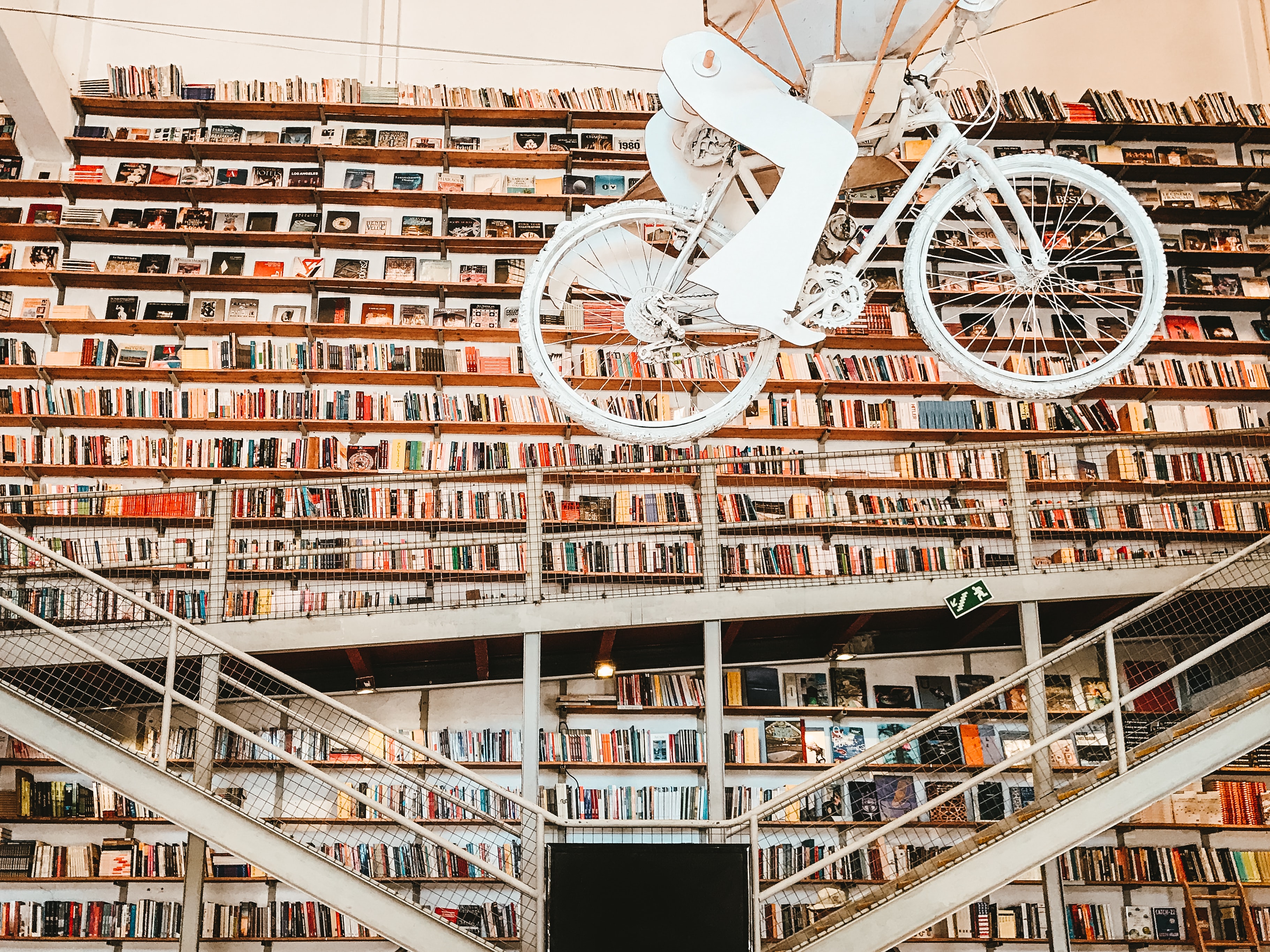 Ler Devagar, which means "slowly reading", is a stylish book store that speaks to Portugal's literary culture. In fact, Portugal has the world's oldest operational bookstore, the Livraria Bertrand, which has been in operation since 1732, though it has moved both locations and owners over time. Ler Devagar used to be an industrial textile warehouse and was transformed into one of the most beautiful bookshops in the world. It's filled with enchanting metalwork, including a whimsical caped bike rider. To reach the ceiling-high collection of books, climb the white structural stairs and find both local and international bestsellers. Beyond the stunning display and books that focus on creativity and the arts, Ler Devagar hosts a series of cultural programs that highlight local music, dance, and theater as well as debates and conferences. Once you've picked out a few favorites, cozy up at the coffee shop and enjoy a Bolo Da Marta, a creamy, fluffy meringue cake topped with fresh fruits.
The book shop is open from 12 pm to 12 am, but on Sundays, it hosts an antique market, so keep that in mind. If you can't get enough of Lisbon's book culture, stop by the Livraria Bertrand and ask your guide about Lisbon's rich literary legacy.
Loja Das Conservas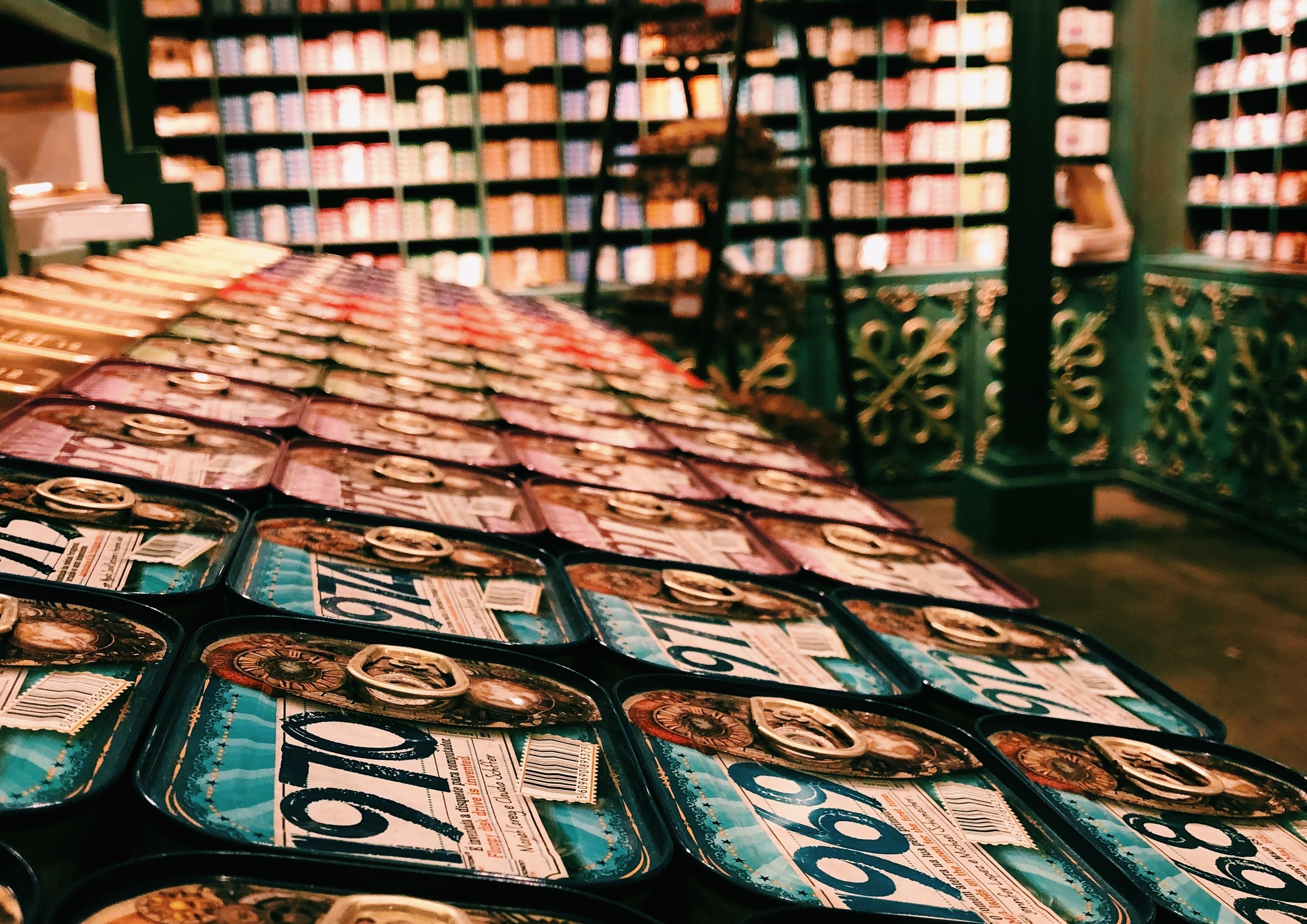 With over 300 varieties of tinned fish, the Loja Das Conservas is an odd yet necessary entry on this list. From mackerel to tuna and tilapia, the sheer magnitude of its stock means there's something for everyone, even those new to tinned fish. While touring the famous market, you'll experience a different side of Lisbon that celebrates the significance seafood has played in Portugal's economy and culture. Tinned fish grew in importance since it became a viable industry in the mid-19th century. Today you can find tinned fish that represent every region of Portugal.
The charming display, vintage art, and dainty handmade wrapping paper make you feel like you're in a 1950's general store. If you ask the locals, they'll tell you that Minerva, Nuri, and Cantara are some of the more popular brands. Common products like tuna pate are contrasted with rich selections like the octopus in garlic and olive oil. The tins are slim, and the fish has undergone a preservation process, so it's the perfect souvenir that will last long after your trip ends.
Timeout Food Market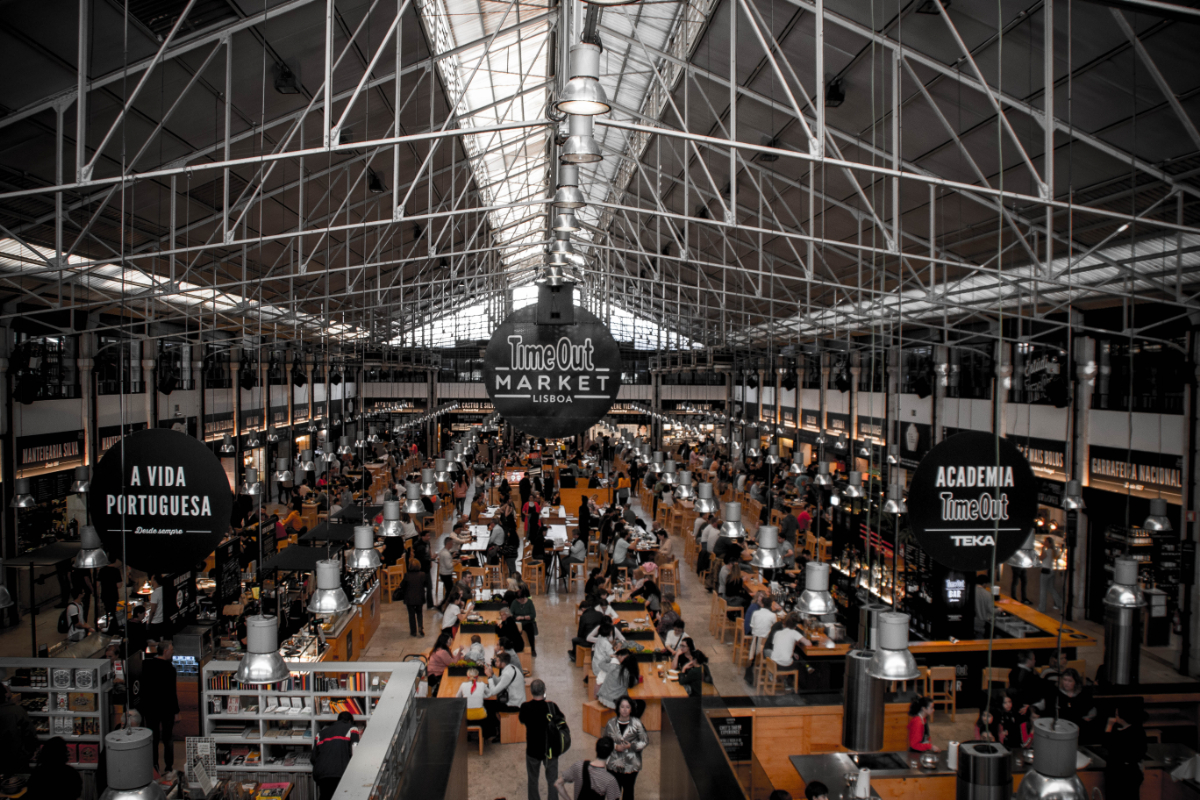 Shop while you eat at the Cais Do Sodre district, where you'll find the Timeout Market. This food hall is where Portuguese cooking really gets to shine. It was opened and carefully curated by the Time Out food team in 2014, and houses over 48 bars, shops, food stalls, and cafes. Each stall showcases talented local and international chefs and take-home ingredients you can use to create your own Lisboa-inspired dishes. Though Timeout is a modern market, it's located in the Mercado Da Ribeira, a historic building known for housing a traditional market constructed in 1890. If you're wondering which stalls serve the best food, the answer is all of them. Each vendor has a five-star rating, so you can spend your day tasting the best Lisbon has to offer. Beyond food, there is a fine selection of wine vendors such as the Garrafeira Nacional where you can pick up a bottle of authentic Portuguese port wine. The A Vida Portuguesa offers locally designed products like engraved soap, marmalade, baskets, books, vintage pencils, and branded merchandise.
For those who want Michelin star cuisine, you'll find it here. Some stalls are run by decorated local chefs such as Miguel Castro E Silva, Marlene Vieira, Alexandre Silva, and Henrique Sá Pessoa. Simple snacks such as pizza, burgers, and pastries are also available. You can even enjoy a classic Pasteis De Nata dessert that's just as good as the ones in Belem.

⭐⭐⭐⭐⭐ Enjoy Lisbon, the historic capital city of Portugal, through our Lisbon private tours.
Conclusion
This is just the beginning when it comes to Lisbon's shopping potential. Malls, boutiques, and speciality stores can be found on every corner. To keep track of your travels and navigate these shopping spots and more, contact a recommended local guide with in-depth knowledge of the city's ins and outs.
Image Source: https://unsplash.com & https://www.pexels.com