Kinkakuji Temple, also known as the Golden Pavilion, is one of the many famous sightseeing spots that symbolize Kyoto. The golden structure reflecting the sunlight is a breathtaking sight. It is one of the 17 World Heritage sites in Kyoto city. Most Japanese public schools take their students here as part of a school trip because this amazing piece of architecture is so important historically and culturally. It is definitely a must see sightseeing spot and a wonderful place to take pictures for your mementos.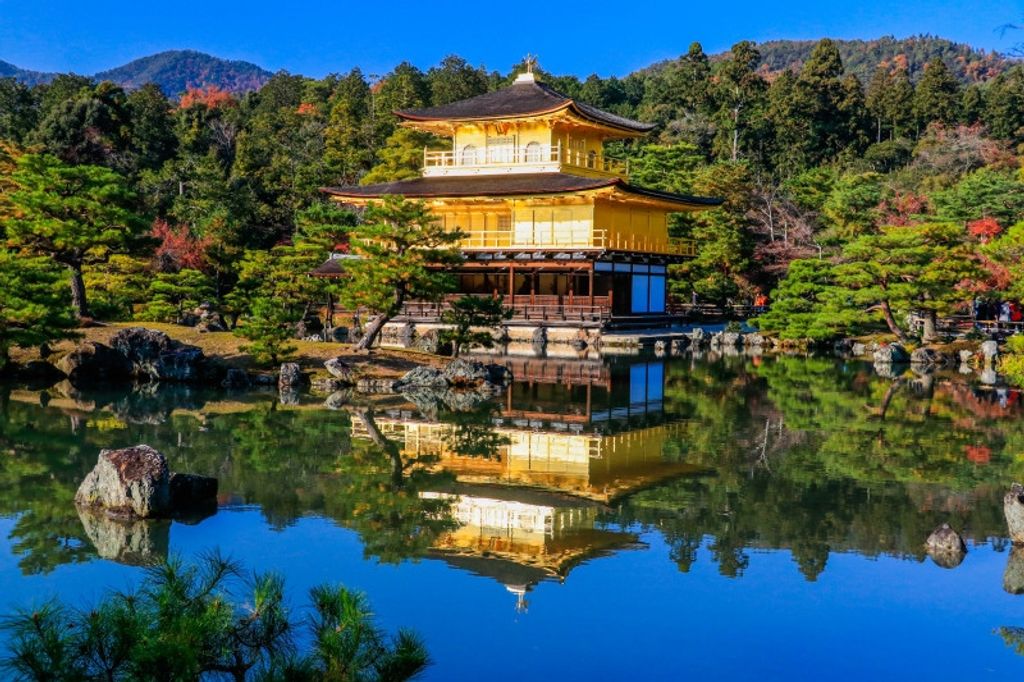 History
Kinkakuji Temple's official name is Rokuonji Temple and it is a Zen temple of the Rinzai sect. The main building "Kinkaku" became so famous that it began to be called Kinkakuji Temple. However, this building and the area around it started out as the retirement villa of a famous "shogun" (military commander), Yoshimitsu Ashikaga, before it was converted into a temple. He designed the land where his villa stood after the "paradise" that Buddhists prayed to attain after death. It was originally built in 1398 but unfortunately was lost to fire in 1950 when a crazed monk set it ablaze.
Architecture
The three floors of the Golden Pavilion were built in three different architectural styles. The first floor, the only one not covered in gold leaf, was built in the traditional Japanese palace style of the Heian period. It is a large room with a veranda encircling it. It was used to put on plays of Japanese traditional theater called "Noh." The second floor was built in the samurai style and was used as a room to compose poetry. And the topmost floor was built in a traditional Chinese style. It was used as a room for meditation. The building stands in the middle of a large pond and when the weather is clear, the golden reflection on the pond's still surface can be seen. It's a beautiful effect that makes the scene picture perfect.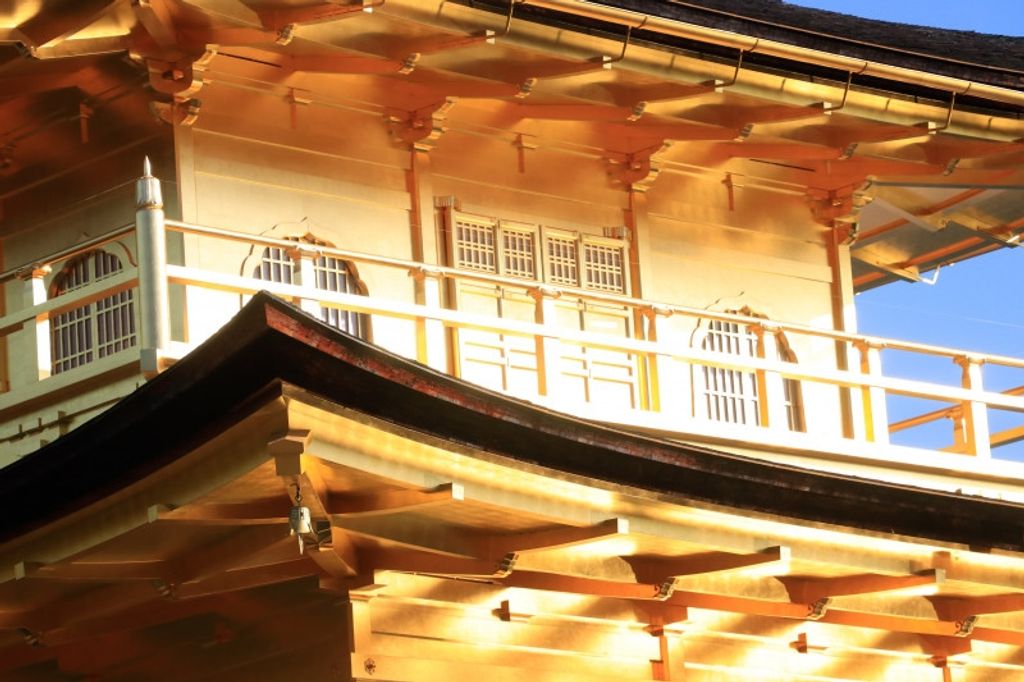 Kinkakuji In Winter
The famous Golden Pavilion in Kyoto is beautiful in every season. You can see the collaboration of the golden building with pink cherry blossoms in spring, the fresh greenery in summer, the fiery leaves in autumn, and the pure white snow in winter. The golden roof as well as the ground and surrounding trees become capped by snow. Seeing Kinkakuji during the winter, standing in the blanket of white snow makes the golden color stand out even more. If you go on an early weekday morning while visitors are still sparse, the snow seems to soak up all the sound except the sound of snow falling. The scene of this golden temple standing in the middle of the winter landscape seems to quiet your soul as well. It's freezing to go walking in the snow for a long time, but it's worth it to see this serene landscape.
Access: How to Get to the Golden Pavilion
The easiest way to access Kinkakuji is to use the train and bus. You can take the bus from JR Kyoto Station but the roads in Kyoto tend to be congested all the time and the buses are also very crowded. It's especially bad during peak seasons, so the bus ride could take a long time. A better idea is to take the Karasumaru Line subway from Kyoto Station to Kita-Oji Station. There's a bus terminal there from which you can take the number 205 bus to "Kinkakuji-michi" bus stop. It's a 5 minute walk from the bus stop to Kinkakuji.
Kinkakuji Entrance fees and Business hours
Kinkakuji Temple is almost always crowded due to the fact that it's probably one of the most sought after sightseeing spots in Kyoto. If you want to see this fantastic sight without being jostled by hundreds of tourists, the best time to go would be on a weekday morning right after it opens. This way you can be on your way out when the crowds start coming in.
Business hours: 9 am to 5 pm
Fees: 400 yen for high school students or older, 300 yen for elementary and junior high students
Website (Japanese only): http://www.shokoku-ji.jp/k_about.html
Kinkakuji and Ginkakuji
Did you know there is a Silver Pavilion as well as the Golden Pavilion in Kyoto? Yoshimasa Ashikaga, the grandson of Yoshimitsu Ashikaga who built the Golden Pavilion, modeled his own retirement villa after his grandfather's villa in 1482. After his death in 1490, it was also converted into a Zen Temple. However, the greatest difference between the two is that the Silver Pavilion was never literally covered in silver. It is said that the nickname "Silver Pavilion" came from the way the two temples, built by grandfather and grandson, were compared to each other. This may come as a let down for people who were expecting a shiny silver building, but the temple and its grounds have an aesthetic beauty of its own. You'll see the traditional temple building first, and then the path will take you up and through the garden up on the hill. It's also a sightseeing spot you must not miss.
Sightseeing Spots near Kinkakuji Temple
Kinkakuji is on a 2.5 kilometer road called "Kinukake no michi". On this road are two other World Heritage Sites. One is Ryoanji Temple which is famous for its beautiful rock garden. It's about a 20 minute walk from Kinkakuji. The other is Ninnaji Temple, which is about a 30 minute walk from Kinkakuji. This huge historic temple was built in the year 888 and so is now over 1,100 years old. Isn't it amazing how there are 3 World Heritage Sites within a distance you can walk in just 30 minutes? It goes to show the rich the history and culture of Kyoto.
Other than these two World Heritage Sites, there are several other temples and shrines that are not as famous, but beautiful in their own right. Kitano Tenmangu Shrine is known to enshrine the "deity of learning," Michizane Sugawara. If you want to be blessed in your studies, this is the place to go. There's also Kenkun Shrine at the top of Funaoka Mountain. It's a beautiful place to enjoy the cherry blossoms in the spring and there's a great view of Hieizan Mountain or Daimonjiyama Mountain. The red shrine is a bright contrast to the green mountains in the background. And in this Funaoka area, there's an old hot springs town. It's a popular place where many foreign tourists visit. As it's a bit difficult to get to with lots of walking involved, it's a secluded "off the beaten path" type of place, and is recommended to have a guide show you the way. However, it's worth the trouble getting there. You'll find things like a cafe in renovated traditional Japanese house or a soba (Japanese noodle) restaurant on the Michelin guide, there.
Kyoto is a city literally filled with World Heritage Sites and historic buildings to see. It's not easy to choose which ones to go and see in the limited time that you have. You need to have a well thought out plan if you want to see as many places as possible. Having a tour guide create an itinerary for you is the best way to do this. The local guides know the city intimately and will navigate the trains and buses for you.
Individual guides at Triplelights create their own tours so all of the tours are unique. You can also ask the guides questions about the tours before actually booking one. TripleLights is like a marketplace of guides and tours from which you can choose the one that best fits your needs.
And if you aren't able to find a tour that you want on the list of readymade tours, you can request a tour just for yourself. You can write a request saying how many hours/days you'd like a tour for and what you'd like to see or eat, etc. Guides will be able to see the request and the ones that are available during your requested date(s) will recommend a tour itinerary just for you. Then you can compare the itineraries that several guides suggest and see which one you want to book.
You can also look at the guides' profile videos to see what kind of person they are. The reviews they got from other customers are also a good way to tell if the guide is a good fit for you or not. This is an important step in choosing a tour. At most tour companies, you'll be able to choose a tour but not your guide. You'll only be able to see what they look like or what they sound like on the day of the tour. If you have the option of choosing, wouldn't you like to be able to choose?
Most of the tours provided are walking tours. They are created so that you can use the public transportation system with the guide and get a feel for getting around the city. This will definitely give you some confidence on moving around by yourselves later on. It's also an experience that will give you insight on the daily lives of the local people.
However, you also have the option of hiring a private car and driver for your tour or just to get around. This option is helpful for people with disabilities or elderly people who aren't able to walk for long periods of time. Catching a taxi is also good for areas where there are a lot of them. But there are also areas where it's difficult to find one, so having a private car is very convenient.
With or without a tour guide, enjoy the historical atmosphere of the city of Kyoto and the beautiful sights like the Golden Pavilion.


Recommended Blogs:
Japan Travel - 7 Days Itinerary Around Tokyo, Kyoto, and Osaka
Kyoto Day Trip from Tokyo: Complete Guide with Best Tour Options
The 20 Most Beautiful Shrines and Temples in Kyoto
Gion Kyoto: Complete Guide Before You Go
Kyoto Tours: The 9 Best and Most Popular Tours by Local Tour Guides