Spring is a popular time to visit Kyoto and there are lots of things to do in March. If you're visiting in early March, you'll probably be able to see many Japanese dolls because March 3rd is Girl's Day in Japan. Many people display traditional Girl's Day dolls, as one of the customs in Japan is to pray for girls' health and growth. And if you're visiting at the end of March, the cherry blossoms will start to bloom as well as other types of flowers, ushering in the warmth of spring.
Things to do in Kyoto in March
Haru no Ningyo ten (Spring Doll Exhibition)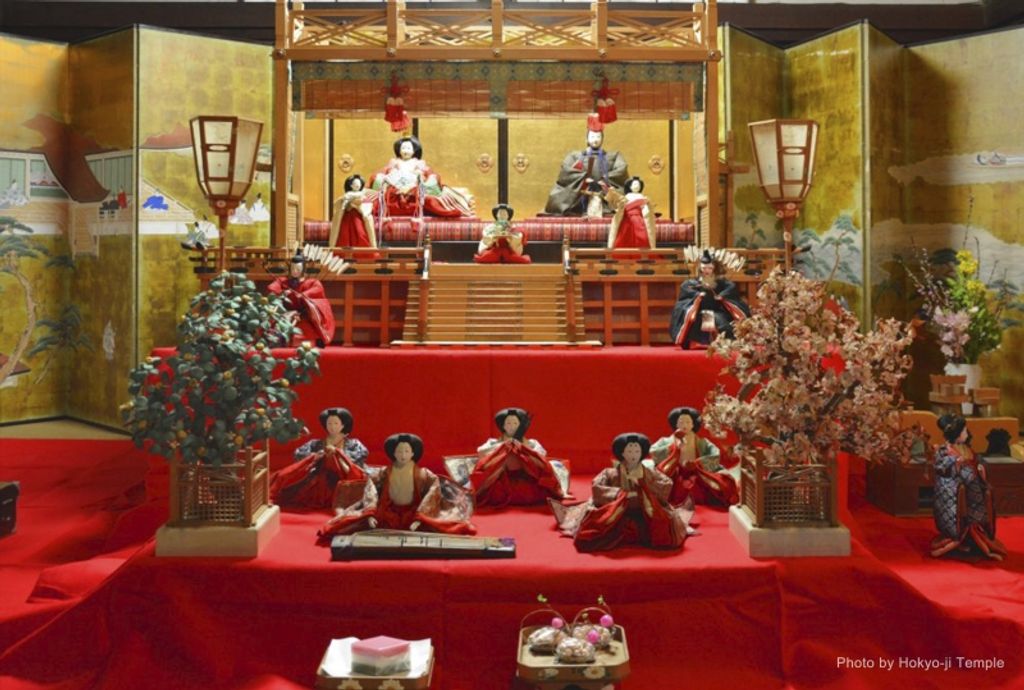 This exhibition is held at Hokyoji Temple. This temple was an Imperial Convent established by an Imperial princess. And successive generations of princesses have served as nuns thereafter. Because there were so many females living here, the collection of Girl's Day (March 3rd) dolls amassed over the years. And the temple is also known as the "temple of dolls". These dolls are exhibited during the spring and the autumn.
Address: 547 Dodo-cho, Horikawa Higashiiru, Teranouchi-dori, Kamigyo-ku, Kyoto
Access: a 10-minute walk from Imadegawa Station or Horikawa bus stop
Duration: March 1, 2020 - April 3, 2020
Hours: 10:00 am - 15:30 pm
Fee: 600 yen
Website: http://hokyoji.net/en/
Nagashi Hina (Floating Dolls Festival)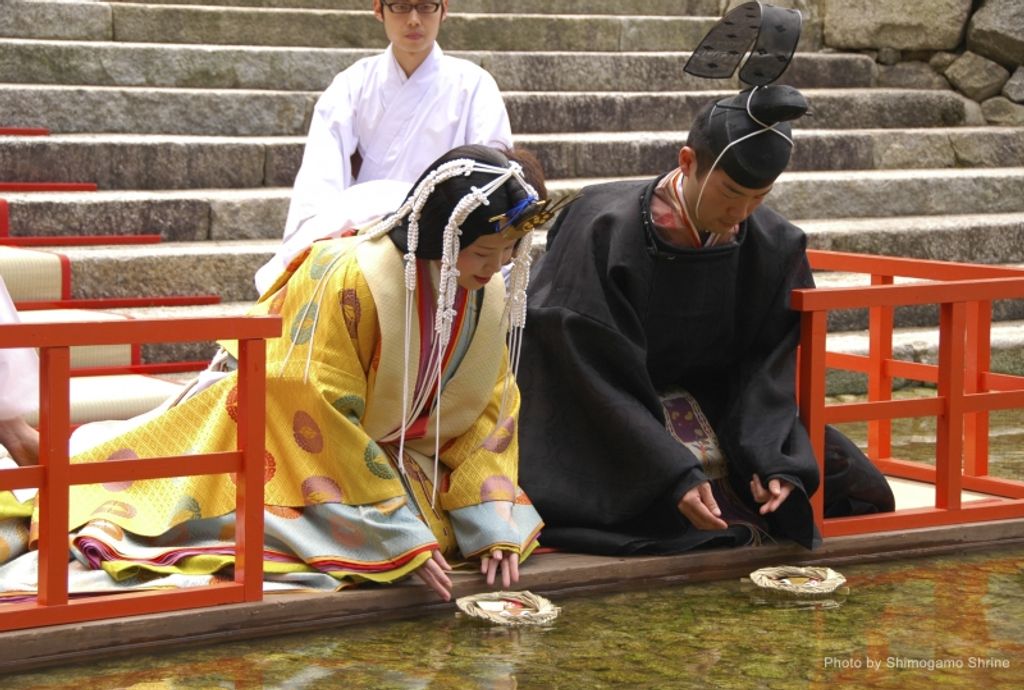 This tradition of putting Girl's Day dolls on paper floats and putting them in the water is a festival that has its origins in Chinese culture. Nowadays, it's a festival praying for the health and prosperity of children. This festival is held at Shimogamo Shrine, a World Heritage Site. A man and a woman chosen at random from among the applicants are dressed in traditional Japanese costumes and are given the task of floating the dolls on the water. Other people may also buy a doll float for 1,000 yen and float it on the water along with their prayers.
Address: 59 Shimogamo Izumigawacho, Sakyo-ku, Kyoto
Access: a 10-minute walk from Demachi Yanagi Station
Date: March 3, 2020
Hours: at 11: 00 am
Website: https://www.discoverkyoto.com/event-calendar/march/nagashibina-shimogamo-shrine/
Weeping Plum And Camellia Tree Festival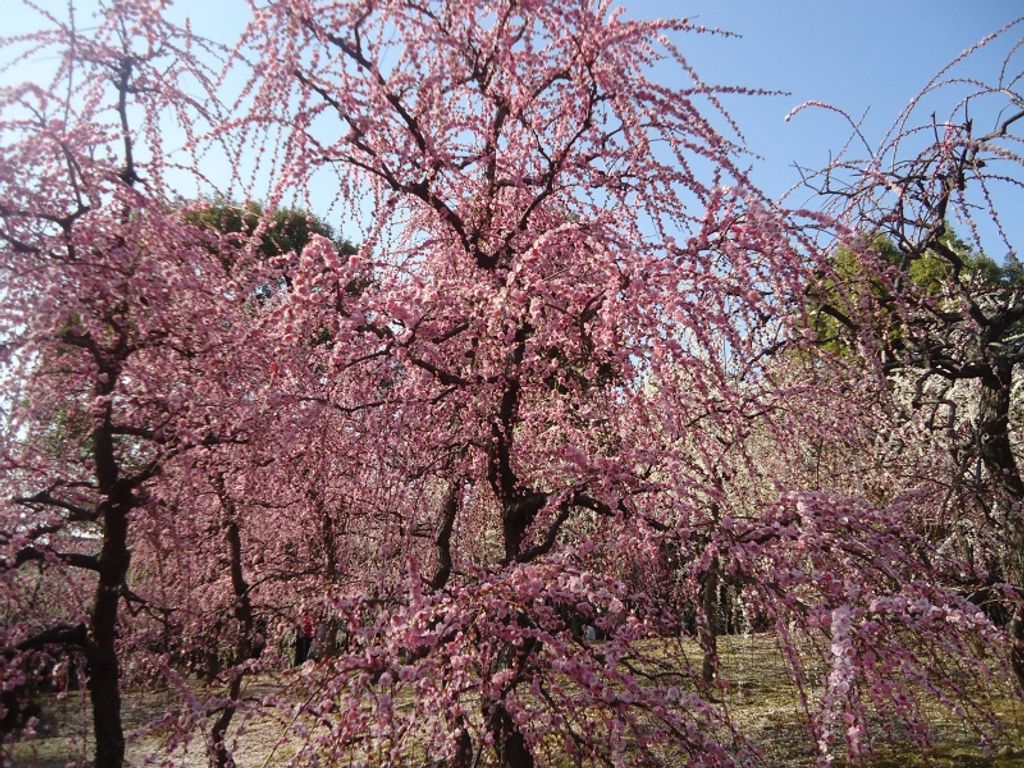 The flowers that remind us spring is arriving in Japan, are the plum tree blossoms. There are 150 of these pink and white weeping plum trees and 300 camellia trees ushering in spring to the garden at Jonangu Shrine, in the south of Kyoto. It's a beautiful sight to see.
Address: 7 Nakajimatobarikyucho, Fushimi-ku, Kyoto
Access: 10 minutes by taxi (about 1,200 yen) from Jyoto Station
15 minutes by R'EX (Kyoto Rakunan Express) bus from Kyoto Station (adults 300 yen, children 100 yen). Get off at Jyonangu-mae bus stop on weekends and Aburanokoji Jyonangu bus stop on weekdays.
15 minute walk from Takeda Station on the Karasuma Line and the Kintetsu Kyoto Line
Hours: 9:00 am - 4:00 pm
Duration: February 18, 2020 - March 22, 2020
Fees: 600 yen
Website: http://www.jonangu.com/english.html
Shinnyo-do Temple Dai-Nenhanzu Exhibit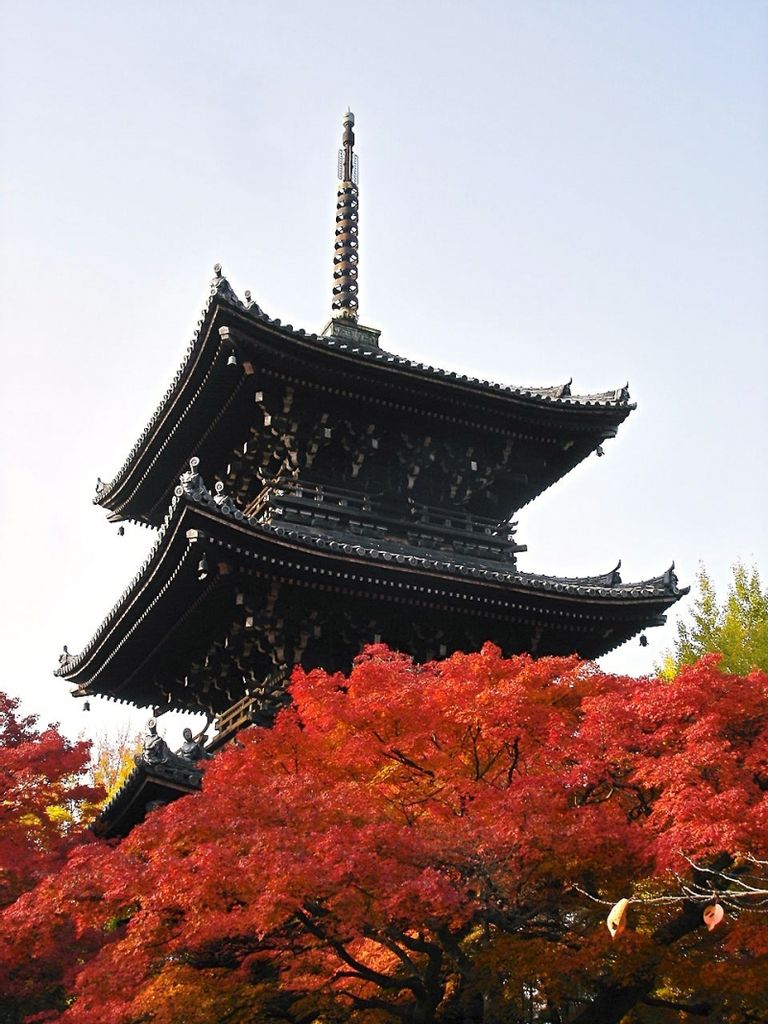 A "Nehanzu" is an image created of the Buddhist nirvana. This humongous golden piece of art is 6 meters high and 4 meters wide. It was created in the middle of the Edo period and restored in 2009. It is exhibited to the public every March. If you're interested in ancient Japanese art and history, this is a place you definitely want to visit.
Address: 82 Jodoji Shinnyocho, Sakyo Ward, Kyoto, 606-8414
Access: 25 minutes by taxi from Kyoto Station (maybe about 1,500 yen)
Hours: 9:00 am - 3:45 pm
Duration: March 1, 2020 - March 31, 2020
Fees: 1,000 yen
Kitano Odori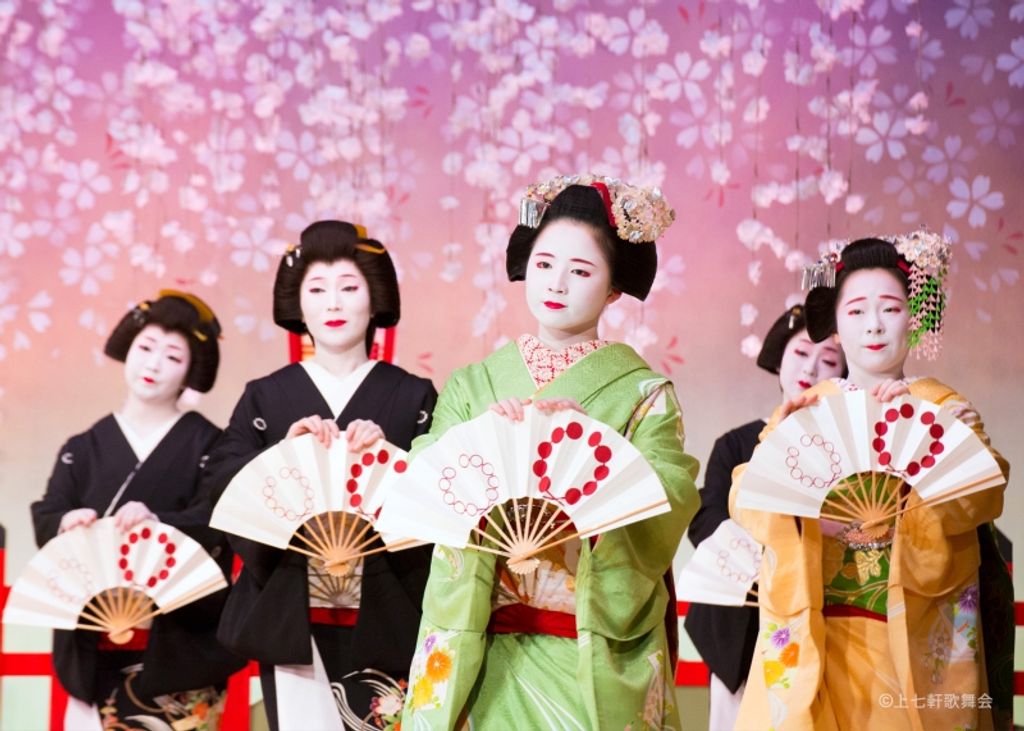 This is a dance performance by the Geisha and Maiko of the Kamishichiken Geisha. It is held every spring for 14 days at the Kamishichiren Kabuki Theater since 1952. You'll be able to see the traditional Japanese dance and culture by seeing this performance. If you buy tickets including a tea ceremony, you'll need to get there 1 hour before the show begins. Enjoy the traditional arts by going to see this show. You can also stroll around the famous sightseeing area of Gion.
Address: 742 Shinseicho, Imadegawa-dori Nanahonmatsu Nishi-iru, Kamigyo-ku, Kyoto
Access: Get on the city bus lines 50 or 101 from Kyoto Station and get off at Kitanotenmangu-mae or Kamishichigen bus stop. It's a 3-minute walk from there.
Show times: twice a day at 2:00 pm and 4:30 pm. Tea ceremonies are from 1:00 pm and 3:30 pm respectively.
Duration: March 20, 2020 - April 2, 2020
Fees: Tickets with a tea ceremony 5,500 yen / without a tea ceremony 5,000 yen
Ticket reservations: through travel agencies or with assistance at the Tourist Information Center at Kyoto Station.
Website: http://www.maiko3.com/kitano-odori.html
Kyoto Higashiyama Hanatouro 2020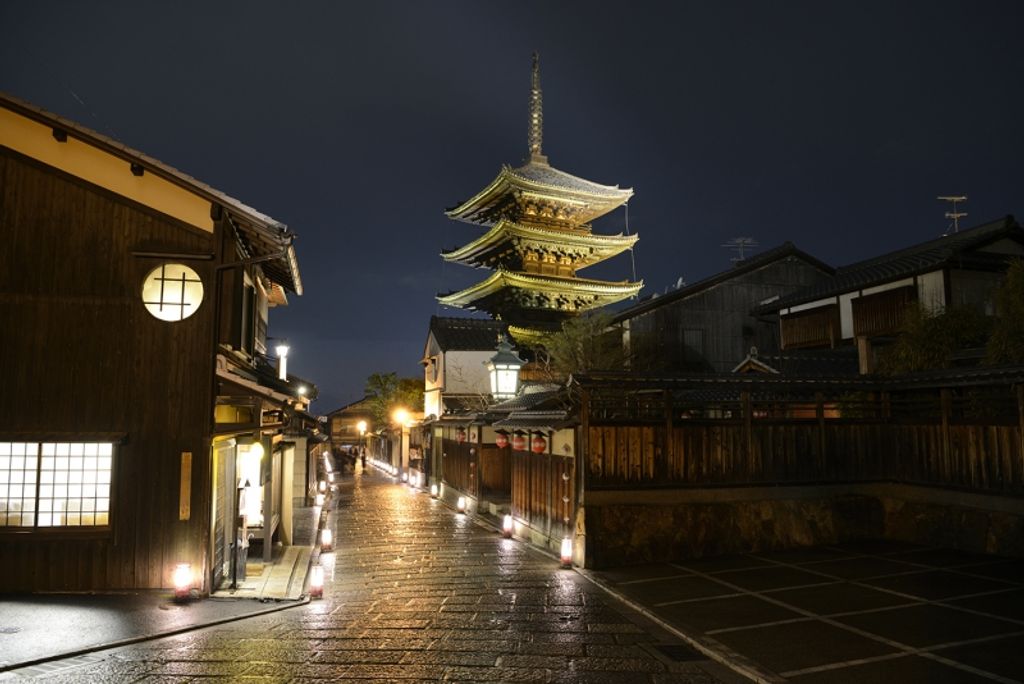 Higashiyama is an area with many famous temples and shrines like Hokanji Temple with the famous five story pagoda near Yasaka Shrine and Kiyomizudera Temple. During the Hana Toji festival, these streets are lit up with lanterns or "Touro" and decorated with "Ikebana" or flower arrangements. The soft glow of the lanterns lets you imagine how things would've looked hundreds of years ago when there was no electricity.
Address: 99-1 Higashiyama Ward, Kyoto, 605-0085
Access: from Gion-Shijo Station on the Keihan Line
Duration: March 6, 2020 - March 15, 2020
Hours: 6:00 pm - 9:30 pm
Website: http://www.hanatouro.jp/e/higashiyama/
Kodaiji Spring Special Exhibition and Light Up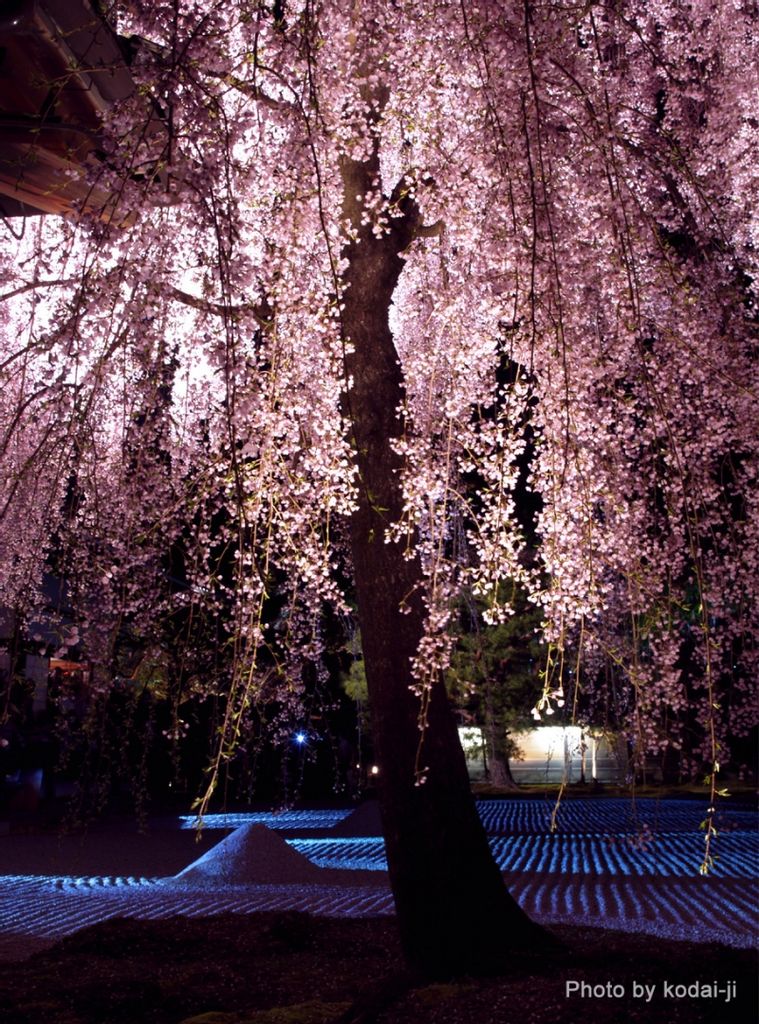 Many temples hold special exhibitions in spring. During these periods, you can see special displays that are otherwise not open to the public at other times of the year. The nighttime illumination of the temple is also a rare treat. The orange glow of the soft light shows the beauty of the temple in another way. It's a bit eerie with more shadows than light, but this is the way it would have looked when all people had for light was lanterns.
Address: 526 Shimokawaracho, Higashiyama Ward, Kyoto, 605-0825
Access: a 10-minute walk from Gion-Shijo Station
Duration: mid-March to early May
Hours: after the sunset until 9:30 pm
Fees: 600 yen
Website: https://www.kodaiji.com/e_illumi.html
Sagano Romantic Train
This train starts from Sagano Torroko Station in the Arashiyama area and runs through the Hozukyo Ravine. It was closed during the winter time but will start running again from the 1st of March. However, it is closed every Wednesday, except for national holidays. It's a cute trolley train so it'll be great fun for children, and the view from the train is amazing. Take a leisurely ride on the train and enjoy the nature of Kyoto. The seats are all by reservation, so you will need to go to one of the places listed on the website and buy your tickets beforehand. If you can't you can try your luck on the day of your visit.
Access: From JR Kyoto Station, take the Sagano Line to JR Saga-Arashiyama. The Sagano Torroko Station is adjacent to JR Saga-Arashiyama Station.
Fees: 630 yen for adults / 320 yen for children (one way)
Website: https://www.kyotostation.com/the-sagano-romantic-train/
Recommend Tours in Kyoto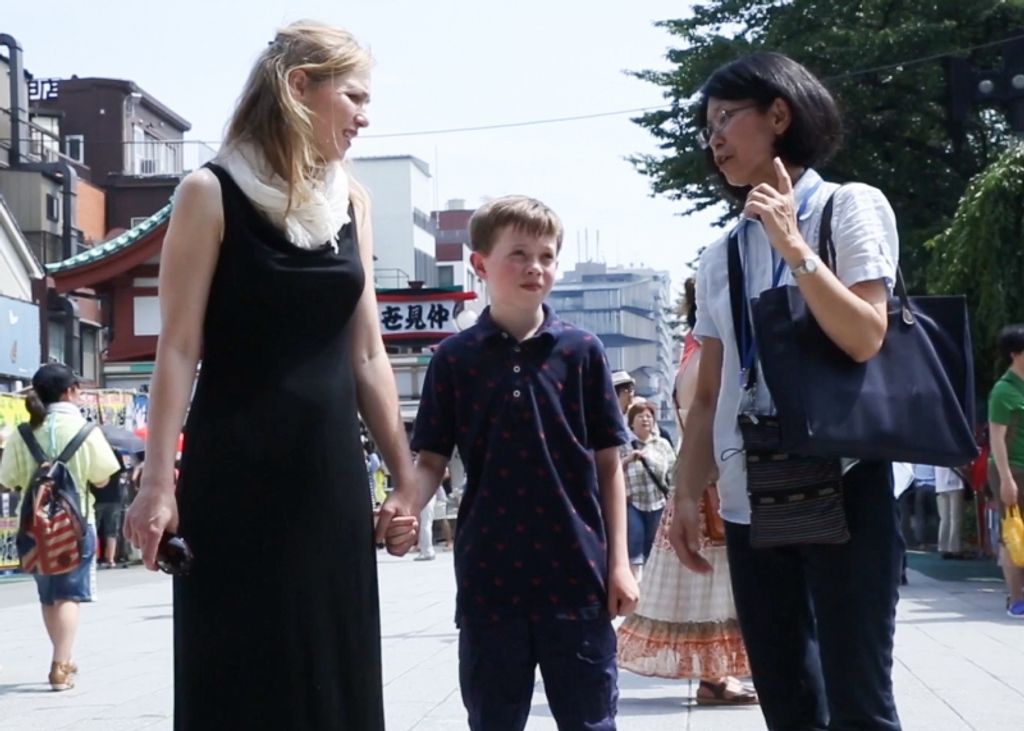 TripleLights provides tours in Kyoto. It's a service that matches you with the best tour and guide for you. The guides create their own tours so all of the tours are unique. You can also communicate directly with the guide to ask questions or convey requests, for example, the length of a tour, before actually booking a tour. This way, you can create your own customized tour for the length of time you'd like.
Some of the tours you can try in Kyoto are the Kyoto Shrine & Temple Tour, the Kyoto One Day Tour, and the Kyoto Historical Tour. There are many more on the website, so choose the one the best suits you. You can also look at the guides' profile videos to see what kind of person they are and also see the reviews they got from other customers. Kyoto is a spectacular place to visit in March, so take the time to see all your options and plan it out just right.
Recommended Blogs
9 Best Kyoto Food Tours by Local Guides
Kiyomizu Dera Temple: Complete Guide in Kyoto, Japan
12 Top Kyoto Tourist Attraction by Local Guides
Ryokan Kyoto: The Best 7 in Kyoto, Japan
Gion Kyoto: Complete Guide Before You Go